In this article we're focusing on LED light therapy and excluding laser therapy. LED lights are safe to use and there are many devices available for treatments at home.
I actually highly recommend the LED light. I am an actress, and do photoshoots and video shoots. Before every shoot I do the LED Light Treatment and I use the Somaluxe Face Wash before the photoshoot. The combination of both makes my skin flawless and look perfect on camera. Highly recommend.
Best Red Light Therapy Devices
So what's the big deal with red light therapy?
You've certainly heard that too much sunlight is bad for your skin. It's true that too much exposure to ultraviolet light can damage tissue. It kills skin cells and your skin dries out and wrinkles. But not getting enough sunlight can cause you to have a Vitamin D deficiency which brings about a whole other set of health problems. The trick is finding a balance to get what you need.
Red light therapy is not sunlight by itself, but it helps reverse the bad effects of too much sun. Red light is part of the visible light spectrum that looks, well, red. It may sound a little woo-woo weird that people put red light on their skin to have better health. I mean, who came up with this wacky idea anyway?
NASA, that's who. They tested it on astronauts, and other scientists tested it on soldiers, children, and rats.
A little red light therapy history
Red light LEDs were used as grow lights for plants in space in the 1990s. The LEDS were ten times brighter than the sun so they sped up plant cell metabolism and photosynthesis. In the late 1990s, someone got the bright idea to try red LEDs on human skin. Wounds heal slowly in space, and that's a big problem for astronauts.
Sure enough they discovered that red light helped human cells grow faster. This led to testing red light as a treatment for damaged and irritated skin caused by acne, rosacea, psoriasis, age spots, wrinkles, and even cancer.
What does red light therapy do?
Red light therapy speeds up the healing of wounds. It penetrates deeper into the skin than other visible colors of light. The skin cells absorb the red light and it makes them grow a lot faster—like up to 200% faster! This means collagen and elastin, two things that make your skin look and feel younger, form more quickly. Skin regenerates rapidly with red light treatment. This means that red light therapy can help clear up eczema, psoriasis, rosacea, and other skin problems. Red light therapy truly is a holistic healing approach.
Does red light therapy really work?
NASA, scientists, and dermatologists find that red light therapy really works. It's not some gimmick. NASA tested it using LED lights and hyperbaric oxygen. They found that LED lights just by themselves speed up the skin healing process.
Check out these before and after photos from Baby Quasar. See how those wrinkles disappear.
Is red light therapy safe?
Red light therapy is safe. If you're worried about getting a headache or eyestrain, use goggles, or be careful not to stare into the light. Blue light is more likely to cause problems with your eyes than red light. LED lights in home-use devices get warm but never too hot to touch. If you take any medications that increase your sensitivity to light, check with your doctor before starting red light therapy.
Are there side effects with red light therapy?
Some users have complained that their acne flared up right after they began light therapy. This is a normal and expected occurrence. The best bet is to continue treatment since it will accelerate the healing process.
How does red light therapy work?
Red light LEDs are usually combined with infrared and amber light LEDs in a device made for treating the skin. Infrared isn't visible to the human eye. Red, amber, and infrared light waves are longer than other colors and penetrate deeper into the skin. Red light reaches about 1/3 of an inch deep, and infrared goes about an inch down into tissue. This means it penetrates through the epidermis and into the dermis to reach the collagen fibers.
These lights stimulate skin cells to grow faster. This means skin rejuvenates, looking younger and feeling softer to the touch after treatment. Collagen and elastin production speeds up so your skin fills out and feels more elastic and firm. Redness and swelling decrease because your skin circulates more blood. This page explains in detail how red light therapy works.
Is red light therapy worth the cost?
If your wrinkles bother you, if you want to have younger-looking skin without spending lots of money on cosmetic treatments, then probably yes. Buying and using a device at home is cheaper over the long run than expensive skin serums and dermatology appointments.
Where can I get red light therapy?
Some tanning salons offer red light beds, and some dermatologists have equipment in their offices. There are also several products sold for home use. We'll discuss some of those below.
Can red light therapy cure acne?
This is still being studied. Red light therapy is often used together with blue light therapy to treat acne. Blue light kills the acne bacteria and red light helps the skin heal. For best results against acne, combine the two types of treatment.
What are the benefits of red light therapy treatments at home?
Think of it this way: would you rather make regular trips to a dermatologist and pay around $100 each time, or stay at home and do your own treatment with a device you've already purchased? Light therapy at home saves you time and money. You can do it while you relax in front of the TV or computer. You can lay in bed in your pajamas.
Of course, home treatment devices aren't as powerful, so treatments take longer. You might spend 15 minutes a day holding something similar to a flashlight to your face. But it would probably take you that long just to drive to the doctor.
Red light therapy may also replace the creams and skin treatments you've been slathering on, so you'll save money by not buying those, too. Find out more on our red light therapy frequently asked questions page.
What is the cost of in-home red light therapy?
There are a wide variety of products available. We'll review some of them below. Plan on spending at least $50 for a small, portable unit and up to $800 for a deluxe home device that offers multiple color light therapy.
What are the best products for in-home red light therapy?
Let's look at some of the most popular home use devices for red light therapy. You should know that we chose products where the online reviews are all three stars or better out of a possible five. The most satisfied users appear to be the ones who patiently stuck with treatment for several weeks.
---
RejuvaliteMD by Trophy Skin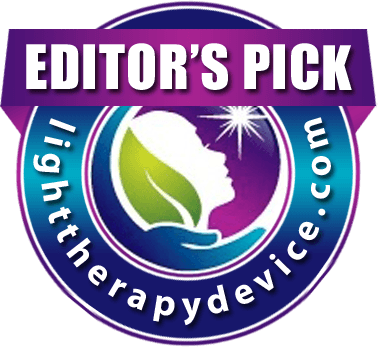 The affordable RejuvaliteMD is the ideal alternative to spending hundreds of dollars every year on skin treatments at a dermatologist's office or at a health spa. The array of 120 amber, yellow, red and infrared lights were combined to provide a wavelengths ranging from 590 to 880nm, which work together to reverse the visible effects of aging.
The package comes with the panel light unit, the bendable arm, the base, the power adapter, a pair of protective eye goggles and a user's manual. Although some assembly is required, attaching the lamp head, neck and base is fast and easy. Affix the power cable, and the lamp is ready to use.
The appearance of the lamp reminds many of a desk reading lamp complete with weighted base and flexible neck. Weighing little more than six pounds and measuring 9.5 inches x 6.5 inches x 11 inches makes the therapeutic device completely portable and enables hands-free treatment. The LED light panel spans a full six inches square, which is sufficient to reach all facial areas in one treatment when sitting or lying directly in front of the device.
The lamp head and base are constructed using durable plastic and metal. The flexible gooseneck arm features aluminum and rubber along with metal connections. Overall, the RejuvenateMD is built to last. The convenient built-in timer turns the lamp off after five minutes of treatment, which is the time limit recommended by Trophy Skin.
Relax, sit or lie down and watch TV or listen to music, as your skin becomes invigorated by an array of lights proven to produce beneficial effects at the cellular level.
---
reVive DPL II
The non-invasive DPL II system was designed to improve the appearance of skin without the need for lasers, chemical peels or other types of drastic treatments, which typically include recovery times. The FDA-cleared red-light therapy device features two connected panels containing 96 red and infrared LED bulbs. The lights emit rays at 660nm and 880nm wavelengths, which studies have shown serve to promote skin rejuvenation by enhancing blood circulation and encouraging collagen and elastin production along with skin cell regeneration.
The portable unit measures 11 inches x 4.2 inches x 9.5 inches and weighs little more than three pounds. Each reVive DPL II system comes with the two black panels and a lightweight, metallic easel-like stand. The kit also contains the AC/DC power supply, protective eye goggles and the user's manual. The therapeutic lights also contain an automatic timer to ensure the lights turn off after 17-minute sessions.
The reVive system is the largest phototherapeutic device available for home use and is considered an OTC Class II medical device. When standing on a table, the hands-free panels are large enough to enable users to sit in front of the unit and successfully treat face and neck areas simultaneously. The wavelengths emitted by the DPL II are also suitable to treat the hands, chest or other areas of the body. The panels can be applied directly to the skin without fear of suffering from adverse effects.
---
Baby Quasar MD Plus
First off, we like that Baby Quasar took the time to get FDA clearance on the MD Plus. It's a safe, painless, and powerful tool to use on your skin. Baby Quasar has photos of models holding what appears to be a miniature desk lamp against the side of their faces—that's the MD Plus. Yes, you may feel a bit silly sitting like that in front of the TV but no one ever needs to know.
The MD Plus uses red, amber, and infrared LEDs for maximum effect. Each treatment takes a little less than 15 minutes. Baby Quasar says to imagine that your face is divided into sections. You'll hold the light against each section for three minutes, then move to the next area. The MD Plus automatically shuts off the light after three minutes in case you forget to time it.
It runs on electricity, not batteries, so it's only portable up to a point. The anodized aluminum housing is very sturdy. Baby Quasar includes protective goggles and a travel pouch. The clear protective lens cap serves two purposes—it protects the LEDs and makes it so you can share the device with another person without spreading any contamination.
Baby Quasar says to expect results within 8 weeks if you use it five days a week. After you've seen your wrinkles disappear, they recommend doing maintenance treatments twice a week.
We like that they have a 90-day money-back guarantee and a lifetime "no questions asked" warranty. If you have questions, they have excellent customer support.
---
Tanda Regenerate
The Tanda Regenerate is considerably cheaper than the Baby Quasar MD Plus. It's also FDA-approved in the USA and cleared by the national health service in Canada. Another bonus is that it's rechargeable and cordless, so it's very portable, unlike the MD Plus.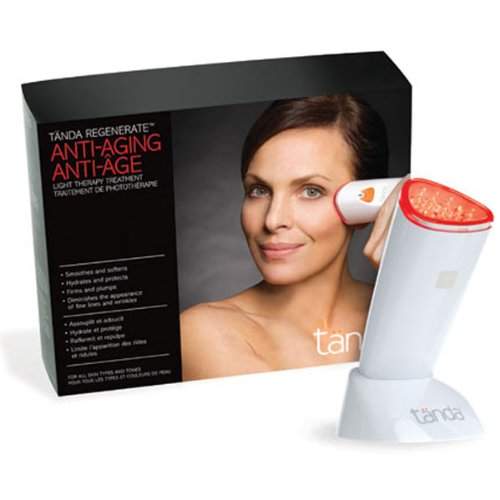 Tanda says the Regenerate won't turn on unless it's in direct contact with skin. Like the MD Plus, it's small and you'll have to move it around your face in sections. Do one part until the Luxe turns off automatically after three minutes. Then move to the next area. The company says you only need to do two treatments a week to see results.
A possible negative for the Regenerate is that it focuses only on red light (660nm wavelength). It doesn't appear to be as powerful as the Baby Quasar MD Plus.
---
LightStim for Wrinkles
LightStim has been in business since 2002. LightStim for Wrinkles has gotten a lot of attention from big names in beauty like Marie Claire, InStyle, and Redbook. It won an American Spa Professional's Choice Award, the Aestheticians' Choice Award, and a Pure Beauty Award.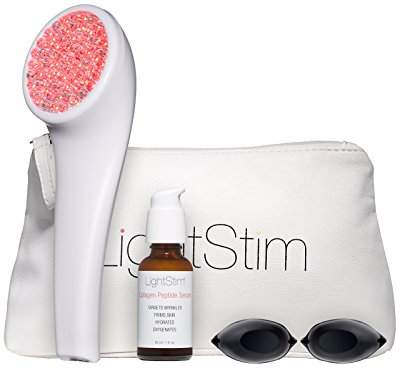 Like Baby Quasar's MD Plus, the LightStim for Wrinkles uses a variety of colored lights to achieve the best results. It has 72 LEDs divided between Amber, Light Red, Dark Red, and Infrared. Just like the other home devices it requires three minutes on each section of skin. And yes, there's an app for that. LightStim offers a free app download for iPhone that helps you time treatments while it gives you tips about skin care.
LightStim promises results within 8 weeks, citing a clinical study where 100% of the participants had diminished wrinkles and fine lines after that time. Like the MD Plus, the LightStim for Wrinkles needs electricity to operate.
The LightStim for Wrinkles is cleared by the FDA. It has a 90-day money-back guarantee with a 5-year warranty. It comes with a carry pouch and a sample of PhotoSerum that may enhance the healing process.
---
Norlanya Red Light Photon Therapy Machine
Norlanya's Photon Therapy Machine comes in either red or blue, but for our purposes we'll focus on the red light generator.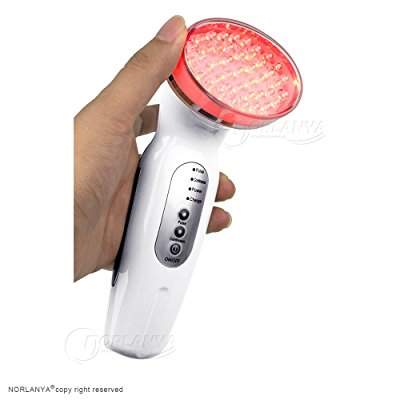 Typical red light wavelength ranges from 620 to 750 nanometers. The upper end of that is infrared. Norlanya offers 42 LEDs of very visible low-end 622nm red LED light. To protect the user's eyes, the machine only operates when it's in direct contact with skin. It has continuous or pulse modes where other devices have only continuous light emission. We aren't sure if pulsing light is an advantage or not.
It's rechargeable with a USB cord from a computer or a cell phone charger (5V, 1Amp). That makes it very portable and convenient for travel. No warranty information was available. On the bright side, this device was one of the least expensive that we reviewed.
---
Angel Kiss Facial Care LED Mask
Cue the "Phantom of the Opera".
Angel Kiss promises fast results with this LED mask. They say you'll see a difference in just three to five weeks. That may be because it incorporates red, blue, and green light and it covers your whole face at once. You can't miss a spot when you're wearing this.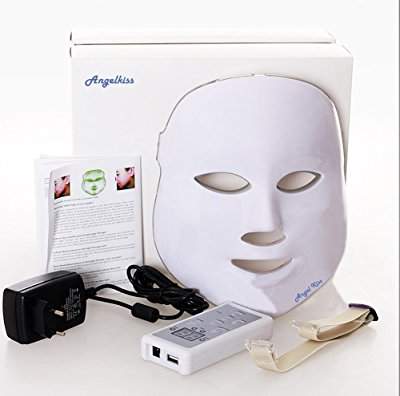 The mask needs electricity to operate. It comes with a power adapter and a controller to turn it off and on and change the colors. It's possible to adjust the fit a little bit with the included strap, but it's a one-size-fits-most deal.
There was no information available on a warranty and no website found. The manufacturer does respond to customer questions on Amazon, at least.
---
If I can only buy one, which one should I get?
This is where you need to ask yourself two things: What is your goal? How much can you spend?
Your goal
If you want to treat acne, red light by itself may not be the best solution. Check into combining red and blue light therapy.
If you desire firmer, younger-looking skin with fewer wrinkles, red light therapy has been proven to make a difference.
If you want to treat eczema, rosacea, or psoriasis, red light therapy may help you clear up these skin irritations more quickly than medicine alone.
Your budget
If the sky's the limit, get one of the wide-spectrum red light devices like the RejuvaliteMD, or the reVive DPL II. These manufacturers offer money-back guarantees and decent warranties to protect you if you don't get the results you desire.