Balding isn't exactly the most fun rite of passage in the world. You want your hair back. Not everyone can do bald well like Vin Diesel, and that's okay. There are very few people who can do anything at the level that Vin does with such ease. Thankfully, there are solutions available to make the balding a process a little easier and more bearable. Not all of them are painful and costly either. Yep, you have options besides expensive hair grafts and drugs with scary side effects. You have the power of light.
I know it sounds ridiculous, but trust us. We're not kidding. Light can make a remarkable impact on slowing and altering the badness process. You've come to the right place to discover how and why. Give us a couple of minutes to show you recent developments in hair regrowth treatments. The results may shock you. In simplest terms, LED lights and lasers can stimulate hair follicles. It's safe and it's natural. Thankfully, there are no nasty side effects. It's also convenient because instead of making trips to a doctor's office, you can do treatments at home.
So, while this all may sound like science fiction, it's actually all quite true. So if you find yourself starting to lose some of your furriness up top, fear not. There is a safe and approachable way to slow and even stop the balding process that you likely never even considered. If you'd like to know more about how this works and which devices work the best, then good news: you've come to the right place. Our experts have done the research. They know how this incredible technology works and which machines are best to revitalize the luscious locks that rest upon your brow. All you have to do is finish reading this article and then you'll be armed with the knowledge necessary to dive into the exiting world of hair growth light therapy.
How does low-level light therapy work?
LLLT, or low-level light therapy, stimulates skin cells. It can also put hair follicles into the anagen phase, or growth stage. This requires light of a certain wavelength, specifically between 630 to 670 nanometers, beamed directly to the problem area. A study published in 2013 found that using red light with a wavelength of 655 nm "significantly improved hair counts in males with androgenetic alopecia." Translation: "LLLT with red light made men with hereditary baldness less bald." It's not necessarily a 100% solution that will turn a cue ball scape into a lush forest of follicles, but it can make a major difference (especially when implemented at early stages of the balding process).
Hair follicles weaken over time until they eventually stop growing and shed. Although this process is normal and repeats for most people, for some, the scalp quits producing hair all together. The laser comb is designed to stimulate blood flow and bring nutrients to the affected areas, which encourages regrowth. The new hair follicles that emerge are also stronger, thicker, healthier, and more productive.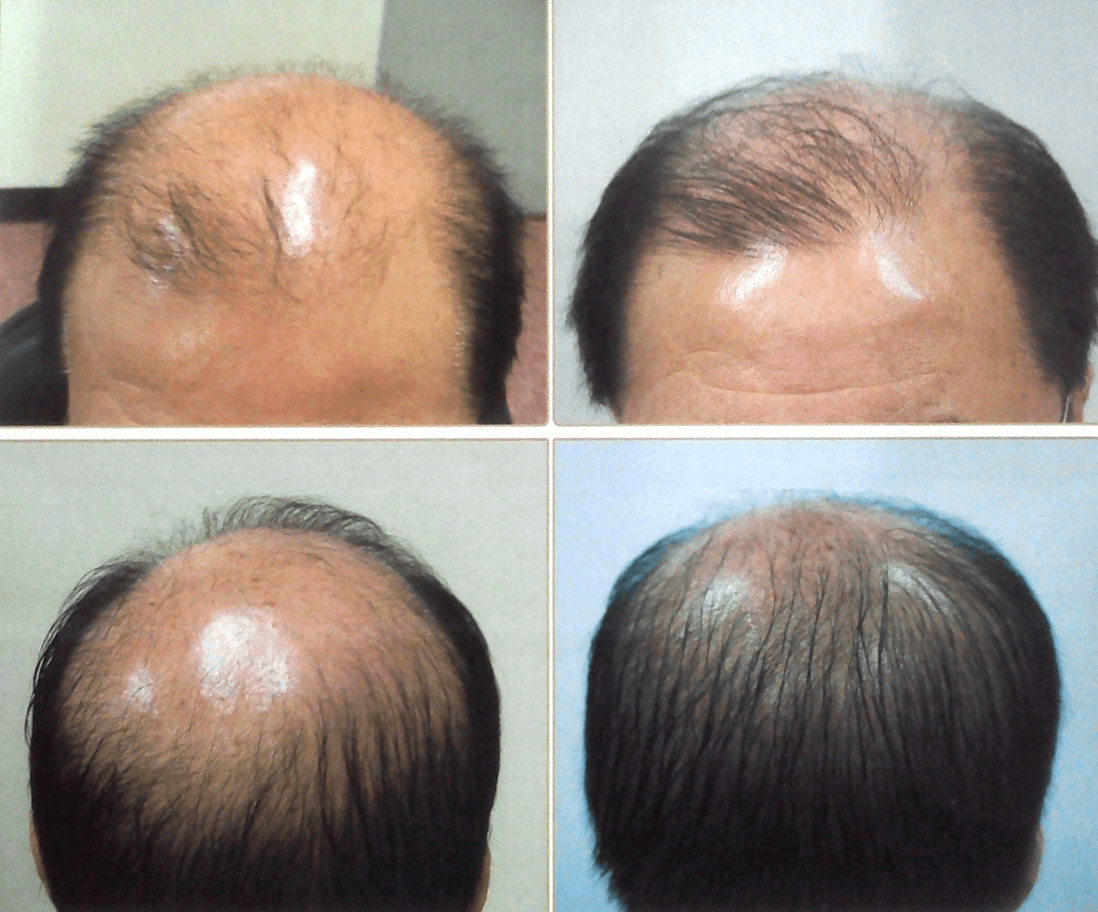 Does it work for both men and women who have hair loss?
Yes, there have been controlled clinical studies that show that LLLT helped both men and women regrow hair. It worked for hair loss from chemotherapy as well as alopecia arreata. It is a solution for all forms of balding worth trying at any stage of life.
Do low-level light therapy treatments work better than hair transplants or medications?
LLLT doesn't necessarily work better, and it's not for everyone. For example, if you already take a medicine that makes you sensitive to sunlight, don't do LLLT or LED or laser treatments without talking to a doctor first. This is a delicate procedure after all and should not be mixed with other treatments in order to ensure the best results.
Who invented this treatment?
As with most scientific developments, you can blame the mice. In 1967, a doctor studying skin cancers in mice found that shaved hair grew back quicker on the mice who had laser treatments on their skin. Thank you, Mickey Mouse!
What kind of light treatments can I do at home?
There are two major kinds of light treatment: LED light and laser. Either one works by increasing blood flow and activating hair follicles. Lasers have been studied more extensively than LED lights for hair growth, and they penetrate deeper into skin. So that's why they tend to be the most commonly used light treatments for hair loss.
---
Intrigued and want to consider sampling some of this amazing technology? Then keep on reading. Here are the top LLLT hair growth treatments:
iRestore Laser Hair Growth System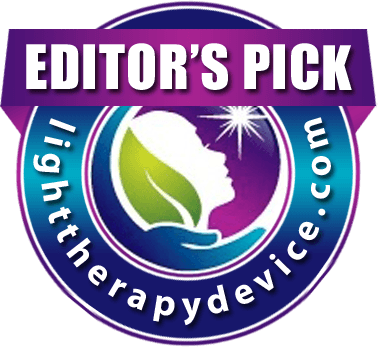 The iRestore Laser helmet is FDA-cleared as a medical device to treat hair loss. The underside of the sturdy, white plastic helmet contains a combination of 51 medical-grade cold lasers and red LED bulbs, which emit light at a frequency of 650 nm. The helmet interior features a couple of cushions and a cushioned head band, which makes the device suitable for men or women.
The package comes with the iRestore dome helmet, attached control unit, an AC adapter and the user's manual. Using the device simply requires plugging the adapter into an electrical outlet, putting the helmet on your head and pushing the power button. It really is that simple. Each treatment session lasts 25 minutes and the device automatically shuts itself off.
The helmet is safe to use every other day. Most people see results anywhere from 12 to 24 weeks. The iRestore Laser Helmet is recommended for men with Ia, IIIa, II-vertex, IV, IVa and V skin types or women with I-1, I-2, I-3, I-4, II-1 and II-2 skin types. If not satisfied, merely return the laser helmet within six months for a full refund. There are many examples of this type of experimental technology that offer a money-back-guarantee, so it's worth taking advantage of for anyone who wants to try this tech yet still feels a little skeptical.
---
iGrow Hair Regrowth System
The hands-free iGrow Hair helmet is designed to encourage stronger, thicker hair follicle growth using a combination of 51 Class 3R cool laser diodes and red LED bulbs that emit light at a wavelength of 655 nanometers. Inside the helmet are four adjustable columns, which enable men or women to distribute the weight to ensure the device fits properly over your head. The helmet is also equipped with adjustable headphones, which can be linked to an iPod or MP3 player in order to relax and enjoy music when undergoing the hair grow treatment (a nice and potentially soothing feature for anyone who might feel uncomfortable during these treatments). The helmet operates via a plug-in cord. However, as the cord lies on the rear of the helmet, it does not interfere with activities.
The unique, manual control features five diagrams of typical Androgenetic Alopecia pattern baldness. You simply choose the illustration that fits your particular case and push the button to start the treatment. Each daily session spans 20 to 25 minutes and should be repeated three to four times per week. You may not see visible results for two to four months. The iGrow Hair Laser Helmet can also be used in conjunction with prescription hair growth medications. The iGrow system comes with a six-month, money-back guarantee and a 12-month manufacturer's warranty. Once again, offering a level of comfort and security for the skeptics.
---
HairMax LaserBand 82
The HairMax LaserBand 82 is a step up from its predecessor LaserBand 41 and provides promising results despite shorter treatment times. The LaserBand resembles a lightweight, flexible conventional hairband in overall design. On the front and back edges of the device are hair-parting teeth, which move the hair to the side in order for the lasers to contact the scalp. In the center of the device are 82 cool-ray lasers that provide the phototherapeutic emissions. An internal battery provides the power for the lasers. Users simply plug the headband into the charging station, which plugs into a standard outlet. The band charges in two to three hours. The power button glows a steady blue when charge is complete. When the band is depleted of energy, the light flashes orange.
Before starting treatment, users should thoroughly wash their hair to remove natural oils and any hair products. Once fully charged, the LaserBand is simply applied to the area on your head requiring treatment. For overall benefit, the manufacturer recommends starting at the front of the hairline and gradually moving the hairband backwards. Each area only requires a short 30 seconds of laser exposure. At the end of the 30-second interval, the band emits a gentle vibration to remove the band or change the device's location. The HairMax is safe to use every other day until achieving the desired results. Once new follicles begin appearing, you should continue using the device at least once a week. Some see visible hair growth in eight to 12 weeks. Others may not see regrowth for 16 to 52 weeks. Studies indicate that 90 percent of users see results. After using the HairMax, cleaning merely requires using a damp cloth over the underside of the unit. The comb-like attachment is easily removed for more extensive cleansing if needed. The comb then simply snaps back onto the hairband.
Up to 20 percent of head hair exists in the resting or transition phase where hairs have reached maturity and will eventually shed to make way for new growth. The HairMax is designed to stimulate the follicle during these phases by improving blood flow, which delivers vital nutrients. In this way, follicles are equipped to produce healthier, thicker hairs. First-time users may notice more shedding after initial use. However, this is normal as weakened hairs are removed for replacement by healthier hairs. HairMax is recommended for Androgenetic Alopecia in men having class IIa or V on the Norwood Hamilton Classification scale. The device is recommended for women classified as having Ludwig I-4, II-1, II-2 or frontal hair loss. The hairband is also advisable for men or women having Fitzpatrick Skin Types I to IV.
Convenient hands-free operation
Appropriate for men and women
Safe for all hair types, color-treated or permed hair
Can be purchased alone or with a complete haircare bundle
Comes with a five-month money back guarantee and a two-year manufacturer's warranty
---
HairMax Professional 12 LaserComb
This is the home use laser device you may have already heard about. It was cleared by the FDA in 2011. It works for both men and women, and it won an award from NewBeauty for "Best At-Home Anti-Hair Loss Device" in 2014. Clinical studies conducted across the United States determined that 93 percent of people who used the device experienced hair regrowth. Study participants ranged in age from 30 to 60 and were of both genders. The studies were extensive and the results are undeniable. However, patience is necessary with this particular style of treatment. You should not expect to see substantial results for at least four to six months.
The device contains 12 medical-grade, cool lasers, which are designed to stimulate the follicle and surrounding tissue in order to grow healthier, thicker hair. The patented comb-tooth style capably parts the hair, which enables the laser lights to reach the scalp. After charging the comb on the charging station, simply apply the comb to one section of hair. After three seconds, an internal alarm vibrates to let you know to move the comb to the next section. Treating the entire scalp takes eight to 12 minutes. After 12 minutes, the comb automatically shuts down. The small LCD display on the back shows you the elapsed treatment time and the status of the battery. The manufacturer advises that treatments continue at least three times per week. After experiencing new growth, the Hair Max should then be used once every one or two weeks to maintain healthy hair.
The LaserComb runs off a lithium-ion rechargeable battery, and comes with a charging base, travel case, and full instructions. It's a light hair growth treatment option that's portable and easy to bring on trips for those who live a life on the go and can't bring a full helmut with them everywhere.
---
Theradome Hair Growth Helmet
The Theradome closely resembles a cycling helmet, weighs less than one pound and was created by former NASA scientist Tamim Hamid. Within the core of the unit are 80 cold laser diodes, which emit light at a wavelength of 678nm. An internal pressure point cage serves as a cushioning device in addition to alerting the sensors when the helmet is in place. A built-in speaker provides audio instruction and can be programmed for different languages. The helmet also features a counting system to keep track of the number of treatments applied. A USB cord connection enables you to upload firmware directly from the website.
Initial use requires charging the cordless helmet for two hours. The convenience of the helmet being cordless means there are no location restrictions. Wear the helmet to do any number of activities. A full charge provides five to seven treatments. Each session lasts 20 minutes before the helmet turns itself off. You must use the helmet twice weekly in order to achieve results. After putting on the helmet, you simply push the blister-power button on the rear of the device to activate the lasers. Visible results should appear in 26 to 52 weeks. You then use the Theradome once weekly for maintenance purposes.
---
NutraStim Laser Comb
The NutraStim Laser Comb was designed to treat androgenic alopecia. The comb is appropriate for women having hair loss according to the Ludwig-Saving Scale 1-4, II-1, 11-2 or frontal baldness. The device is also appropriate for men having IIa to V according to the Norwood Hamilton Classifications. The laser comb is additionally safe and effective for both genders having Fitzpatrick skin types I to IV. The device is one of few that comes equipped with advanced technology.
The NutraStim closely resembles a traditional hair brush in design. However, in place of bristles, there are 12 FDA-approved, low-level cool lasers. Each laser is covered with a conical, transparent cover, which is designed to separate the hair and allow the light to make contact with the scalp. The package comes complete with the Laser Hair Comb, the charging base, a universal AC adapter, an instruction manual and your warranty card.
Using the NutraStim Laser Comb is easy. Simply place the comb into the charging station. Insert the power cord into the charging station and plug the other end into a wall outlet. You can also plug the power cord directly into the comb and an outlet. Let the comb charge for the recommended length of time until fully charged. Each charge enables you to use the comb for up to 45 minutes of treatments before needing to be recharged.
Wash and dry your hair before using the laser comb. Once charged, simply press the power button once and comb through the front part of your hair and wait. The comb beeps every four seconds to alert you to move the device ½ inch further back onto the scalp. Continue the process until all areas have been treated. The entire process takes a mere eight minutes. After eight minutes, the laser comb turns itself to the off position. Treatments can be repeated up to three times a week. However, have patience, as noticeable results typically take up to 12 weeks.
---
Capillus 82
The Capiullus 82 comes with the laser cap, a rechargeable Li-on battery pack, the battery case, an A/C adapter to enable mobility, a sports cap, a carrying case and the manufacturer's warranty. It fits snugly into the provided ball cap. Once charged, you are free to move about your home or anywhere outside of your home with ease. You are not tethered to an electrical outlet or a visible exterior power source. In this way, you are free to treat your scalp wherever and whenever you desire.
Unlike laser combs or brushes, you simply put the cap on, turn on the device and let the lasers do their work. Your hands are free to engage in any activity, and you need not be bothered by arm fatigue from having to manually move the lasers through your hair. Capillus removes the embarrassment of wearing a laser device. Thanks to the innovative design of the device you need not fear what others will think about using laser treatments to restore your hair. Various models of laser domes or helmets resemble cycling gear or look like something from a science fiction movie. However, the Capillus 82 is a simple ball cap. You can either wear the cap that is provided or choose your own ball cap in which to insert the laser device. So, you can wear the cap at home, at work or during any other activity. No one will be the wiser except you what lies hidden beneath the cap.
The Federal Drug Administration put their seal of approval on the Capillus 82 for the treatment of hair loss in male or female adults. It saves you hundreds of dollars on salon treatments. You also need not use the device with potentially harmful chemicals or medications. The results you experience also save you time, money and recuperation time from having hair transplant surgeries.
Many laser hair loss treatment devices have never been thoroughly tested by independent researchers outside of a product's company. On the other hand, the Capillus 82 has undergone independent testing. Study results are found at ClinicalTrials.gov. See for yourself that of the volunteers tested before, during and after using the device in various trials, 51 to 95 percent of the participants experienced hair regeneration. Results varied from 11 to 181 percent of new hair growth. However, continued daily use is recommended until new hair begins growing in 12 to 17 weeks.
---
Vinmax Hair Growth Helmet Device
A budget-friendly yet effective light therapy hair growth stimulator, Vinmax Hair Growth Helmet Device comes with an adapter- it's all it takes for it to provide great results. The helmet charges through the USB charging port, and it takes 3 hours to get a full charge. After that, you can find a comfy spot to sit in during the treatment or put on the helmet and go about your day while the red lights do their magic. The low light therapy treatment is not just painless and comfortable, it's quite simple with the Vinmax Hair Growth Helmet Device. The helmet has an auto shut-off feature that turns off the lights after 20 minutes of use, making sure that you've received the right amount of follicle stimulation for the desired results. 
The interior of the helmet is lined with 80 diodes that produce clinical-strength low-level light therapy at an optimal 678 nm wavelength. As a result, the lights penetrate deep into the scalp, stimulating the follicle directly and help you restore hair, reduce hair loss, and avoid baldness for good. For best results, the manufacturer recommends that you use Vinmax Hair Growth Helmet Device 2 to 3 times a week, in 20-minute sessions. However, in cases where hair loss is severe, it's better to use this device once a day, for an added boost to the follicles.
---
RegrowMD Laser Cap 272
This top of the line, medical-grade laser cap might have a hefty price tag, but countless happy customers seem to think that RegrowMD Laser Cap 272 is more than worth it. The way this innovative low-light therapy device works is by using a laser to activate hair follicles and stimulate hair growth, which is common enough- but it's the type of laser and the design of the cap that make all the difference. Inside the cap, there are a whopping 272 high-quality laser diodes, much more than most can boast. Additionally, thanks to the patented BioLight Comfort Design, the laser diodes are spaced out evenly, to ensure both comfort and maximum potency and effectiveness of the treatment.
To make sure you really reap the benefits from this high-quality low light therapy device, you should use it in accordance with the manufacturer's recommendations. In most cases, this would mean doing 15 to 30 minute sessions, 2 to 3 times per week, in a period of 6 months. This is the optimal time and treatment schedule to see a significant improvement with baldness, hair loss, and weak hair. 
This device is powered by a rechargeable battery, and one full charge (lasting 3 to 5 hours) will give you between six and eight 30-minute sessions of hands-free light therapy. RegrowMD Laser Cap 272 is cleared by the FDA as an OTC medical device.
---
While you wait for your hair growth device to arrive
There are many ways that you can try to casually mitigate your hair loss while waiting for your light device to arrive. Take time to relax. Too much stress can actually make your hair fall out faster. But don't worry too much—the average human loses 50 hairs a day. Get a soothing head massage. All of these are good options.
Curious to try even more powerful light therapy options? Learn about how red light therapy can help your skin. Try out one of these skin rejuvenation treatments to make yourself feel younger.