Do you wish you could give yourself a relaxing spa experience right at home, especially when it comes to soothing your tired and aching feet? Then it is time to consider getting yourself a high-quality foot spa massager.
There are several options on the market, so you can select the one that will give you exactly what you need. For example, many of these products come with different massage modes, so you can get the perfect massage every time, and many also produce a combination of heat and bubbles that you can use to recreate an expensive spa experience in your home.
Below, we take a look at some of the benefits of using this type of product, and we've also compiled a handy list that you can use when you're ready to shop for one that will deliver amazing results.
The Benefits of a Foot Spa Massager
A foot spa that massages and warms your feet can be a wonderful way to relax, but there are several other benefits that this type of product can provide. In fact, by treating your feet well, you might find that your mind also begins to feel more at ease during times of anxiety or stress.
What are some of the ways that a foot spa massager can help? Well, if your feet are achy, you might find relief from this simple and natural at-home treatment. Plus, the massage and heat therapy may also help improve circulation in the body by reducing tension in the feet. And massage therapy might also be beneficial to you if you're dealing with a negative mood, as it is a great way to improve the way you feel.
If you are ready to invest in a product that can relax, as well as energize and rejuvenate you, an affordable foot spa massager is a good way to go. And, if you're a busy person, the best part is that you don't have to spend a lot of time using your foot spa massager because a 15-minute session may be enough to help you start feeling better.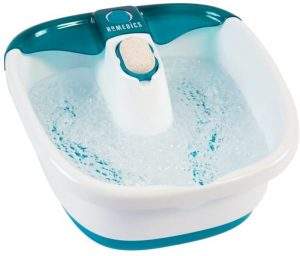 The HoMedics Bubble Mate Foot Spa is a good choice if your feet tend to feel overworked and tired. The water jets will massage your feet, the bubbles will be invigorating, and the raised nodes will provide additional soothing relief with their massaging action as well. What's also nice about this product is that it has toe-touch control that's super convenient, as you don't need to worry about having to bend down to use your hands to turn it on and off. Plus, it has a removable pumice stone you can use to get rid of rough skin, and the splash guard helps you avoid messes.
---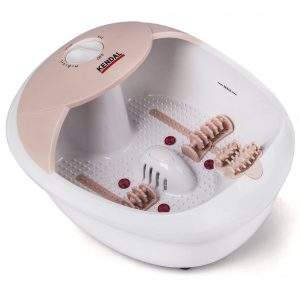 The Kendal Foot Spa Bath Massager with Heat is an all-in-one product that delivers oxygen bubbles massage and high-frequency vibration massage, along with heat therapy. It also features two active massage rollers to help relieve fatigue. Choose from three modes, which include high-frequency vibration massage and red light; heating therapy and oxygen bubbles massage; and heating therapy with bubbles massage, vibration massage, and red light. Between the massaging and the heat, you are sure to feel more relaxed before you know it, as tension is released and circulation is supported.
---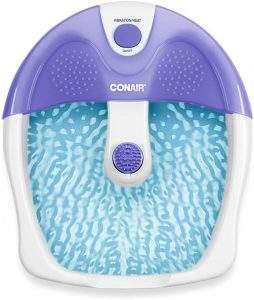 The Conair Foot Spa/Pedicure Spa with Soothing Vibration Massage features a deep basin that allows you to completely immerse your feet to achieve total comfort and relaxation. Features include toe touch control, vibrating massage, splash guard nodes, and a pinpoint massage attachment. Also, the basin will maintain the temperature of the water you put in it. For example, you can use cold water to reduce inflammation and swelling, or you can go with warm water to release tension.
---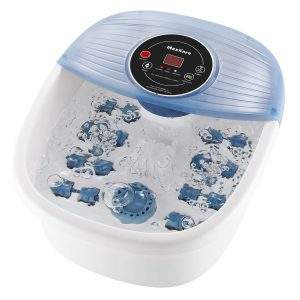 The easy-to-use MaxKare Foot Spa Bath Massager with Heat Bubbles can provide you with a rejuvenating spa-like experience in the comfort of your own home. It can heat water to help promote circulation and relaxation of the muscles, and the bubbles that it generates are sure to provide you with extra comfort. Choose from three modes, and enjoy the vibrating massage and soothing heat. It will heat the water quickly, and then maintain your preferred temperature, so it's easy to use. And the removable massage rollers let you give yourself the perfect foot massage to reduce tension and fatigue.
---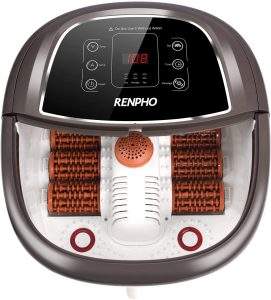 Finally, there's the RENPHO Foot Spa Bath Massager, which is designed to help reduce stress and pain in your tired and overworked feet. This product, which features a handle that makes it easy to move and set in place, will quickly heat the water to your preferred temperature, and it will then maintain that temperature. You can also choose from three automatic massage modes and bubble jets. Use the rollers to target acupressure points, and enjoy the soothing effects of the powerful bubbles. Using a combination of massage rollers, water, and heat, your feet will be warmed up nicely, and healthy circulation will also be supported. If you are feeling tense, stressed, or anxious, if you're an athlete or a senior, or if you have trouble sleeping, using this product might be a natural way to get much-needed relief.
---
Totally Relax Your Feet Whenever You Want!
Who wouldn't love being able to give themselves a relaxing foot massage at home, without needing to always go to the spa? Well, with the right foot spa massager, you can not only massage your feet, but you can also use warm water and bubbles to further soothe them and help soften the skin on your feet. Using this type of massager a few times a week can be a great way to reduce stress and help you feel great, even if you spend many hours on your feet every day.