You want to protect your skin from the sun's harsh UV rays, but if you have sensitive skin, finding the right product that will give you the protection you need without causing any irritation can be challenging.
Thankfully, there are a lot of sunscreens on the market today that are designed with sensitive skin in mind, so you do have a lot more options than you might realize. To help you along, we've compiled some tips and recommendations that you can use when you're shopping for the ideal sunscreen for your delicate skin.
What to Look for in a Sunscreen for Sensitive Skin
What are some of the things that you should consider looking for in a sunscreen that will be appropriate for your sensitive skin? Of course, sunscreens that are labeled for sensitive skin are a good place to start. But, in addition to that, it's wise to look at the product details more closely.
First off, experts recommend sticking with mineral sunscreens, rather than those that rely on chemical based formulas that may lead to symptoms like redness and stinging. Titanium dioxide and zinc oxide are a couple of examples of active ingredients to look for. But keep in mind that some products will contain both chemical filters and physical blockers, so, again, read the label carefully.
In addition that, avoiding scented products might also be helpful if your skin tends to become irritated easily. Check labels closely to ensure a sunscreen is fragrance free or unscented.
We looked into some of the mineral sunscreens that are available so we could give you an idea of the various options that you can try. The items below boast a lot of the features that you should consider looking for in a high-quality sunscreen.

First up is the MDSolarSciences Mineral Moisture Defense SPF 50 sunscreen, which does not contain any octinoxate or oxybenzone. Instead, it utilizes zinc oxide and titanium dioxide to create a barrier that can protect your skin from the sun's UV rays. Also, this product is oil free, paraben free, and fragrance free, it glides on easily, and it can be used on the body and face. It contains natural ingredients and antioxidants like green tea, cranberry extract, pomegranate extract, and vitamin C, and it won't clog pores. Plus, it is water resistant for up to 80 minutes, cruelty free, and reef safe.
---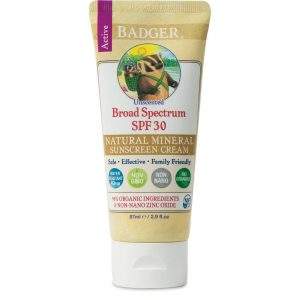 Badger's all-natural SPF 30 Zinc Oxide Sunscreen Cream is designed to provide you with broad-spectrum protection. It only contains five ingredients, which are non-nano zinc oxide, organic beeswax, organic sea buckthorn extract, vitamin E, and organic sunflower oil. Great for all skin types, including sensitive skin, the zinc oxide will remain on the top of the skin while protecting it from UV rays. Plus, this moisturizing, reef safe sunscreen is sweat resistant and water resistant for a minimum of 40 minutes, and it is non-comedogenic, hypoallergenic, non-GMO, fragrance free, and free of parabens, dyes, and artificial ingredients.
---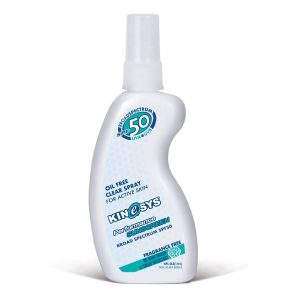 The KINeSYS SPF 50 Fragrance Free Spray Sunscreen provides broad-spectrum protection, it's easy to apply and dries quickly, and it doesn't leave an oily residue behind. You can use it on your face and body daily, even if you have sensitive skin. It does not contain alcohol, oil, PABA, preservatives, parabens, gluten, fragrance, and other undesirable ingredients. Plus, it is cruelty free and vegan, as well as hypoallergenic and non-comedogenic, and it is water resistant and sweat resistant for 80 minutes.
---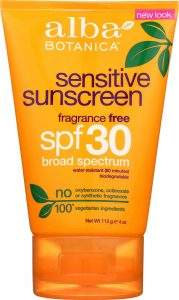 Another great option when you are searching for a more natural sunscreen is this Alba Botanica Sensitive Sunscreen, which provides SPF 30 broad-spectrum protection. It's moisturizing, fragrance free, gluten free, and water resistant up to 80 minutes, as well as appropriate for sensitive skin. Plus, it is reef friendly, and it features a biodegradable formula, along with ingredients that include vitamin E, green tea, chamomile, and aloe vera. You won't find any oxybenzone, phthalates, parabens, PABA, octinoxate, or nano-sunscreens in this product.
---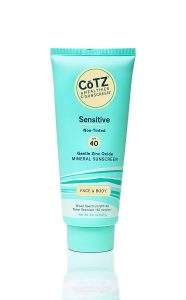 The CoTz SPF 40 Sunscreen for Sensitive Skin features an all-mineral formula without any chemical sunscreens. The active ingredients are titanium dioxide and zinc oxide, and this product does not contain preservatives, fragrances, gluten, phthalates, PABA, or oils. It is water resistant and non-greasy, and it isn't tested on animals, which is always a nice feature.
---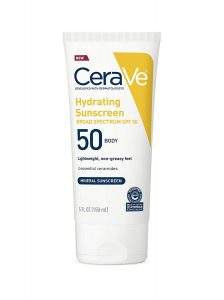 Developed with dermatologists, the CeraVe 100% Mineral Sunscreen provides SPF 50 broad-spectrum protection. This lightweight and hydrating product contains hyaluronic acid and three essential ceramides that help lock in moisture and restore your skin's natural barrier. Using titanium dioxide and zinc oxide to reflect the sun's damaging UV rays, it is gentle on the skin and appropriate for those who have sensitive skin. Plus, it is non-comedogenic and free of oils, parabens, fragrances, and oxybenzone.
---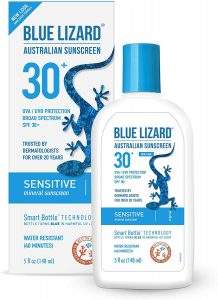 Last but not least on our list is the Blue Lizard Sensitive Mineral Sunscreen, which relies on zinc oxide and titanium dioxide, rather than chemical sunscreens, to reflect harmful UV rays away from your skin. It provides SPF 30 broad-spectrum protection, it's dermatologist recommended, and it does not contain any octinoxate or oxybenzone. Plus, it is fragrance free and paraben free, as well as water resistant up to 40 minutes.
---
Shopping for Sunscreen for Sensitive Skin Doesn't Have to Be Hard!
These days, there are a lot more products available to protect sensitive skin from the sun's UV rays. All you have to do is know what to look for. Read labels carefully, check the ingredients list, and maybe even do some research into a brand before deciding if a particular sunscreen is right for you.
It's worth shopping carefully because, once you have found the right product, you can enjoy spending time in the sun, whether you're hiking, swimming, or just relaxing with friends, without worrying about your sunscreen irritating your delicate skin.