Do you wish you could have a single hair styling product that lets you create beautiful curls and waves, and also lets you straighten your hair? Well, the Dyson Airwrap styler is designed to do all of that.
But how does this product work, and is it worth the price? We took a closer look at what this styler is all about so you can figure out if it's just what you've been searching for.

What Can the Dyson Airwrap Styler Do?
The Airwrap styler by Dyson is designed to do it all. It has a barrel that makes it super easy to get waves or curls, and it also has brushes that allow you to straighten your hair and add volume to it. All you have to do is select the right attachment to get the look that you want.
Here are the attachments that you can use with the Airwrap styler:
The ½" Airwrap barrel will let you create amazing curls.
The 1.6" Airwrap barrel will let you create loose curls and waves.
The round volumizing brush is good for fine and flat hair because it dries hair and gives it body at the same time.
The firm smoothing brush is for hair that's prone to frizz, as it works on drying and smoothing the hair in a way that creates fewer flyaways and less frizz.
The soft smoothing brush is gentle on the scalp, and it can give you the look of a blowout.
The pre styling dryer allows you to dry your hair a bit, taking it from wet to damp, so you can then finish styling it.
Shop for the Right Set of Attachments for Your Hair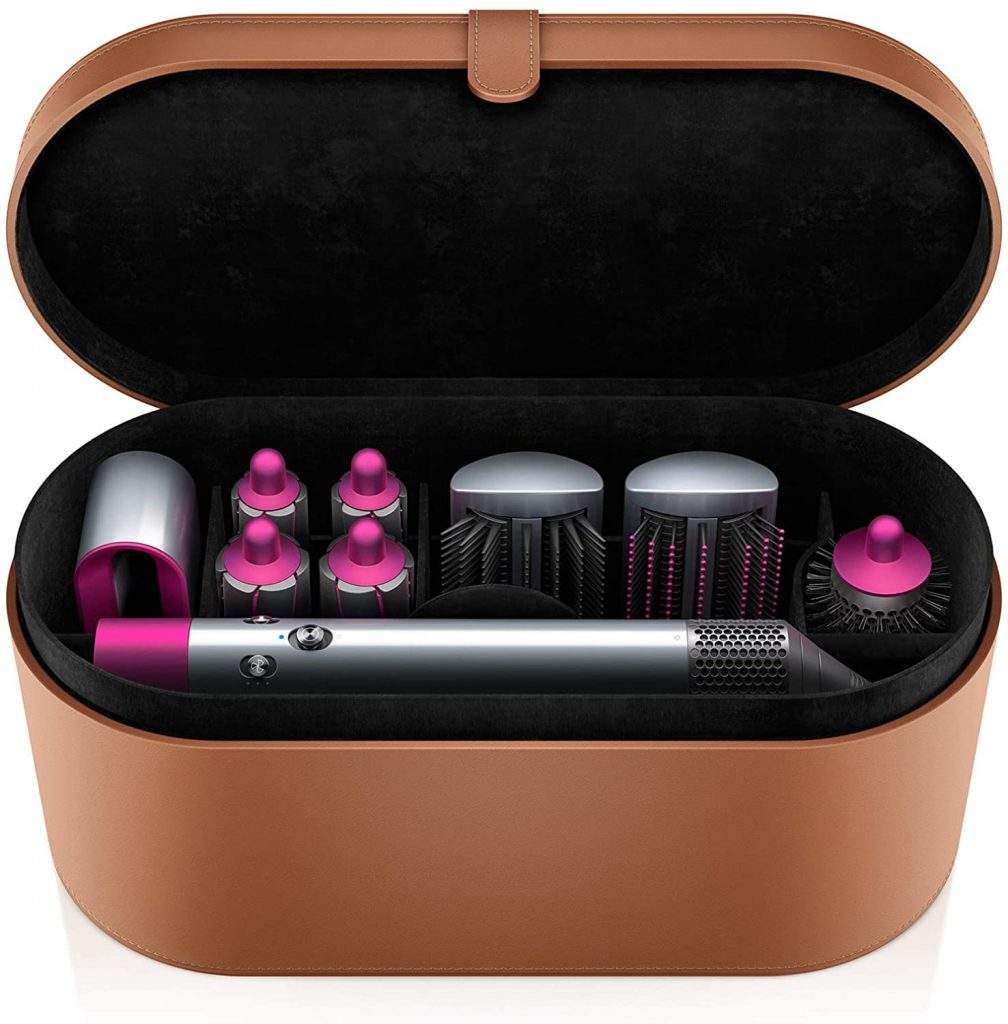 Why are there so many different attachments? Well, according to Dyson, they want you to be able to choose the one that will be most appropriate for your hair type, as well as the types of styles that you want to create.
When purchasing the Airwrap styler, you can select from various sets of attachments. For example, you can get the complete set with all of the attachments, you can get the one for fine, flat hair, or you can get the one for smoothing hair and controlling frizz.
But, Wait, Does It Use Heat?
Many hair styling tools use high heat to deliver results. Unfortunately, that heat can be damaging to hair, leading to dryness and breakage. That's why the Airwrap Styler is designed to work without extreme heat to give you the look that you're after, whether you want locks that are straight and smooth or you want bouncy curls.
This styler uses controlled heat and airflow together to dry your hair and style it at the same time. That helps you reduce the amount of time that you need to spend styling your hair. And you can rest assured that you won't be using a product that relies on extremely high temperatures that can harm your hair.
Instead of high heat to create curls, for example, the Airwrap styler utilizes what's known as the Coanda effect, which curves air to both attract and wrap your hair around the barrel. You don't have to do any work, and the styler uses air, rather than heat, to curl your hair. It's pretty amazing!
A Look at the Pros and the Cons
As is the case with any product you purchase, there will be some pros and some cons. Weighing these before you buy can help you make the right decision.
Here are some of the nice things about the Dyson Airwrap styler:
You can easily detach and attach the different styling pieces, and they all lock into place securely.
The heavy-duty attachments are built to last.
The styling results can last all day.
It can help you save time.
Here are some of the drawbacks about the Dyson Airwrap styler:
It might take some time to learn how to properly use the attachments. For example, the brushes are made to be used on wet hair, while the barrels are made for use on damp hair.
You might also need to figure out how to get the barrels to work right because they pull your hair in on their own.
For each type of styling barrel, you get two of them. That's because one will be a clockwise barrel, and the other will be an anti-clockwise barrel. This helps ensure you can get symmetrical waves and curls. But it also means you have to switch from one barrel to the other as you move from one side of your head to the other.
What About the Price?
The Airwrap styler is from Dyson, so it should come as no surprise that it has a hefty price tag. While you might be able to find a deal when shopping from a third-party retailer, if you purchase directly from Dyson, the prices are as follows (as of the time of this writing):
The Complete kit: $549.99
The Volume + Shape kit: $499.99
The Smooth + Control kit: $499.99
For those who are shopping on a budget, this would likely be a major problem. But if you really like Dyson products, and you're expecting the Airwrap to work extremely well for a long time, it might be worth the high price, especially if it means it can replace other styling products that you typically use with less than stellar results.
Overall, a Great Find!
We read a few expert reviews of the Dyson Airwrap styler, and what we found is that, for the most part, people are impressed by what it can do. If you typically use a lot of different styling tools and spend a lot of time getting your hair to look just right, this product might help you use fewer tools while saving time and effort. Despite the learning curve that may come with some of the attachments, this unique product seems like it has a lot to offer, so it's certainly worth checking it out if you're in the market for better styling tools.