The human body relies on various environmental factors to function properly. Sunshine is one of those factors. Along with stimulating the body to create vitamin D, the sun also helps regulate our sleep/wake cycle or circadian rhythm. If unable or unwilling to venture outdoors during fall and winter, individuals may experience depression, difficulty concentrating, have reduced energy levels and suffer from sleep pattern disturbances. When these symptoms persist, physicians may recommend using a light box.
Seasonal Affective Disorder (or SAD) is a type of depression that occurs as a reaction to the changing seasons. This mood disorder is known to affect as many as 10 million Americans, and an estimated ten to twenty percent may have a milder form. The most common type of SAD is known as "winter depression", although some people may also suffer from "summer depression". In both cases, it's thought that the change in the amount of daylight a person gets is responsible for the change in their mood.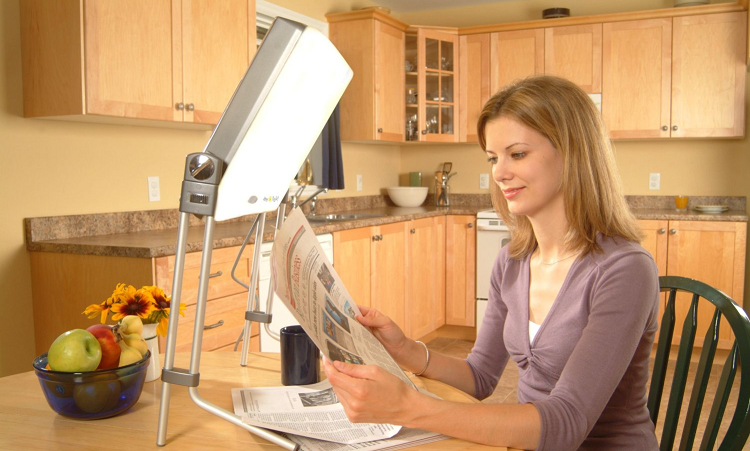 Since SAD is directly associated with the light, the most common solution is light therapy. However, this therapy is different than most of the light therapy devices we share on this site. Rather than using colored lights, the lamps used to help treat Seasonal Affective Disorder mimic natural sunlight in order to "trick" the body into thinking it's getting more sunlight.
We have rounded up five of the best-rated light therapy boxes and lamps for seasonal affective disorder and we hope that you will make the choice to beat your mood disorder without harsh medicines or hypnosis.
SAD Light Therapy Reviews
---
Aura Daylight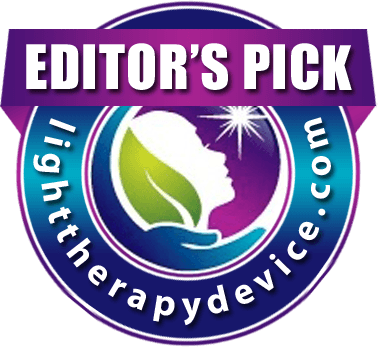 The Aura Daylight Therapy Lamp alleviates circadian rhythm-associated problems. At just over 3.5 pounds, it was designed for portability along with having additional features. The lamp is easily mounted on a wall using the wall attachment if preferring to use the device in one specific location each day. The lamp consists of a white light box attached to a matching base complete with a power-on switch and programmable timer. Each press of the button increases treatment time by 10 minute increments up to 60 minutes.
The adjustable lux dial is particularly popular with consumers. Simply change the brightness setting anywhere from 5,000 to 10,000 lux as desired to meet individual needs. The highest setting is considered clinical strength and so is ideal for treating severe Seasonal Affective Disorder symptoms if needed. The light is also created to last for up to 8,000 hours, which is sufficient to provide effective treatment for two or more seasons. The lamp itself also adjusts thanks to a tilting mechanism, which alters the lamp angle anywhere from a 70 to an 85 degrees.
The length of treatment and intensity of the light during treatment varies from one user to the next. One individual may experience symptomatic relief when using the lamp on the highest setting for up to 30 minutes once daily. However, this setting may be too bright for another who might prefer a lower setting for a longer time period once or twice daily. For best results, the lamp should be positioned 16 to 24 inches from the user regardless of the length of treatment time or the intensity setting on the light. The light must reach the facial region without looking directly at the light. The medical grade light delivery ensures effective treatment for anyone suffering from circadian rhythm disorders.
---
Verilux HPLD HappyLight Deluxe
Verilux is one of the known leaders in the light therapy industry, as they've been around since the 1950s. The name Verilux itself means "true light" – so you can assume that you'll be getting a high-quality, natural spectrum light that helps to combat your depression symptoms. There's only one way that you can have 60 years of dedicated service, after all – a high-quality product that works.
The HappyLight Deluxe is the top-of-the-line artificial light therapy device for the treatment of mood disorders. More than just a bright light, this device offers an effective range that is quite large – helpful for situations where multiple users will be treating at the same time. (It is important that these users sit within the recommended 24" range; otherwise, the light's effectiveness will be drastically reduced.)
Overall, we were satisfied with our HappyLight Deluxe, but at just under $$* it is a bit expensive for many, especially for something that looks like a regular CFL bulb. It is important that you use it every day, and the bulbs are really expensive if you should need to replace them. Thankfully, they generally last for years (as long as you don't drop the device), and dedicated users see dramatic reduction in their seasonal symptoms.
---
Carex Health Brands Day-Light Sky
Carex is another name that's been in the industry long enough to know what they're doing. The
Day-Light Sky
offers users a smaller footprint than many other models while still maintaining a large lamp size. This is because of the base, which elevates the light and also helps to keep your treatment device more discrete.
Aside from just a wonderful treatment device, this is also a high-quality task lamp, and some research even says that these "natural daylight bulbs" can help increase a user's overall productivity. We don't really know too much about that, but we do know that these lamps have the power to significantly alter your mood and your energy levels.
Overall, Carex products are fairly expensive, but they are backed by a super helpful support team that will even help you find your replacement bulbs, or help replace a lamp that was broken during shipment. This extra commitment to a good customer experience shows that they really do care about their customers – and sometimes, when dealing with mental health concerns, being treated like an individual is one of the most important steps.
---
Carex Health Brands Day-Light Classic Plus
You may notice a slight similarity between the
DayLight Sky
and the
DayLight Classic
, and there's a reason for it. Both lamps are precision devices that are designed to sit comfortably on a table. However, the
DayLight Classic
is the predecessor, and as such it doesn't have quite as many features and advancements as the Sky. Still, it is a bit less expensive and it's backed up by the same wonderful customer service team, so we had to check it out.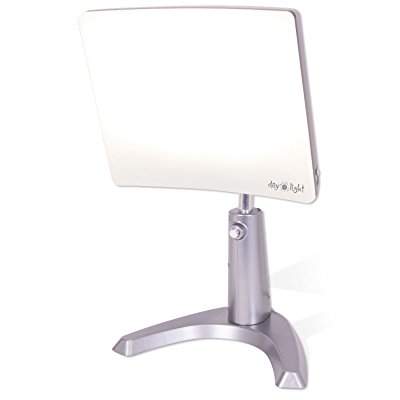 The first thing we noticed about this particular lamp is that it is definitely not meant to be a task lamp – this is a treatment box. The curved design is meant to help angle it toward your face. Some customers reported that it made a good "general" light for their desk, but we didn't like that it was non-adjustable. We had to put ours on top of a few books to get it just the right height for comfort.
Once we got everything situated well, we did notice that it worked pretty well. It's not the greatest shape we've seen of all these lights, and it's definitely far too bulky to travel easily. But if you need a dedicated artificial light therapy and you really don't plan to use it for general tasks, this offers the same "effective specs" of the DayLight Sky, but with a lower price tag and only a few compromises.
---
Verilux HappyLight Touch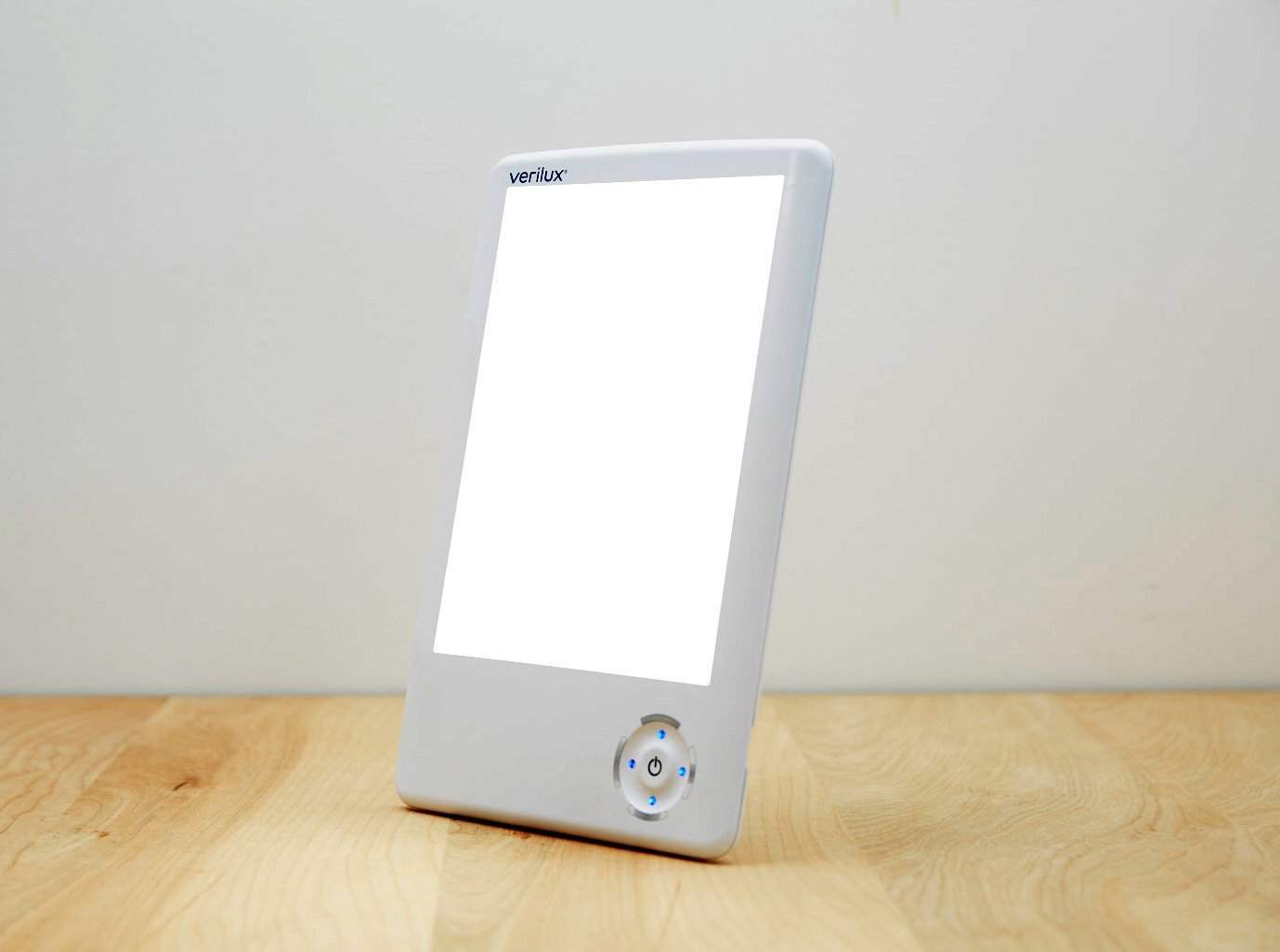 The Verilux HappyLight Touch is a light-therapy product delivering full-spectrum natural light. Although the brightness is adjustable, HappyLight provides up to 10,000 lux, the equivalent of outdoor sunshine. But this devices brightens up your surroundings wherever and whenever you need it to ease eye-strain and lighten your mood. Light therapy also helps to reduce fatigue and sharpen mental focus. It also helps to reduce jet lag and insomnia.
The HappyLight measures 7.5″ x 0.5″ x 11″, or about the size of a tablet, and weighs only one pound. It's designed with a sleek "tech" look so that it will blend in with all of your other gadgets when not in use. The small size makes it easy to keep with you all day. It has a fold-away fin on the back so you set it upright or lay it flat on your desk, nightstand, table, kitchen counter, or take it on the road with you.
It's designed with a one-touch timer that will set the light for 15 minutes at each touch, up to 60 minutes total. It ships in sturdy packaging and includes easy-to-follow, illustrated instructions. It's very intuitive to operate; you may not even need the instructions. The single power button both turns the unit on and off and changes the light level when it's held down.
In today's world of staring into a TV or computer screen all day under artificial lighting, natural light is important. A lack of sunlight can throw off your body rhythms. HappyLight is a simple, convenient way to ensure you get all the natural light you need, but without the harmful UV rays.
---
Philips GoLITE BLU Energy Light
First of all, let me say that the Philips
GoLITE Blu
is definitely the cutest of all of the light boxes we've reviewed. The sleek white plastic shell and the sky blue panel look gorgeous, and the compact design makes it easy to hold in one hand or take along with you while you travel.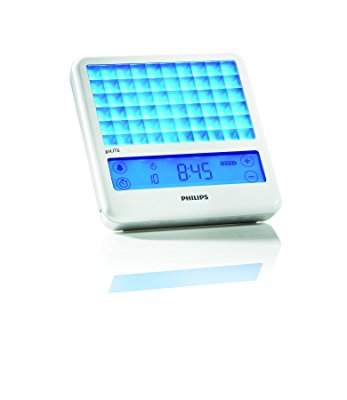 Initially, we were skeptical if this light would work as well as the Verilux (below, at the same price point) because it is so small. However, the company says that blue light (the type emitted by this light box) is the most effective color in the spectrum – and even that their product compares to much larger 10,000 LUX lamps. We don't know if that's really the case, but this lamp definitely did make a difference in our mood and energy levels on the days we used it.
Overall, if you want a lamp that's easy to toss in your bag and go (gently, though, of course), the GoLITE Blu is a wonderful mid-range that will get the job done. Is it as effective as the HappyLight Deluxe? Probably not – but it is pretty cute.
---
Verilux VT20WW1 HappyLight Liberty
This isn't the first Verilux product on our list, so you already know the brand's reputation for quality. But for those who don't need the absolute top-of-the-line, the Liberty could be just the solution you need. The Liberty is significantly smaller than the Deluxe, making it a much more travel-friendly option, as well.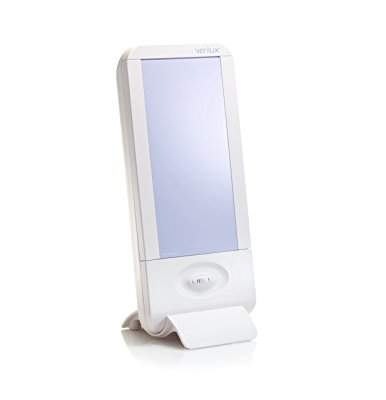 Their product information page says that the HappyLight Liberty is their best seller, and right away we can see why. There are two different lenses included with this lamp – the "comfort" lens, which allows around 5,000 LUX (at around 10 inches) and the "high-energy" lens, which offers about 10,000 LUX at the same distance. We loved this because most lamps make you choose between one or the other. Additionally, there is a switch that turns the unit from "high-power" to "low-power" and back, which means there are a total of 4 different settings available, from a single lamp – at a very reasonable price.
Overall, this lamp is our #1 choice for the treatment of light therapy, as it has all the functions that most users need for right around $* – definitely easy to fit into the budget when you factor in how much more energetic, productive, and happy you will be.
Considerations
When making any online purchase, it's best if you ask yourself certain questions beforehand to make sure you're making the best purchase decision:
What is your budget? Although the more expensive lights may have more features, it's best to not buy more light than you can afford. If you are working with a more limited income, it's important to think of which features are most important to you, and make sure the lamp you buy has them.
Is this a trusted brand? Some brands may make claims that their products are the best on the market, but unless this is backed up by real user reviews, their claims mean nothing.
Does this lamp use LEDs or traditional bulbs? Generally speaking, LED lamps will take less energy to run. Additionally, they will offer brighter light with less heat. However, in some cases, they may be more expensive.
Who will be using this light? These light therapy devices come in multiple sizes. Some are intended for a single user, while others are intended to treat an entire room at once. Choose carefully to avoid spending more money than you need to.
How long do you need to use it? Generally, the brighter the light (as well as the closer you are to it), the less time you'll need to use it. If you don't have the time to sit in front of the lamp, it may be helpful to keep a tabletop model on your desk and use it while you work.
Does it work?
Yes. Both Psychology Today as well as the Mayo Clinic have deemed that artificial light therapy is an effective treatment for Seasonal Affective Disorder. While individual cases will vary, it's estimated that up to 80% of users will see improvement from their SAD or other related mood conditions within 2-4 days of use.
Is it safe?
Most artificial light therapy lamps for the treatment of mood disorders filter out the UltraViolet (or UV) light, as it is known to have a connection to skin cancer. Some lamp manufacturers use true full-spectrum lights, which do not block the UV light. The theory is that it may be helpful in the treatment of certain conditions. However, we must insist that our readers only use lamps which block the UV light unless specifically instructed by their doctor.
When used as recommended, light therapy is completely safe. There may be minor side effects, such as light sensitivity or headaches. If you experience these symptoms, it may be necessary to get a light with a lower intensity, or to use it for less time each day. Since this light is much more concentrated than natural sunlight, it's not usually necessary to use your lamps for longer than 15-30 minutes at a time.
Does it matter if I use full-spectrum or natural-spectrum?
Generally speaking, only the natural spectrum is necessary for the treatment of SAD and other mood disorders. Full-spectrum lights may be beneficial in the treatment of other conditions. Additionally, full-spectrum light is closer to the color of natural sunlight, and may result in less headaches. If budget is a big consideration for you, natural spectrum lights are usually less expensive, and there is no real need for most people to use full-spectrum. Largely, it's a matter of personal preference.