Washing your hands with regular soap and water is often enough to clean them, removing dirt and germs. But if you want an extra line of defense against microbes, you might want to use some of the best antibacterial soaps that are currently available. These can kill harmful bacteria, so they're a good choice when you want to protect yourself if you're around people who are ill, or if you want to protect others from getting sick.
An antibacterial soap will contain antimicrobial ingredients that aren't included in the formulations of regular soap. This means that they're capable not only of washing away germs, but also of killing them.
These soaps will showcase the fact that they're antibacterial right on the label, so it's easy to distinguish them from other cleansing options available. What are some the top antibacterial soaps that are worth looking into? We've put together a short list of products to help you get started.

The DermaKleen Antimicrobial Liquid Soap is capable of killing 99% of germs, and it is even used as a health care antiseptic, so it can give you peace of mind when you want to stay safe from both gram negative and gram positive bacteria.
Gentle and alcohol free, it is appropriate for all skin types. Plus, this soap does not contain any triclosan, and it is designed to be mild and safe enough for babies and children too.
What's also nice about this soap is that it contains chloroxylenol to help prevent your skin from becoming dry like it would when using a sanitizer that contains alcohol. And it is even infused with vitamin E to help soften, moisturize, and condition your skin every time you wash your hands.
---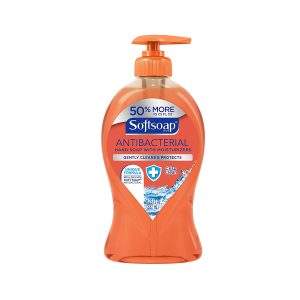 One of the most well-known germ fighting soaps is this one from Softsoap. It provides protection against bacteria, it is dermatologist tested, and it is clinically proven to kill 99% of bacteria, such as S. aureus and E. coli.
To prevent your skin from drying out as a result of using this soap, it also contains light moisturizers to help keep your skin soft and smooth. And it has a light, fresh scent.
---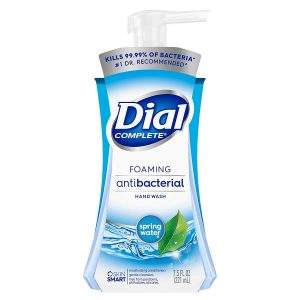 The Dial Complete Foaming Hand Wash is a #1 doctor recommended soap that can kill 99.99% of bacteria. Impressive!
This soap is a little unique because you need to pump it into your hands while they're dry, so you don't wet your hands first like you'd normally do when washing them. Once in your hands, you can lather this soap vigorously for at least 20 seconds. Then, you can rinse it away with water. What's nice about being able to use this soap on dry hands is that you can save water and energy by doing so, making it a little more eco-friendly.
This soap, which boasts a refreshing scent, doesn't contain any parabens, phthalates, or silicones. Its foaming formula will transform into a creamy, rich, and luxurious lather, even though you use it on dry hands. After each use of this tough product, you can rest assured that this soap has killed the vast majority of bacteria that people can be exposed to even in their own homes. At the same time, it's also gentle on your skin, and it's mild enough to use it frequently, which is definitely a plus.
---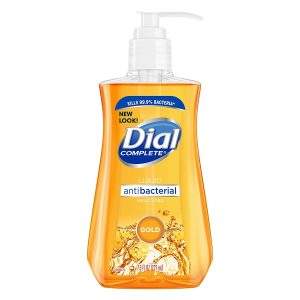 When you want a regular antibacterial soap, rather than a foaming formula, check out the Dial Antibacterial Liquid Hand Soap. Designed to be moisturizing, soothing, and gentle on your skin, this soap can thoroughly clean your hands and kill 99.9% of bacteria, particularly that which is commonly found in household settings.
When you use this scented soap, you will be able to tackle germs without sacrificing the softness of your skin. That's because it contains a blend of ingredients that are both cleansing and conditioning. Plus, this product is mild, so your entire family can use it. Just remember that, to get the best clean, it is best to lather this soap vigorously in your hands for a minimum of 20 seconds before rinsing it away.
---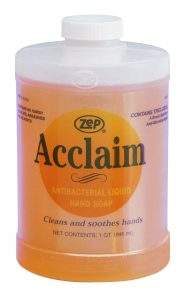 Another antibacterial hand soap option is the Zep Acclaim Liquid Antibacterial Soap. This brand is known for its many cleaning products that can help give you greater peace of mind when you want to keep your indoor environment as hygienic as possible.
If you want to have a soap that you can use in your office, this can be a good way to go. It removes dirt, while also inhibiting bacteria, yet it is mild, it does not contain any solvents, alkalies, or abrasives, and it has a light floral fragrance.
---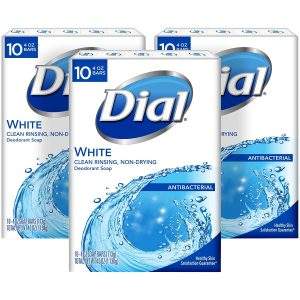 If you prefer bar soap instead of liquid soap, check out the Antibacterial Bar Soap from Dial. It boasts a light, fresh scent, and it can be used in the shower, as it can provide all day odor protection.
This soap creates a creamy lather that contains ingredients that can kill bacteria, as well as provide deodorant protection technology that will continue killing bacteria long after you have bathed. Plus, it is hydrating, so it won't dry your skin, and it will rinse away easily, leaving your skin moisturized and clean.
---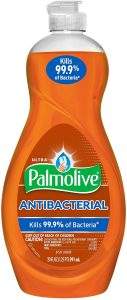 Finally, we thought we'd also cover dish liquid, as there are antibacterial options that you can consider to ensure you can keep your family safe from germs that can gather on your cooking and eating utensils.
The concentrated formula in Palmolive Ultra Dish Liquid is phosphate free and antibacterial, capable of killing 99.9% of bacteria like E. coli, staph, and salmonella in seconds. Plus, it doesn't leave a residue behind, it fights grease and odors, and it removes stuck-on food.
---
As you can see, there is an antibacterial soap for every setting, from your bathroom and shower, to your kitchen and office. So, when you want a deeper clean, consider products like the ones discussed above.