Should you give an in-shower moisturizer a try? These products are formulated to hydrate your skin before you get out of the shower, so you don't have to take the extra step of applying a moisturizer when you're done. As you can imagine, busy women who want to be able to do two things at once are usually excited to add one of these products to their routine.
How Do In-Shower Moisturizers Work?
Put simply, these products contain a combination of ingredients that can seal in moisture, as well as leave behind oils that can be absorbed into the skin rather than rinsed away.
As you decide whether or not you want to give an in-shower moisturizer a try, just keep in mind that these products might not be effective enough for individuals who have severely dry skin. In that case, you will probably still need to moisturize after your shower. Also, if you have a skin condition, such as eczema, you likely won't be able to rely solely on an in-shower moisturizer to keep your skin soft, moisturized, and healthy.
Interested in learning about some of the best in-shower moisturizers? We've listed a few of them to help you get started. Some are designed for use while you're in the shower, so you will rinse them off, while others are designed to be applied to your skin while it's wet after your shower but you don't rinse them off.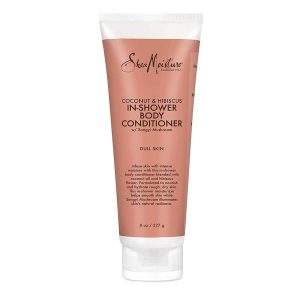 Shea Moisture is a brand that offers a wide range of products, and their Coconut & Hibiscus In-Shower Body Wash Conditioner is worth checking out if you are looking for an in-shower moisturizer.
This product includes Fair Trade, organic shea butter that nourishes and hydrates sensitive and dry skin. It also contains coconut oil and hibiscus flower to help you achieve healthier skin. Plus, it does not contain any sulfates, phthalates, mineral oil, or parabens.
You can use this cruelty free product as a gentle cleanser in the shower, even if you have sensitive skin. All you have to do is apply it like you would any body wash while you are in the shower. Rinse it off, pat yourself dry, and then you're done. Once again, you will notice that your skin is moisturized enough all day that you don't need to take any additional steps with other products after your shower.
---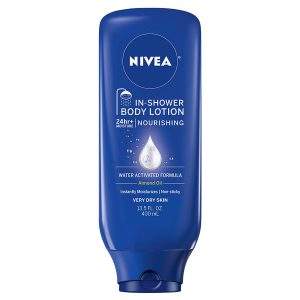 The NIVEA Nourishing In-Shower Body Lotion is water activated, so it is designed for use in your shower while your skin is wet.
Use this product on skin that's dry to very dry in order to give it the hydration it needs. The ingredients can moisturize your skin instantly, leaving it feeling smooth and soft, and the effects can last 24 hours. Plus, this in-shower moisturizer will not leave any residues or sticky feeling behind on your towel or skin.
This water-activated formula is enriched with almond oil, which can instantly deliver moisture and nourishment to your skin. To use this product, start by cleansing your skin with a soap or body wash of your choice. Then, apply this in-shower lotion to your skin while you are still in the shower. Rinse it off, dry yourself, and you're ready to get dressed. Time-saving and simple! 
---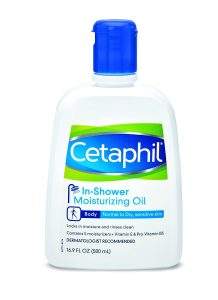 Cetaphil In-Shower Moisturizing Oil can lock in moisture to provide your skin with hydration that lasts 24 hours. And it does not contain any parabens or fragrance. Instead, it boasts pro-vitamin B5 and vitamin E, along with a blend of five moisturizers, so it can condition your skin instantly, making it feel smooth and soft.
You can use this dermatologist recommended product (which is great for normal, dry, and sensitive skin) before leaving the shower. Just cleanse your skin as you normally would, and then apply this in-shower moisturizing oil right onto your skin while it's wet, massaging it in gently. Its ingredients will be activated by the water on your skin, and it will transform into a creamy and rich lather. Then, just rinse it away and dry your skin with a towel. No need to use another moisturizer when you step out of the shower.
Tip: You can also use this product in the bath by adding a tablespoon or two to the water.
---

The Eucerin In-Shower Body Lotion is a moisturizer that won't leave behind a greasy residue, so you'll be able to get dressed right away. Plus, you can save time because you are moisturizing your skin while you're still in the shower.
This is a fragrance free formula that contains pro-vitamin B5, so it can nourish and soothe dry skin easily and effectively. To use it, just cleanse your skin as you normally would, making sure you rinse the soap off completely. Then, apply this in-shower moisturizer to your wet skin while you are still in the shower. Rinse it off, dry yourself, and get dressed. All done!
---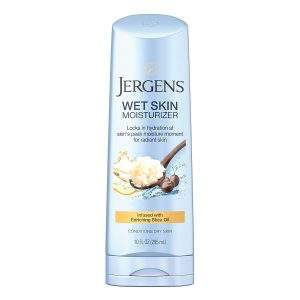 Jergens Wet Skin Moisturizer is an oil-infused formula that will work best when your skin is wet, but you don't need to rinse it away.
Here's how it works: after you take a shower, your pores will be open, so the ingredients in this product can more easily penetrate to moisturize, nourish, and get rid of dryness. After use, your skill will be soft all day, thanks to the shea oil and the pure African shea butter that can smooth and soften skin.
To use this quick-absorbing moisturizer, take a shower first, and then apply it to your skin while it's still wet, before you dry yourself off. Then, you can pat yourself dry. No rinsing needed, and you don't need to use a daily moisturizer if you're using this product.
---
With so many different types of in-shower moisturizers to choose from, you can find the solution that will work best for your skin!
Photo credit: VGstockstudio/Shutterstock