When it comes to your skin care, there's nothing quite like managing it from the comfort of your own home. Sure, it can be invigorating to go to a spa, put your feet up, feel pampered, and have those expensive treatments done. But if you could do the same treatments in your own home, without having to worry about getting dressed and having someone else touch your face, and even save money in the long run, wouldn't you want to? Of course you would! Who wouldn't?!
Thankfully, it's possible to live out that beautiful dream if you want to. Times have changed and these days there are a variety of microdermabrasion kits available to any consumer for home use. It's just a matter of finding the right one for you. With the right product and a little patience, you can look and feel like you've had an expensive spa treatment for a fraction of the cost and without having to go outside. Doesn't that sound great?
So, what are these magical products that will allow you to treat yourself to a spa experience in the privacy of your home? They are products that use mechanical exfoliating techniques to sand your skin to lift and remove damaged or dead skin cells. This process also stimulates collagen production, which will give your skin a plumper and more youthful appearance. Individuals use microdermabrasion to reduce visible signs of aging, which might include fine lines or mild wrinkles, age spots or uneven skin tone. Would you like to be one of them? Then keep reading this article. Our experts about to tell you everything that you could possibly want to know about microdermabrasion machines and even provide a list of some of our favourite examples to consider.
Best Microdermabrasion Machines
What is microdermabrasion?
Microdermabrasion refers to the use of crystals to exfoliate the skin and remove dead skin cells. While it might not sound like a particularly glamorous treatment, it definitely makes you feel glamorous after a treatment. After all, you're rubbing crystals into your face. That's not a pleasant sensation, but having that post crystal glow is worth it. In fact, many men and women rely on microdermabrasion treatments to rejuvenate their skin without harsh chemicals or makeup that only masks the problem. It's a new skin trend that more and more people are embracing every day.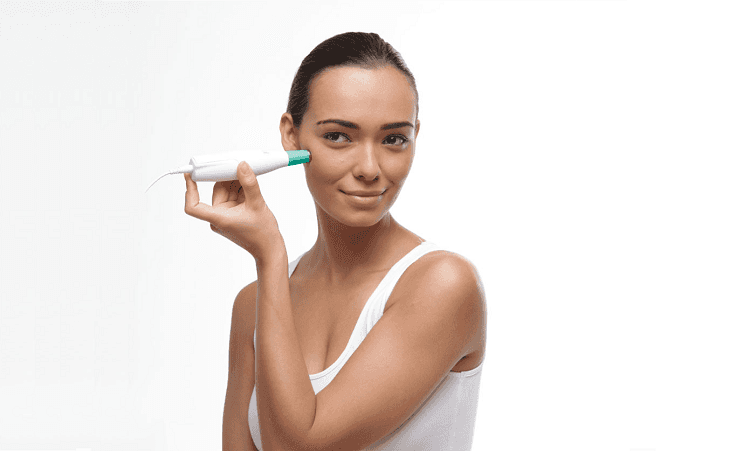 A microdermabrasion facial, specifically, refers to the use of microdermabrasion devices on the facial skin. Since this skin is often quite sensitive, the ability to use safe aluminum oxide crystals instead of creams, lotions, and ointments can help with individuals who suffer from acne, facial wrinkles, and even some scars. It's not just a rejuvenating product, it can also clear up blemishes and damage.
What are the benefits of microdermabrasion?
Since microdermabrasion uses relatively safe aluminum oxide crystals instead of chemical scrubs, it is considered much safer than other treatment methods (which makes it the ideal option to use at home without supervision). It can be used to reduce fine lines and wrinkles, acne and acne scarring, whiteheads and blackheads, as well as helping to even skin tone and minimize pores. So, pretty much everything that you could want out of this sort of product.
There is no recovery time or discomfort associated with treatments, and the skin is rejuvenated as collagen production is stimulated. When you use an at-home machine, the benefits are further increased by giving you the ability to treat from the comfort of your own home, in your own time. There's less of a chance of you feeling uncomfortable or in pain if your take your time with this abrasive treatment, rather than rushing it so that others can flood into the spa for their treatments.
Does microdermabrasion work?
Absolutely! We wouldn't be writing this article if it didn't! However, it's important to be realistic. Microdermabrasion isn't some sort of a magical miracle cure, but it has proven results because of what it does. First, you will clean your face thoroughly. If your microdermabrasion is done by a dermatologist, they will use a specialized gel for this. Some home devices will come with their own cleanser, as well. If not, use your best and most nourishing face wash options.
After your face is thoroughly cleaned, the handheld device will deliver small aluminum oxide particles through a tube. This tube will also vacuum up the dead skin cells and the "used" crystals. It's very important that your entire face be treated, not just the problem areas. Otherwise the skin may show inconsistencies in texture and tone. You don't want to have a patchy face, so make sure to do it everyone.
Once the entire face has been treated, you should apply a soothing cream to help prevent the fresh skin from being damaged. After all, your skin hasn't yet had the chance to strengthen, and will therefore be sensitive to sunlight and other irritants. With proper care, you should be able to resume your normal routine immediately, and the entire process should take under an hour. It's not that complicated, but the results are undeniable.
What are the side effects of microdermabrasion?
There is a risk of eye irritation if you don't use proper eye protection. That's because you will be using rough crystals to exfoliate. If those crystals rub up against your bare eyeball, that will be very painful and unpleasant. So you should avoid scrubbing the eye area as much as possible. Additionally, if you don't use anything to soothe and protect your skin from the sun, you will be at risk for increased sun damage after a solid microdermabrasion session. However, if all instructions and precautions are followed, there are very few risks associated with the use of microdermabrasion machines.
How much does microdermabrasion cost?
The costs associated with microdermabrasion will vary depending on whether you choose to visit a salon, a dermatologist, or purchase a personal microdermabrasion machine for yourself. If you anticipate doing only a single treatment, the salon may be your best bet, as their one-time costs will be less expensive that buying an entire device. However, as with all other beauty procedures, your best results will be found if you pursue maintenance treatments.
For those who will be doing maintenance treatments, your best bet will be to purchase your own personal microdermabrasion device. There are treatment devices at many different price points, and you will need to evaluate which features are most important to you in order to find a machine that works the best for you. There are so many options out there, so take the time to do the research and determine which machine is best for your skin and your needs.
Microdermabrasion before and after
They say a picture is worth 1000 words. We can describe the benefits of microdermabrasion for hours, but nothing is quite as impactful as seeing the results. So, if you're curious about this process but aren't sure about whether or not it lives up to the hype, check out these pictures. They truly speak for themselves.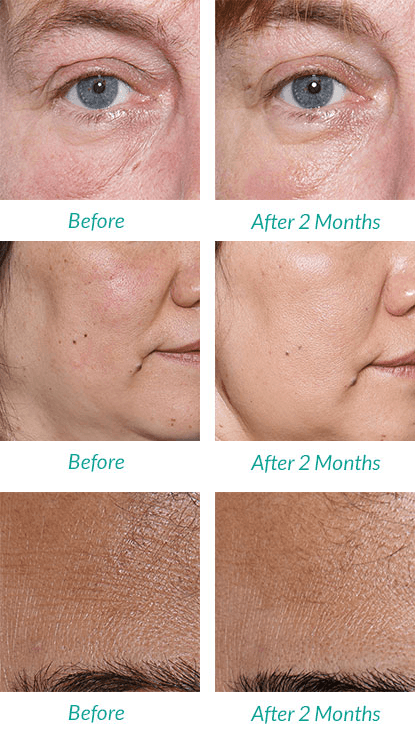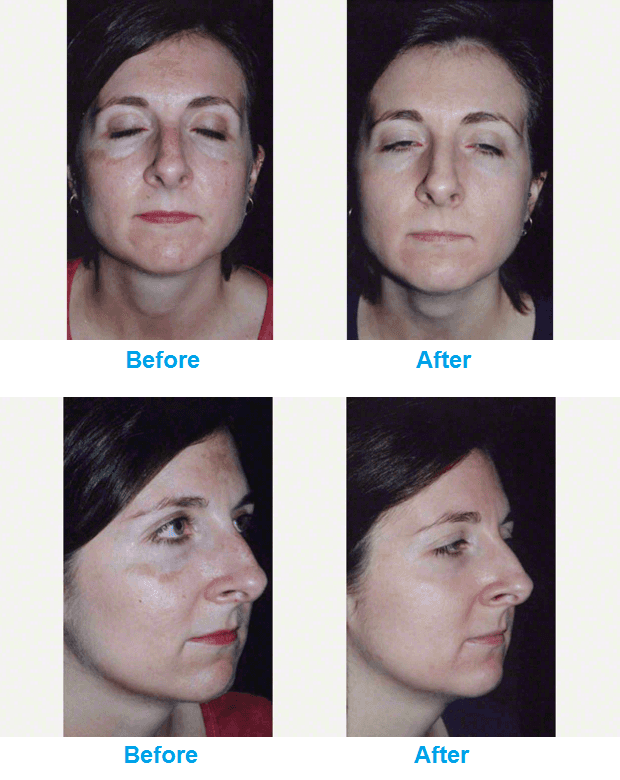 What is the best professional microdermabrasion machine?
For those seeking professional-quality results from the privacy of their own home, you should be sure to do the appropriate research. It is also advised that you speak to your doctor to ensure that microdermabrasion is a good choice for you – after all, different people may have different reactions to the procedure. It would be such a waste of time and money to go to the trouble of buying a microdermabrasion machine only to get it home and discover that it won't work for you.
For those who are not confident in their ability to perform the microdermabrasion themselves, it may be best to visit a professional for treatments. But for the rest of you, we have compiled a list of some of the top home microdermabrasion machines that you can purchase, as well as a comprehensive list of their features, benefits, and the downsides of each device. We are confident that there will be at lest one machine on this list that will suit your needs.
We believe that all customers have the right to an educated and informed purchase, and we seek to provide you with the information necessary to make that decision. Read on to see what we thought about the top 5 microdermabrasion machines.
RejuvadermMD by Trophy Skin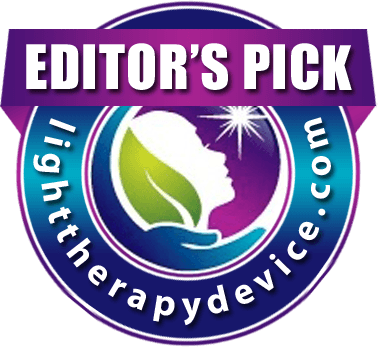 For those who prefer the hand-held devices (as opposed to more cumbersome  table-top models), the RejuvadermMD is a great choice. It is a bit expensive, but it offers three separate skin benefits: exfoliation, extraction, and infusion. These three functions, when used in combination with one another, allow for a greater range of skin improvements when compared to systems that only use one or two of these functions. So, this product is very much worth the extra money given all of the undeniable benefits.
As with other devices that utilize a range of suction strengths, it's best if new users start off at the lowest setting until they are more comfortable with it. As the majority of "risks" associated with microdermabrasion include over-suction, most users will never need to go above the lowest setting, although this particular model has four different "levels".
Even though many are using microdermabrasion to eliminate their need for creams and cosmetics, the best results will always involve a combination of treatment methods, and the RejuvadermMD offers its users the outstanding benefit of being able to infuse the skin with creams rather than slathering them on top. This means that your skin will look better and more natural even when you are using makeups and lotions.
The majority of the issues with this particular machine are caused by user error; therefore, ensure that you are following the instructions when you use it, as well as checking the machine before each use. The company offers a 30-day money-back guarantee if you are not satisfied, as well as a one-year warranty for defective parts. If you need to buy with confidence, it's worth it to splurge on a more expensive product, as the company is more likely to back up their product if anything goes wrong.
---
Silk'n Revit Diamond Microdermabrasion Device
Unlike many microdermabrasion devices, this particular machine does not use the "sandblasting" technique, but rather Dermabrasion Tip Exfoliation (or DTE). This uses diamond tip technology to gently scrub the dead skin from the face, while still using vacuum suction to remove the fine particles, dead skin, and any other debris into the filter. You can check this filter after use to ensure that it has done a measurable job.
Customers love the way this device makes their skin feel after use. There may be some slight irritation immediately afterward, but you should be using a soothing cream to eliminate this – and bring forth your best face. Additionally, the Revit is one of the least expensive devices on our list, which is always a nice bonus.
---
At Home Microdermabrasion Machine NV60
If you typically go to the salon or dermatologist for your microdermabrasion treatments, but you're looking for a fill-in treatment machine for use at home, the NV60 is a great choice. It is a budget device, coming in at the lowest price point on our list, but that's not to say that it won't do its job. This machine offers near-professional-quality treatments for the budget-minded consumer and is a great choice for those who are hesitant about doing it themselves.
This device comes with all the necessary attachments for use within the United States (for other countries, you will have to speak with the seller about purchasing the version meant for use in another country, or you will need to get a power converter). It's not as fancy looking as many other devices, but it gets the job done.
Many microdermabrasion machines focus on the face (which is why their design is so sleek), but the NV60 prides itself on being a full-body solution. You can use the included tips on the body to help treat spider veins, stretch marks, and a host of other skin problems. Some customers warn that you can cause unintended damage if you don't know what you're doing; this is intended to be a professional machine at a budget price, after all. If you're not sure how to use it, be sure to look for further instructions online, as the company does not include these with the machine.
Although this is marketed as a "diamond tip microdermabrasion machine", it's important to understand that, at this price point, you will probably not be getting actual diamonds in the tip – but there is no evidence that diamonds are needed in the pursuit of high-quality results. If you're willing to learn what you have to do to ensure that you're not making any mistakes, this is a great budget device that comes with 9 different tips to treat your entire body.
---
PMD Personal Microderm System
What if you don't have the budget for a higher-end device, but you need more than the budget devices can offer? A middle-of-the-road device such as the PMD may be your best bet. This particular device comes with everything you'll need for a full-service treatment in the comfort and privacy of your own home. It also comes in 6 color options, although at the time of this article, only the black device is available. Still, the black design is sleek and attractive.
It is recommended with this (and all other beauty products) that you visit a professional first, so that you know what to expect out of your treatment – many professional microderm specialists will also answer any questions you may have in regards to your treatment. Most people will not have exactly the same results from a home device as they would from a professional crystal microdermabrasion treatment, but with practice and diligence you can expect a great reduction in your problem areas even if you do not receive professional treatments as well.
This particular device has shown improvement for acne scars and pore size, although it may not completely eliminate more severe damage. It is, of course, best if you choose a combination of treatment methods that will work best for your particular situation. That being said, the PMD is a great choice for those who are willing to learn the methods of safe and effective microdermabrasion.
Microderm GLO Diamond Microdermabrasion Machine and Suction Tool
When you want a professional, salon-worthy facial experience at home, you don't have to break the bank. Microderm GLO Diamond Microdermabrasion Machine was designed with the help of award-winning dermatologists to deliver superior results, and thousands of happy customers are proof enough that their revolutionary technology was a success. The patented Diamond Safe3D technology provides dual-action therapy by relying on a light abrasion process to gently remove layers of dead skin and promote the production of new healthy cells. The second effect of this process is that it encourages blood circulation in the treated areas, focusing the flow to the epidermis layer which boosts collagen production and ensures skin elasticity.
Safe and gentle enough for sensitive skin types, this microdermabrasion device is super easy to use even if you have no previous experience with this type of at-home facial treatments. The device's auto mode, for instance, lasts 4 minutes during which you will treat your full face and neck. There is an on-screen guide and timed alerts, as well, to guide you through the process and let you know when to move on to the next area. With manual mode, you will have even more versatility and ability to customize the treatment to fit your unique needs. Just don't let the compact size and gentle operation fool you- this handheld microdermabrasion device is powerful enough to compete with professional equipment, and it does deliver impressive results in a short time.
Leyoung Diamond Microdermabrasion Handheld Rechargeable Device
A budget-friendly alternative to expensive spa treatments, Leyoung Diamond Microdermabrasion Handheld Rechargeable Device offers versatility and performance that make it as good as its much pricier competitors. In fact, its various customizable modes make it stand out even in the company of high-end microdermabrasion devices. This handheld rechargeable gadget boasts 4 different operations and 4 interchangeable tips: fine diamond tip, body diamond tip, clear tip, and precision diamond tip. Each is tailored for different parts of the body and face for best results. This device will gently remove dead cells from the skin's surface, unveiling radiant and healthy skin beneath and stimulating the deeper layers of skin to renew cells and improve elasticity. 
The vacuuming function of Leyoung microdermabrasion device is also popular, because in addition to stimulating blood flow to boost collagen production and oxygenating your skin, this also includes your pores and removes dirt and impurities that could cause blackheads, whiteheads, and acne. This means that this one compact gadget will keep your skin flawless and your complexion radiant- whether you have normal skin, problematic oily skin, or mature aging skin! To restore the youthful appearance of the skin, it's best doing treatments twice a week- each treatment usually lasts about 5 minutes. With this routine, the manufacturer promises visible results in as little as 8 weeks- that's not counting the immediate glow you'll get after this deeply exfoliating treatment.
---
What's the Best At Home Device?
When it comes to your skin care needs, your experience will be influenced by a variety of factors, the largest being your budget. It's also important to consider the severity of your problem areas, as this will directly relate to the combination of treatments that will work best for you.
The best overall device on our list is, undoubtedly, the RejuvadermMD. This device offers the user the most separate treatment options in a single device, and while not everyone will use all three methods, those who want to get the most out of one piece of equipment will love the ability to easily switch heads and target different problems. It takes a while to get used to, but users are overwhelmingly satisfied (with almost 80% of its customers being impressed by the results they were able to achieve) once they have learned how to properly target their device to their specific needs.
All in all, any of the choices in our list will show improvement for users who have invested the time to learn how to operate it properly – it only takes a bit of effort to have the best skin of your life.
---
How to Use a Microdermabrasion Machine at Home
The in-home kits are safe to use on facial, neck, chest or hand areas. The process is not complicated, but does require specific steps in order to achieve optimal results.
Before Treatment
Thoroughly cleanse your skin before performing microdermabrasion. Kits commonly come with cleansing formulations, cloths or pads for skin preparation. The type of microdermabrasion agent used is also important. For someone having oily skin, exfoliant creams should contain salicylic acid, which reduces inflammation and inhibits the oil production process. Conversely, if dry skin is a problem, avoid products containing high levels of salicylic acid.
Cleansing is necessary. But, deep cleansing is not, as the exfoliating device is designed to accomplish this task. After washing your face, pat the skin dry. Let your skin air dry until it no longer feels clammy before exfoliating.
Performing Microdermabrasion
Follow the user instruction for your particular machine. Prepare the skin as directed. With one hand, pull the skin taut in each area undergoing exfoliation. Turn on the machine and gently apply the head to your skin. Cleanse the skin in upward motions to avoid pulling the skin down, which causes sagging and more pronounced fine lines. Do not treat areas more than once of twice.
Aftercare
After exfoliating the entire area, apply a toner. Follow the toner with moisturizer. Some kits come with special moisturizers. However, if not, choose a product created to use after microdermabrasion. The appropriate moisturizers contain ingredients which reduce skin discomfort and sensitivity. Toners and moisturizers also stimulate cell replication. Before venturing outdoors, make sure to apply sunscreen, as microdermabrasion makes the skin more susceptible to sun damage.
Microdermabrasion Frequency
To start, microdermabrasion machines are safe to use once a week. You should continue weekly treatments until your skin shows visible improvement. Treatments may then be reduced to once every two weeks or once a month for maintenance purposes. Put some thought into which day you choose to perform treatments. It is not unusual for skin to appear slightly reddened or irritated for at least one day following microdermabrasion. Anyone feeling particularly self-conscious might prefer exfoliating their skin on a Saturday. In this way, by Monday, the side effects of microdermabrasion are typically gone.
Types of Microdermabrasion
Microdermabrasion typically involves one of two different methods. One procedure involves a hand-held wand, which gently blows tiny crystals onto to the skin. Simultaneously, a vacuuming mechanism removes the crystals along with the damaged or dead skin cells. The second procedure involves using a diamond-tipped wand, which also sands or scrubs the surface of the skin. This technique also uses a vacuuming mechanism, which simultaneously removes the dirt and debris. Thoroughly treating facial areas takes approximately 30 minutes regardless of the type of exfoliating process used.