Aging, especially skin aging, is a natural process which you can neither alter nor reverse. However, if you have been looking for reliable answers and solutions for improving the appearance of your skin and mitigating the aesthetically displeasing effects of wrinkles, fine lines and saggy skin, then we have for you some of the best at-home RF machines.
Radio frequency treatment devices provide a lot of benefits to help you look younger with a fast and convenient treatment. Popular with celebrities, RF treatments can firm, tighten, and lift your skin while aiding its ability to create elastin and collagen. The great part of this type of treatment is that you get immediately noticeable skin that is tighter and younger looking without the pain and cost of cosmetic treatments and you can do this all in your own home.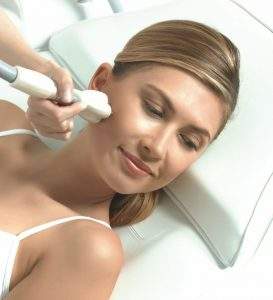 What is Radio Frequency Technology?
RF Technology refers to high-frequency electromagnetic waves that can be transmitted and spread. It is defined by a medical dermatologist as the 0.5MHz to 8MHz high – frequency that alternates current for facial contour improvement.
There are several benefits of Radio Frequency treatments that include:
Results that can last up to 2 years
Other non-surgical treatment will only stimulate your facial muscles. Radio Frequency treatments trigger your skin's own healing functions which will cause it to produce elastin fibers and collagen that you have lost over the years. This allows your treatment results to last longer.
Collagen, Elastin, and Hyaluronic Acid Stimulation
As we get older, our natural ability to produce elastin and collagen stops. With the heat from the Radio Frequency treatment device, cells are stimulated in the connective tissues which will cause the body to reproduce elastin, collagen, and hyaluronic acid that has dwindled over the years.
Non-invasive
Without needles or tools, this treatment does not require downtime to allow your skin to recover, so you can return to your normal life right away.
Tightens and Tones Skin
You will feel instant tightening of your elastin fibers with the heat from the wand. This tightening will improve which each treatment giving you tighter and firmer looking skin.
Softens Fine Lines
Gently softening fine lines, Radio Frequency can focus on specific areas to guarantee you receive your desired results with each subsequent treatment.
Treats Cellulite
Radio Frequency gently aids in the breakdown of cellulite-causing your body to flush out fat cells through lymphatic drainage.
Gives You Instant Results
With an instant effect on elastin fibers, this treatment will make your skin will feel and look after the very first treatment.
Painless and Relaxing Treatment
Similar to a facial hot stone massage, Radio Frequency treatment is enjoyable and very relaxing causing some people to even fall asleep during their treatment.
Things to Consider When Shopping for a Skin Tightening Machine
Reading reviews like ours can help you narrow down your many choices when you are shopping for a radio frequency skin tightening machine. Doing so gives you an opportunity to compare what the manufacturer says to what consumers are saying about a product. It also gives you the chance to compare the features of various machines so that you can see which ones offer the most benefits at the best price.
Beyond that, however, it is important to read through all of the details about a particular product before deciding whether or not it is truly right for you.
First, you wan to be sure that a product is within your budget. Then, consider its size, particularly if you don't have a lot of space or you travel a lot and plan on taking it with you.
Ease of use is another thing to consider. Is there a cord that you will have to contend with or is the product cordless? Is the product rechargeable?
Finally, look for nice extras, like whether or not the machine also provides a delicate facial massage that promotes lymphatic drainage as an additional benefit for the health and appearance of your skin.
---
Here our picks for the best RF facial toners: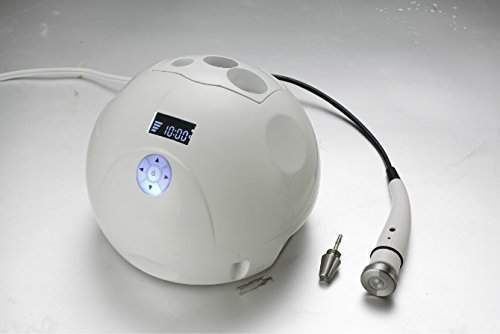 Dia Panda
The Dia Panda looks and feels overtly professional and is much more powerful than the other devices. This machine is one of the best solutions for face lifting and skin tightening and is used by major dermatologists. It can be used anywhere on the body and can even treat the wrinkles and saggy skin near your waist and tummy. This device comes with 2 treatment probe heads which need to be moved in a circular motion against the skin you want to treat. It has 6 power modes and works at a frequency of 3MHz. It is light in weight and works at a power supply of 110V. The Panda device is recommended to be used on hydrated skin since it is prone to drying out the skin; therefore, applying some good quality aloe gel before each session is preferred. Apply the probe heads to your face for 30 minutes and to other parts of the body for 15 minutes once every 10 days and notice visible results in just 5 sessions.
---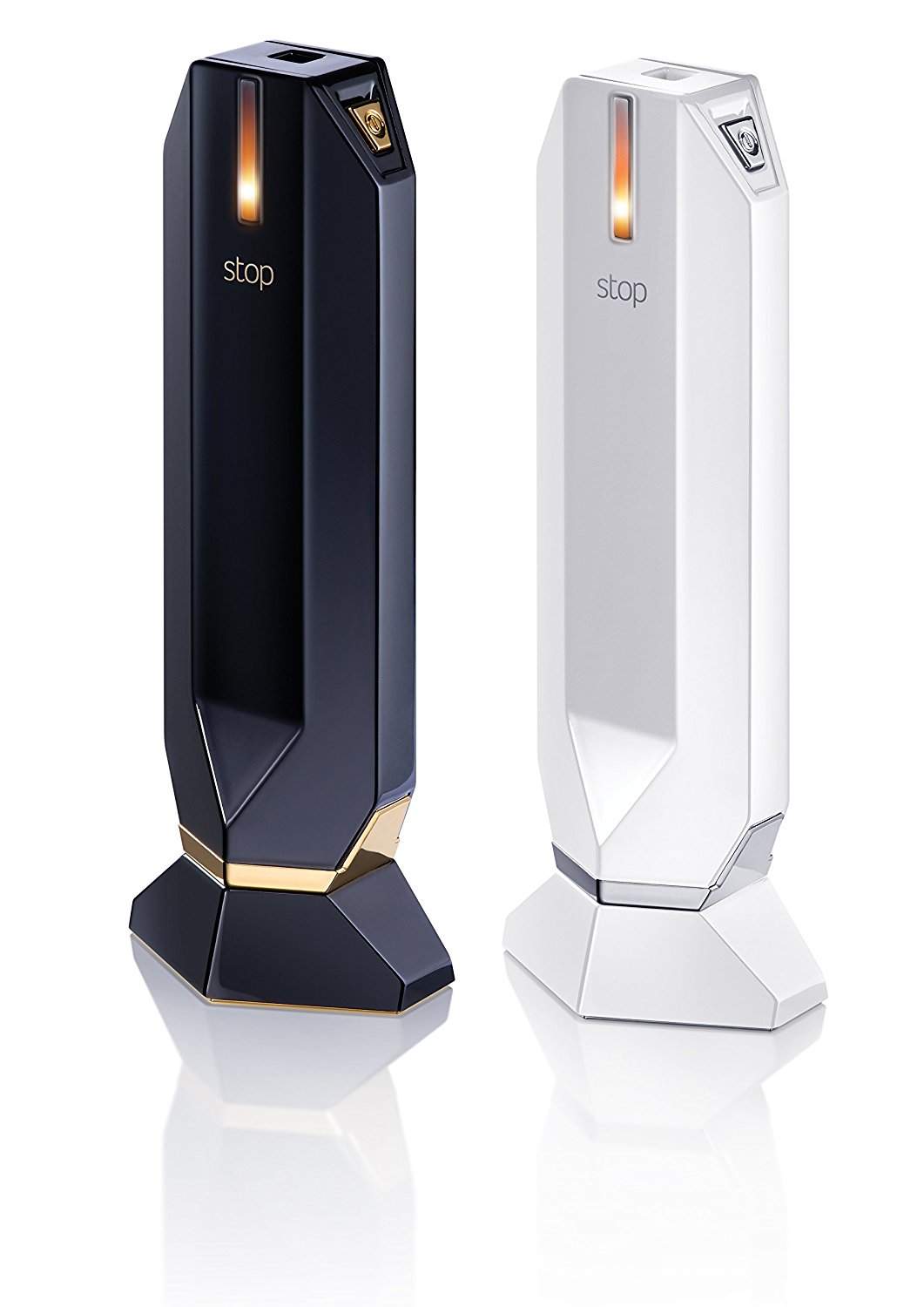 Tripollar Stop
By reversing and postponing the signs of aging, this remarkable new skin renewal device provides younger and fresher looking skin that you could otherwise only achieve through a professional treatment. Tripollar STOP began the revolution of transforming professional treatments into a self-administered clinical treatment that you can do in the comfort of your home. Using TriPollar Radio Frequency technology, STOP is able to gently heat skin from inside giving you a relaxing and warm sensation that you can feel over the surface of your skin.
The therapeutic action takes place deep in the skin layers increasing dermal activity that results in collagen production and thickening of the dermis. This leads to visible skin firming, tightening, and renewal. Treatment is recommended for a regimen of 6 to 8 weeks. Each week you will treat your skin 2 to 3 times a week for 12 to 15 minutes to achieve lasting results of improved skin texture.
The STOP Facial Skin Renewal Device is effective, easy to use, and painless. You also receive the STOP™ Preparation Gel that guarantees that you receive the necessary energy into the skins deep layers to heat the areas that you are targeting. Plus the STOP™ After Treatment Cream will enrich your skin with the necessary minerals and nutrients that guarantee long-term results.
---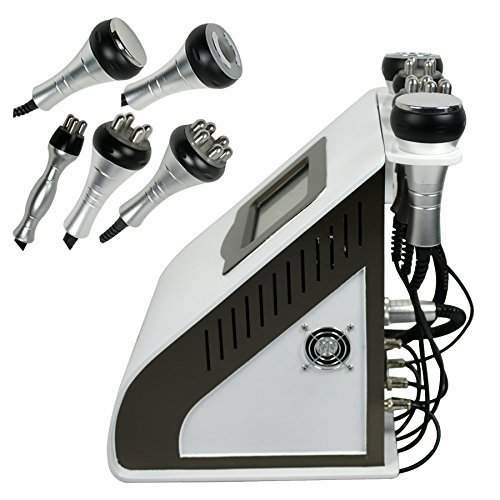 Beauty Star
This is the ultimate device for taking care of your entire body, all at once! It comes with 5 different probes that are designed specially for firming and contouring the loose and sagging skin on your arms, thighs, abdomen, waist, hips and legs while also peeling off and burning away the cellulite and fatty tissues. The device works by using LED and RF technologies that can stimulate and intensify the metabolism of your tissues by providing them with mechanical exercise-like motions and vibrations. There is also a separate probe for the facial skin which helps enormously with wrinkles, fine lines, and contour lines and rejuvenates and smoothens the various textures and contours. Collagen growth is promoted through the heat produced by the 1MHz radio frequency and scars and skin tone are improved by the red light LED. The probes come with a vacuum head, cavitaton head, body RF head, and facial RF head. Using a slimming gel during the treatment and drinking at least a litre of water before and after the sessions is recommended. The treatment through this machine is safe and highly efficient and you will not feel even a slight discomfort or pain.
---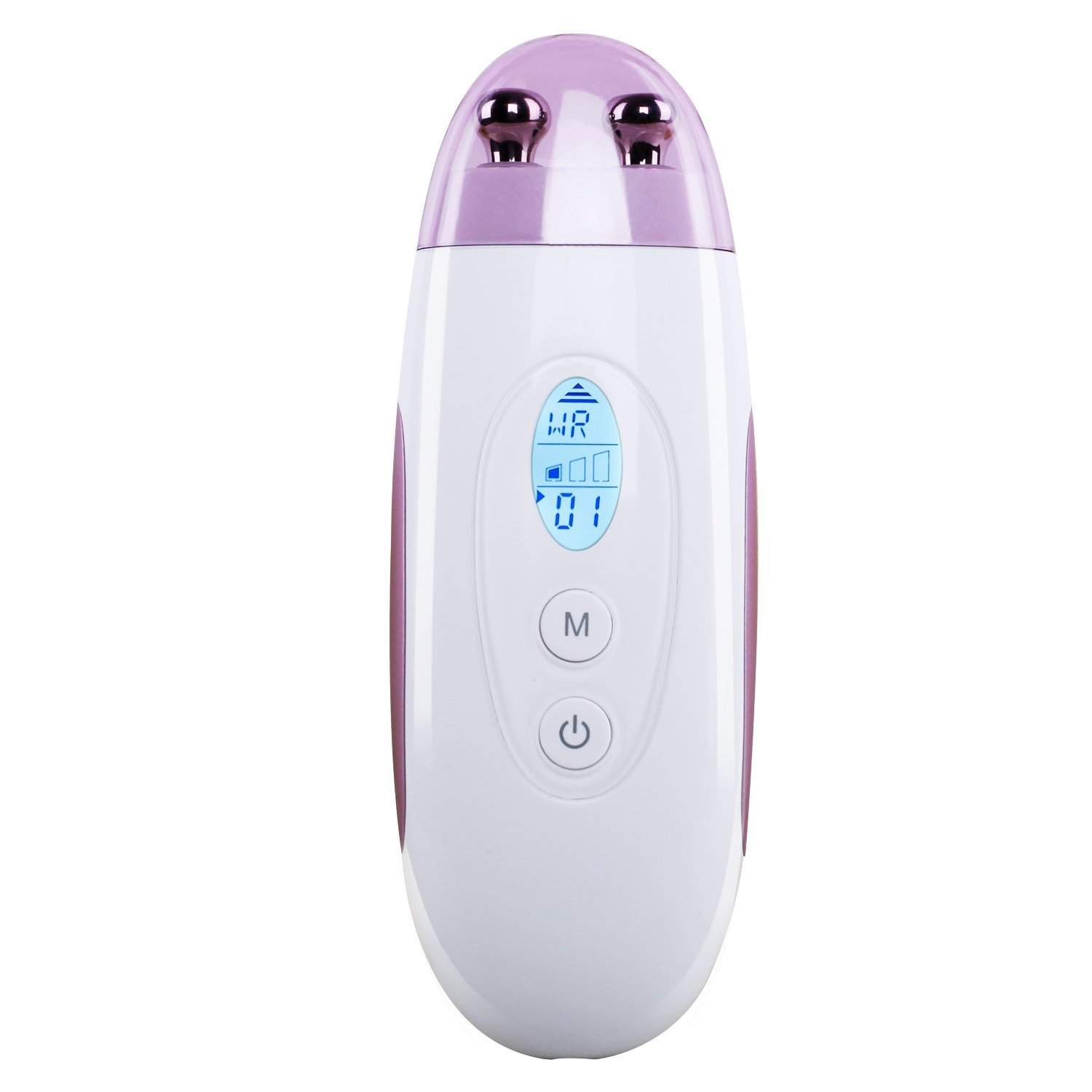 Deess Lift Toner
For incredible visible aesthetic effects on your skin in a short amount of time, the Deess Facial Lift Toner Demi is based on 17 years of experience in product research and clinical research data from Deess chain-salon customers. With the Deess Facial Lift Toner Demi, you will see electric energy transformed into inner energy that will penetrate the dermis layer of your skin improving partial circulation and giving you immediate skin contraction results.
By activating the dermal cell, you can keep long-term collagen regeneration that tightens and firms your skin while supporting muscle movement and the elastin formation. The Deess Facial Lift Toner Demis will improve your facial contour and keep the elasticity in your skin while reducing shadows under your eyes by lifting bags, easing eye fatigue, and getting rid of fine lines. With the red light feature you will enhance skin elasticity and vascular function, firm skin, and close pores while the yellow light function prevents pigments, increases partial circulation, and brightens dark skin.
---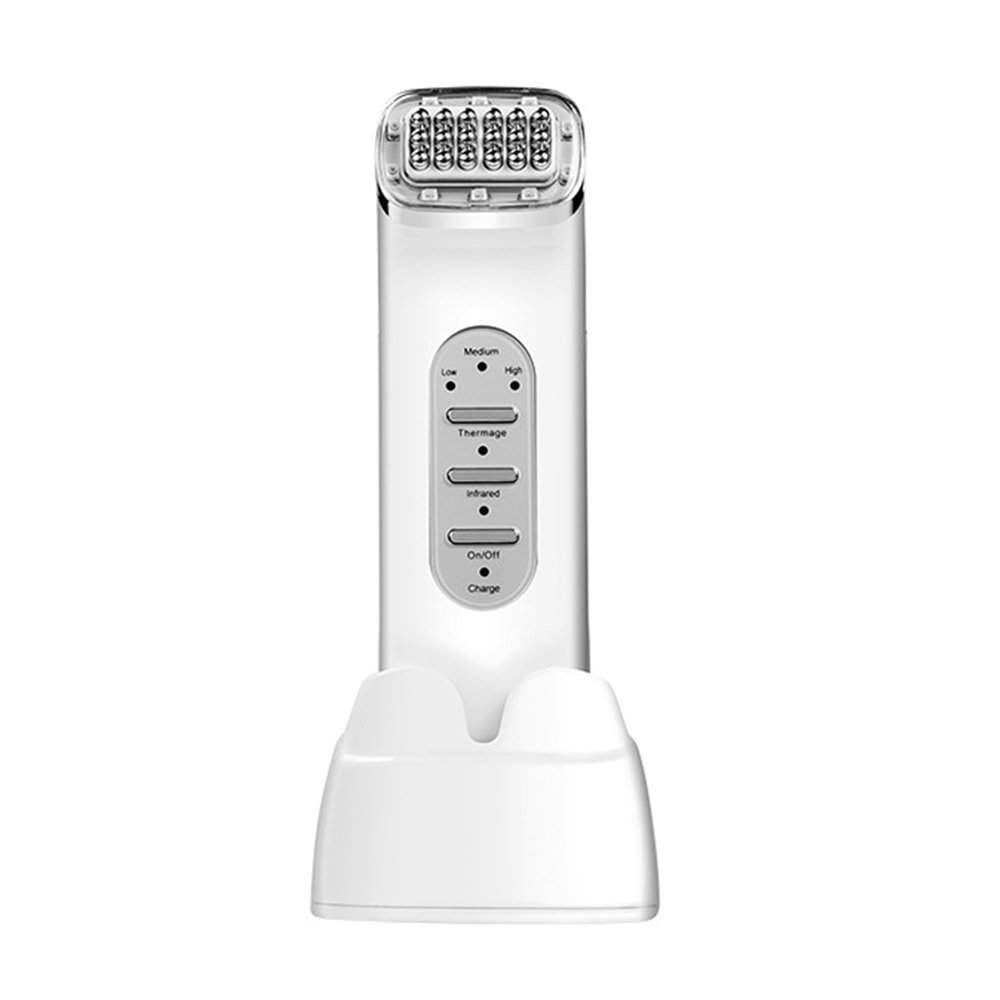 Angel Kiss Dot Matrix
The Angel Kiss Dot Matrix features a painless, multi-point treatment that improves wrinkles, tightens loose skin, and effectively rejuvenates skin. By improving blood circulation and increasing metabolism, the Dot Matrix eliminates facial fatigue and stimulates activating cells while promoting collagen regeneration and restoring elasticity. With its inductive design, the treatment probes will only start working when it touches your skin providing an easy to use, secure, and energy-saving device that is also portable and rechargeable.
This is easy to use and carry a device that is affordable and effective. It features a smart low-voltage alarm and charging saturated reminder. It uses either an adaptor or USB cord to charge and works 45 to 90 minutes after it is fully charged.
It is effective in skin tightening, wrinkle removal, restoring skin elasticity, and improving skin texture. It can also whiten skin, rejuvenate skin, and shrink pores. This is a comfortable, painless, non-invasive treatment that will not damage your skin.
With 18 big matrix dots, the device conducts RF energy with inputs of 45-60C to your dermal skin to stimulate your dermis and effectively boost collagen. Depending on your skin type, there is a low, medium, or high energy option, and the device works on both your body and face with its large treatment size.
---
MLAY RF Radio Frequency Face Lifting Device
Lift the skin around your neck, chin and cheeks safely and comfortably with the MLAY RF Radio Frequency device.
MLAY RF Radio Frequency device uses new bipolar RF technology in non surgical skin tightening. Collagen in the tissue is heated and stimulated to create an immediate visible contraction and lifting effect. Over time, new and accelerated collagen production is promoted in the deeper layers of your skin. The Intelligent temperature control chip ensures that the surface skin and dermis skin temperature stays at a safe temperature.
MLAY Radio frequency treatment tool triggers your skin's own healing process. It stimulates the skin to produce elastin fibers and collagen that you've lost over the years.
---
NuDerma Portable Wand
This wand from NuDerma provides you with an anti-aging solution for multiple situations everyone encounters as they grow older. From hair loss to sagging skin, this wand can help you turn your appearance back to its youthful ways. With continuous use, this wand helps your ATP levels slow down and reverse their process which regains your former firmer skin.
This frequency treatment can help you clean out acne and acne scars. It reduces inflammation as well as kills the bacteria lying directly underneath your skin. While this frequency wand helps recover from acne and wrinkled skin, it can also help your overall skin profile. The procedure is completely harmless and works over consecutive uses, not all in one go.
---
AutoTime Skin Tightening Machine 6 in 1
With 6 functions all bundled into one handheld device, this multifunctional skin tightening machine will keep your skin looking flawless. In addition to radio frequency, this machine uses light therapy (5 different modes), Ion, EMS, sonic, and vibration technology. Needless to say, with this combined effect, you can target a vast array of complexion issues and imperfections, and not just firm up your skin. 
The RF and Ion functions will warmly massage the skin, restoring elasticity and ensuring that the beauty products you use are absorbed completely for full benefits. EMS and high-frequency vibration purify pores and balance out oil production, giving your skin a fresh and radiant appearance. Lastly, the 5 different light therapy modes treat everything from acne, spots, pigmentation to wrinkles and fine lines.
Easy to use and budget-friendly, this multifunctional skin tightening device will make sure your skin looks better than it did in years- and all it takes is using it 2 to 3 times a week, in sessions of 15 to 20 minutes each.
---
MEILYLA High Frequency Vibration Beauty Machine
The radio frequency and therapeutic LED lights in this beauty device will tighten the skin on your neck and face in no time. With the combined effect of RF and EMS technology, this handheld machine produces frequencies that can penetrate deep into the skin's tissue and stimulate the production of collagen, kicking of the skin tightening process from inside out. The boosted collagen production will lead to reduced wrinkles, better skin elasticity, and lifting of sagging skin. 
In addition to its rejuvenating function, MEILYLA High Frequency Vibration Beauty Machine also has 4 LED light therapy modes for a truly perfect complexion. Red light therapy offers an anti-aging effect, reducing the appearance of wrinkles and fine lines. Yellow led lights improve the skin's overall texture, blue led lights soothe and even out your complexion, and the pink light therapy targets common skin problems.
For best results, use this cordless handheld skin tightening machine 3 times per week for 10 minutes each session. The skin should be damp before the treatment- apply an anti-aging serum if you want faster results.
---
NORLANYA Vibrational Monopolar RF Radio Frequency Skin Tighten Wrinkle Machine
To deliver a powerful skin tightening effect, this convenient compact device brings together radio frequency technology and the benefits of massage and hot therapy. The RF technology targets the deeper tissue and stimulates the production of collagen for tighter, younger-looking skin, whereas the vibrations and the heat work from outside to deliver instant improvement on wrinkle appearance and other skin imperfections. 
One of the best things about NORLANYA Vibrational Monopolar RF Radio Frequency Skin Tighten Wrinkle Machine is that it is fully customizable for your own preferences and needs. The radio frequency mode can be adjusted from low to medium or high level, and the vibrating effect can be set to level 1, 2, or 3. This means that skin of all ages can benefit from this one device, whether it's to eliminate those first fine lines, or to treat sagging mature skin. Just set the appropriate level and you'll see the results tailored to your skin.
---
How to Make the Most of Your At-Home Radio Frequency Skin Tightening Machine
Even after you've purchased a radio frequency skin tightening machine that you can use at home, it's important to keep a few things in mind in order to ensure that you'll use the product correctly and get the best results.
Firstly, you need to use the product consistently in order to reap the benefits that it can provide. Bear in mind, too, that it might take a while before you start seeing results, so just be patient and keep using the product as directed.
Side effects are possible, so be careful. Use your skin tightening machine correctly in order to reduce the odds of adverse effects occurring. Some of the side effects that these machines are associated with include inflammation and redness, as well as skin discoloration, swelling, burning, scarring, pain, and sensitivity. However, you can protect yourself from these unwanted effects by only using the machine as directed and when you're supposed to. Overdoing it could increase the odds that your skin will become damaged.
While radio frequency skin tightening machines can help a lot of people, these machines aren't appropriate for everyone, and they may not be effective for everyone either. For example, for individuals who have deep wrinkles, these machines might not do enough. As another example, if you've lost a lot of weight and your skin is really loose or saggy as a result, these machines might not be effective in relieving those conditions.
As with all other products that are designed to be used at home, it is a great idea to consult with your doctor first if you have been diagnosed with a chronic condition or if you are pregnant. This will help you rest assured that you're doing the right thing for your skin and health when using an at-home radio frequency skin tightening machine.
---
Conclusion
When choosing between different Radio Frequency treatment devices to use at home, there are several considerations to keep in mind. Portability, ease of use, and the type of battery are all important features that are worth considering, especially since an electric device will be more powerful than those that have rechargeable batteries. Take your time to consider all the features of each device so that ultimately you find the right device for the treatment that you prefer allowing you to achieve tighter and younger look skin without the pain and cost of cosmetic treatments.