For those who are interested in light therapy, it can be confusing to know where to start. Is it worth it to buy the most expensive machine on the market? Probably not – but that will depend on your individual needs.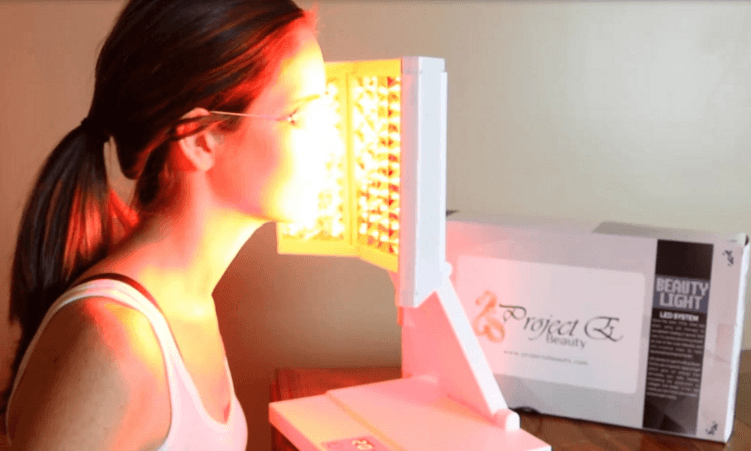 Today we will be reviewing the Project E Beauty Mini Foldable Photon Therapy Machine, which retails for about $$$*. This price might seem a little high, but when compared to professional-level machines costing over $1,000, this device is fairly inexpensive. Additionally, Project E Beauty maintains a good reputation with its customers, and that's something we can all respect.
So, what does the company have to say?
Product Specifications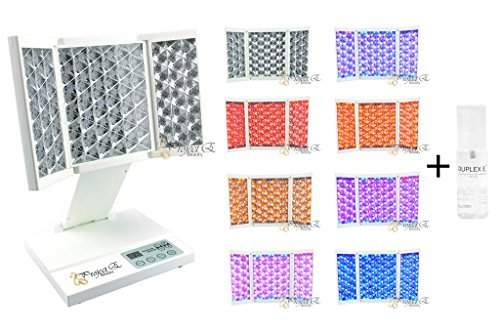 This machine offers users seven different colors of light to help with hyperpigmentation, pore size, age spots, acne scars, and a variety of other skin conditions. The device has approximately 140 LEDs of each primary color, which are combined to produce light at different wavelengths in order to meet the user's individual needs.
The package will contain the main unit, which is fairly large (to treat the entire face in one sitting, as opposed to handheld devices that will require a longer treatment time). It also contains a power adaptor, a pair of goggles to protect your eyes, and an English user manual. This device is made in China and comes with a full one-year warranty.
Our Review
One of the first things we noticed about this machine was that the directions were definitely written in another language and then translated, making them a little difficult to understand (and a little amusing as well). Generally speaking, the product should be pretty easy to figure out as long as you have a basic understanding of how light therapy machines work. The user manual can help guide you in the right direction, but you should expect a little time to become fully comfortable with your new machine.
Once we got past the directions, we noticed the three buttons on the device – one for each primary color. In order to do a treatment session, you will need to select one, two, or all three of these colors, based on what you are trying to achieve. Red light works to help increase collagen production and firm the surface of the skin. Blue light helps with acne and acne scars. The yellow light addresses skin tone issues, such as hyperpigmentation and age spots.
The machine, when working properly, will beep once per minute to let you know that it's working. (When you're using it on your face, you will need to use the included safety goggles, as the light is very bright and may damage your eyes.) Once the treatment is complete, the unit will automatically shut off – no need to worry about setting your own timer! The entire treatment time takes about 20 minutes, and this machine is the perfect size to treat your whole face or stomach in one pass.
We would like to make sure you know that these lights are super bright, so it's best if you don't use the machine close to bedtime as it may interfere with your sleep cycle. Additionally, we encourage our readers to invest in a collagen gel if you will be using the red light – this will boost its effectiveness. (The product's description said it would ship with this gel, but when we got our package, it didn't have one.)
The Good
Large enough to treat your entire face, back, or stomach at once.
Multiple colors of light that can be combined or used separately.
Includes safety goggles to help protect your eyes.
Relatively inexpensive – will pay for itself in 1-2 uses, when compared to professional treatment sessions. (Exact savings will vary based on treatment prices in your area, as well as the current price of the device at the time of purchase – we have no control over the listed price of the product.)
The Bad
Instructions are generally unhelpful, unless you want a laugh.
Unit is awkwardly shaped, making storage a bit difficult.
Must use consistently to see results (but this is standard with all light therapy machines).
Not easily portable, due to the awkward shape and larger size.
Final Verdict
If you have been spending a lot of money on dermatologist treatments, this unit is probably going to save you some money – even if you only use it occasionally. It will gradually improve your skin over time, but as with any other light therapy products, consistent use is the key to good results. This unit performed better than expected for the price, and we are definitely happy to recommend it to our readers.
Why use a light therapy device?
Light therapy is one of the biggest advancements in "alternative medicine" that has come out in a long time. Those who want to treat acne, wrinkles, or other skin problems without harsh chemicals or dangerous surgeries will love how easy it is to gradually improve their skin over time. Light therapy is also an FDA-approved treatment method for certain skin conditions, and while it might take a little longer to see results, you will have the comfort of knowing that you are not creating additional problems.
Considerations before buying a light therapy device
As with any other major purchase, it's important to understand what you're getting yourself into before you buy. Different users will have different needs, but generally you should know the answers to the following questions.
1. Which color(s) of light do you need?
Light therapy is still a relatively new technology, and it's important that you understand the limitations. One of these limitations is that different wavelengths of light will produce different results. This particular device covers the 7 most commonly used wavelengths for light therapy:
Red light: Promotes collagen production and an overall refreshed feeling.
Yellow light: Tightens the skin and increases the oxygen supply.
Cyan light: Relaxes and soothes.
Orange light: Helps to balance and recompose.
Blue light: Decreases inflammation and helps to treat acne.
Green light: Comfort and relaxation.
Purple light: Diminishes toxins from the skin.
2. Does light therapy work for you?
Not all users will see a noticeable effect from light therapy. This is generally not considered a product-specific problem, as using a higher-priced machine will not produce effects if your body is not responsive to this type of therapy. We recommend you have 1-2 professional treatments done before purchasing your own machine to ensure that you are not wasting your money.
3. Do you need a portable machine?
There are many light therapy devices on the market, including many handheld units that are easier to travel with. This particular product is large, which means it can treat a larger area, but it will not be easily portable. You will need to be near an outlet to use it, as it is powered by a cord. We feel that corded devices offer much more consistent power output when compared to battery-operated units.
4. What is your personal budget?
We don't recommend that you spend more than you can afford on any particular product. However, when compared to treatment sessions at your local dermatologist or salon, this unit will most likely pay for itself within 1-2 treatments.