Are you looking for a natural bronze tan that will leave your skin silky smooth and soft after application? Then you can't say no to Millenium Tanning New Solid Black Bronzer Tanning Bed Lotion! This solid black tanning lotion is a product of Millenium Tanning's and it's among the best sellers. It is a great tanning lotion due to its lovely incredible dark results and low price. It is a pretty awesome lotion that offers quick tanning results.
>> READ MORE: Best Tanning Bed Lotion Reviews
Millenium Tanning New Solid Black Tanning Lotion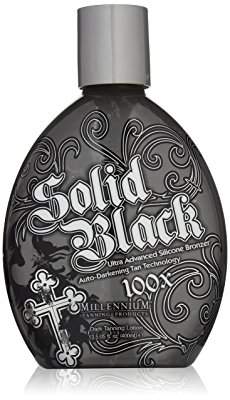 Consistency and Feel
It is not like your average lotion! It has an excellent consistency. It speeds evenly, and it is non-greasy. Ensure that you apply it evenly on your skin for great and quick results. This lotion leaves your body feeling smooth and attractive afterwards.
Scent
This tanning lotion offers off a pleasant orchid scent – it doesn't have much tanning lotion smell. It has a lovely scent that sets it apart from other similar lotions. Its smell is great as compared to your ordinary tanning lotion. It gives a natural, enjoyable scent after moving out of your tanning bed – an added advantage!
Application
This tanning lotion disperses nicely on your skin. It is also easy to apply, and it spreads evenly on your skin. It dries relatively quick allowing you to get in the tanning bed or even to have a short sunbathe. Don't worry if you face any of this lotion build-up on your skin. It will fade away only after one shower!
Pros
It has a nice fragrance, and it quickly leaves the skin super soft.

It is a non-greasy lotion with no streaks.

It is a bronze lotion that gives a pleasant golden brown tan and no orange streaks.
Features and Specifications
This lotion is pretty nice since it utilizes a tanning technology to deliver 100X – the ultra darkening, which helps to give dark results within the shortest time possible. Its quality surpasses all the other lotions available in the market today. The fragrance is ensured by a mixture of different ingredients. These include silicone bronze blend and tan enhancer that functions effectively to moisturize your skin while offering an even tan.
There are many lovely natural ingredients that are used to deliver the final features of this lotion; some of these include walnut, pecan seed oil, and sunflower, oleracea fruit oil, banana fruit extract and camellia oleifera leaf extract.
Tanning Results
The Millenium darkening lotion has 100X auto darkening ability – since it is a bronze lotion. When you apply this lotion on your body for the first time, leave it to soak in, and you will see some color on the skin because it functions fast.
People with golden skin complexion will appreciate this lotion because it gives a remarkable difference in the skin color within a short time. Most people recognize significant changes in only within two to three sessions.
Bottle Design and Look
This lotion comes in a pretty cool white and grey 13.5-ounce bottle featuring a cross sing and beautiful swirls on the front, and then Solid Black printed in vivid, white lettering.
Cons
It stains the hands and dries the skin for some users.

It has skin build-up effects. You should rub the lotion effectively to ensure even distribution.
The beautiful features of this lotion compelled me to give it such a high score. It is pretty, easy application and it spread evenly on your skin. This darkening lotion also offers the body a silky smooth touch and leaves the skin rather quickly. It is affordable and comes in a beautiful bottle. The amount of lotion inside the bottle is also much for a relatively long use.
Conclusion
The few disadvantages should not be overlooked though they don't lower the quality of this lotion. To avoid the side effects, test by applying it to a small area on your skin or you can consult your dermatologist. The Millenium Tanning New Lotion is perfect for all people who want a quick and affordable skin darkening solution. It is very consistent (spreads evenly), and it has a pleasant smell that you will love.
>> READ MORE: Best Indoor Tanning Lotion with Bronzer