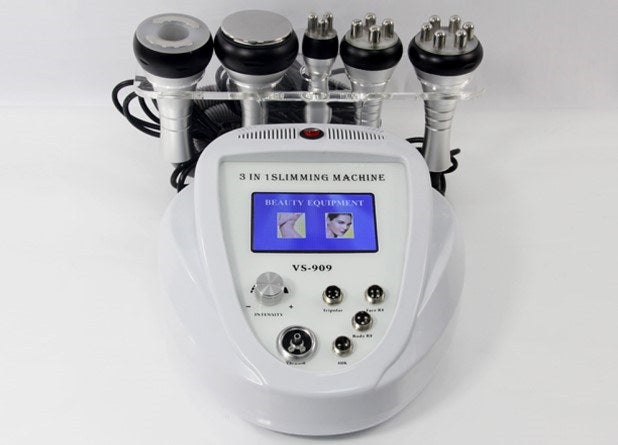 The market is full of various ultrasonic cavitation machines that you can use. Finding the right one though can be time-consuming. To help you, we've compiled a list of the best ultrasonic cavitation machine models available.
What are Ultrasonic Cavitation Machines? What are They Used For?
Ultrasonic cavitation machines are intended to help with weight loss. They use sound and heat waves to help reduce the cellulite and fat that's in your body. These waves will put vapor bubbles into your body's tissues which will absorb the fat and naturally remove it from your body.
The sound waves that are used in ultrasonic cavitation are low frequency waves that can get into fat cells and basically burst them so that you can lose weight surprisingly easily. It is these sound waves that make it possible to flush unwanted fat from your body. So it is no wonder that this procedure has become increasingly popular in the world of weight loss options.
Ultrasonic cavitation is also different from liposuction, which is another popular weight loss procedure for those who have found it difficult to shed pounds, and for those who wish to get slimmer more quickly and easily. Liposuction is considered a surgical procedure that basically breaks up fat in an area of the body in order to suck it out of the body with ease using special instruments. Therefore, liposuction is an invasive procedure. Contrast that with ultrasonic cavitation, which is noninvasive and not considered a type of surgery.
What can you expect will happen when you undergo an ultrasonic cavitation procedure? Well, once the fat is removed, your skin will take on a new shape, looking tighter and firmer without the cellulite.
After just a few sessions, you might start seeing results, which is certainly impressive. However, it might take longer to achieve the ultimate results that you seek. No matter what, the best part is that there is absolutely no downtime.
How Do These Machines Work?
These machines usually have a few different heads that you can use on various parts of your body. You can rub one of them on a certain area of your body to help it break up the fat tissues. You can glide these heads on your body for about 30-60 minutes at a time and then rest. You can repeat this for as long as you want and often can start to see results within a few weeks of using it.
To further clarify what happens when you undergo an ultrasonic cavitation procedure, here is a basic step-by-step breakdown: first, the ultrasonic cavitation machine heats up a layer of your body's fat cells that are found under the surface of your skin. At the same time, it also causes vibrations in that layer of fat. Tiny cavities are formed between the fat cells, creating pressure as they expand. Next, the pressure that is created ends up liquefying those fat cells, thereby releasing the contents of the cells into the blood. Finally, the body processes the fatty acids using the lymphatic system so that they are removed.
Will you feel anything during an ultrasonic cavitation procedure? Not really. You will feel the wand gliding across your skin as it works on sending those sound waves into the layers of fat cells. And you might feel a subtle humming in your teeth or in your ears, but this is nothing to worry about.
How to Maintain the Results of Ultrasonic Cavitation
An important thing to note is that ultrasonic cavitation merely empties your fat cells of what's inside them, so there is the risk of them eventually filling back up again, especially if you lead a sedentary lifestyle and eat an unhealthy diet. By pursuing a healthier lifestyle that involves eating right, exercising consistently, and staying hydrated by drinking plenty of water, you can reduce the odds of that pesky fat coming back.
The Differences Between UltraShape and Ultrasonic Cavitation with RF
While Ultra Shape and Ultrasonic Cavitation with RF are very similar they do have one main difference. This difference is the way they work to remove fat from your body. UltraShape uses ultrasound while Ultrasonic Cavitation Machines with RF use heat to help them remove fat. You also can go to a professional facility that offers ultrasonic cavitation as a service that you can utilize to lose weight and get rid of embarrassing cellulite, or you can instead opt to use Ultrasonic Cavitation Machines at home.
The Benefits of These Machines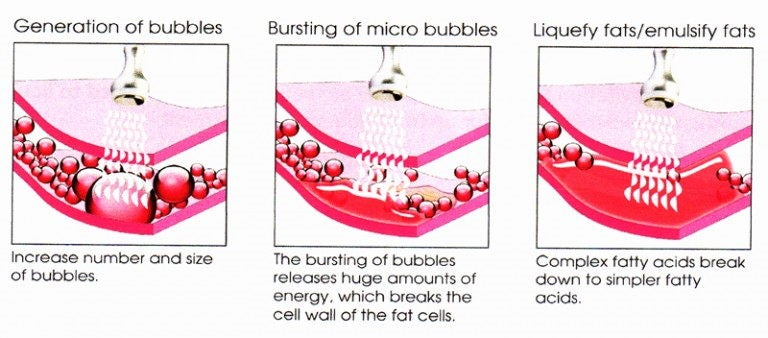 There are quite a few benefits that these machines have. Here are a few of them.
They're Affordable: These machines are surprisingly affordable. They might seem like they'd be very expensive, and some models are, but a majority are priced so that you can easily invest in one. By buying one of these machines you can help to reduce the amount that you'd have to pay if you had this done at a spa or medical facility.
They're Pain-Free: Ultrasonic cavitation machines are pain-free. They won't burn your skin while they're on it and won't be heavy and uncomfortable. These machines will make you feel as if you're getting a massage.
They Help to Tighten Skin: Besides helping with removing cellulite and fat from your body, these machines can also help to tighten skin. Many models will come with a special head that you can use on your face to help reduce and eliminate fine lines and wrinkles on it. There are also other heads that you can use on other parts of your body (like your legs) to help tighten the skin in certain areas there.
Their Results Are Proven By Science: Still not sure whether ultrasonic cavitation machines are all they're hyped up to be? If so, then you can be relieved to know that science has seen the impressive and proven results that they have. They are quick to help with reducing the fat tissue in your body and you can often start to see results within a few weeks of using one of these machines.
The Top 10 Cavitation Machines for Home Use Reviews
Below are ultrasonic cavitation reviews for some of the top models on the market.
1. Ariana Spa Supplies 5 in 1 RF Face & Body Slimming Treatment
This full body and face slimming machine can be used on any part of your body that would benefit from the device's fat burning effect. The device has 5 different handles and each has a different function. 40k Unoisetion Ultrasonic handle uses 40 kHz ultrasonic wave to reach the deeper levels of fat, Vacuum & Bipolar RF handle stimulates lymphatic drainage and blood circulation, Sextupolar RF handle generates heat to boost the fat loss process, Quadrupole RF handle is responsible for skin firming and collagen production boost, whereas the 3-Pole RF handle is designed to be used on face, for its rejuvenating functions.
---
2. Zinnor 5 in 1 Body Machine
This model has a 40K cavitation function head which you can use to rub over certain areas on your body that you'd like to remove fat from. It uses an LED RF technology to help it quickly show results after you use it for a certain amount of time. Besides this head, it also has a RF Vacuum and Bipolar Function which can be used to help tighten the skin on your face. There is also a Body RF head which you can use on other parts of your body to help tighten the skin there and remove fat from it.
This lightweight model can be used on all skin types safely. To help it move better on your body it's best to put some essential oils on the skin where you plan to move it around on.
---
3. MYSWEETY 3 in 1 40K Mini Led Ultrasonic Cavitation Machine RF
This machine is a smaller ultrasonic cavitation model and features a 40K LED head to help it remove fat and cellulite from your body. It comes with a RF Multipolar Vacuum, a Quadruple head which you can use on your face, and a Tripolar head which can also be used on your face. This machine will help to relax you when you use it and can be used virtually anywhere on your body. Besides removing fat, it can also help to remove and soften wrinkles. It's a simple option which makes it great for those looking to buy their first cavitation machine.
---
This portable device utilizes strong ultrasonic heads to release 40,000Hz powerful ultrasonic vibrations that attack the fatty cells. In turn, it creates vacuum air pockets, and uses dynamic red photons to tighten skin and slim the targeted body part.
---
5. Fencia 

Multipolar Machine Weight Lost Fast Massager 5 in 1 Skin Care SPA
A multifunctional fat burning machine, this device features 6 functions, including EMS, high-frequency sonic, blue/red Light, ion import and export. It will help you create the body that you want will restoring skin resilience.
The Sonic Function & EMS Massager penetrates into your skin, which improves nutritional absorption and accelerates metabolism. The Red/Blue Light Fat Remover Machine improves blood circulation, reduces wrinkles, tightens skin and promotes anti-aging. Blue Light helps with skin inflammation and reduces visable scars.
---
6. U.S. JACLEAN Chi Vitalizer Machine
Stimulate the sympathetic nervous system, spinal column and vertebrae to relieve back, neck & shoulder pain. Feel the incredible flow of energy throughout your body. Oxygenates your cells, promotes cell repair, rejuvenation and increased energy levels, releases toxins that have accumulated in your system throughout the day. Increase your body's ability to fight off infection, repair damaged cells and improve metabolic efficiency.
Variable speeds mean you can set the Vitalizer to suit your specific size and weight. Start for a short period of time and at a slow speed. Then monitor your results and increase the time and speed at your own pace. The movement has an arc at the ends, increasing your range of motion.
---
7. Enshey 8 in1 Beauty Machine
If you want a top of the line fat burning and skin rejuvenating machine bundled up into one, you can't go wrong with this one. With multiple functions, it will help you target different areas of your body and different problems, from fat burning and lymphatic drainage to skin firming and pain relief. A multi-purpose device such as this one might be a better choice than a machine that just has an ultrasonic cavitation function without any additions, as it saves you money on buying different separate devices. 
---
The 3 different attachments are designed to be used on the face and body both, to promote rapid fat loss and firm the skin simultaneously. To achieve this, this portable system uses ultrasonic and radio frequency. The round flat attachment delivers 40 kHz ultrasonic cavitation to the targeted body part, penetrating deep into the fatty cells and causing a rapid slimming effect. Similarly, the quadruple RF attachment stimulates collagen production and firms the skin, making sure that the loss of the fat layer doesn't lead to excess saggy skin. Lastly, the smallest of the attachments, with the three prongs, is made to be used for the face, uses radio frequency to heat the target area, firm the skin and has a rejuvenating effect.
---
This body shaping massager offers 4 different modes that help weight loss: high-frequency vibration, radio frequency, energy red light, and sonic CV. The combination of these features is very effective on all parts of the body, as various functions can be used to promote fat burning, boost collagen production, and improve the appearance of the skin. Thanks to the ergonomic shape of this massager, it's ideal for different areas of the body and highly targeted application.
---
10. EMS Burn Fat Machine 3 in 1
By combining the benefits of infrared therapy and ultrasonic cavitation, this compact handheld multifunctional beauty massager will help you lose weight and firm up your skin. The intensity of the ultrasonic feature can be adjusted from low to high, depending on your needs and the specific area of the body that you're targeting- some will need less others more power. The massaging features are a great addition as they'll also help the weight loss, and help those more stubborn areas of fat get broken down more easily.
Conclusion
This article highlighted some of the top ultrasonic cavitation machine products. If you're looking to use one on yourself, be sure to consider the ones mentioned in this article. They'll work to help you reduce the fat in your body and also help to tighten skin and reduce wrinkles.