The perfect tan is not easy to come by. You can lounge out in the sun all you want, but the odds just may not be in your favor. Some people have sensitive skin as well, so direct sunlight on your skin may not be the best idea.
This is where a tanning salon would come to mind. Here, you can get a tan through either a spray or on a bed underneath UV rays. This will quicken the process of getting a tan until you get the ideal color you want. There is one condition though, you cannot open your eyes.
Underneath a tanning bed, you could seriously damage your eyes. The UV light is already something you should avoid being around for too long, imagine opening your eyes right underneath it! They'll burn red, tear up, and basically be ruined.
If you think, "Well, I can just close my eyes, right?", then you're wrong. Simply closing your eyes will still let the UV light through and your eyes will still burn afterward.
Your eyelids don't tan in the first place, so it's better to be safe than sorry. A pair of reliable goggles will protect your eyes from the UV light. There are a few catches to your goggles though.
They need to fit as snugly as possible. If they are loose, the light will find its way in. A tight pair of goggles can make the difference between a pleasant experience at the tanning salon and literally going blind.
Tanning goggles, quite like sunglasses, are made out of a semi-transparent plastic which keeps UV rays out almost entirely. The best kind of goggles are the ones that block out 99% of all UV light. This is also the standard for regular tanning to make sure you don't burn your eyes while getting your tan.
Peepers Tanning Goggles Modern Peepers Eyewear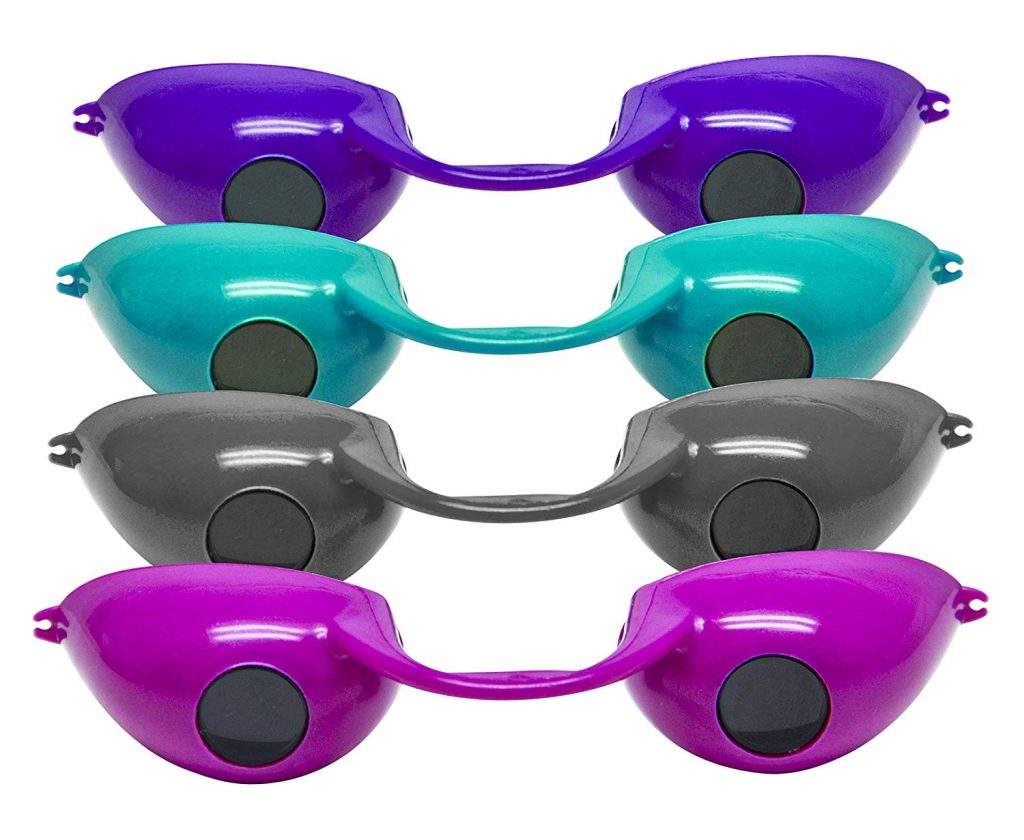 These tanning goggles from Peepers take on a more modern design that fits perfectly. The nose bridge is kept at a distance so there's no tan line while you use the goggles. These Peepers can be used in either a tan bed or stand up units. It comes with a black elastic that you can eave through the glasses and tightens around your head while you need to stand.
You can purchase these goggles in packs of 6, 12, 24, 48, 72, 144, 240, and 360 individual pieces. They will all come in assorted colors. If you want to simply try them out for the first time, you can buy an individual pair of goggles rather than purchasing an entire packet. The goggles are all FDA approved.
---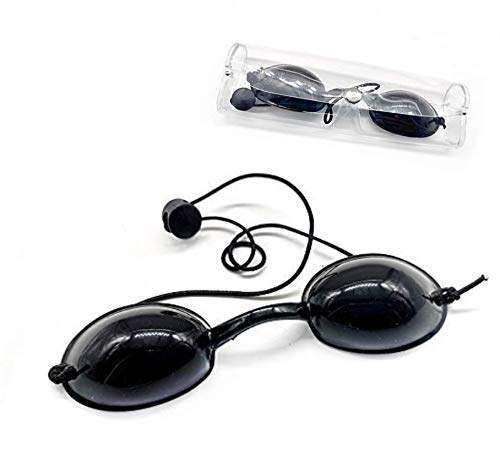 Karono has made their own pair of tanning goggles, which are more comfortable and softer in comparison to other goggles. The pair has a wider border, so your eyes are better protected from any light leakage. They are safe to use underneath sunlamps and UV lights. They can be used in more than one situation; cosmetic laser procedures, tattoo removal, teeth whitening, tanning beds, and tanning stand-up units.
The materials used are plastic and rubber for greater protection, coupled with comfort for long sessions. There are adjustable strings in between the eye covers, so there is a chance of a prominent tan line depending on how thick the string is in between the eye covers. It has a wavelength of 190nm-2000nm.
---
Wink-Ease Disposable Eye Protection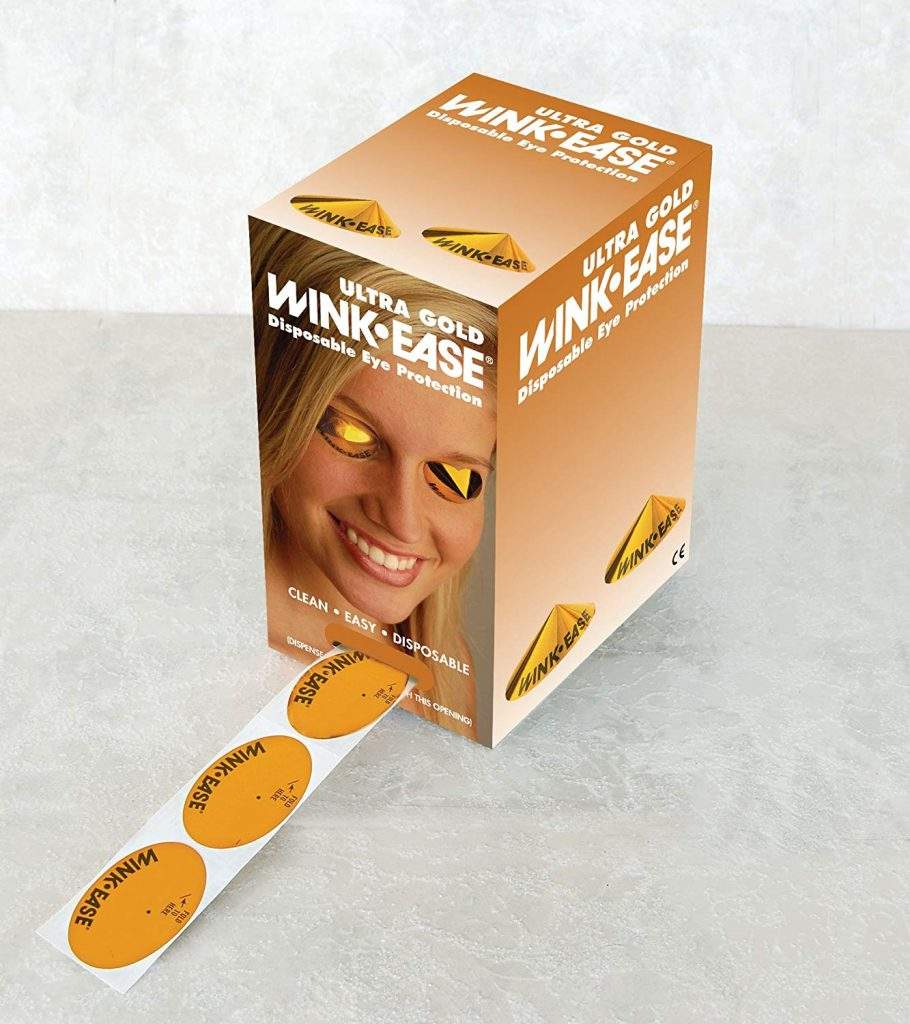 If tan lines are something that you are prudent towards, then fear not for there is no chance of any tan lines with these eye covers! These types of eye protectors are extremely easy to use in both a tan bed and stand-up tan!
They have an adhesive backing which helps them stay in place as soon as you use them. You don't want to wait long to get into the tanning unit once you have them on, as they won't stay on forever. While you're using these, you don't have to worry about them being uncomfortable, they're completely see-through with a one-size-fits-all gain.
These eye covers are hygienic and disposable. There are 250 pairs inside of one box, so you don't have to worry about running out any time soon. This purchase is an economic one since they come in abundance and quality.
---
Wandisy Beauty Skin Care PDT Special Goggles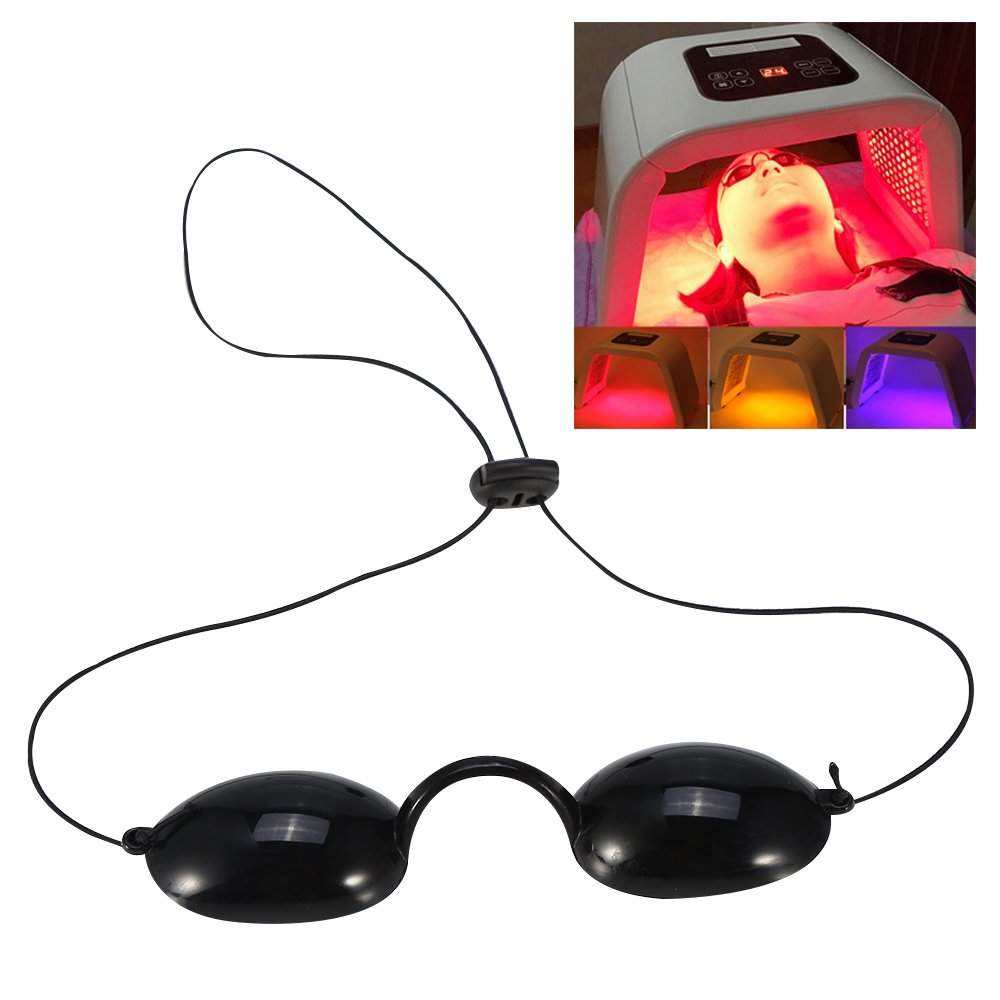 Wandisy offers a durable, quality, non-toxic pair of goggles that you can benefit from when taking them to the tanning salon. They are also environmentally friendly, so there's no heavy burden on your shoulders after you dispose of them. The border is soft and comfortable to wear while still remaining light-tight to protect your eyes. The durable material promises a longer life than one use so long as you wash them before you use them again.
The belt is adjustable, so you don't have to worry about it slipping off in the middle of your tanning session. You can use these for teeth whitening, tattoo removal, and tanning sessions. The nose bridge is considerably thick, so there's a chance of a tan line, though the nose bridge has been elevated a slight bit.
---
Super Sunnies Evo Flex Flexible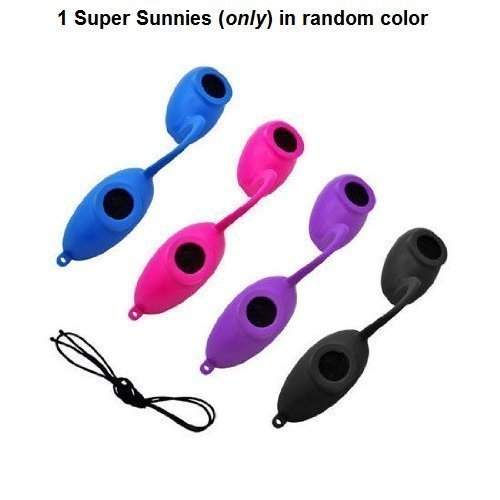 Super Sunnies is a popular choice for tanning goggles. This design has a flexible high-rise nose bridge which means there's no tan line along your nose. For a tight fit, there is an elastic headband you can tighten to your convenience.
These goggles can block out 99% of UV-B rays and 99% of UVA rays. The lenses are green which offer maximum protection against UV tanning, (high pressure and standard) as well as red light treatments. Even with all of this protection, you can still see through them as if they were simple sunglasses. The eyecups are as slim as they can get while still not allowing in any UV light, and managing to prevent the 'raccoon effect' of wearing tanning glasses.
---
Sunnies Tanning Goggles 12 Pack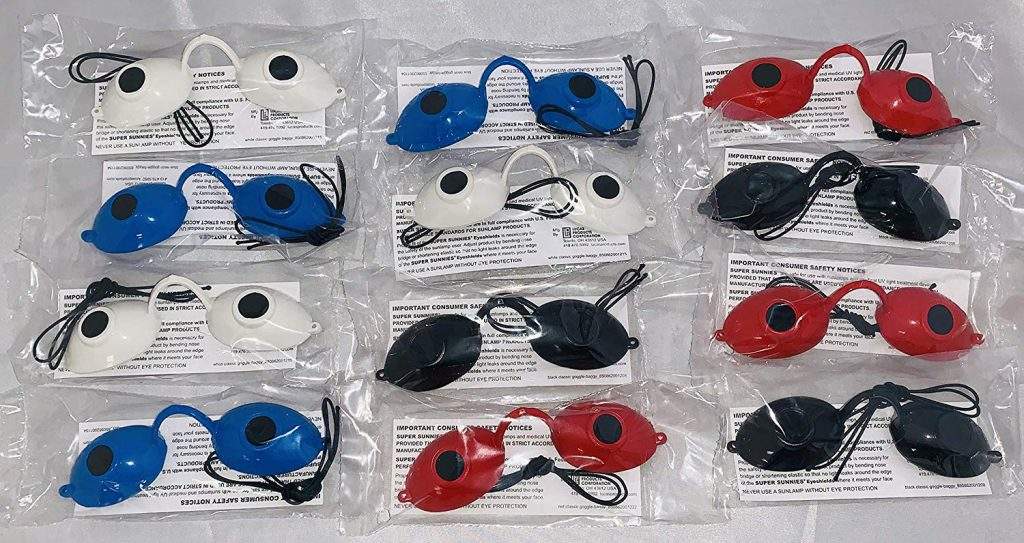 This option is quite similar to the one above, only they are the older and classic models. They also come in a twelve-pack, which you can make last even longer than twelve tries if you wash them after each use.
These goggles are top world-selling goggles that have been tested time and again, proven as a reliable source of protection from UV rays. These goggles meet FDA standards, blocking out 99% of all UVA and UV-B rays. It this packet you will receive four colors; red, blue, white, and black with three pairs of each.
You can even use these goggles while you are outdoors, sunbathing on the beach. Each pair of goggles has an adjustable strap to wrap around your head and tighten. The nose bridge is elevated to ensure you don't have a prominent tan line.
---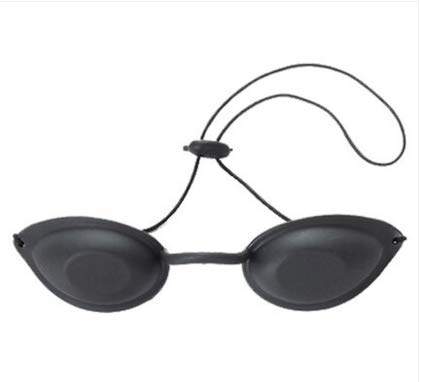 These goggles from Sweet Dream have a protection wavelength of 190nm-2000nm, blocking out almost, if not all, UV light from reaching your eyes. You can use them when you go to whiten your teeth, get a tan done, and protect your eyes from laser treatment.
They have a thin adjustable string on the back which allows you to tighten them to your liking. The eyecups have soft padding along the border which keeps them from pinching into your eyes after being worn for too long. They're not as see-through as other goggles, but they provide good protection from UV rays.
The nose strip is thick and not elevated, so there is a chance of getting a tan line over the bridge of your nose.
---
Endim UV Eye Protection Tanning Goggles Eyeshields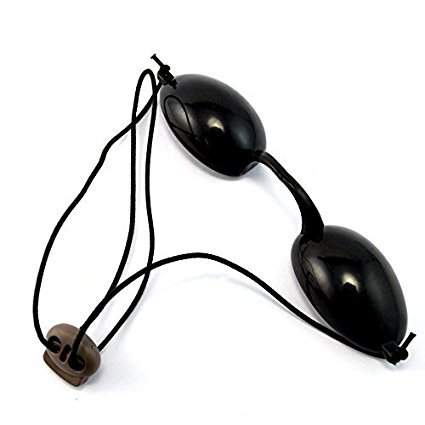 This headband comes with all of the basic necessities for a perfect tan every time. First, the material is FDA standard so you can ensure no UV light is getting through to your eyes while you get your tan.
The eyecups themselves are form-fitting so they adjust to the exact shape of your eyes. This makes for a perfect tan with each use, and no 'raccoon effect' once you're done. The nose bridge is elevated so you won't receive a poor tan line when you come out of the tan bed. The adjustable elastic on the back makes sure your goggles don't slip while you are using them and instead fit perfectly snug around your head.
---
Sun Globes Tanning Bed Eyewear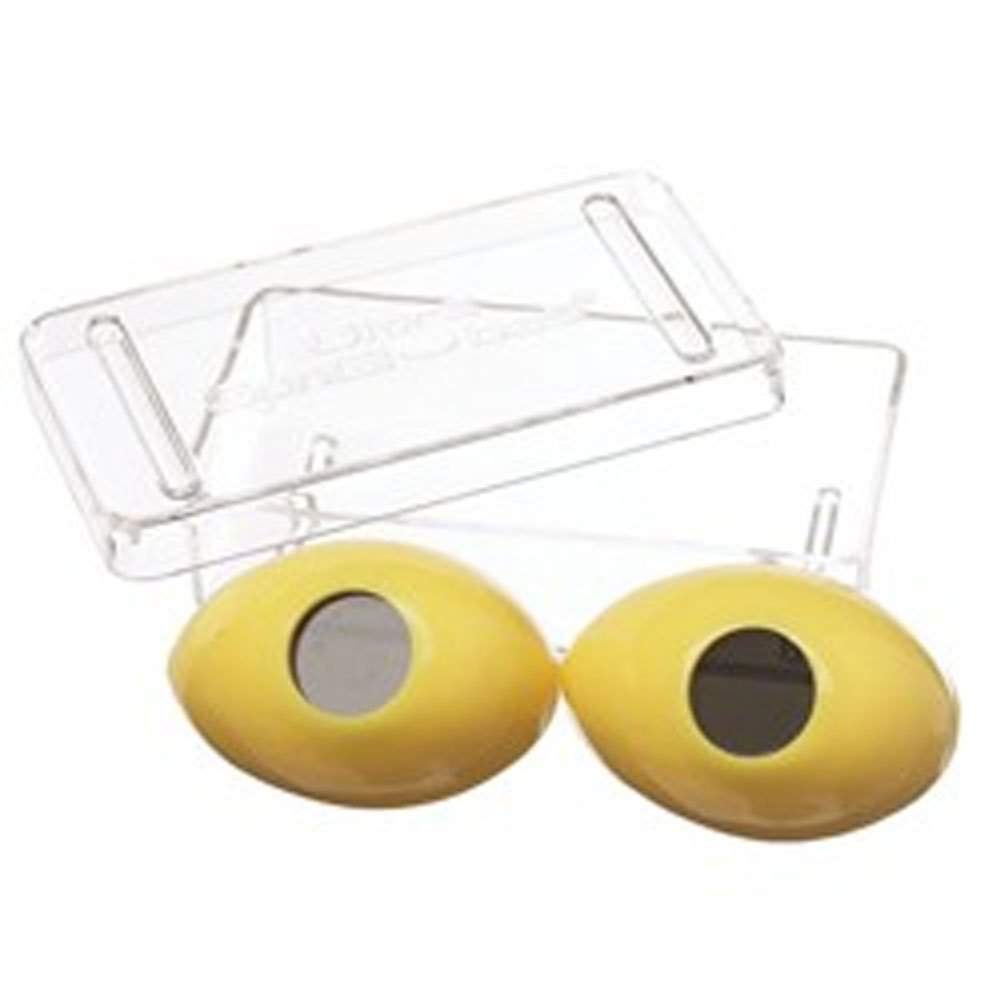 These goggles from Sun Globes have one great feature: they don't come with a nose strap at all! This means there's no chance of a tan line developing on your nose since there is nothing over your nose. They fit tight and snug to protect your eyes, and they provide maximum UV protection.
They're given out in random colors when shipped. One aspect that isn't a great selling point is that you can't use them in a stand-up tanner. They can only be used in a tanning bed since you're lying down and they stay fixed over your eyes. In a stand-up, they are more liable to fall down which means your eyes will be vulnerable to the UV light or spray, depending on the type of tan you're getting.
---
Moontree UV Eye Protection Tanning Goggles Eyeshieids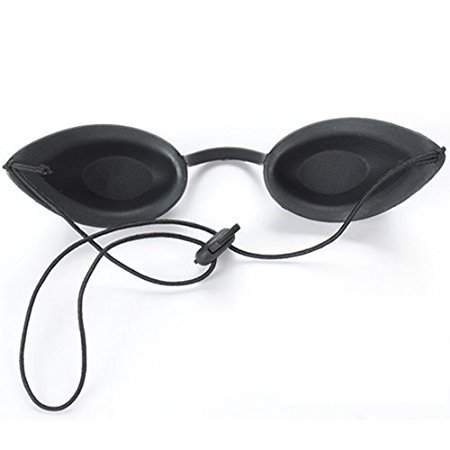 Moontree has a simple choice of black goggles that do the job justly. They can block out 99% of all UV-B rays and UVA rays while stilling permitting you to see perfectly fine. They are FDA approved for UV protection, so you can rest assured your eyes are safe behind these goggles.
They are form-fitting, so you get a perfect tan each time you use them. They also have an adjustable elastic on the back for a perfect, tight fit and an elevated nose bridge to ensure there's no outstanding tan line when you come out of the tan bed.