There's no better way to treat yourself than a day at a spa. Time spent pampering yourself and improving your health at the same time is never wasted! Unfortunately, it's not always possible to find the time (or the money) to frequent spas for much-needed relaxation. That's where portable saunas come in! This convenient devices let you experience the benefits of a sauna without having to leave your home–or make some expensive alterations to it. 
While portable saunas might be a new invention, saunas in general are far from it. According to most sources, saunas originate from Finland, and estimates indicate that the use of steam rooms started over 2000 years ago. Throughout the centuries, experts have noticed the many health benefits sauna users experience. The deep sweating session is not just a relaxing, unwinding activity to boost your mood and invigorate you. Saunas can improve cardiovascular health, with regular uses reducing the chances for high blood pressure and heart attack. Sweating it out can also help detoxify the whole organism through flushing out toxins through your pores. And spending time in a sauna doesn't just help with skin-deep issues: sauna can help you de-stress and unwind. 
It's easy to see why portable saunas are becoming all the rage. You don't have to pay for a gym membership or spa days to get access to a sauna when you get one of these compact alternatives, and you don't have to shell out thousands of bucks to make your own sauna to enjoy the steamy benefits from the comfort of your home. With a modest one-time investment, a portable sauna gets you all the advantages without any of the downsides- it's really hard to find fault with these convenient gadgets. Of course, not all portable saunas are worth your cash or time. To avoid making mistakes, check out our list of ten best portable saunas to see which models offer the best value for money!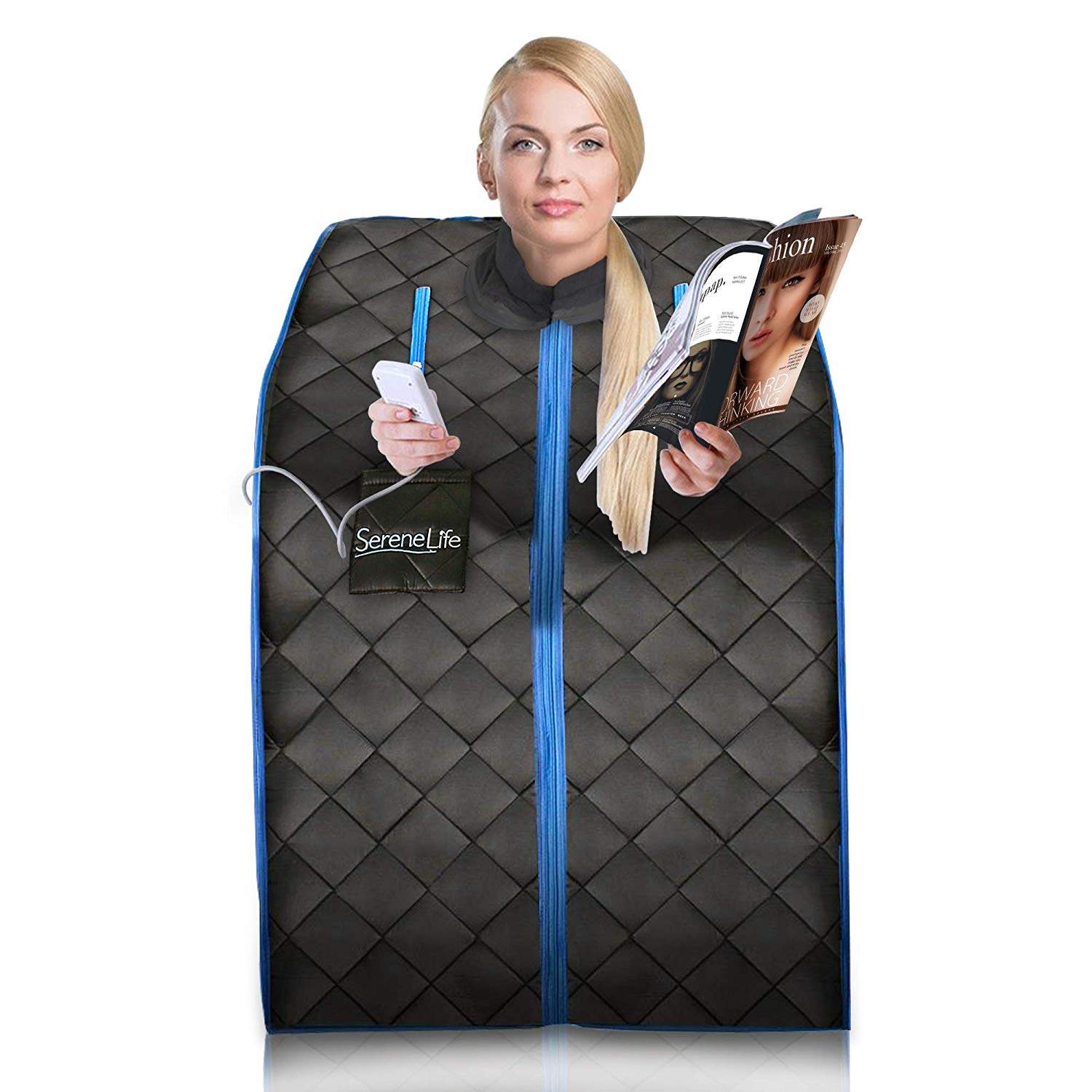 By using infrared light to produce heat, this portable sauna can generate up to 140 degrees Fahrenheit. The timer and temperature settings are easily accessed through a wired controller, and it takes about an hour for the sauna to be ready for use. You won't be bored while you sit in your portable sauna, as the hand slits allow you to read a magazine or scroll on Facebook while you're sweating the stress away. Of course, there is no steam in an infrared sauna, so if you're looking for a portable sauna that will give you the "real feel" of a traditional sauna, this is not the perfect choice.
---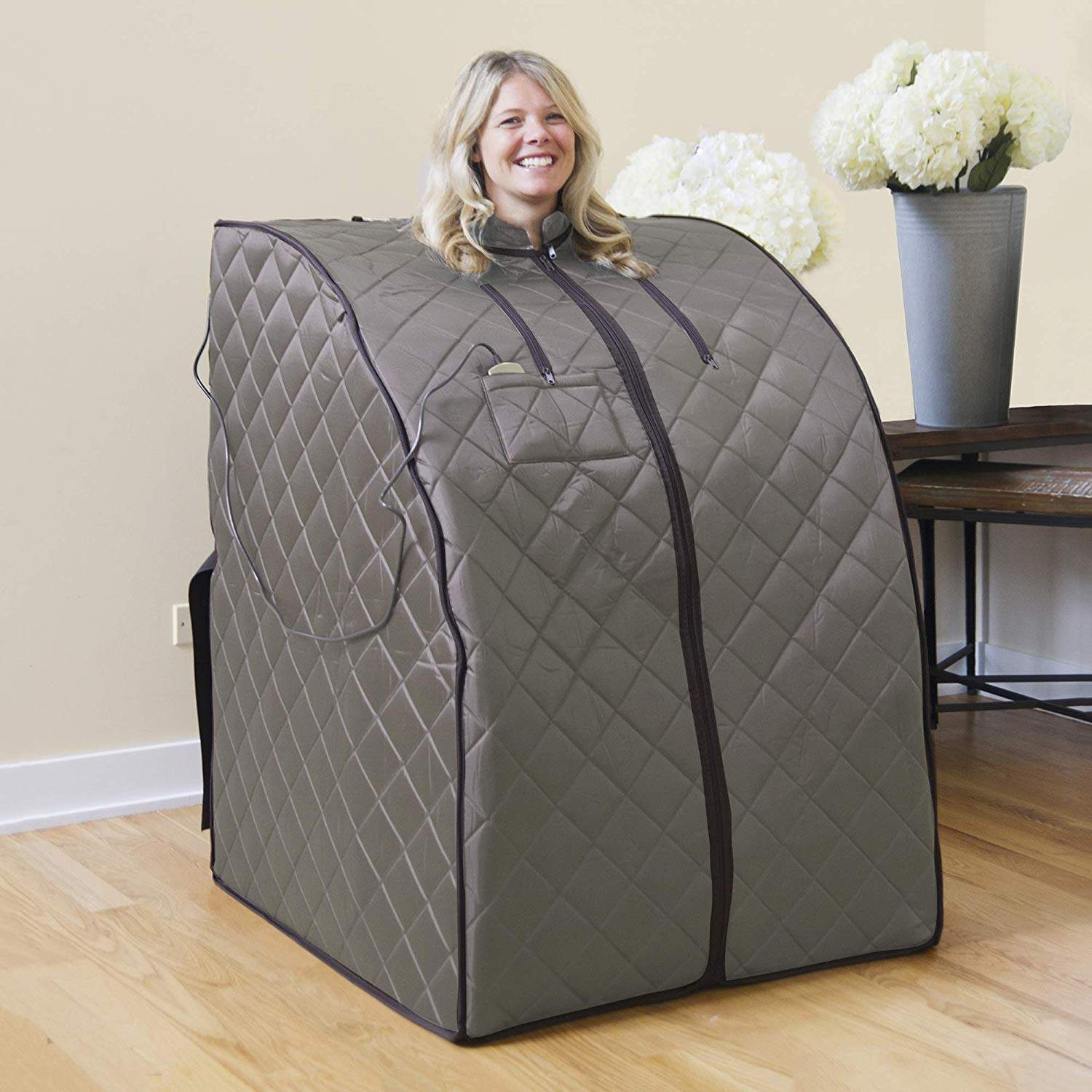 To keep you hot and sweaty, this portable sauna relies on low-EMF carbon heating panels that emit far-infrared heat. It's spacious and will fit most people- regardless of their weight and height. Just zip yourself in, sit on the foldable chair and enjoy the experience. To boot, this portable sauna has a heating footpad to really ensure you unwind and relax. 
---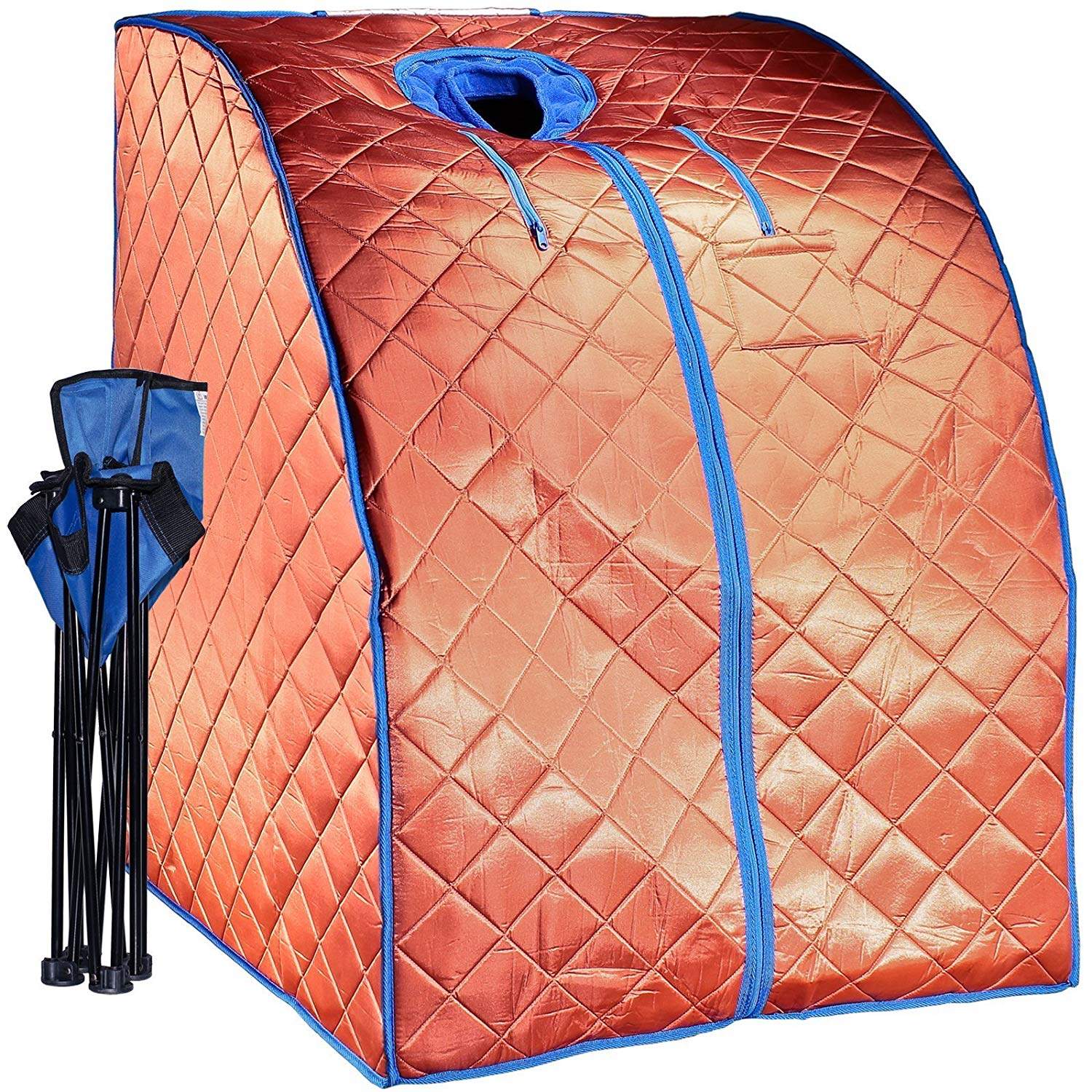 Durable, luxurious, and with superior performance, Durherm portable sauna is worth the extra money. This far infrared, fir portable sauna is almost EMR/EMF free, which is partly thanks to its unique Tourmaline panels. This also means that this portable sauna heats up faster and consumes less energy- an investment that pays off with years of use it provides.
---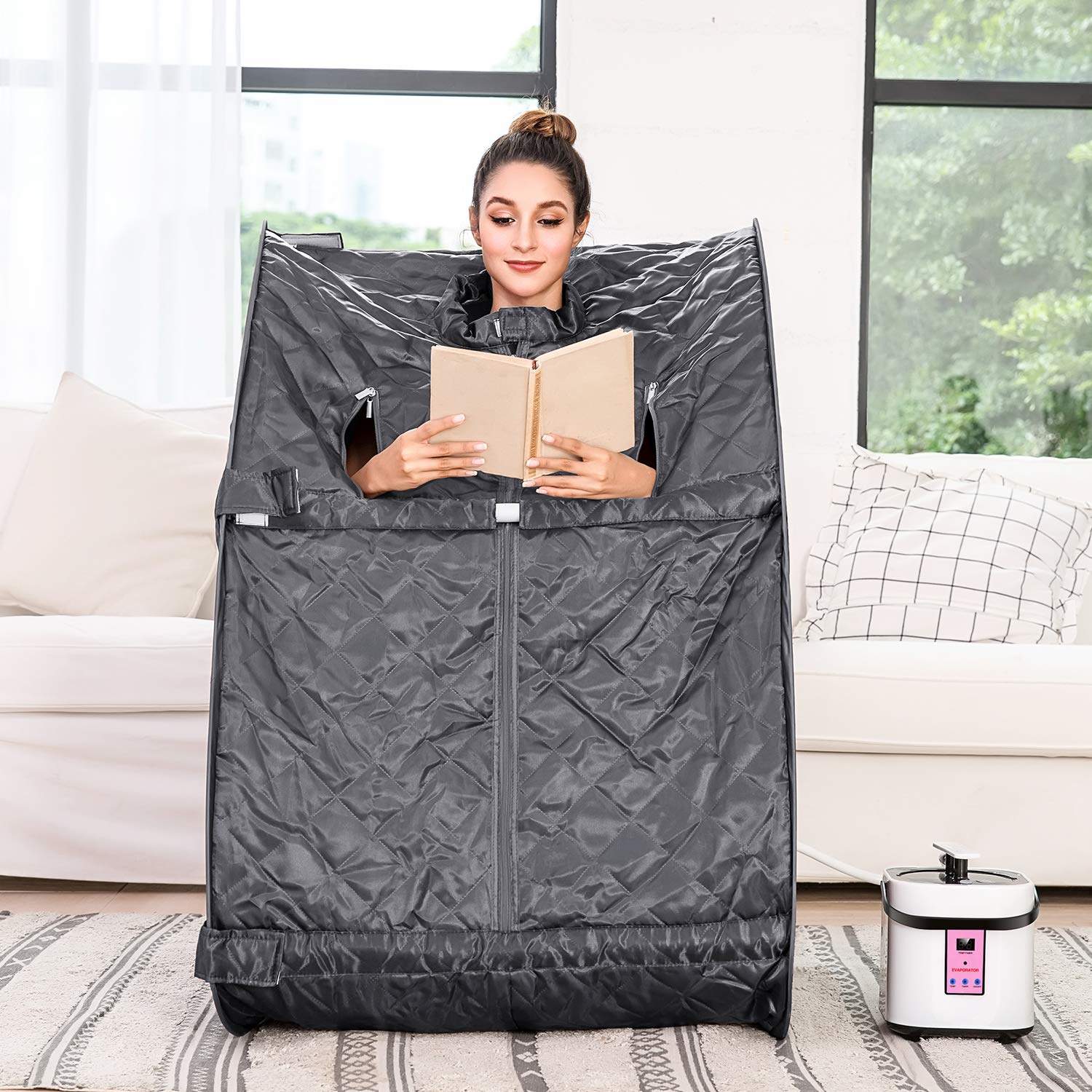 Available in grey, brown, and cube shape, Aceshin portable sauna is made of waterproof cotton cover that is set up over a plastic frame. Simple, but it works! The 2l steam pot turns off automatically when there's no more water, so you won't have to worry about dry burning or excess power consumption. As most portable saunas, this one can also achieve a maximum temp of 150 degrees Fahrenheit- more than enough to break a sweat.
---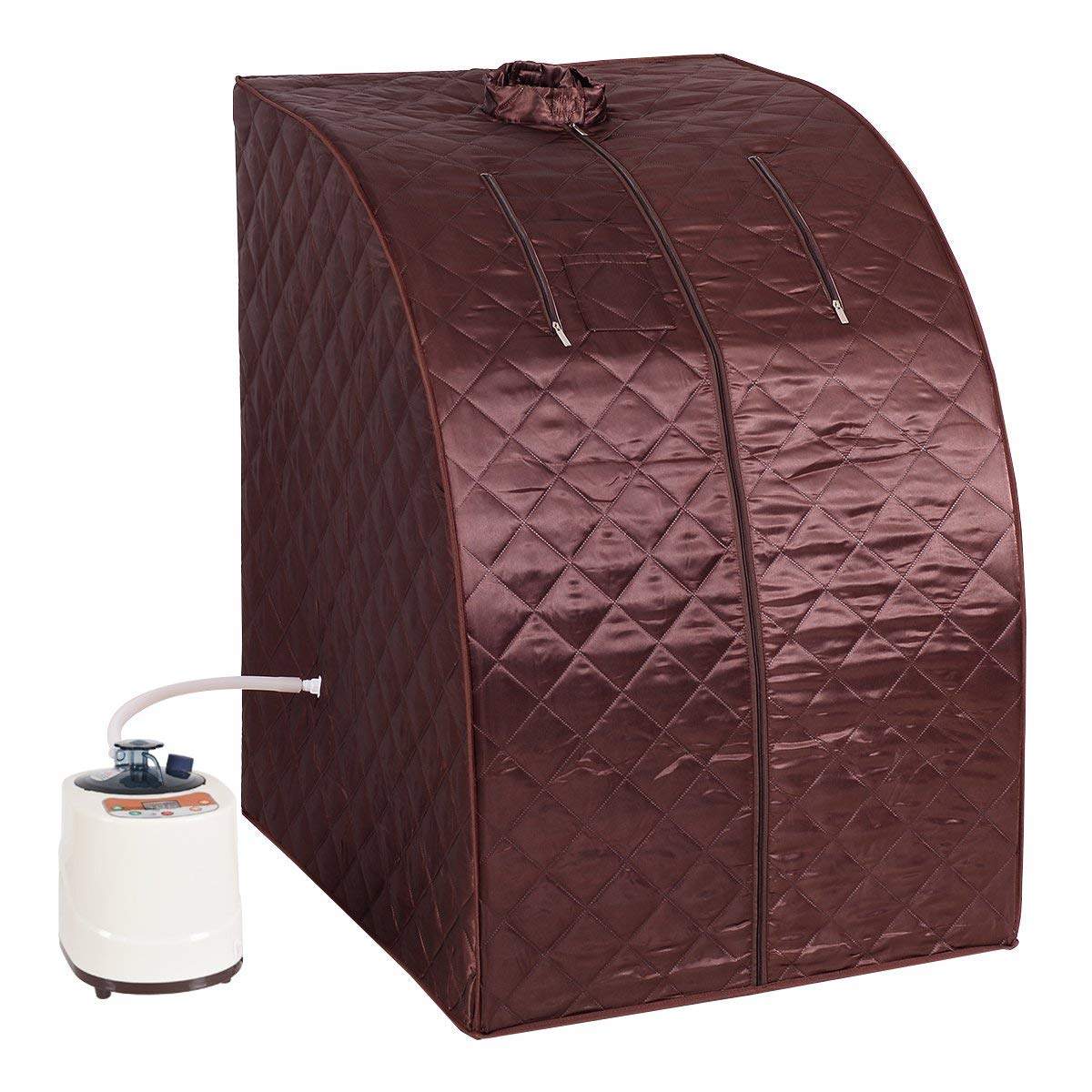 With a price tag under $100, Giantex is one of the cheapest portable saunas out there, yet it delivers perfectly satisfying performance. Slightly less potent than the average steam sauna with its max temperature of 116 degrees Fahrenheit, it is still more than enough to help you get the benefits of the traditional sauna–without breaking the bank!
---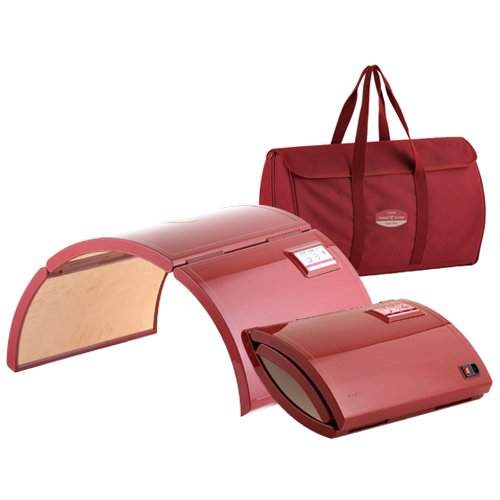 Crystal Ray boasts of delivering the same benefits of a regular infrared sauna but with a much more compact device. The ability to offer "targeted" sweating can be a great aid in weight loss, as you can point the heat where you need it the most. Also, in case you want a portable sauna in which you can lie down in, this dome is a great solution–just don't forget to cover it with a towel or a blanket to trap the heat in.
---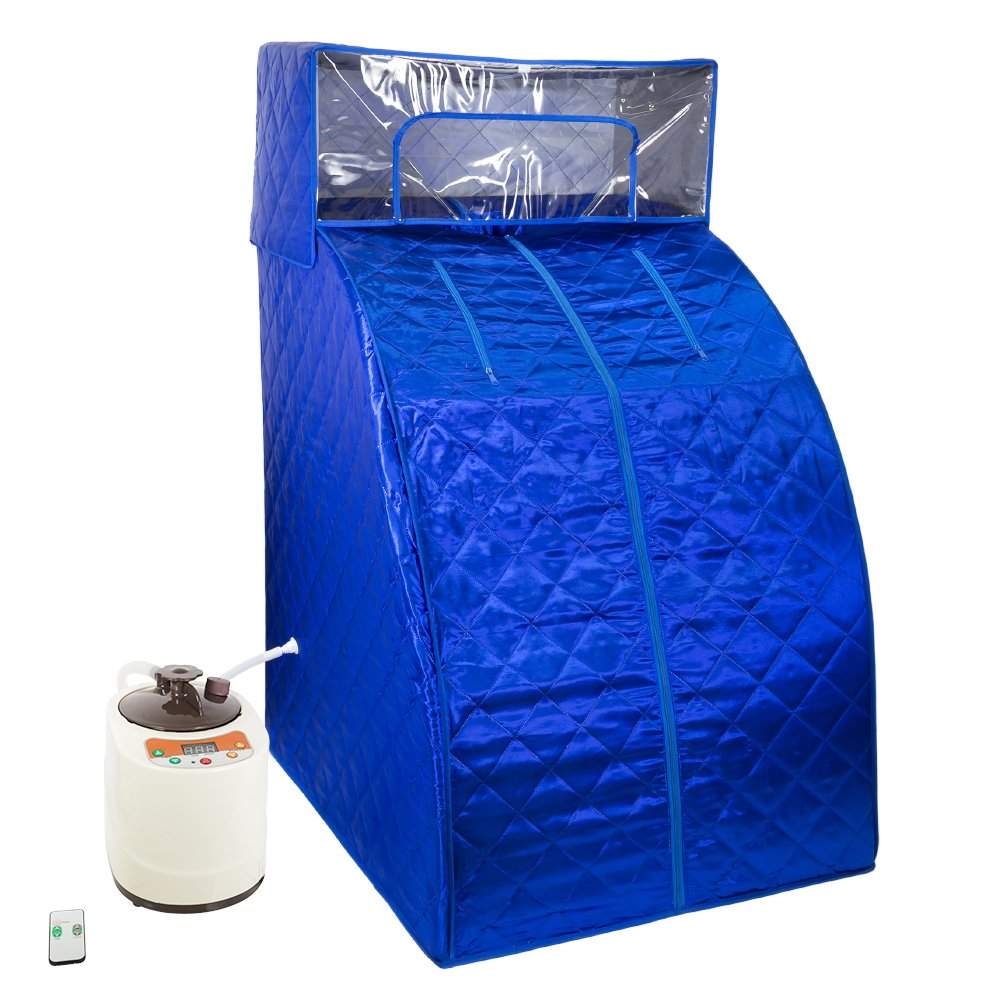 Some people miss the full body sweating that a traditional sauna offers- but you can also experience the sauna benefits for the face in your home. This portable sauna has a headspace attached that ensures that the hot steam reaches your face as well. To boot, it includes a special herb box that allows you to add essential oils or dried herbs to the steam pot for a truly therapeutic at-home wellness session.
---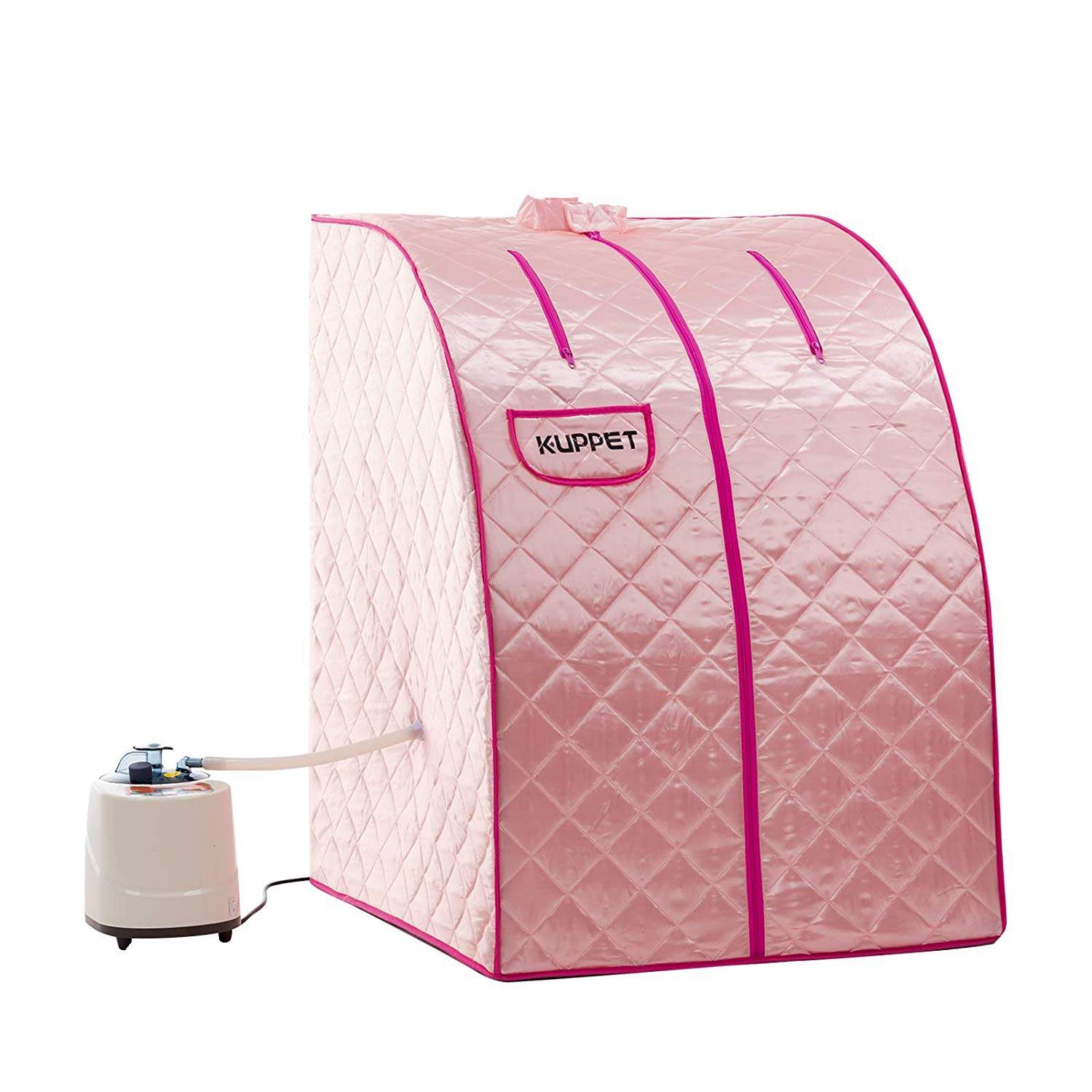 The maximum temperature of 113 degrees Fahrenheit makes this affordable portable sauna a great choice for most people. It will promote healthy sweating without putting too much heat out–just the way it should be. KUPPET is available in four colors: pink, blue, brown, and black.
---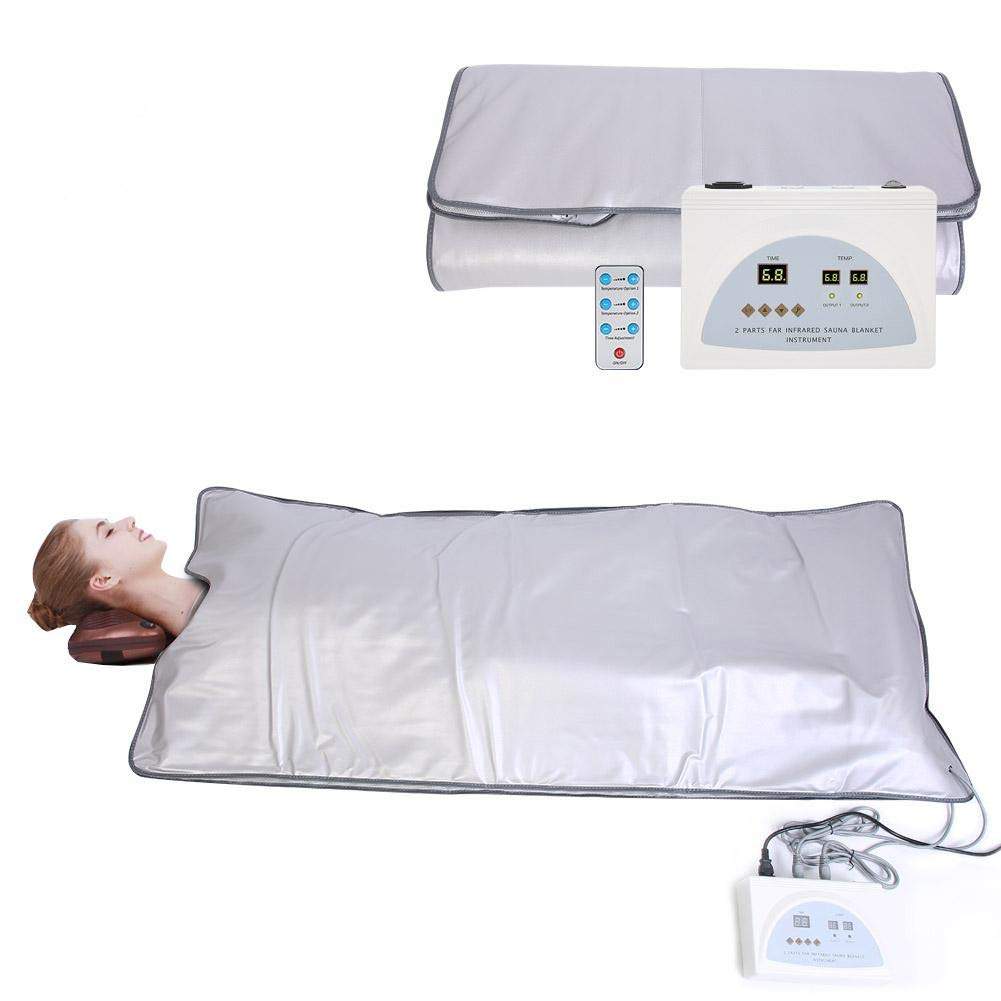 Want to combine the health benefits of a sauna with the enjoyment of napping? Or is it simply more comfortable for you to lie down while waiting to sweat the toxins out? Then a sauna blanket is the answer. This far infrared portable sauna offers all the advantages of a traditional sauna in an unconventional design. Wrap yourself like a burrito to shed extra weight and detox your whole body while lying down- it's an offer that's hard to pass on. 
---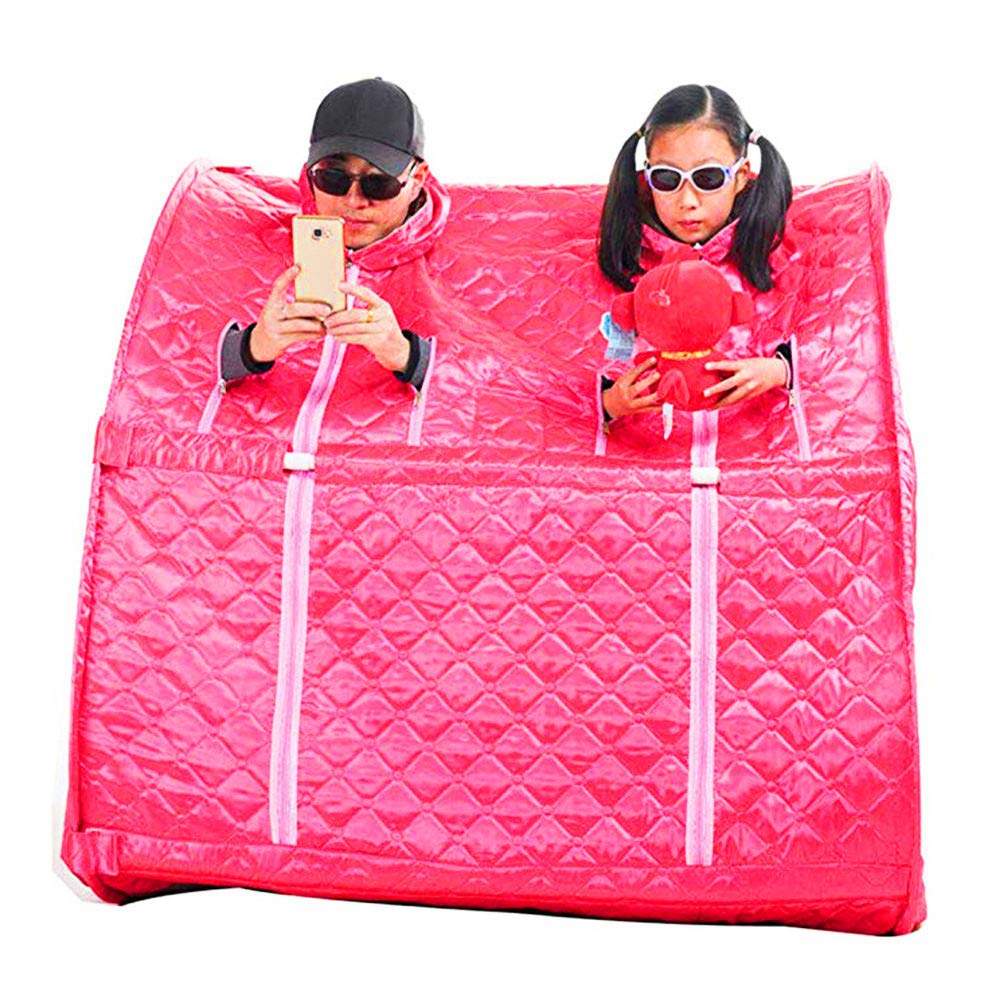 Want to sweat your soul out with someone special to you? I mean, it is more fun if you use a sauna in (good) company. This two-person portable sauna has one compartment that has two chairs to sit both participants and a powerful steam generator with two separate hoses. Alternatively, if you are overweight and want to try an at-home sauna for weight loss or other health benefits, this XL model could be your best option.