In the world of modern cosmetics, the search for skin products that will tighten and make the face look younger is on the rise. Between face creams, facials and even makeup, the list of potential items that could possibly make you look younger is a constant overload of information. In more unconventional methods, such as a red LED light therapy, some benefits can go deeper than just on the surface of the skin.
Facial red LED light therapy is said to be able to penetrate the deep layers of the face and reduce any inflammation and puff out the fine lines on the face. After repeated use, the red LED light is said to make the face look years younger and virtually reverses damage from the sun and other elements.
If you aren't familiar with facial red LED light therapy machines and you do a search online, you'll find that there are hundreds, maybe thousands of different kinds of machines that boast they're able to make the face look younger With so much information out there, it can be a bit overwhelming.
In order to save you time, and potentially money, we've compiled a list of the top ten facial red LED light therapy machines you can find in the industry. Take a look at some of these amazing machines yourself and decide if it could be a good investment in your future skincare regime. Maybe it's time for you to find out what all the fuss is about in this breakthrough skincare system.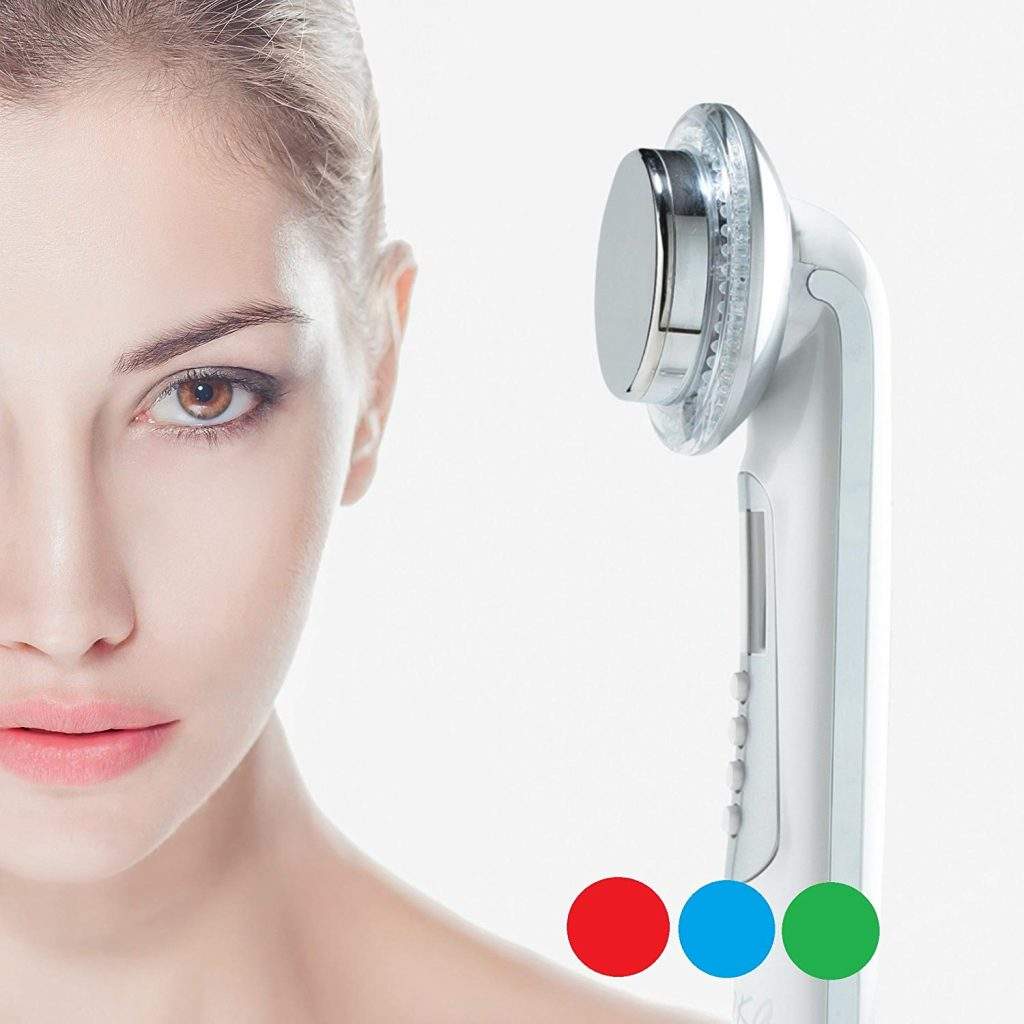 The Rika LED facial massager has three different colors to promote light therapy for acne and other skin issues. This facial massager uses gentle massage and the power of LED red light to reduce inflammation, which is a common occurrence for anyone who suffers from acne or other skin issues. The vibration of the massager gently firms and lifts the skin to create a younger-looking face. This particular machine is not battery operated and needs to be plugged into a wall in order to use. This creates a noninvasive method of reducing the appearance of fine lines on the face and reduce any swelling that may be going on under the skin.
---
Newkey LED Light Therapy Face Mask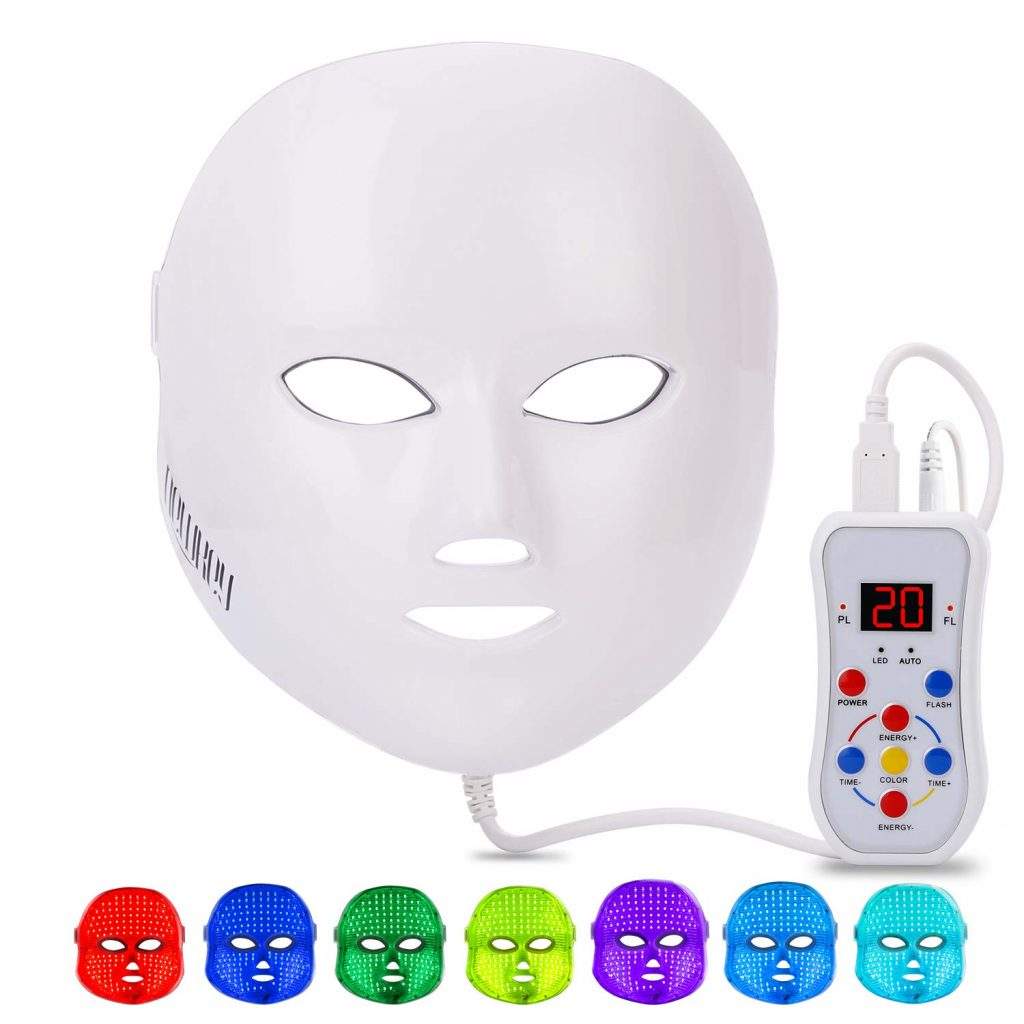 The Newkey LED light therapy face mask comes complete with seven color facial skincare masks. These are clinically proven to provide different forms of rejuvenation of the skin and reduce the appearance of acne or acne swelling and scars. There are different lights, such as light blue light that will soothe allergens in the skin, green to reduce redness, yellow to soothe and reduce redness, purple to improve lymphatic health and red to increase blood flow and release collagen throughout the face. It's said that the wavelengths behind these various shades of light help specific ailments of the skin on the face.
---
Lexi White Beauty Red Light Therapy LED Face Mask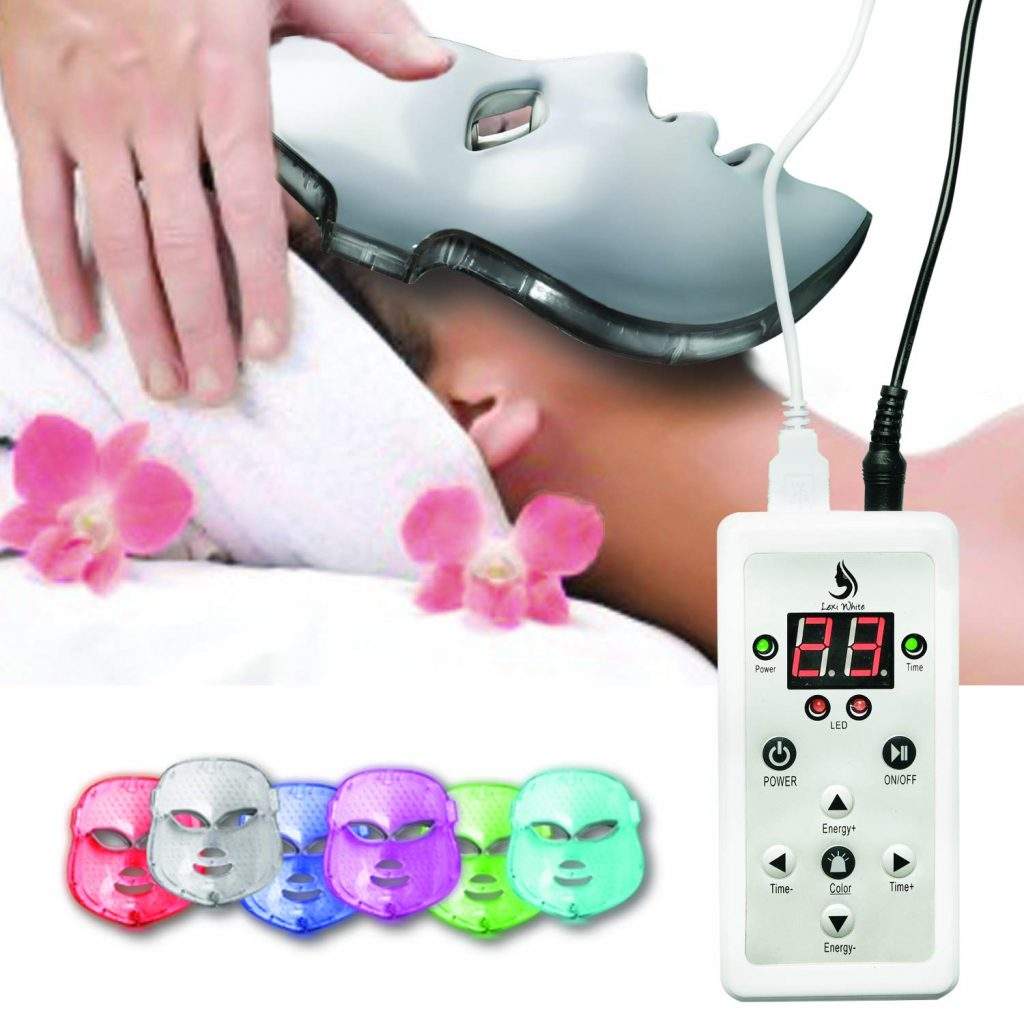 The Lexi White Beauty brand of red-light therapy led face masks uses facial photons for healthy, more youthful-looking skin. The various shades of light within this face mask rejuvenate skin by promoting the development of collagen in the skin, provides anti-aging properties, and reduces the appearance of fine lines, wrinkles, and scarring. This is a Korean based skincare routine that keeps the skin looking fresh and young. This machine comes with an easy to use controller and six different masks that easily fit over the case lights to shine in any color you want. This machine also comes with a white light mask that promotes tissue metabolism and reduces sagging skin.
---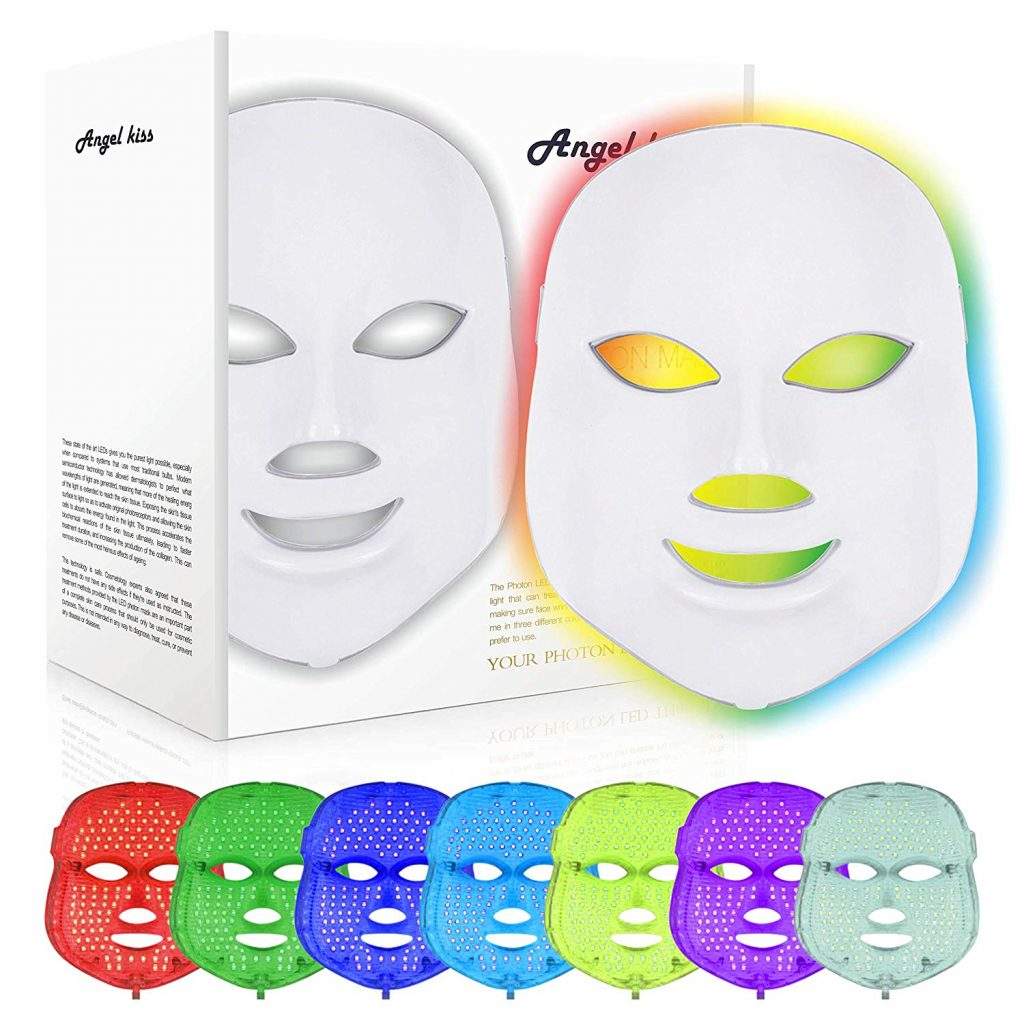 The Angel Kiss LED Face Mask comes with seven different color photon masks, including some of the most popular ones – blue and red. These lights help with skin rejuvenation and the machine itself plugs into the wall, so you won't need to spend a lot of money on batteries. Angel Kiss promotes photon beauty, as each light setting is meant to target another issue that is commonly found in facial skin. The various lights in the Angel Kiss system are said to target skin tightening, oil control, freckle removal, shrink pores and promoting smoothing with antiaging power. This is also a cheaper way to help your facial skin compared to going to an expensive salon for microdermabrasion or other facial masks that can tack on a hefty fee.
---
Lift Care Fusion Skin Dual Facial Massager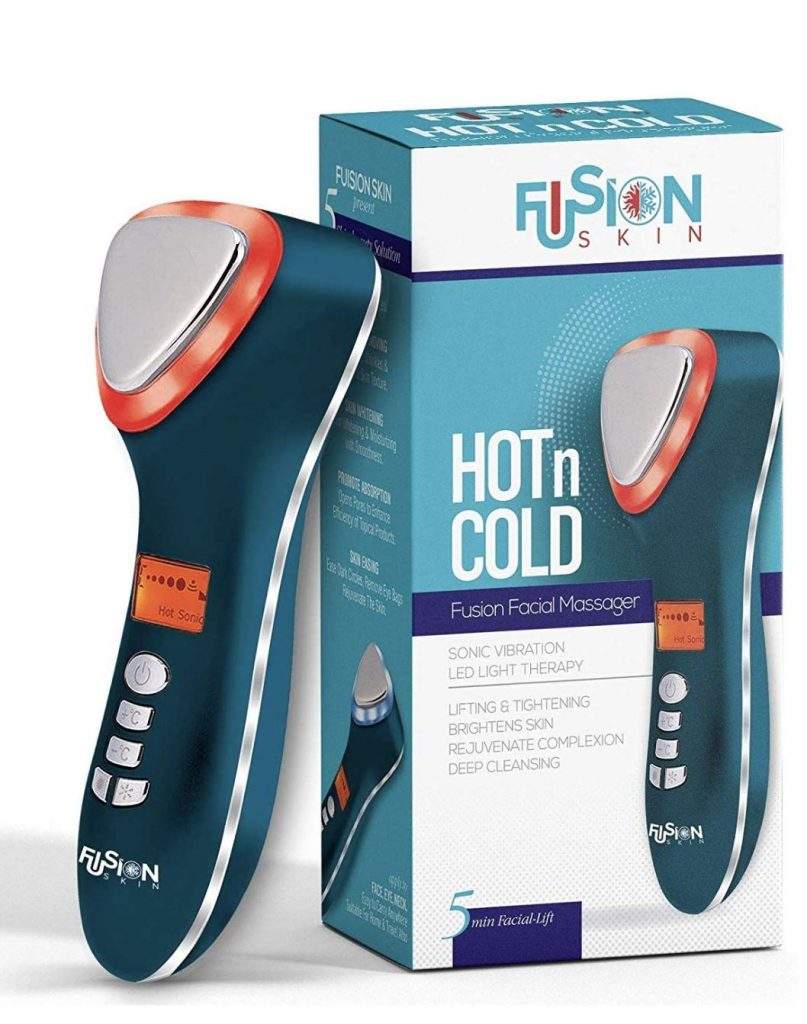 The Life Care Fusion skin dual facial massager comes complete with powerful massage and red LED light treatment. This machine is handheld and helps with antiaging properties and reduces swelling in the face and neck. The Lift Care handheld machine uses nanotechnology for photon therapy that eases the signs of age in the face and helps with decreasing bacteria. The blue light in this machine is capable of actually killing any bacteria that may be living on the face, helping clear out any harmful side effects that this could cause. This is also great for clearing out the pores, as the light disinfects these kinds of bacteria that cause acne, pimples, and other unsightly facial blemishes. There are a lot of benefits to the various shades of light, so this machine helps use all of those benefits in one nifty handheld machine.
---
Amazing2015 PDT LED 4 in 1 Photon Treatment Skin Facial Treatment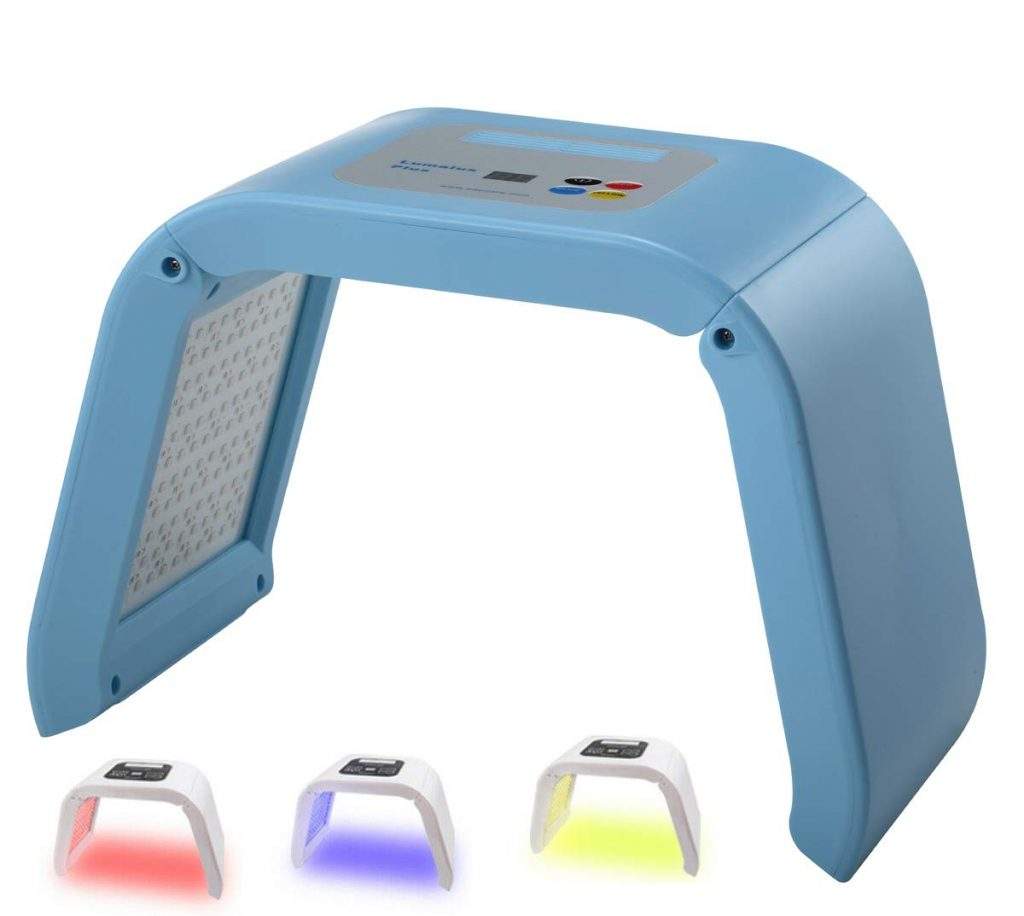 The Amazing2015 brand of LED Photon treatments offers a skin facial treatment offers red, blue and yellow lights to clear up bacteria, reduce swelling and hide the appearance of any fine lines. This system simply rests over the face as a canopy, almost. There are even goggles that come with the machine, so it gives you that tanning bed feeling. This is a great machine if you prefer to lie back and relax while getting your treatments. This is also a great way to allow the LED lights to work their magic better, as the more relaxed you are, the better the treatments will work.
---
Helios X Facial Rejuvenation LED Infrared Light & Heat Therapy 3-In-1 Device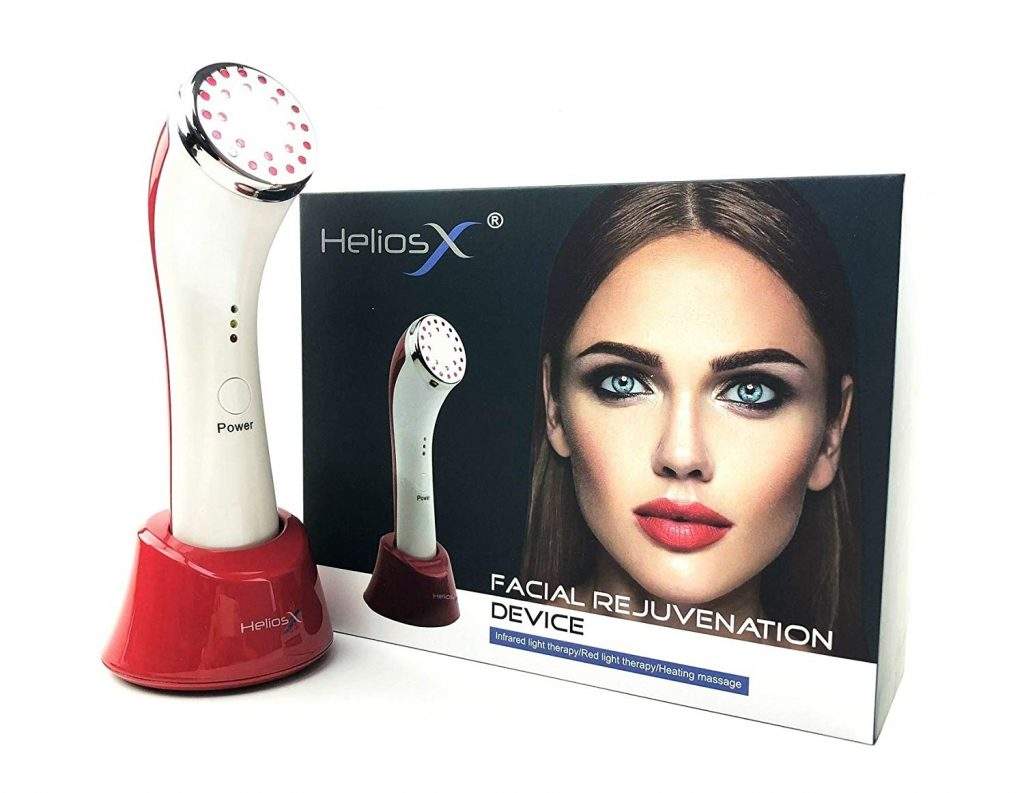 The Helios X Facial Rejuvenation LED therapy device includes a three in one system that uses infrared light and heat therapy in conjunction to give you your best therapy treatments yet. The combination of heat and light makes the power of the LED lights work even better. The thermal heating repairs damaged skin and enhances skin elasticity, while the infrared light penetrates deep into the skin-boosting collagen production and reducing signs of aging. It's the best of two worlds when it comes to facial skin rejuvenation. It also is a safe and relaxing way to improve the look of your face, and, the best part is that it states it will only take four weeks.
---
HydraskincarePro 4 Color LED Face Photon Red Light Therapy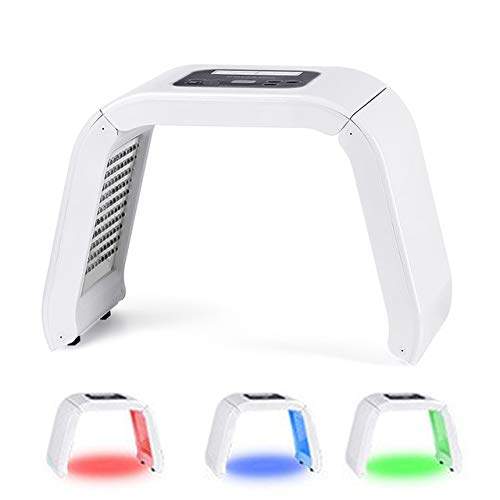 The HydraskincarePro LED Face Photon red light therapy is the kind of system that hovers above the face. It is the kind of machine that you can use as you lay down and relax. This is a salon-grade machine that you would typically find in higher-end salons and spas across the country. It also comes with a great warranty, so if you aren't completely satisfied with it, you can simply send it back with no questions asked. What is also really unique with this machine is that you can utilize two lights at once, so the lights can work together with conjunction therapy. That's a standout factor since most machines can only emit one light color at a time.
---
LED Light Photodynamic Skin Care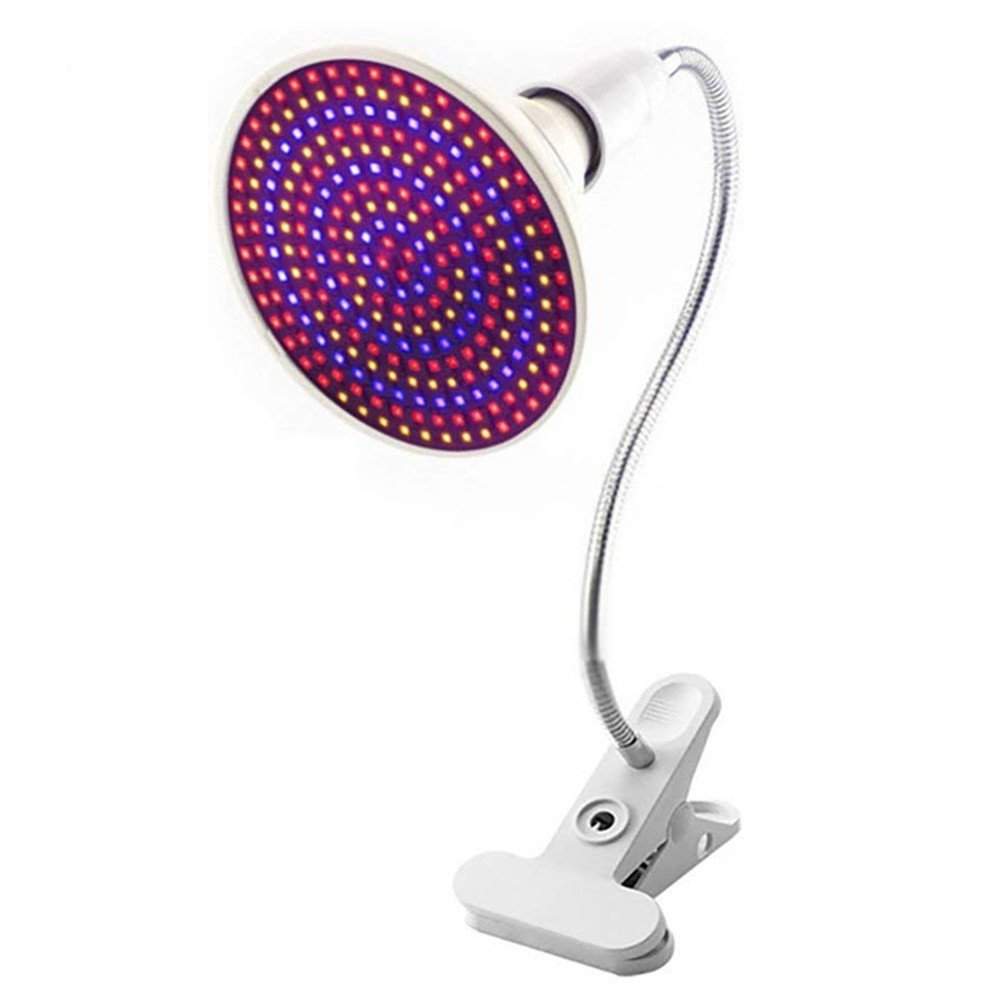 The LED Light Photodynamic Skin Care machine is different from standard machines as it sits upright like a vanity mirror. This machine is great for all skin types and brightens and tones skin down to the pores. It also boosts collagen production and reduces the appearance of fine lines and wrinkles. It also increases circulation and promotes skin hydration through natural moisture. The lights come in red, blue and yellow and the machine comes with a manual in order to learn more about the healing properties of all three.
---
XNUO LED Light Therapy & Ultrasonic Facial Scrubber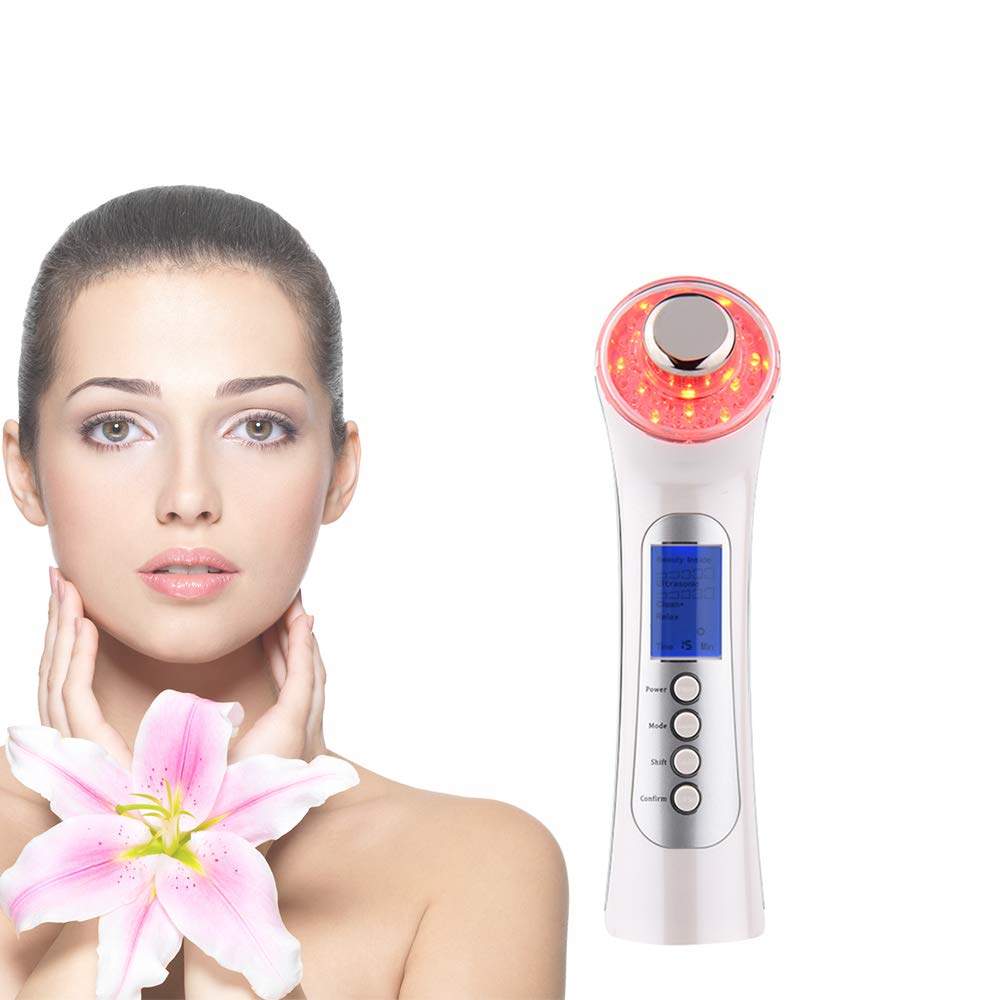 The XNUO LED Light Therapy machine also doubles as a facial scrubber. This machine includes all of the health benefits that an LED Infrared light machine does, but with the extra benefit of a facial scrubber. So, you can use the machine as a normal light LED machine, but the scrubber will virtually scrub out any impurities at the same time. This can also work as a light microdermabrasion system, as the bristles will safely and gently remove any excess dry skin out of your pores. The combination of light and scrubbing will make your face appear much more youthful and will add a healthy glow overall.