Red light therapy is a common skin care treatment for acne, rosacea, and acne scars and for improving skin appearance. As opposed to the common belief that red light therapy for acne scars is a complete acne scar removal technique, it is used a method of treatment for removing acne scars. The theory behind its working is that the bacteria which cause acne and infections are photosensitive and hence the method is effective in destroying them. By using red light therapy, you improve the appearance of acne scars and prevent them from forming.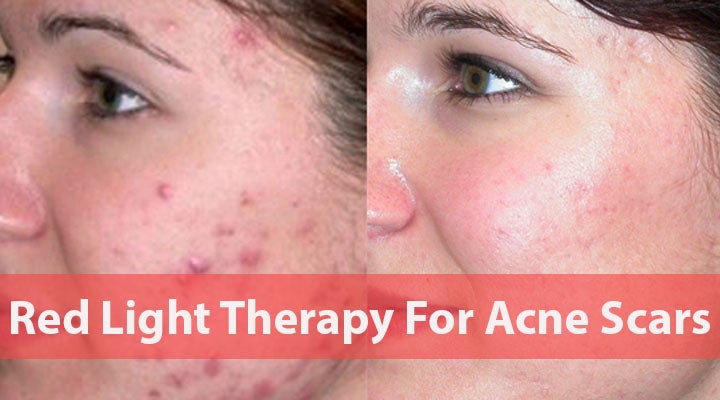 ​How does red light therapy help to remove acne scars?
​Acne is caused due to clogging caused by more sebum production by the glands in your skin. Along with oil, when dirt and bacteria also get inside your pores and cause infection, it results in acne and eventually forms as acne scars. If you start treating acne at an earlier stage, you can avoid getting infections and acne scar formation. Red light therapy is one of the treatments which are helpful for both acne and acne scars.
As said in the beginning, these bacteria causing acne are highly sensitive to light as the molecules within them absorb red light when it is used on your skin. This, in turn, increases their body temperature and kills them eventually. When the pathogen is killed, you will start seeing an improvement in your acne condition or scars.​
If the scars occurred due to the acne caused by the pathogen, red light therapy could help in improving your scar by stimulating the layers of your skin. In addition to destroying the pathogen, the red light used in the therapy also stimulates your dermal layers and improves collagen production. As more collagen is formed, the marks left by acne slowly start to fade and the skin will even out with giving a smooth appearance to your skin.​
​What are the recommendations when using red light therapy for treatment?
​Before going for this treatment, it is important to understand what is it and what are the procedures involves. Basically, there are two different types of red light therapy, which are light box therapy and targeted photography. The first type is a more generalized version where a special part of the body is not targeted. But the second category as the name suggests is a more specific treatment where a specific area of your body is exposed to light rays.
It is ideal if you can use red light therapy along with soft fillers to improve acne scars which are deep. Soft fillers are usually injected beneath the scar to improve the skin; Hyaluronic acid is one of the commonly used filler for treatment deep acne scarring issues. You can also use collagen or donor fat to even out the skin tone.
Red light therapy treatments are available at professional skin care clinics, in some salons and spas and can also be done in the privacy of your home. Home-based red light therapy for acne scars applied by light box therapy, whereas targeted photography is usually done by skin care specialists or experienced doctors.
​What are red light therapy devices?
​If you want to do the red light therapy treatment at home, you can purchase the appropriate device over the counter. Home treatment demands you to sit in front of the light box therapy device for a longer time than when it is done in a clinic. The devices which are meant for home treatments will be having a relatively small emitter and hence the results will not be as magical like clinical results.
But there are devices which can give faster and better results like that of professional treatment is done at clinics. Here we are going to discuss such a product which is an Infrared LED Light Therapy Skin Care Device – the Bright Therapy BT-SD956IR.
​Bright Therapy BT-SD956IR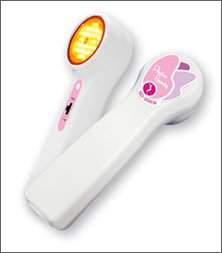 ​The BT-SD956IR is a 3 in 1 light therapy treatment photon wand which can be used for LED infrared light therapy, Infrared heat therapy and red light therapy for acne scars. The Infrared LED light therapy is mainly used for deep skin penetration, the red light therapy for skin healing and acne scar treatment and the infrared heat therapy improve blood circulation and metabolic rate.
​Effective method for good result
​It can be used to cure inflammation issues and related pain in your body. In such cases, you can use infrared heat light for reducing the pain by using it for some time. It has a 10-minute timer which can be used for multiple times as per your need. Usually, the device takes 5 minutes to warm up, so you can start using the device after 5 minutes for effective use. The pain may not go off immediately after using the device for a few moments. Initially, the pain will fade sway and will go off eventually after a couple of hours.
The device works well it all standard AC adaptors and lasts for a long time. You can also use the photon wand on your pets as a treatment for body pain originated from any kind of injuries. It is efficient enough to penetrate deep into your skin and stimulates new cell growth and collagen production and hence can also be used as an anti-aging treatment. The manufacturer says that with constant use, you can also see that it reduces your wrinkles effectively by improving oxygen supply on your face and can be used as a best red light therapy for acne scars.
​Conclusion
​The red light therapy for acne scars is more effective in removing the cause for acne scars rather than removing already existing acne scars. The FDA has declared that there are not many side effects associated with red light therapy treatments, but blue light therapy has certain side effects. You need to talk to your doctor in detail and disclose your medicine history before choosing to undergo red light therapy.
​Read our posts about Red light therapy reviews