On the one hand, there is the rising abundance of health care products in the market that utilize the therapeutic benefits of light therapy, and on the other, there are newer products that send electrical signals in the body to benefit it, simply called MENS or Microcurrent electrical neuromuscular stimulators.

​The Laser Touch One is the first of its kind product, ensuring you of actually relieving pain, which combines the benefits and technology of the above two classes of therapy. If you have been battling and struggling against chronic pains, arthritis, injuries or any muscle spasms, Laser Touch One is here to your rescue. It is a one – of – its – kind pain relief device with zero side effects that has been tried, tested and proven to be the best treatment.
With FDA approval for usage at home, this machine is so efficient, that around 93% of the patients who used it experienced relief! Laser One Touch is recommended by doctors and physical therapists all around the world, and you could own one without the hassle of a costly prescription. This convenient and easy to use device can be bought over the counter at any leading pharmacy and has a lot of features which we will talk about below
​Laser Touch One Review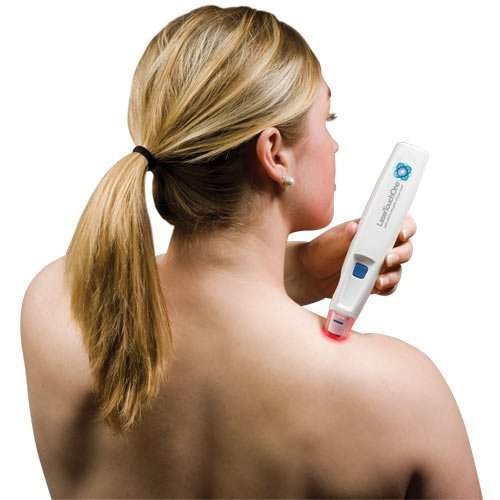 ​The Laser Touch One is a handheld device which provides therapy for pain relief by employing the benefits and mechanisms of two therapies – one a low – level laser and the second – an electric stimulator. The combination of these micro – current and cold and low-level laser therapies make it possible for the device to be so high on efficacy, portability, and pain alleviation.This revolutionary device works wonders on soft tissues and muscular pains and is not intended for pain related to bones.
The low-intensity laser that this device emits is 620 nm in wavelength which can penetrate deep within the tissues and provide respite. The electric stimulator is controlled by a low intensity or microcurrent. The two combined together give the best results for liberating one of pain. The device has been approved to be administered for neck, jaw, shoulder, knee, leg, back pains and also post – trauma and surgery aches. Aches suffered due to injuries, wounds or accidents can also be tended to by the Laser Touch One.
A conductive gel comes along with the device, which when applied to the area of the body under treatment/application, gives better results and the gel acts as a buffer for the laser and stimulator to permeate the skin and tissues.​
​The device can be held in hand and applied at the area of pain like a pen. You can then begin to increase the current gradually; a slight tingling can be experienced. For best results, one needs to move the applicator in circular motions over the skin where the pain is being experienced. The device automatically shuts off after 2 minutes, thanks to an internal timer.
​Laser Touch one can be used up to 5 times in a day for better pain respite; one does not feel any pain due to the laser of current stimulator unit. No pressure is considered during application as well. It is a 100% safe device that uniquely unites benefits of two well – proven treatments which are instrumental in penetrating deep within the tissues that can absorb the energy emitted and repair the damage caused. The treatment therapy provides the body and the areas under stress with the power to heal and rejuvenate itself, thus eliminating acute pain and its symptoms. This device, however, is not an alternative to a medical treatment.
​Are There Any Side Effects?
​Being clinically tested and proven to alleviate chronic and acute pain, the Laser Touch One is one device you should definitely invest in. No cases of any side effects have been reported so far, and even the review and results of users have been overwhelmingly positive. It is light weight, portable, rechargeable, available OTC, user controllable and efficient for a long list of pains. There are negligible side effects even while you decide to administer it for rotator muscles, or knee surgery pains. Cancer patients have known to find relief because of this amazing device!
What' more! The device can be bought along with the Laser Touch One Conductive Gel which forms a conductive channel/buffer for the therapeutic benefits to soak and permeate into the body. This electrode gel comes to you besides the product and the charger. The Laser Touch One kit includes one device unit, charger, electrode/conductive gel, user manual and a warranty card. Users also get a 30-day money back guarantee if they aren't satisfied with the effects, shipping charges included. So, you are the winner in any case, and your pain is the big, fat loser​
​What We Liked
There seem to be only good things and reviews about this miraculous device! People who have struggled with knee pains, and other chronic pains, post surgeries for years have now found sustainable relief through Laser touch one, and that too in a couple of days. We can promisingly say, without a shadow of a doubt that this device does work! Patients with years of arthritis and muscle related issues have found their savior in this product. There is literally no category of pain that the Laser Touch one cannot take care of. The cutting edge technologies that this device brings together in a simple handheld pen-like device, is simply genius and efficient as ever.
What We Didn't Like
The only shortcoming of this product is the price! Having said that, there never before was a product that could work against pain as well as the Laser touch one, the price is entirely justified from that regards. Bringing such revolutionary technologies together is no easy task. You definitely will cherish this investment we believe.
​Conclusion
In conclusion, we have only one thing to say – order the Laser Touch One device today, and we are sure, you will not regret your decision. It's simply the best out there!Hope this review was helpful to you! Happy pain – free days!