One of the healthiest and easiest ways to cleanse your skin is to steam it. You may have enjoyed this facial treatment at a spa or salon. Now you can treat yourself at home with your own facial steamer.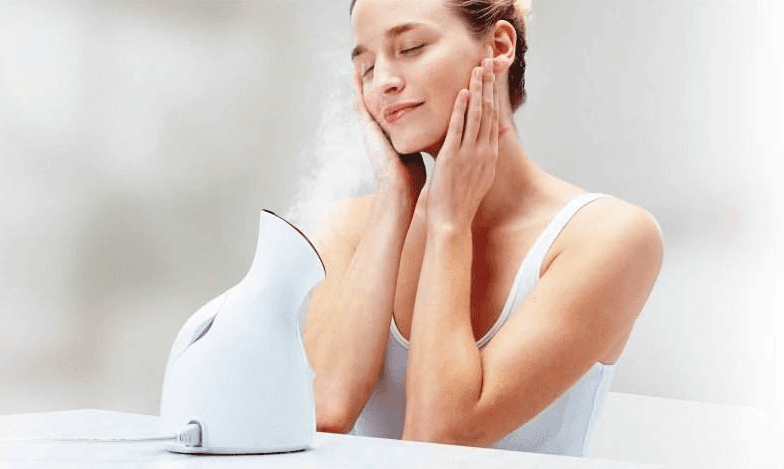 The steam gently opens up your pores so they release oil, dirt, and pollutants. A twice-weekly steaming may help you clear up blackheads and acne like no other method can. It can reduce skin irritation and intensely hydrate your face. Just imagine if you combined steaming with blue light therapy!
Let's take a closer look at the top five facial steamers to see which one will be the best for you.
---
Panasonic Nanoe Nano Care EH-SA60-P Pink Ion 2 Way Steamer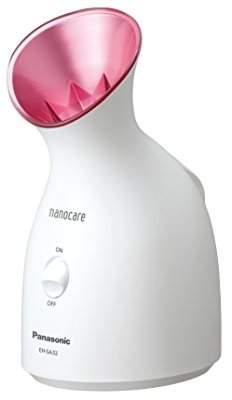 Panasonic's Nanoe Nano-Care 2-Way Steamer is a Japanese import from the well-known company itself. The two-way steaming means you can do a treatment while you sleep, or have an intense 12-minute session.
They describe it like this: the Nano mode sends out tiny ionic particles of moisture into the air. These particles deeply penetrate your skin for up to 8 hours while the steamer works silently in the background.
The Platinum mode is twelve minutes of warm steam from the top of the unit. Place it in front of you to catch the full strength stream on your skin.
Users comment that since they began home treatments with the Panasonic Nano-Care steamer, they have seen dramatic improvements in their skin. Their skin feels softer and clean and they see fewer blackheads and experience fewer breakouts.
---
KINGDOMCARES Nano Ionic Hot Mist Moisturizing Facial Steamer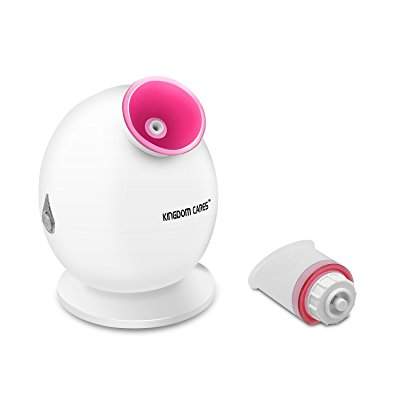 KINGDOMCARES Nano Ionic Hot Mist Steamer is made in China and therefore is a whole lot less expensive than the Panasonic model. It's very simply to operate. Fill the tank with water, plug it in, and sit in front of it to enjoy an eight to ten-minute steaming session.
Although the company recommends using distilled water, their steamer has an internal sterilization system that treats the steam with ions and a UV lamp before it reaches your face. Once the steamer has finished its work, it shuts down automatically.
Users recommend sitting at least a foot away from where the steam exits to avoid burns. (The company says stay 7 to 8 inches away from the opening.) Customers say it works quite well considering that it's very inexpensive. It's covered by a 2-year warranty.
---
NanoSteamer – Large 3-in-1 Nano Ionic Facial Steamer with Precise Temp Control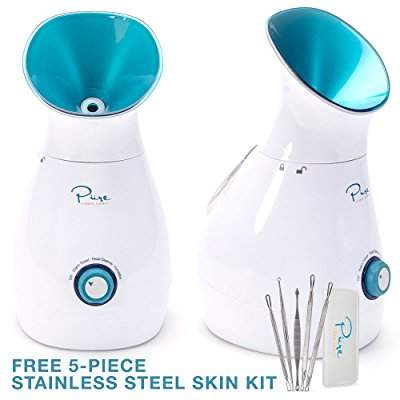 The NanoSteamer runs silently for up to 30 minutes and it comes with a 5-piece stainless steel blemish extractor kit. Plus, it has a towel warming chamber. That way you're ready to remove blackheads immediately after your steaming treatment.
This steamer doesn't just heat up water to create vapor. It combines a heating element with an ultrasonic vaporizer to make "nano steam," negatively charged water particle vapor. Compare this to the Panasonic steamer at the beginning of the review.
Again, this company says that these nano particles are better at penetrating the top layer of skin than just steam alone. Users report that they feel a definite difference when using this steamer. Their skin feels softer and more supple, and they are able to eliminate blackheads with ease.
---
Secura Nano Ionic NanoCare Facial Steamer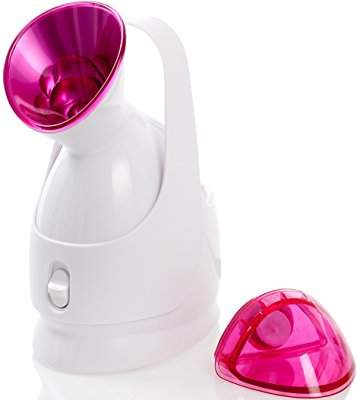 Secura's Nano NanoCare Facial Steamer says it releases "superfine nano scale hot steam." We were unable to confirm if it uses an ultrasonic vaporizer and ionizer like the NanoSteamer. But it does appear to be very simple to use.
Simply fill the tank and turn it on. If you're seated near it, you'll receive anywhere from 6 to 10 minutes of steam. It's covered by a 1-year warranty and comes with a user manual.
---
3 in 1 Aromatherapy Facial Steamer, 5x Magnifying Lamp & High Frequency Machine for Salon Spa Beauty Equipment from LCL Beauty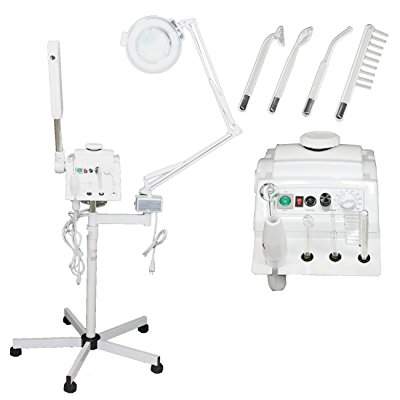 With this complete kit, you could open your own mini-spa and do facials. In fact, some of the customers appear to be salons that offer facials.
The facial steamer included is designed to do aromatherapy, something that the other products in this review don't appear to include. They all recommend using distilled water only, as does this one. But if you like to add a couple of drops of essential oil to your steam treatment, this one can handle it. Simply place the oil or herbs in the Herbal Basket attachment and they will "flavor" the steam.
The steamer also has an Ozone Function that uses ultraviolet light to purify the vapor, plus its adjustable arm pivots up and down so you can position it for best effect.
Besides the steamer, the kit includes a 5x magnifying lamp and 8x high magnification loupe for close-up inspection of skin. This makes it easy to pinpoint blackheads and remove them. Don't worry about the light being so powerful. The bulb is fluorescent and doesn't put out enough heat to burn even when used up close to skin.
Finally, the kit has a professional-grade high frequency facial machine with 4 glass electrodes. It's integrated into the steamer base unit so it saves space and won't require an extra power outlet.
The four electrodes include a rake and comb for scalp stimulation, a sparker/zapper for sterilization of pimples, a spoon for refreshing dark circles under eyes, and a mushroom electrode for treating larger areas like foreheads.
The whole kit is covered by a 1-year manufacturer's warranty. Some assembly is required upon delivery.
Conclusion
When there's a lot of competition in the field, it can be difficult to decide which product is the best for your needs. Budget may be a factor, but most of us would prefer to select something based on how well it matches our goals, not just how inexpensive it is.
Not everyone will need or want the full salon kit with steamer, light, loupe, and radio frequency machine, but its steamer can do aromatherapy.
While the Panasonic steamer is top of the line, this particular model is an import (which raises the cost) with instructions in Japanese. But it offers the nicest features out of all the steamers here.
Among the other models, the NanoSteamer offers the most control and the longest amount of steam. But if you only want short treatments, you could save money with either the Secura or the KINGDOMCARES steamers.
Happy shopping! Check back soon for more reviews of the best in personal care and beauty products!