So you've heard about infrared heat treatments and you're interested to try them for yourself? Interest is the first step. The next thing for you to do is to dig a little deeper and learn what is really involved in using infrared treatments.
Lucky for you, what you will find is that there are many infrared massagers available that you can invest in for your own personal use. That means, there is no need for you to go to a treatment center in order to reap the many benefits that infrared heat massagers offer.
An infrared massager is a piece of equipment that is used to provide a combination of deep muscle massage and infrared light therapy. Simple enough, right?
The purpose of the combination of both elements is to provide an overall strengthening of your well-being. By relaxing your muscles through massage and penetrating your deep tissue with infrared light, infrared massagers serve a variety of functions including increasing blood circulation, stimulating tissue repair, and pushing out toxins.
What Makes Infrared Massagers Different From Other Treatments?
The thing that sets infrared massagers apart from more traditional methods of massage and treatment of discomfort, is the infrared light that is used. While there are many light treatments to choose from, infrared light is the most natural choice. Keep in mind that the main source of infrared energy is the sun.
By compacting this light energy and using it as therapy, you are receiving one of nature's best solutions to many issues that are otherwise difficult to treat. Rather than taking various medications, you can use infrared light to organically help you treat your target problems.
Benefits to Using Infrared Massagers
Considering whether or not to try an infrared massager is a big decision. You are probably wondering if your investment would prove valuable. The reality is that there are both overarching and smaller, specific benefits to using an infrared massager.
The three main benefits you will reap by using an infrared massager are:
Reduction in Pain and Discomfort: when you use an infrared massager, you will experience both immediate and longer-lasting relief of discomfort in your targeted areas.
Healing of Tissue: the ability of infrared light to penetrate up to 3 inches beneath your skin's surface leads to the stimulation of various healing processes in your body.
Improved Blood Circulation: the combination of infrared light and massage relaxes and loosens up muscle tensions, warming your muscles, and increasing blood circulation.
Perhaps these benefits were not the ones you had put into words in your mind, but they are the overall benefits which encompass all of the more specific benefits you are interested in. There is no risk involved in trying an infrared massager, in fact, all you will feel and notice are beneficial changes in your body.
What Should I Look for in an Infrared Massager?
Let's be clear: infrared massagers do not all come in the same shape and size. That is why it's important to know exactly what you're looking for in your personal infrared massager. You will come across different designs with varying features that are best suited for specific purposes.
Infrared massagers can be used all over your body for relief and comfort. So as you can imagine, there are designs that focus on treating different parts of your body. While you are searching for your infrared massager you will come across: handheld infrared massagers, infrared neck massagers, and even infrared foot massagers.
Your job will be to determine which design is right for your desired purpose in using an infrared massager. Some things that you will want to think about before starting your search for an infrared massager are:
Target area of use: do you plan to use your infrared massager on a specific part of your body or all over?
Functionality: do you want a handheld infrared massager or when you will use while in a sitting position?
Price: what is your budget for an infrared massager
Thinking about these factors in advance will help guide your search in the right direction so that you can find your infrared massager as fast as possible
The Best Infrared Massagers Reviews
1. Homedics IR610 Infrared Heat Stick Massager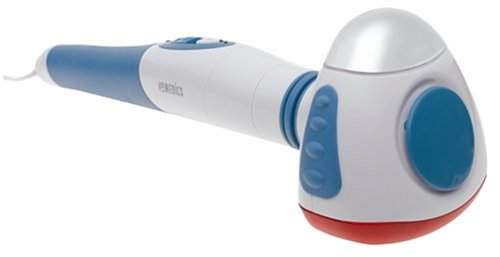 The Homedics Infrared Massager is a heated wand that is versatile in how you can use it to treat your discomfort. Homedics allows you to dictate the terms of your treatment based on your mood. You are able to switch between 3 modes: massage-only, heat-only, or heat and massage, at any time, creating the most flexible infrared massage experience possible.
With 6 different massage-head attachments, you are even able to customize the feel and pressure of your infrared massage. The Homedics Infrared Massager has an adjustable handle and massage-head that you can alter to fit your unique needs.
For an affordable price, you can plug your handheld Homedics Infrared Massager in and use it to ease discomfort anywhere in your body.
---
2. Osaki OS-102A Handheld Dual Head Massager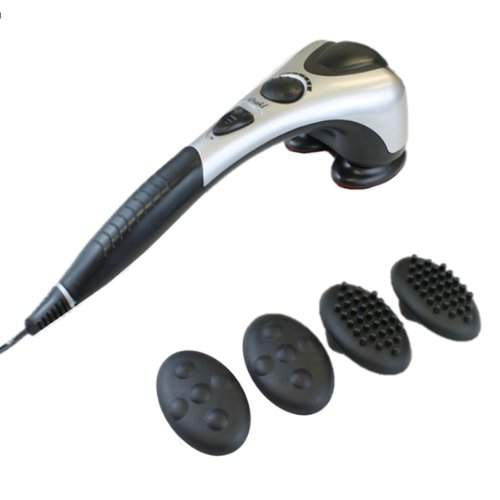 Another excellent and flexible option for use all over your body is the Osaki Infrared Body Massager. With dual massage-heads, you feel enjoy a deeper massage treatment automatically.
Osaki provides 3 different massage-head designs which are interchangeable depending on your purpose at any given moment of use. You will find that this handheld infrared massager is very easy and comfortable to use with its rubber, non-slip handle.
The Osaki Infrared Body Massager is rather compact and lightweight, which means that you won't need to worry about being unable to tend to discomfort while you're traveling. It will easily fit into most luggage.
Don't be afraid to use this infrared massager on your bare skin, as you'll actually feel better that way. If you're in the mood for a simple vibrating massage, you can just switch off the infrared heat for a bit!
---
3. Oster Infrared Handheld Dual Intensity Body Massager Vibrator with 6 Attachments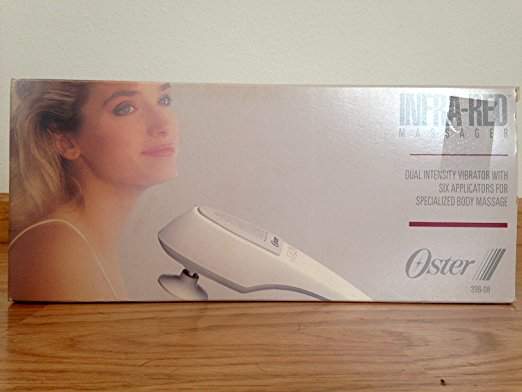 The Oster Infrared Massager is another great option that comes with 6 interchangeable attachments that will help you customize your infrared massage experience. Whether you are looking to treat your face, back, or anything in between, Oster has you covered.
Using the Oster Infrared Massager by yourself will not present an obstacle because this massager has a handle is especially long providing you with the flexibility you will need to reach any body part you desire.
The choice between the high or low intensity settings is your own, but feel sure that whichever setting you choose, you will receive a thorough and powerful infrared massage experience.
If you are interested in making a larger investment in an infrared massager that is of professional quality, then the Oster Infrared Massager is worth considering.
---
4. Sunpentown Infrared Blood Circulation Massager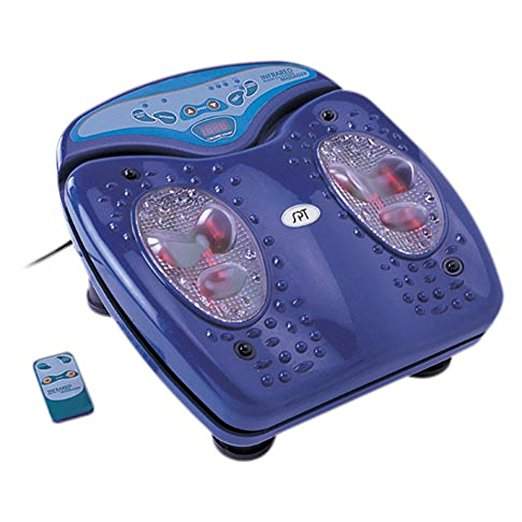 If improved blood circulation is your number one concern, then you will likely be pleased with the Sunpentown Infrared Blood Circulation Massager. This infrared massager is designed to be used by placing it on the floor and putting your feet on top of it, although it can be used creatively on other parts of the body by lying on top of it or placing it on top of you.
The Sunpentown Infrared Blood Circulation Massager is made from durable plastic, making it lightweight and easily transportable. For added convenience, the Sunpentown infrared massager comes with a remote control which allows you to adjust your settings without breaking your position while receiving your infrared massage.
You can set a timer for up to 15 minutes as you enjoy your infrared massage, and choose between 8 different infrared treatments and 12 vibrating intensities. Depending on your desired level of control, you can choose to set your infrared massager to auto or manual mode for each individual use.
You will be choosing to invest a bit more for this professional-quality infrared massager.
---
5. Infra-Tech Ultra Deluxe Infrared Massager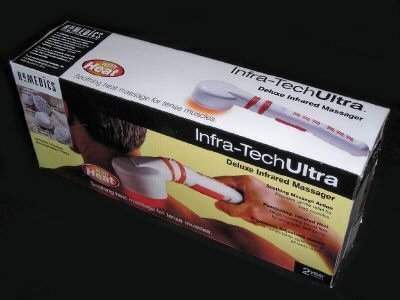 A reasonably priced handheld massager, the Infra Tech Ultra Deluxe Infrared Massager provides ease of individual use with its long, soft-grip handle and adjustable neck.
You can use this infrared massager as you please with 3 choices of settings: massage, heat, and combination of massage and heat. The four included attachments provide different specialized focus during your massage. You get to choose between: scalp, acupressure, body contoured, or facial massage.
With the Infra Tech Ultra Deluxe Infrared Massager, you will be able to choose any area of your body that you would like to target, and start to feel better within just 10 minutes of use!
---
6. iComfort Vibration Foot Massager with Infrared Heat, Includes Wireless Remote Control, Black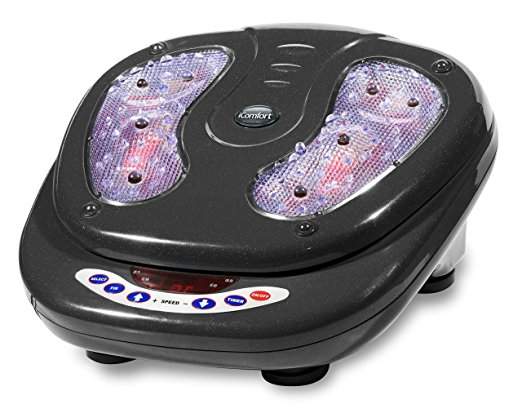 The iComfort Infrared Vibration Foot Massager provides professional level infrared massage in the privacy of your own home. With 4 built-in massage programs or the option for a manual massage mode, you will have tight control over your experience.
Set yourself up for full relaxation and discomfort relief with timer options for 10, 20, or 30 minutes. You may even find yourself drifting off to sleep from being so calm!
Your experience is highly customizable with the iComfort infrared foot massager, with your choice of 15 speed levels and 8 infrared heating levels. The easy-to-read LED display and the handy remote control will ensure that your relaxation is not interrupted by technicalities.
A slightly more expensive investment, the iComfort Infrared Vibration Foot Massager will prove to be a reliable source of comfort over time.
---
7. Chi Super Infra-Vibe, Digital Infrared Chi Machine CY-106S with Dual Therapy Dry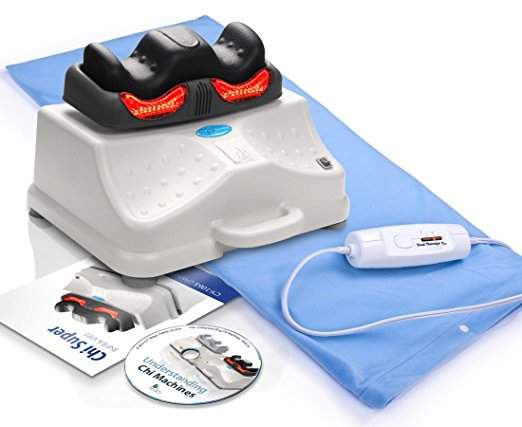 The Chi Massager Machine is an infrared massager that you would likely see in a professional setting. So having the opportunity to reap its benefits in your own space is excellent.
The Chi Massager Machine is meant to be used in a more dedicated fashion than a handheld infrared massager. You will need to position yourself in a lying position for optimal results. You can lie on your back or your stomach, depending on your specific wants and needs.
An advanced feature of the Chi Massager Machine is its ability to function for dry massage or wet therapy with the assistance of its versatile heating pad.
The combination of massage and infrared heat therapy will leave you feeling more relaxed then you can imagine.
---
The Takeaway
Investing in an infrared massager to keep in your own space for person use will result in your flexibility to ease your own discomfort as needed. While you are relaxing from the calming effects of your infrared massager, you won't even be aware of the added benefits that are taking place inside your body!