If you've ever experienced pain or discomfort in one or both of your knees, then you know how much it can interfere with your daily life. Your knees are an important part of the everyday functioning that we often take for granted. So when you're experiencing issues with your knees, it can really get in the way of your routine and schedule.The most important thing to think about is how to ease the pain or discomfort in your knees in a way that will be effective, but also safe. There are many options and methods for treating knee discomfort. Infrared knee heating pads are an excellent option that will help you ease the discomfort of various knee problems.
How Do Infrared Knee Heating Pads Work?
The first thing to know about Infrared Knee Heating Pads is the type of heat that they use. Far Infrared Ray Heat (FIR) is used to provide the heat therapy provided by Infrared Knee Heating Pads. What is FIR, you ask?FIR works by providing heat to skin tissue up to 2-3 inches deep. When the heat penetrates that deeply into the skin tissue, it is able to reach the specific targeted muscles which are experiencing discomfort.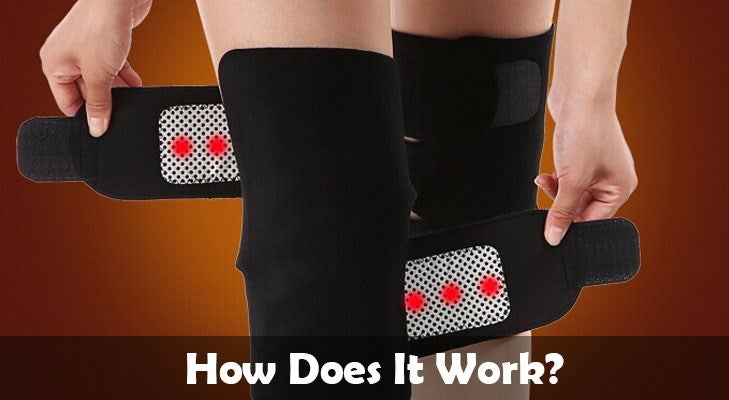 Infrared Knee Heating Pads are generally powered by electricity. You will need to plug your heating pad in to begin your treatment. Once your heating pad is plugged in, you will be able to adjust the temperature to your personal preference. When your desired temperature is reached, you will place your heating pad over your knee, and sit (or lie down, preferably) in a comfortable and restful position.Don't worry about the infrared knee heating pad burning your skin. FIR is completely safe heat that will not burn or damage your skin in any way.
Types of Infrared Heating Pads
Generally, Infrared Heating Pads are made with varying designs. As you search, you will come across infrared heating pads with different features.One of the most common types of infrared heating pad is a jade infrared heating pad. These heating pads are made with jade discs. These discs are protected by a mesh covering, and heat up when the heating pad is plugged in. The jade disc reaches the desired temperature and transmits the FIR to the targeted muscle.There are other types of heating pad which are made with extra crystals, such as tourmaline and amethyst. These types of heating pads offer added health benefits stemming from the specific type of crystal.The type of heating pad you decide to invest in is a personal choice that you will make once you search and learn about different infrared knee heating pads.
What Are the Benefits of Using Infrared Knee Heating Pads?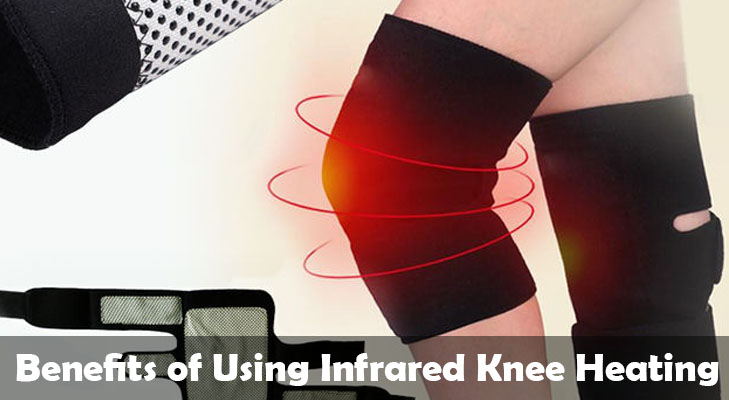 There are many ways to treat and address discomfort and pain in your knees. Perhaps you have tried other methods such as taking medication, applying creams and gels, or even using regular heating pads.With so many methods of treatment, you must be asking yourself what the real use of an infrared knee heating pad is. The truth is that infrared knee heating pads offer you many benefits. Here are a few to think about:
Completely safe heat with no side effects.
Pain relief for numerous conditions, issues, and injuries.
Medication-free method of treating pain and discomfort.
These are just the basic benefits to using an infrared knee heating pad. In reality, there are added benefits that come with using FIR technology that you would never imagine. Think along the lines of better sleep and less stress. Just more incentive to try an infrared knee heating pad!
What Should I Look For in an Infrared Knee Heating Pad?
Remember, there are many types and designs of infrared knee heating pads available. Before you decide which one to try, you want to think about what features are important for your infrared knee heating pad to have.The features you should search for should satisfy not only your personal desires, but also basic practicality and convenience, as well. Here are some ideas of criteria to consider while searching for your infrared knee heating pad:
Comfort: is the heating pad comfortable and easy to wear?
Flexibility: can the heating pad be used only on your knees?
Design: does the heating pad include a jade disc or extra crystals?
Control: do you have adjustable control over the temperature?
Safety: is there an auto turn-off switch?
You may have more criteria of your own to add to this list, and if so, that's great! Take your time searching for the right infrared knee heating pad for you so that you will get the best treatment experience possible.
Best 5 Infrared Knee Heating Pads Reviews
1. TherMedic PW150L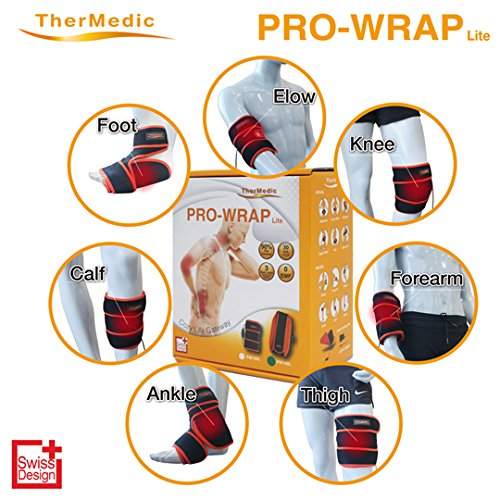 The TherMedic Infrared Heating Pad is an excellent option that you can use on your knees as well as on other parts of your body, if needed. At an affordable price, this infrared heating pad will provide you with the ability to ease your comfort whenever you'd like.
With TherMedic you get multifunctionality as the infrared heating pad is also a supportive brace for the specified area. Though it acts as both a brace and an infrared heating pad, this design from TherMedic is extremely comfortable for your knees. The velcro straps make it easy for you to adjust this infrared heating pad to the perfect size and fit for you.
The 3 different heat settings allow you better control of the level of intensity you treat your knees with at any given moment. And for extra safety, the TherMedic infrared heating pad will automatically shut off after 30 minutes to prevent any accidents.
You'll even be able to easily carry it with you anywhere you travel to with its convenient carry bag!
---
2. VIKTOR JURGEN Heat Knee Brace Wrap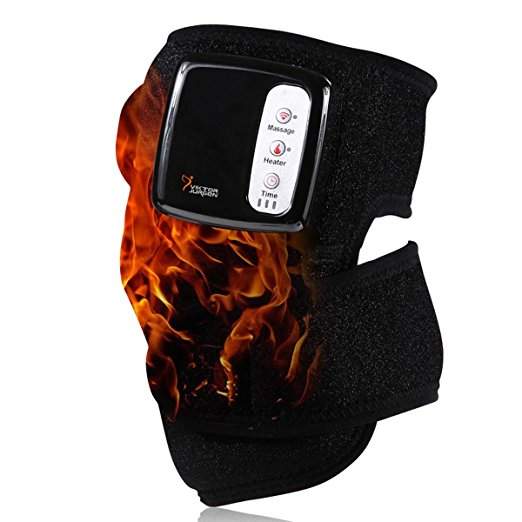 If you're looking for more flexibility in terms of what you can while you're treating your knees with your infrared heating pad, then this is the one for you! With the VIKTOR JURGEN Knee Heat Massager, you will be able to move around freely as this pad runs on a rechargeable battery, rather than needing to be plugged into a wall outlet at all times.
This infrared heating pad takes it a step further combining the treatment with vibration massage, as well. This will lead you to have the ultimate experience in comfort. Not to mention the heating pad's design which wraps comfortably around your knees, and is adjustable with velcro straps.
You will have no trouble learning to use this infrared knee heating pad as it has minimal and logical controls. Overheating is not something to worry about either, as auto shut off is included.
This infrared knee heating pad designed with a jade disc and environmentally friendly materials will help you reduce discomfort in your knees.
---
3. BriteLeafs Far Infrared Heating Pad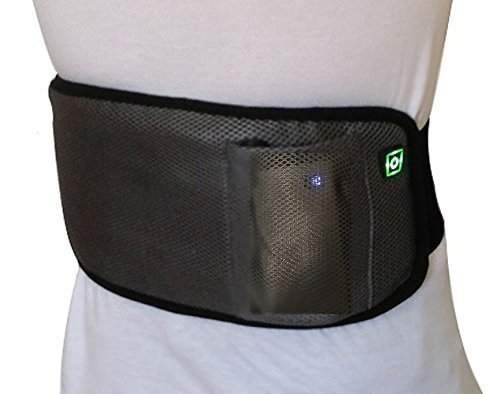 The BriteLeafs infrared heating pad is a very versatile option that you will be able to use on many different parts of your body, including, of course, your knees. It is battery operated and rechargeable, making it conveniently portable and flexible for use while doing other activities.
You have a choice between low and high heating settings and the heating pad can last for up to 4 hours at a time, if need be. After just 5 minutes your knees will be experiencing the full heat treatment from this pad.
You will find it very easy to pack this heating pad for traveling as it folds into a compact size, or maybe you'll even want to wear it during your travels for extra comfort! For a reasonable price you get flexible heat treatment for your knees and many other parts of your body.
---
4. DPL FlexPad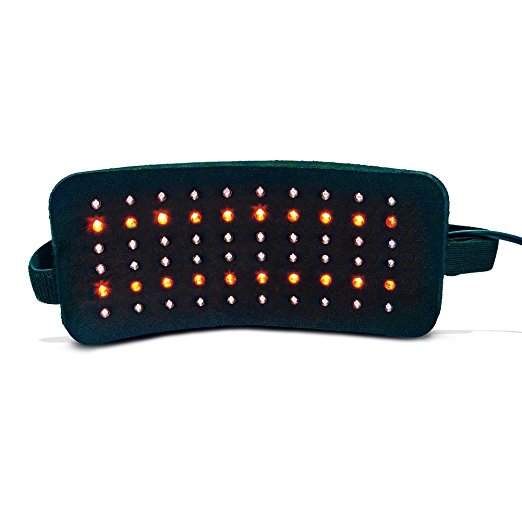 If you're looking for a more professional infrared knee heating pad, then you may want to consider the DPL FlexPad Pain Relief System. While you will be making a greater financial investment, it is one that knees will thank you for.
This infrared heating pad is flexible and you will find that you can use it for your knees, but also your back, if you want. The heating pad comes with extension straps to help you adjust the fit to be exactly as you need at any given moment.
Another great feature of the DPL FlexPad is that it is more flexible in where you are able to use it. Not only does it work in standard wall plugs, but you can also use it with any USB adapter.
For a more professional level of treatment, this DPL FlexPad is a great choice of infrared knee heating pad.
---
5. HealthyLine Knee Pain Relief Wrap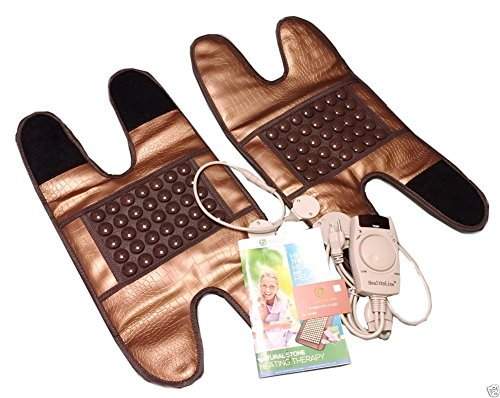 Perhaps you're interested in an infrared knee heating pad which you can lie on top of while you rest in bed. The HealthyLibe Knee Pain Relief Wrap gives you that option. While it is designed to be wrapped and closed around your knees, it also works if you lay it flat on a surface with your knees on top of it.
With a simple interface, you will be able to adjust the temperature to your preferences and set a 12-hour auto shut off function if you want to sleep with your infrared knee heating pad.
HealthyLine Knee Pain Relief Wrap is a bigger investment largely due to its design which includes tourmaline crystals. These crystals provide added benefits to your infrared heating experience such as improving circulation, detoxification, and aiding in fat loss.
Between the negative ions which will help boost your immune system and the ease of discomfort in your knees, you will be happy you chose the HealthyLine Knee Pain Relief Wrap.
---
Enhance Your Experience
The treatment of pain or discomfort in your knees does not have to be limited to the use of an infrared knee heating pad. In fact, there are ways in which you can enhance the effectiveness of your heating pad by continuing your treatment afterwards.
Here is a product that is a great accessory to use in combination with your infrared knee heating pad:
Penetrex Pain Relief Therapy
Don't leave your pain treatment to the infrared knee heating pads alone! You can add to the efficiency and duration of your comfort by using Penetrex Pain Relief Therapy, as well.
This cream works by massaging it into the target area for about 30 seconds at a time. You want to make sure you use enough cream and massage consistently and evenly the whole time. After rubbing the cream in, you will feel instant relief of your knee discomfort which will last for a while, and aid in the overall healing process.
Penetrex isn't what you're probably imagining. You won't be left with a greasy feeling or distracting scent. It rubs into your skin fully and you won't even notice the area where you applied the cream.
Using Penetrex after you have received infrared heating treatment can leave you pain free throughout your whole day. This combination could be the tool that helps you manage your pain once and for all.
Final Verdict
Using an infrared knee heating pad is an excellent, drug-free method for treating knee discomfort and pain.
We recommend the TherMedic PW150L far infrared Heating Pad because it will provide you with the ultimate experience of convenience and comfort.
All of the other products recommended on our list are also reliable and satisfactory. Take the time to look further into each one to see which infrared knee heating pad is the right one for you.
Tips for the Meantime
While you're conducting your search for the best infrared knee heating pad for you, don't allow your pain and discomfort to persist!
There are many natural ways to to address knee pain and discomfort that you can try before you find your infrared knee heating pad. Try some of these things while you're waiting:
Gentle exercise
Resting, icing, and elevating your knees.
Consume ginger, in natural or supplement form.
These things can help you to manage your pain and discomfort long enough for you to find and begin using your infrared knee heating pad.
Read more about infrared light therapy ultimate guide