Are you wondering how to remove tanning lotion? Such lotions can be unforgiving at times. Yes, the brown tan comes in just the right golden color, gives your skin a wonderful glow and leaves no streaks. Having said that, they also can unexpectedly orange or dark streaks of tan, leaving behind uneven patches. You do not have to spend your days locked up in your house waiting for the color to fade.  However, you can get rid of these uneven streaks quickly with a few at-home remedies such as the following.
>> READ MORE: Indoor Tanning Lotion Reviews & Customer Favourites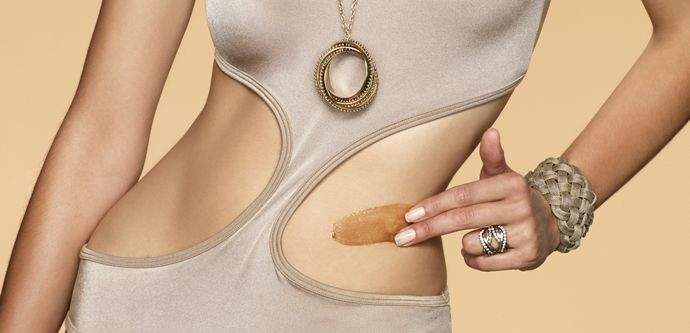 Step 1
Get rid of unwanted tan through gentle yet thorough exfoliation. Go for a shower mitt with rough, tiny fibers and a mild body scrub that can massage away the excess or uneven tan left by the indoor tanning bronzer or accelerator tanning lotion without irritating your skin. Get in the shower and wet your skin before applying a good amount of polish to the shower mitt. Using the palm and heel of your hand rub your skin firmly but gently to rub down the tan and exfoliate your skin. Make sure that you work the polish completely around all those blotchy areas, and keep an eye on those tanned areas not easily visible to the naked eye.
Then again, you can prepare your own home made exfoliating scrub for getting rid of that stubborn tan. Mix ½ cup of lemon juice with a little quantity of baking powder. Stir it up and work this mixture well over your wet skin, as you would do with any scrub. Thanks to its natural acids, the lemon mixture can help you get rid of stubborn tan, leaving your skin extra soft and smooth. Rinse it off after exfoliating your skin.
Tip:
Avoid scrubbing it off harshly in a bid to remove the dark tan quickly. It can leave behind rough patches, causing damage to your skin.
Step 2
At times, a worst tanning experience can lead to some good things, such as a replenishing soak in a soothing tub. Start by running a nice hot bath and add a few tablespoons of relaxing bath oil to the warm water. Soak in this spa like arrangement for a few minutes until the softening agents of the oil to get into the pores of your skin and help it separate from those stubborn tan agents. Once you are sure you have soaked enough, get out of the tub and get in the shower for a quick rinse. You can also think of washing off with a loofah or a washing sponge to remove any extra oil or tanning agents on your skin. Try this every day if you still have some tan leftover on your skin. It is certainly a relaxing way to restore your skin to its natural state.
Tip:
Use a baby lotion on your skin after exfoliating or relaxing in the bathtub. A moisturizing lotion with alpha-hydroxy acids can encourage breaking up of stubborn tan particles.
Step 3
If you are after quick results, and cannot wait patiently through a few rounds of exfoliating your skin and relaxing hot bath tubs to get that tan off your skin, consider buying a professional tan remover. They are special products with extremely mild quantity of bleachers and special acids that can fade the tan within a few days without causing any kind of irritation to your sensitive skin.  Bear in mind that such products work best when applied within hours of applying the tanning lotion; waiting too long might not give you desired results.
It is advisable to check out the ingredients and follow manufacturer's instructions while making use of such products.
Tip:
Do not forget to test such products on a very small patch of your skin before slathering it all over your body. This way, you can stay away from allergic skin reactions.