Many of us have been using self-tanners at home, but not everyone has done it perfectly every time. There have been some mistakes some dark sides once in a while. To be able to get the maximum benefits from self-tanners one must know how to overcome these mistakes. When you finish the self-tanning procedure and you have to go out somewhere immediately you might notice that your palms have become a different shade of skin tone, from the tanning and this shade does not match the rest of your body. The only thing that you will be thinking at that point is; how to fix self tanner mistakes? We have some suggestions for you. Self-tanning many a times leaves marks on certain parts of the body which is unwanted, you must be aware of how to remove them.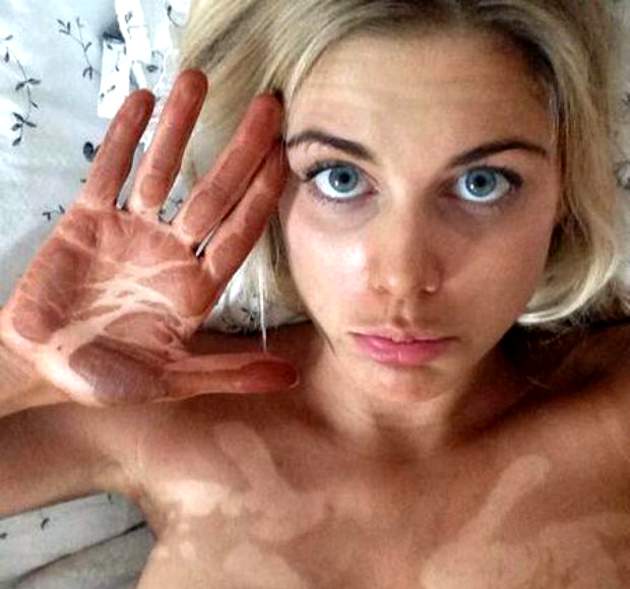 >> READ MORE: Top Rated Tanning Lotion for 2016
Some self-tanning mistakes
You might have used the self-tanner on your hands and legs and your elbows and knee has been tinted a shade darker. This is a very common problem while self-tanning.
You forgot to use gloves while self-tanning and your palms have caught the stain. Your palms do not match the color of the rest of your body.
Uneven skin might be tinted unevenly. Streaks and blotches can be seen often if the proper procedure is not followed while tanning.
Removing the self-tanner mistakes
You might have a wrong notion that removing self- tanning is a troublesome job. Fixing self-tanning problems is as easy as self-tanning the right way. Self-tanning mistakes can be taken care of easily by common homemade and hot at hand remedies. Some remedies to fix self-tanner mistakes are:
Exfoliate the skin way beforehand so that streaks and blotches can be avoided. But in case you still have to face them there is absolutely no need to worry. Use a loofah along with a body scrubs on the streaked area. Scrub the skin gently to make an even tone. Do not be too harsh on yourself as the skin might get damaged if you rub hard.
In case of stained elbow and knee use some baking soda to scrub them and some lemon. Sugar, baking soda and lemon are three very common ingredients to remove tanning mistakes. They are used in many well-known branded products for the same.
You can also use car wash if you are in a hurry to remove self-tanning stains from your palms. For this apply car wash on you palm and leave it for a minute. Wash off and see the results immediately.
Using body oil, almond oil as well as coconut oil is of help at times to make the uneven tan a smoother finish.
Removing self-tanning is very simple and if you follow some of the home made remedies it is even harmless and better for your skin than chemical products.