Approved by everyone from housewives with heavy tans during Minnesota winters to the President of the United States, spray tan machines are an excellent way to ensure that you maintain that bronze glow even well outside of the summer season. Let's face it, not everyone wants to lay in a tanning bed a few times a week just to maintain their base tan outside of beach season. Some people need to seek alternative solutions to this tanning conundrum and few options are as efficient or effective as spray tan. There's a reason why it's so popular. The trouble is finding the right one. Because much like toupees, while a good spray tan looks great and bad one can be spotted from a mile away and is utterly embarrassing.
It's difficult to find a good spray tan machine when all of the products on the market today claim to be the best. Obviously they aren't all the best. That's not how things work. It can also get expensive running to the salon and paying up to $50 a visit, so you can save a lot of money if you simply buy your own machine. With the right machine, you can maintain a perfect town all year round without ever leaving the sanctity of your home.
So, what do you look for in a spray tan machine when all you want it a nice golden glow, but also want to avoid dangerous UV rays and early aging? Here are a few tips on what to look for in a spray tan machine and a few reviews to help you start shopping. This will be a journey. It would be a mistake to walk into a store and purchase the first spray tan machine that you see. You'll need to do the proper research and be prepared. This article will offer a perfect primer for your spray tan journey. So read on to find out everything you'll need to know to find the perfect spray tan machine for your home.
Spray Tan Machine Basics
When seeking the look of a perfect tan without access to UV rays, many men, women, and political leaders turn to spray tan machines. This method allows you to get a nice glow without worrying about uneven skin tones or other unpleasant side effects like skin cancer. Plus, it helps save you time and money from heading to the salon every time you need to touch up your tasty tan. Spray tan machines are easy to use and often come with a ton of extra features that will improve your life immeasurably. Many of these machines also use the latest technology, making them more energy efficient. Plus they have become more affordable over the years (never again will billionaires be the only people who can afford a personal spray tan machine). You also don't have to worry about risking your health as the best models are also safe to use. The biggest advantage to using a spray tan machine is its convenience and comfort that will allow you to have a great tan no matter what season it is. There's nothing like the confidence achieved from walking down a snow-covered street with a golden brown town. It makes everyone jealous.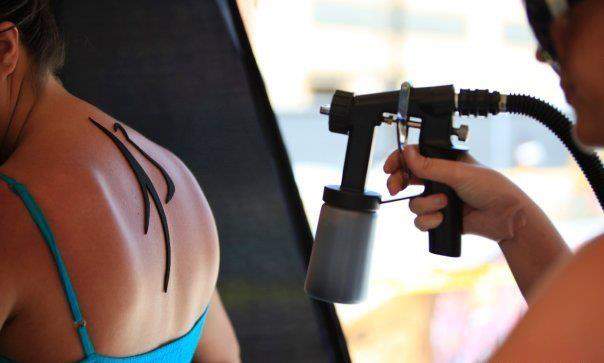 Spray Tan Machine Advantages
An even tone is the best advantage of good spray tan machine products. Everyone wants a streak-free appearance and using a spray tan machine will give you a uniform application without worrying about patches.
You can maintain a tan for the entire year, even in seasons and climates when it would be otherwise impossible.
You can spray on your tan any time of day since there is no need to schedule an appointment. It all happens around your schedule, not somebody else's.
With a glowing tan, you can hide stretch marks and varicose veins, plus you will have an even tan that will conceal blemishes and imperfections. It's a like a carpet for your skin that you can sweep all your blemishes under.
You can choose your own tone and depth with a spray tan machine. Never again will you be forced to tan at the whims of mother nature.
Usually only 15 minutes is needed when using a spray tan machine.
You will have a natural looking tan that is also good for your skin.
Considerations When Buying a Spray Tan Machine
Most people are used to seeing large and fully automated spray tanning machines that are used in salons. That might seem like an intimidating beast of a machine to operate at home. However, these people also tend to be pretty unfamiliar with at-home spray guns. These lightweight machines have been increasing in popularity since they allow you to do several applications and use up less space that the spray tan machines of old. So don't be scared. You'll be using something completely different the massive machines you have seen in the past.
When using a spray tan machine at home, it is best to purchase a machine that is easy to maintain and store. And, since tanning can be messy, a tent is also a good feature for easy cleanup and to help keep the mist in a contained area. You won't be able to tan yourself on your couch or anything like that. This is something that will have to be done in a controlled area.
However, if you are confident that you have the space and ability to operate a spray tan machine at home, then here are a few of the biggest considerations to keep in mind when choosing the right machine for you:
High Volume Low Pressure (HVLP)
Equipped with an easy to use gun, an HVLP machine is perfect for any type of user. They are also well-known for wasting less tanning solution, and they come with safeguards against overheating. So this is likely the best style of machine for a first time spray-tanner to experiment with as they are the least intimidating to operate.
Low Volume Low Pressure (LVLP)
Cheaper than an HVLP machine, an LVLP machine operates at a lower pressure level and makes more noise, but there have been recently designed models that are higher-quality.
Overspray
Overspray can be very messy, wasteful, and a pain to have to continually clean up. Remember that units that reduce overspray will also reduce the amount of time you will spend cleaning up after you use the machine. So, this is something that might help you in the longterm. There are important things to consider beyond your ultimate tan. There is a whole process surrounding applying the tan that also deserves consideration.
Hose
Make sure to choose a unit that has a flexible and soft hose that is also long enough to use comfortably. Otherwise, you might be too limited in mobility to tan all of the nooks and crannies of your body.
Airbrush Spray Gun
Originally designed for tattoos, airbrush spray guns are now typically used for tanning as well. There are several good models on the market now, but they are known for their problem with wastage.
Easy to Use
Ease of use is a very important feature in a spray tan machine, especially if you are a beginner. Remember that if the spray tan machine is difficult to use, it is pretty much useless.
Ergonomic Design
Having an ergonomic handle will help to prevent fatigue when using your spray tan machine. It should also be compact and lightweight enough to move around.
Portability
If you are always on the go or run a mobile tanning business, portability is a must. This isn't as significant a consideration if you will only be using the machine at home.
Maintenance
With regular cleanings, a spray tan machine can remain in great condition, so make sure the machine you choose to buy is easy to clean and comes with a reasonable warranty plan.
Other Features to Consider
There are always new features being added to spray tan machines and while some of them aren't necessary, some of them are really nice to have like an adjustable fan or a pop up spray tent.
Top 5 Spray Tan Machines On The Market
---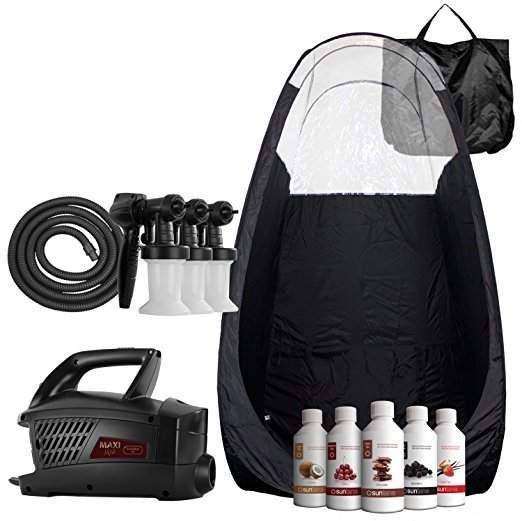 1. MaxiMist Evolution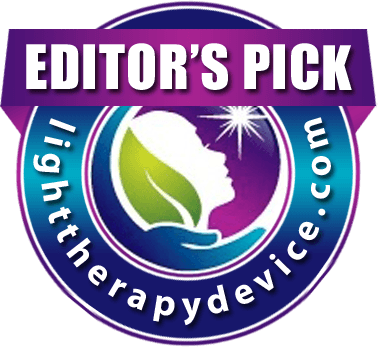 For unsurpassed dependability, the ideal spray tan machine for salon performance is the MaxiMist Evolution. With a powerful 2 Stage Turbine 570 watt motor, the MaxiMist Evolution is easy to pair with a lightweight spray gun. The spray nozzle is German engineered and was designed to increase atomization of the solution with the least amount of overspray.
The spray gun is easy to use and very lightweight. It features a Teflon® needle that pretty much eliminates solution corrosion and buildup that are the leading causes of most gun clogs. It also includes an improved ergonomic handle that includes a comfort-grip and a unique patented split gun system. This is the ideal spray gun for a busy tanner with fast solution changes that don't include dealing with extra lids and cups.
The MaxiMist Evolution is rated for over 25 application a day and includes an 11.5-foot hose, 3 TNT Spray Heads, a spare gun nozzle gasket, and filter, onboard spray gun storage, and a Pop-Up 'clear view' Tanning Booth. The 'Clear View' vinyl windows are shoulder height allowing more room light while still maintaining privacy. It also includes an extra-large carrier that is big enough to carry extra items like towels and uses Velcro strap closures that are triple stitched to stop the bag from tearing.
---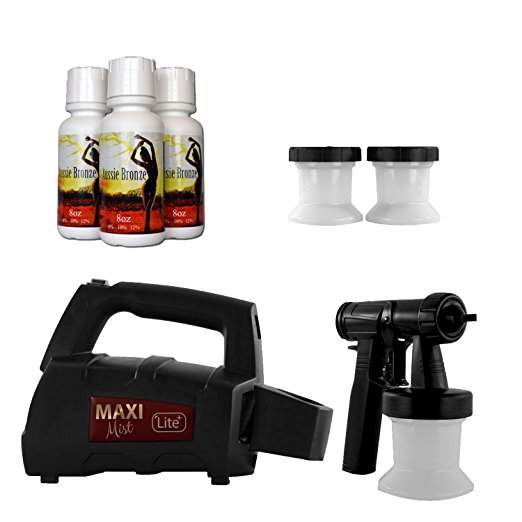 2. MaxiMist Lite Plus
The MaxiMist Lite Plus has everything you need to begin tanning right out of the box. Created for either mobile or light salon use, the MaxiMist Lite Plus can perform over ten tans a day and is easy to use. It features a clog-free design that is beginner friendly and has a powerful single stage turbine, 300-watt motor.
At only five pounds, this is a great tanning system for mobile use and includes a 6.5-foot hose. With onboard spray gun storage, the MaxiMist Lite Plus is also great for home use giving you maximum fine mist atomization with very little overspray. It is also packaged with three spray tanning solutions that are professional level for a variety of skin types, and it can also be used with any brand professional solution.
Using a non-stick needle, the MaxiMist Lite Plus gets rid of pretty much all corrosion and solution buildup. With a simple trigger adjustment, you can control the pattern of your spray for flawless precision. You can easily adjust for either vertical or horizontal spray patters and the Soft Touch Fine Mist gives you the ultimate professional level finish.
---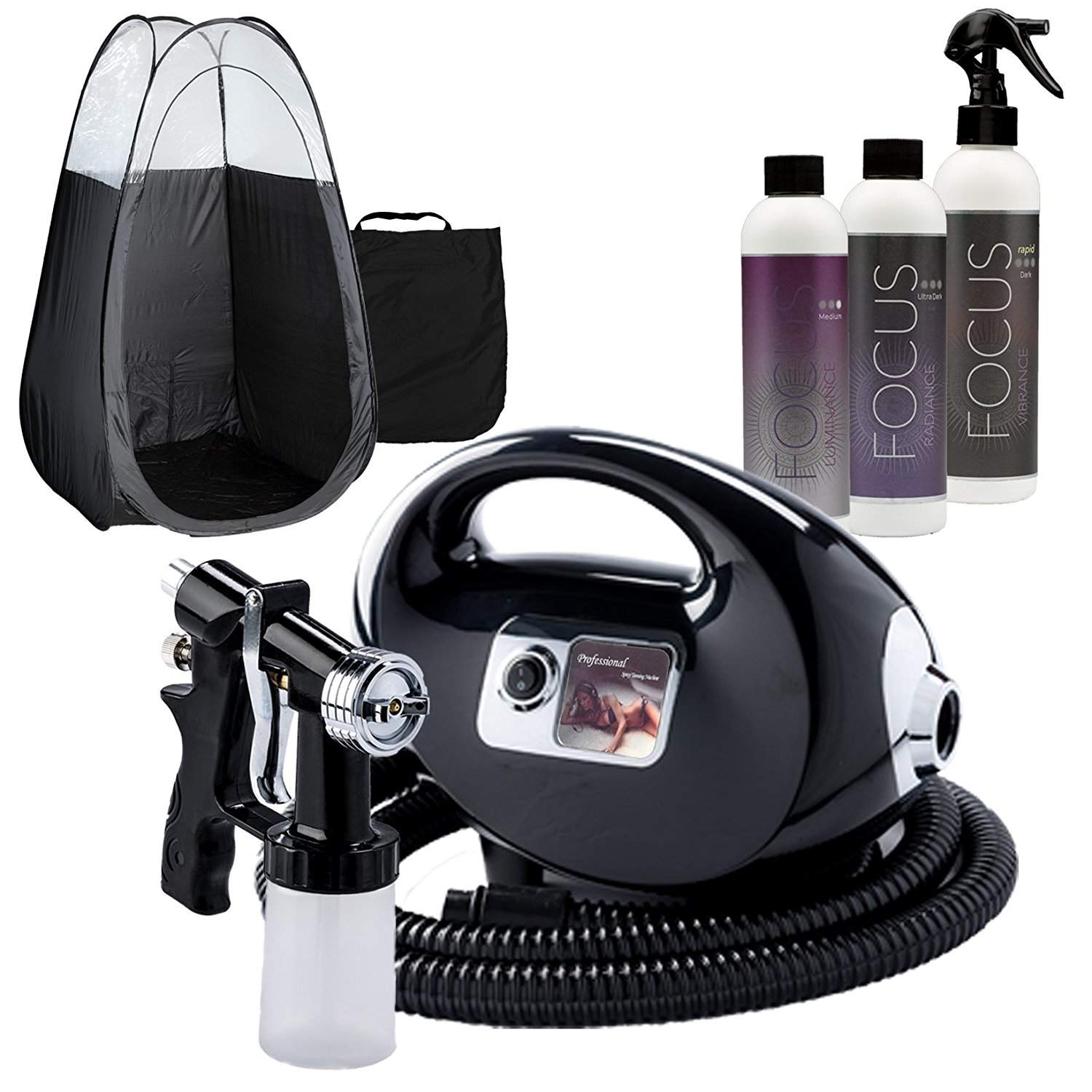 3. Fascination FX
Representing a new level of beauty, elegance, and function, the Fascination FX is powerful with a turbine motor that is reliable and provides the right amount of air flow for spray tanning. With beautiful styling, the Fascination FX features silver trim and bold contours with an ergonomic handle. It is lightweight and compact making it ideal for mobile tanners, but will also fit beautifully into an upscale salon.
You also get quiet operation with a sound dampening enclosure in the turbine' s outer shell that gives you a dual layer of sound baffling. At the rear of the unit, air intake will occur lessening overspray. Passing through dual filters, the air intake goes through washable filters that can be accessed by a handy snap out cover.
With the color-coordinated spray gun features, you get a metal alloy needle that includes an adjustable air-cap to easily select horizontal, vertical, or round spray patterns. The gun includes a quick-connect fitting and a fluid control knob that gives you precise spray adjustment with a graduated cup providing simple fluid measurements. The spray gun is also optimized for impressive spray atomization and effective solution usage, plus it is securely stored in the spray unit's cupholder that includes an ergonomic handle.
The Fascination FX also features a large Pop-Up "Skylight" Style pop-up spray tent that includes a built-in floor and carrying bag. The Focus airbrush tanning solution is fortified with antioxidant and produced with organic DHA.
---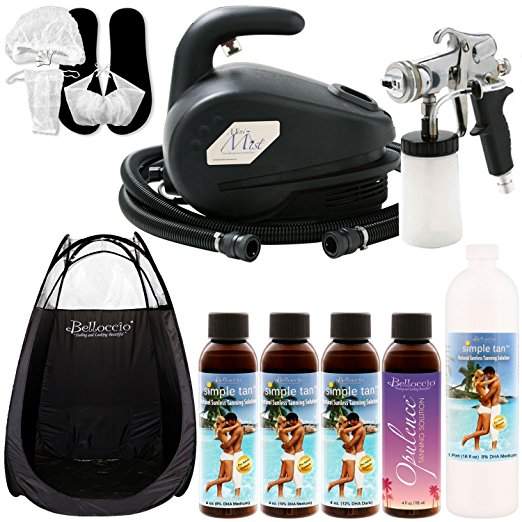 4. Apollo Mini Mist
Perfect for any beginner technician, the Apollo Mini Mist is easy to use and very affordable. With a lightweight turbine, the Mini Mist is easy to carry for mobile tanners, weight only ten pounds. This is a powerful machine that doesn't produce excess noise allowing you to be able to talk without yelling.
Made with stain-less steel pieces, the applicator is designed for increased atomization, plus it is easy to clean giving it more durability. With a docking station for the applicator, technology that is quick to connect, and the ability to upgrade to the stainless-steel T5020 gun, this is a user-friendly machine that is highly versatile.
---
Conclusion
We have all felt envious of the person that just came back from vacation with a nice tan. But it isn't necessary to have to wait for your next vacation to get a nice glow. We all know how common a spray tan machine is at beauty parlors, but not everyone knows that you can buy an affordable and reliable spray tan for your home. Make sure to do your research and find a powerful and efficient machine that will give you an even tan the whole year through.