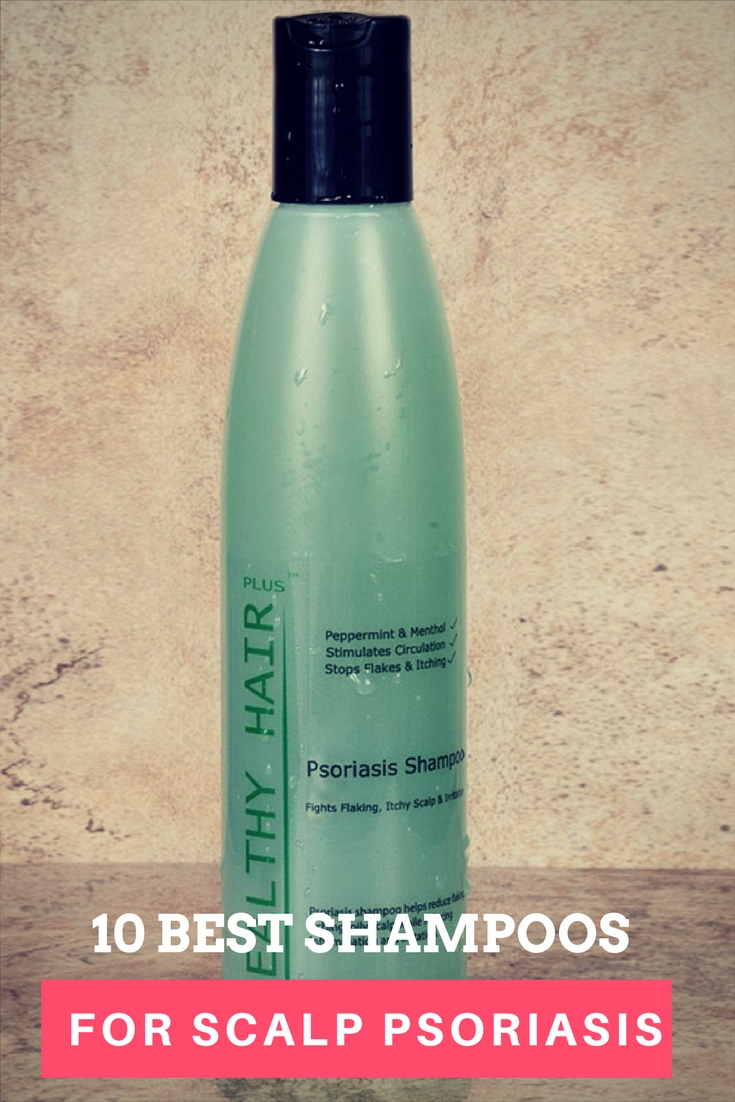 Psoriasis is no fun. If you've ever struggled with this particular condition, you'll know just how difficult it can be to manage. It can be especially tough to handle when psoriasis manifests it's self of your scalp, trapped under your hair and ready to get irritated. Are you suffering from scalp psoriasis? If so, you probably find yourself itching and scratching your head just to have a little relief from the irritation and pain that scalp psoriasis can cause. This can prove to be especially difficult when your hair covers any troublesome areas, impossible to treat with traditional methods like topical cream.
Thankfully, there are a variety of methods available to treat this troublesome condition. Just because your psoriasis has manifest on your scalp doesn't mean that it isn't possible to get some sweet relief. To help heal your scalp from these pesky irritations, there are plenty of shampoos available that are designed to help reduce the symptoms of scalp psoriasis. These shampoos can have a huge impact on improving your daily life. The ket thing is making sure that you buy the right shampoo to suit your specific needs. That's where our experts come in. You've come to the right place because this article will highlight the best shampoos for scalp psoriasis and explore why. By the end, you'll be prepared to buy the shampoo best suited to offer relief from your psoriasis.
What is Scalp Psoriasis?
It's probably worth discussing the condition that this shampoo will sooth. Scalp psoriasis is a skin condition that causes a major build-up of skin cells. It can end up leaving behind unsightly patches and painful sores on your skin and even cause your skin to be flaky and dry. To say that it is unpleasant is an understatement. This can become a major determent to your life
Scalp psoriasis occurs on the scalp and hairline, but the psoriasis itself could end up spreading to other parts of your body. It's potentially only the beginning of your woes.
What Causes Scalp Psoriasis?
While it's not well-known what causes this medical condition, it's often believed that your immune system plays a part in creating it. This is due to the immune system's role in producing skin cells which could end up overproducing skin cells which can cause scalp psoriasis. Too much of a good thing truly is a bad thing.
The Effects of Scalp Psoriasis
Unfortunately, scalp psoriasis can have many terrible effects on your scalp and skin. It could even end up causing hair loss to occur due to it irritating your hair follicles. Scalp psoriasis is also known to cause major dandruff as well as irritating red bumps across your scalp. So, it's obviously important to treat this issue as soon as you notice it.
Important Things to Look for in a Scalp Psoriasis Shampoo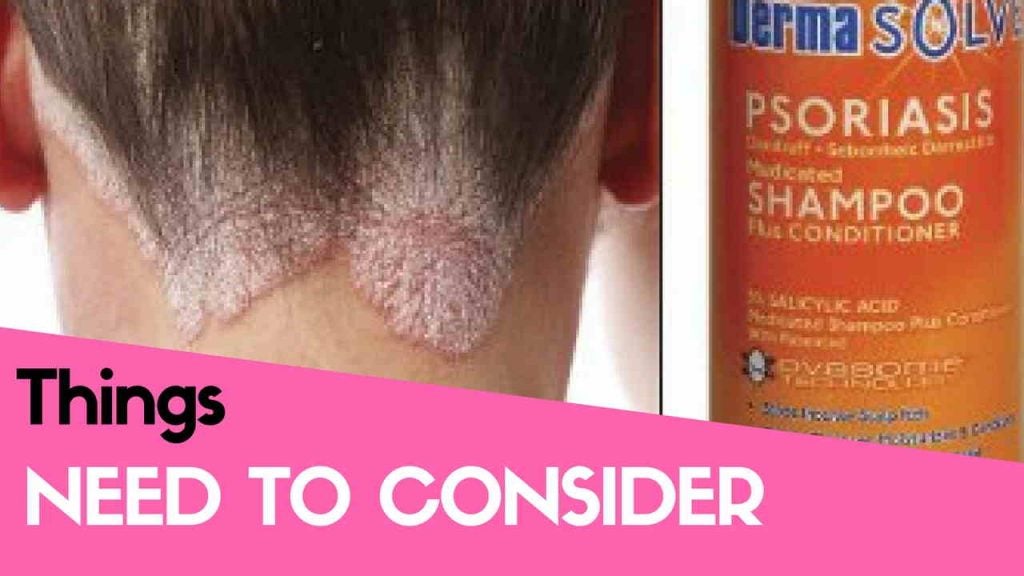 Before buying a scalp psoriasis shampoo it's important to look at its ingredients. There are a few crucial features and ingredients you'll want to look for before buying any shampoo. If these ingredients aren't present in any shampoo that you are considering, then the odds are that it won't work properly.
A 5.5 pH
A shampoo that has a 5.5 pH is very important to have as this is the necessary pH level that your skin needs in order to be healthy. If you suffer from scalp psoriasis, your skin doesn't have this crucial pH level. So, you'll need the shampoo to help provide it.
A 5.5 pH is a little acidic which helps to balance your skin cell growth and prevent bacteria from spreading on your skin. This in return will help to calm the painful and irritating effects that psoriasis can delivery. This is an important soothing component to any shampoo that treats psoriasis.
Coal Tar and Salicylic Acid
Another important thing to look for is coal tar and salicylic acid. Coal tar will work to remove the dead skin cells on your scalp and prevent them from building up on each other. This can help to prevent the flakes and bumps associated with a psoriasis outbreak from occurring.
Salicylic acid will work to basically peel your skin off. This is a great ingredient because it will naturally remove the dead and irritating skin on your scalp without issues. This acid will also work to moisturize your skin so the build-up doesn't keep happening. It's an ingredient that does double duty.
Healthy Oils
Natural oils such as argan and coconut are great to use on your scalp. They will work to not only soothe the irritation that scalp psoriasis can cause, but will also invigorate your hair so it looks and feels healthy. For these reasons, be sure to check the types of oils a shampoo contains. It's important that they be healthy and natural for the best effects.
The Ability to Use it on Other Areas of Your Body
If your scalp psoriasis has spread to other areas of your body, you'll want to look for a shampoo that can also be used on areas other than your scalp. The shampoo can help to relieve itchiness and pain that this condition can cause on your skin.
However, not all scalp psoriasis shampoos can be used on other body areas, so be sure to check before doing so. Otherwise, the shampoo could cause new problems rather than fixing the one that you bought it for.
The Top 10 Best Scalp Psoriasis Shampoos Reviews
1. MG217 Psoriasis Medicated Conditioning 3% Coal Tar Formula Shampoo, 8 Fluid Ounce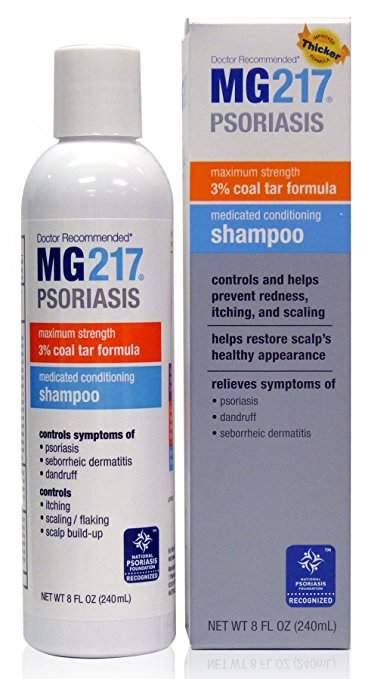 This shampoo is made with a 3% coal formula which is intended to help this shampoo prevent extra skin cell growth on your scalp. This will help to calm the irritating and painful effects the psoriasis can have on your head.
MG217 also features salicylic acid which works with the coal formula to prevent cell growth from occurring on your head. These ingredients combined will help to stop itchiness and flaking from happening and provide instant relief.
This shampoo has a relaxing herbal scent that lingers in your hair so it continues to smell nice even after being washed out. This shampoo comes in an 8 oz. bottle.
---
2. Shampoo by Selenium – Natural Organic shampoo with a Minerals Protein Vitamin Enzymes Herbal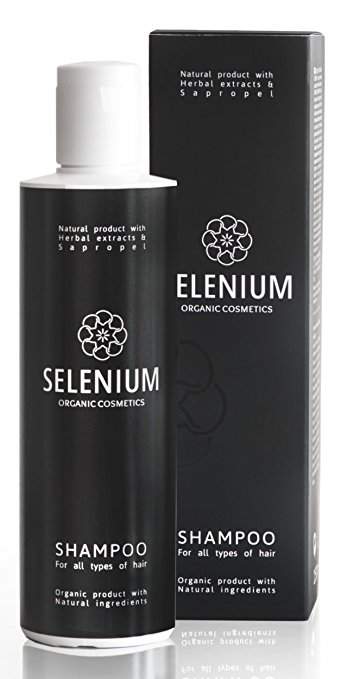 This product is made completely with organic ingredients. You'll find a mixture of mint, sage, and chamomile blended into it which will all help to relieve any pain psoriasis has caused to your scalp. There are also plenty of minerals mixed into this shampoo which will help to give your hair the necessary proteins and vitamins it needs.
Besides these, this product also has herb and sapropel extract to help it repair and hydrate your hair so it looks and feels great. This shampoo can be safely used on sensitive skin and will also help to prevent dandruff from occurring.
---
3. Puriya Natural Dandruff Shampoo 16oz with Potent Tea Tree, Vitamin and more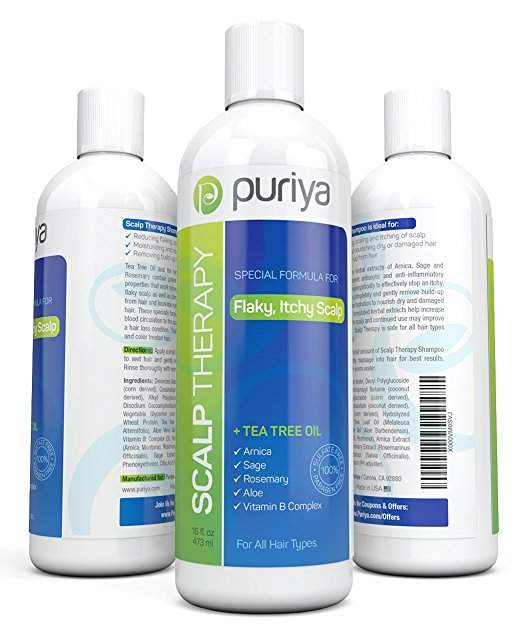 This shampoo comes in a 16 oz. bottle and has many useful minerals and oils in it to help repair your hair and heal your scalp. Some oils you'll find in this shampoo are tea tree and Arnica.
These oils will work to help not only heal your skin from the effects of psoriasis, but also hydrate your hair as well. This shampoo will help to relieve itchiness on your scalp and will increase blood circulation in your head as well which can help to produce healthy hair and skin.
This shampoo has no chemicals in it which makes it perfect for those looking for a hypo-allergenic option. Besides your scalp, this Puriya shampoo can also be used on other areas of your body that are suffering from psoriasis or are itchy.
---
4. HHP Psoriasis Shampoo Treatment – Natural & Advanced Dry-Scalp Relief for Eczema, Psoriasis, Dermatitis and Itchy Skin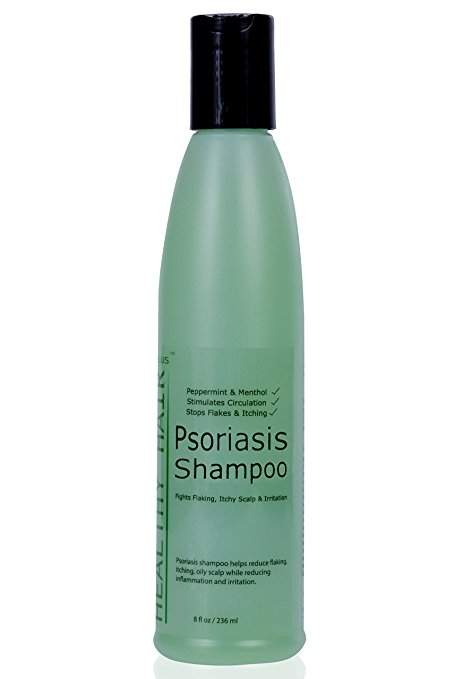 This psoriasis shampoo will help to instantly stop dry and itchy skin. It contains emu and jojoba oils. These oils work well at hydrating and moisturizing your skin and hair which can help to relieve the symptoms psoriasis causes.
These oils aren't greasy either, so you won't have to worry about them making your hair look unclean. This shampoo also has a peppermint and zinc formula in it. This formula has a cooling effect which is intended to help increase blood circulation in your scalp to relieve pain and increase hair growth.
The Healthy Hair Plus HHP Psoriasis Shampoo will work to instantly stop inflammation and dandruff on your scalp and can even be used on other areas of your body to help stop any itchiness.
---
5. Neutrogena T/Gel Therapeutic Shampoo Stubborn Itch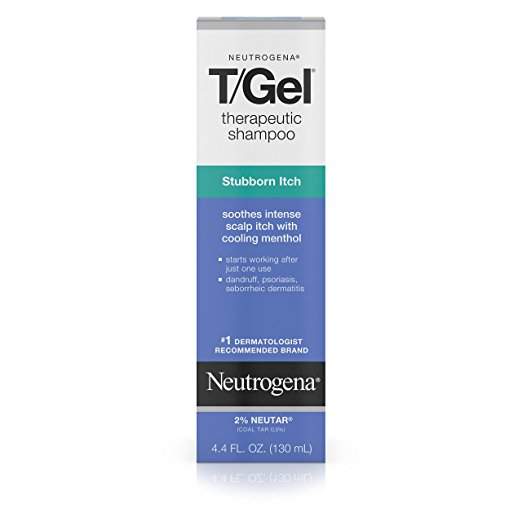 If you have an extremely itchy scalp, you'll definitely want to check out this shampoo. This product comes with 4.4, 4.5, and 6 oz. bottle options and is made to help those who suffer from a stubborn itch that won't go away.
This shampoo is made with an amber formula to help hydrate your hair and includes coal tar as well to help relieve irritation. There is a cooling menthol mixed into this shampoo which is intended to help increase blood flow in your scalp.
This can help to reduce any inflammation and also improve hair growth. You can use this shampoo daily and it will continue to work on your scalp even after having been washed out in the shower.
---
6. Tree to Tub Organic Shampoo – Soft, Shiny Hair with pH Balanced All Natural Shampoo for Dandruff, Dry, Itchy Scalp, Psoriasis, Eczema, Sensitive Skin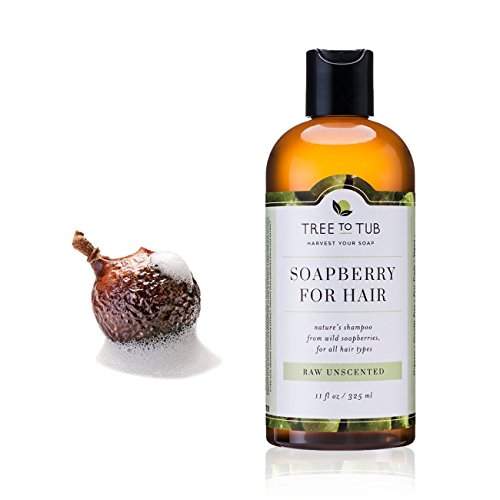 This hypo-allergenic shampoo is made with a special pH of 5.5 which is intended to help repair your hair and scalp with your body's natural oils. This shampoo features soapberry which will work to prevent irritation on your scalp.
There is also olive leaf mixed into it which works to hydrate your hair so it shines, gotu kola which strengthens your skin and hair, and chamomile which reduces irritation. This product is perfect for those with sensitive skin because it contains no added chemicals and scents. It's a completely natural mixture you can use on your scalp to heal your scalp psoriasis.
---
7. ArtNaturals Dandruff Shampoo, Coal Tar with Argan Oil, Scalp18 Therapeutic Treatment Helps Anti-Itchy Scalp, Clear Symptoms of Psoriasis, Eczema, Natural and Organic, Sulfate Free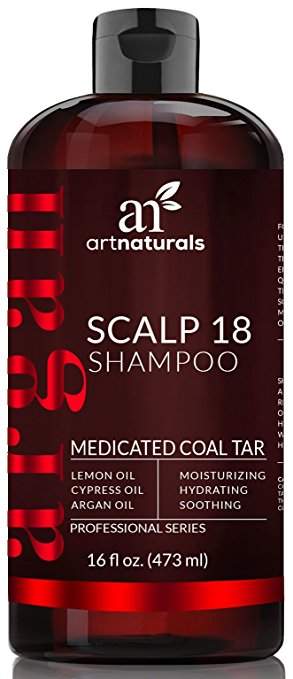 This shampoo is made with a coal tar formula which is designed to help stop the irritation that psoriasis causes. It contains helpful oils like argan, lemon, and cypress to help not only heal your scalp, but also to hydrate your hair.
These oils also help to give the shampoo a fresh scent so your hair smells nice after lathering it in it. This shampoo works to remove any harmful bacteria from your scalp that's causing itchiness and irritation.
If you're looking to use a shampoo that will have long-lasting effects even after having used it in the shower, this is one you'll want to check out.
---
8. Honeyskin Organics Gentle Restorative Shampoo (4 oz) Eczema, Psoriasis, Seborrhea, Dermatitis, Dandruff, Itchy Scalp Dry Scalp Treatment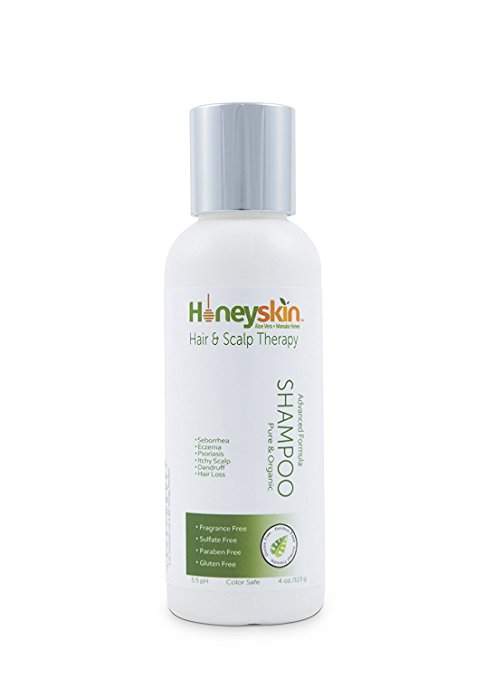 This shampoo comes in a 4 oz. bottle and contains many helpful and natural ingredients to help relieve pain and reduce inflammation on your scalp. One ingredient you'll find in this shampoo is Manuka honey.
This honey will work to remove any irritating bacteria on your scalp while also strengthening your hair follicles to help prevent hair loss. Another ingredient is Australian cehami. This will work to moisturize your hair so it looks and feels healthy.
The other ingredient in this shampoo that will work to help reduce irritation is orange zest. This will give the shampoo its citrusy scent and help to stop irritation.
In addition to this, this organic shampoo has a 5.5 pH which will help your scalp to create natural oils in your hair. This shampoo is a great option for those looking for a hypo-allergenic product.
---
9. Dermarest Psoriasis Medicated Shampoo Plus Conditioner 8 fl oz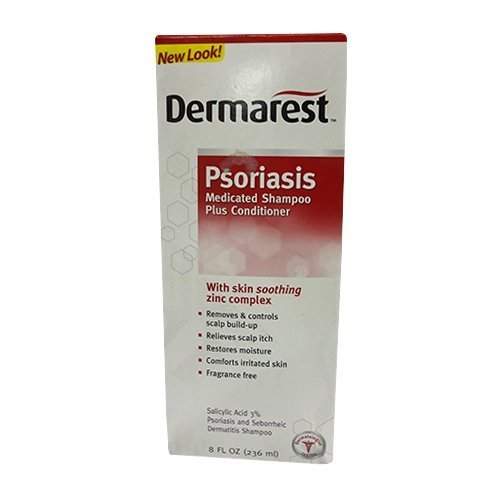 This shampoo is made with a special zinc and salicylic acid formula. These two ingredients will work together to help reduce any pain in your scalp while also preventing dry skin and flakes from occurring.
The salicylic acid included in this shampoo comes at 3% which is an amount that's not too much but not too little to help your scalp and hair. This shampoo is fragrance-free which makes it ideal for those who have sensitive skin.
It will also work to help moisturize your hair so it's hydrated and shines. This hypo-allergenic shampoo comes in an 8 oz. bottle.
---
10. Psoriasis Shampoo by pHat 5.5 for Hair, Scalp and Skin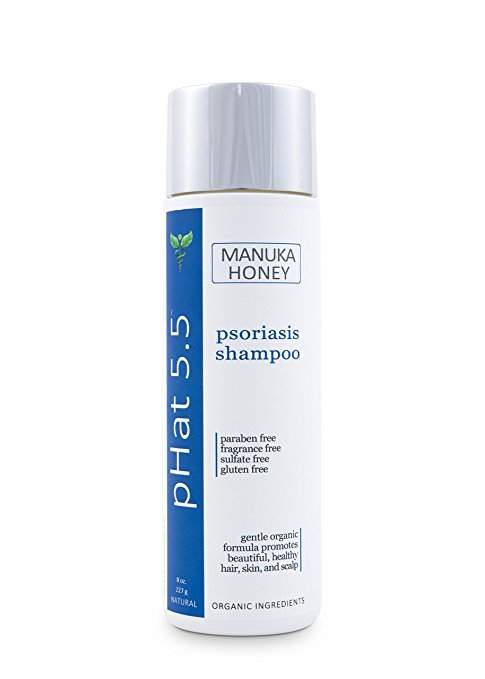 This 8 oz. bottle of shampoo is a completely organic option that contains many helpful natural ingredients. For instance, you'll find aloe vera in it which will help to soothe your skin and ensure your hair grows strongly.
There's also coconut extract which will help to prevent hair breakage and reduce irritation on your scalp. This shampoo will remove dry skin and flakes and also has a special pH 5.5 formula in it to help your hair produce natural oils so it is strong and healthy. This shampoo can be used on all hair types and is fragrance and gluten-free.
---
Conclusion
Thanks to the many specially-designed shampoos available, your scalp psoriasis can be relieved and healed. All of these shampoos will work well on your head. If you're looking for a great hypo-allergenic option, you'll want to be sure to check out the Tree to Tub Organic Shampoo.
If you want a cooling sensation on your scalp to help blood circulation, the Healthy Hair Plus HHP Psoriasis Shampoo is perfect to use. However, all of the options listed above will work well to help relieve you of the pain and symptoms of scalp psoriasis.
Have you ever tried red light therapy for hair growth? Here are some useful articles that you may like.