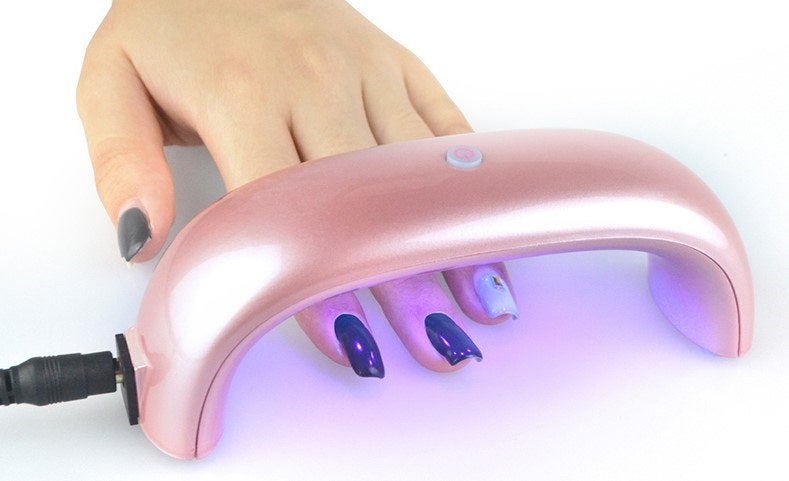 Everyone loves to have freshly done nails. It's as simple as that. To suggest otherwise is an absolute lie. The only issue is that getting your nails done regularly is both expensive and time consuming. It's hard to keep up on and before you know it, your nails will be a cracked and faded mess without any means to help. Of course, you could always start doing your nails at home. Not just with basic nail polish either. The full nail salon experience is absolutely possible to achieve at home. However, in order to do it right, you're going to want a UV Nail lamp.
So, are you looking for a UV nail lamp or even a combined LED UV nail lamp? There are plenty of UV and LED nail lamps available for sale, and finding the right one can sometimes be difficult. They each have their own features and sometimes can only be used with certain nail gel types. So, if this is your first journey into the world of UV and LED nail lamps, then it will be a challenge. You need something to help ground you. You need advice. In short, you need this article. Our experts are about to explain the differences between each type and some things to look for in any model before you buy it. By the end of this article, you will be fully prepared to get out there and bring home the nail lamp that you and your finger tips deserve.
What is a Nail Lamp?
Simply put, a nail lamp is a special machine that helps to dry nails after they've been painted. These are usually designed to help dry gel polish which would otherwise take a very long time to dry on its own. It speeds up the process and ensures that everything is heated evenly.
How Does it Work?
These machines are very simple. You just turn them on, set a drying time, and place your nails in the machine under its drying lights until the timer goes off. When it does, you can safely remove your now dried nails and place your other hand in the machine so it can dry the nails on that hand. There's really not much more to it that that.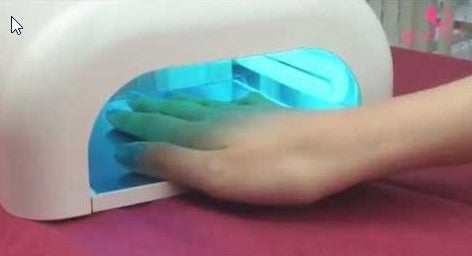 Nail lamps come with 2 different drying light types. The LED nail lamps emit narrow UV waves which help your nails to dry faster. UV nail lamps often have larger light waves which can take some time for them to properly dry your nails, but they work on all gel nail types. So it really all depends on your specific nail needs.
Our top 5 recommended nail lamps (Scroll Table On Mobile)
What Kind of Nail Lamp Should You Use?
Not sure whether you should use a UV or LED nail lamp? If you're still undecided, here's a little more about each type.
UV Nail Lamps (Ultraviolet Nail Lamps)
As mentioned above, a UV nail lamp works a little slower than an LED one. You also often need to change the bulbs in UV nail lamps as they tend to burn out quickly. However, UV nail lamps are able to dry all gel nail polish types so you don't need to worry about using certain types of polish with them. So, if you plan on using a variety of different nail polishes, then it's really your only option. However, if you only plan to use one type of nail polish…
LED Nail Lamps (Light Emitting Diode Nail Lamps)
An LED nail lamp is much faster at drying, but you can only use special LED gel polish types with it. The bulbs in LED nail lamps don't need to be changed, which means they'll last much longer than UV bulbs. LED nail lamps do tend to be a little more expensive though compared to UV nail lamps, but since their bulbs need to be replaced less, the price may even out in the long run.
Things to Consider Before Buying One
There are a few things you should keep in mind before you buy a nail lamp, regardless of whether it's a UV or LED one. Here are some things to look out for:
Amount of Bulbs: You want to look for a large amount of light beads/bulbs with your nail lamp. A large amount will help with making sure your nails dry quickly.
Overheating Prevention Features: Nail lamps are intended to help quickly dry your nails which means they need to heat up a little to do so. However, nail lamps shouldn't burn your skin or be too hot to use (obviously). You want to make sure that the model you buy has an overheating prevention feature so you can safely use your nail lamp. Trust us, your fingers will be great.
Timer Settings: Nail lamps usually come with timers to help you keep track of the drying process. You'll want to check to make sure you have at least 3 dry time options. This will help you to dry your nails according to your preferences and that's important.
Pedicure Ability: If you'd like to dry some pedicures with your nail lamp, you'll want to check to see if the model you're interested in can do so. While this isn't necessarily a crucial feature, it's a good one to look for if you'd like to dry gel nail polish on your toenails. If a nail lamp has a removable bottom that's usually a sign you can do pedicures with it. If not, you'll be waiting quite a while for those little toes of yours to dry.
Eye Protection: The lights with both UV and LED nail lamps can be a little bright which means they could irritate your eyes. You'll want to look for special eye shields that are incorporated in the nail lamp or wear glasses that can help to prevent your eyes from being damaged by the lights. This is important in the long term. Sure, you don't have to worry about your eyes being burned out the first time you use the lamp, but it will become a problem over time.
The Top 5 Best UV Nail Lamp Reviews
1. MelodySusie
This black 36W UV nail lamp is perfect for quickly drying your gel painted nails. It features a sliding tray on the bottom which means you can also use this lamp for pedicures after removing it. You can set its timer to 120 seconds, 180 seconds, or indefinite, depending on your drying preferences. That choice can be important if you plan on experimenting with your nails.
It has a special ventilation system built into it to help prevent overheating from occurring. It features one I/O switch and also comes with a free bulb you can use to replace any dimming or burned out one in the nail lamp. It comes with a helpful instruction manual so you learn how to best use this nail lamp with your nails.
---
2. The Gelish Harmony 18G Professional Gel Nail Polish LED Lamp
If you want a salon-quality performance at home, you can't go wrong with Gelish Harmony LED lamp. Arguably one of the fastest LED nail lamps, this lamp cures gel polish in just 5 to 30 seconds. The 18 LED lights, 2 watts each, offer 36 total watts for a professional-grade nail drying that won't leave your nails feeling tacky after you finish the ultra-fast curing process. To boot, this LED lamp features a patent-pending eyeShield, which limits light exposure and minimizes the effects of UV rays on your skin so you don't have to worry about those potent and fast LEDs having an adverse effect. 
Manicure and pedicure-friendly, this nail lamp comfortably fits all five fingers or toes in its opening, making the process much more efficient than it is with smaller models. The tray is magnetic and removes easily for sanitizing- and it's acetone resistant, as well. The only potential downside to Gelish Harmony 18G Professional Gel Nail Polish LED Lamp is its heftier price tag, but if you want a reliable, fast, and powerful lamp, it's a smart investment.
---
3. BORN PRETTY
This 36W nail lamp features a white design. It comes with 4 removable UV lights which will help to make replacing any of them much easier. You can use its 120 second timer to help keep track of how long you need to dry your nails in it. This nail lamp won't overheat as it only goes up to a temperature of 40 degrees Fahrenheit. This can help to prevent it from burning your skin and from overheating your machine. Its radiator outlet will also help to keep it cool as it runs and can help to prevent it from making loud noises.
You can also use this nail lamp for pedicures thanks to its detachable bottom. When you're done using it, you can use this machine's double record switch to turn it off. This switch also can activate the timer and steady light feature
---
4. SUNUV SUN3
This model dries all kinds of nail polish. The light beads provide advanced technology called dual optical wavelength (365nm+405nm) which makes it work with ALL kinds of UV and LED nail polish: e.g.: Base Coat, Top Coat, Color Gel, Hard Gels, Builder, acrylic, sculpture gel, gem glue etc..
SUN3 nail dryer has durable 50,000 hours lifetime and it's 36 LED beads are evenly distributed inside to help uniformly cure gel/nail polish.
This nail lamp can dry nails over two times faster than standard UV LED lamps. When set to the max, it takes just 30% of traditional nail lamp time.
Unique 99s low heat mode is perfect for curing builders or hard gels. The power increases gradually during this mode to create painless nail drying experience. One more benefit of this feature is: it does no harm eyes in the process.
The sensor allows it to turn on and off based on the movement. Once on, the preset mode will keep it on for 120 seconds or it can be stopped by sliding your hand/foot out. Its 10/30/60/99 seconds timer allows the control of the curing time with each layer. Time memory function is another useful feature that can be utilized for nail drying process.
---
5. NailStar
This nail lamp comes with a sleek white design and runs on 36W. It comes with a 120 second, 180 second, and constant timer settings. After choosing a timer setting, the machine will automatically turn itself off after reaching that certain time. This can help to prevent overheating from occurring. To activate the timer, you can flip the red switch located on the back of this model. You'll also find a black switch next to this one which is to turn the machine on/off. This nail lamp is good to use with all nail gel types and can be used for pedicures as well.
---
The Top 10 Best LED Nail Lamp Reviews
1. SUNUV SUN2C
This pink and white designed 48W nail lamp has 4 timers you can use to dry your nails. You can choose from 10 seconds, 30 seconds, 60 seconds, or 90 seconds. The 90 second option has a low heat setting which means you won't need to worry about it burning your hand as you dry it with the machine. A unique feature this nail lamp has is an Auto Sensing ability. This means will be able to detect when your hand is in it so it can start itself and when you remove your hand so it can turn itself off. The bottom of this nail lamp is detachable which means you can use it for pedicures.
On the top of this lamp you'll find a hand pillow. You can rest your hand on here while applying gel polish on it. This hand pillow is detachable so you can easily replace it with the purple or white pillow that comes with this lamp. If you happen to spill any gel on the pillow it will easily come off so you don't need to worry about it being stained. Besides the extra hand pillows, it also comes with a reflective panel.
---
2. MelodySusie
This 12W nail lamp comes with a black and purple design. It can be used with all LED nail gel types. The opening of this lamp is large so you can easily fit your entire hand into it so the lamp evenly dries every nail with its 60 LED light beads. This large opening will also allow you to do pedicures with it.
You have the choice between 4 drying times with this machine: 30 seconds, 60 seconds, 90 seconds, or 30 minutes. This model will not overheat while running so you don't need to worry about your hands burning while drying the nail gel with it.
---
3. BellaNails
This compact nail lamp features a white housing with blue lighting. It runs on 21W and uses strong LED bulbs which will quickly and safely dry the gel on your nails. These LED lights are built to help give you a safe UV exposure so your hands don't burn or become irritated while using this machine. You can choose between a 30 second, 60 second, or 90 second drying time. This nail lamp features an Auto On/Off sensor which helps it to detect when your hands are in or out of the machine so it can prevent itself from overheating. To turn this machine on you can easily press the power button located on top of it.
---
4. Coscelia
This 9W LED nail lamp is a very small option. It features a durable housing and purple lights and uses 3 LED light beads to help dry your nails. Its non-slip base will help to prevent it from slipping or falling while you use it. It comes with a 60 second timer and features an arch design to help it properly dry every area on your nails. This nail lamp will not overheat and it has an easy-to-access power switch. You have many stylish housing color options available with this nail lamp that you can choose from. These include gold, rose, blue, and champagne.
---
5. KEDSUM
This 12W travel lamp is great to use on all LED nail gel types. Because it is a travel lamp you need to keep in mind that it will be a little small. This will end up making it difficult for you to fit your thumbs into it so you'll need to dry them separately. This lamp features strong LED lights which can run for up to 5,000 hours. You can choose between a 10 second, 30 second, 60 second, or 300 second timer. After selecting your preferred time, the machine will automatically shut itself off after reaching it. This will help to prevent overheating from occurring.
On the top of this nail lamp is a pillow. You can use this to rest your hand on as you apply nail gel on your nails or while waiting for your other hand to dry. This model can also be used to do pedicures. You can choose between a black/pink housing design or a white/pink one with this nail lamp.
---
6. Abody
This compact 24W nail dryer features an arch design. This will allow it to easily reach all areas of your nails so it can dry them better. Its 15 LED light beads will run for up to 50,000 hours. This model features an Auto-Sensor which will detect when you put your hand into it so it instantly starts itself. This also helps to prevent overheating from occurring as it will shut itself off if it detects that you removed your hand from it. You can choose between a 30 second and 60 second timer. You also the ability to choose between a white/pink, white/blue, or white/green nail lamp design.
---
7. MiroPure
This 36W nail lamp features a white housing. It has 365 and 405 nm double lights and 24 LED light beads which can run for up to 50,000 hours. Its wide opening will allow you to easily place your entire hand or foot into it without problems. This nail lamp features an Auto-Sensor which will help it to detect when your hand is in or out of it to prevent overheating from occurring. It also uses a heat dissipation outlet to help prevent overheating as well. On the top of this model is an LCD display which you use to track the drying time. For drying times, you have the choice between 10 second, 30 second, 60 second, or 99 second time limits.
---
8. SUNUV SUN9C
This 24W nail lamp can be used to dry both your fingers and toes. It uses an arch design to help it fully reach all areas on your nails. You can choose between drying times of 30 seconds, 60 seconds, or 99 seconds.
This model's 18 light beads will work for up to 50,000 hours. They are also energy-efficient which means they won't overheat and cause your skin to burn while under the lights. On the top of this nail lamp you'll find a button control so you can turn this product on or off. This model comes in a pink, blue, and white housing color so you can pick the color that you'd like to have for it.
---
9. NATPLUS Nail Lamp
This powerful and versatile nail lamp isn't just beautifully designed, but boasts impressive features, as well. The 48W of power comes from two sources, as NATPLUS nail lamp offers both UV lights and LED lights for curing purposes. As a result, your nails will be done much faster than with a traditional one-source lamp: the time settings can be changed between 10, 30, and 60 seconds. The process of drying nails in this lamp is all but effortless, as it will turn on automatically when you place your hand inside it, and turn off once you remove it. There is also an overheat protection system in place, to make sure your hands are not at risk for burns or darkening while you're doing your manicure.
With its magnetic removable tray, cleaning will also be a breeze and you can conveniently use it to cure UV Resin, as well. Budget-friendly and powerful, NATPLUS nail lamp will serve your reliably for years to come- as its 24 lights have 50,000 hours of life time.
---
10. Wisdompark UV LED Nail Lamp
Affordable and yet offering superior results, Wisdompark UV LED Nail Lamp boasts an impressive 54 watts of power. The 36 lights that line the interior of this lamp provide a combined drying effect, as they emit both UV and LED lights, at wavelengths of 365nm and 405nm. This versatile nail lamp will give you different options for nail drying times, ensuring that every mani and pedi turn out flawless. The available times are 10 seconds, 30 seconds, 60 seconds, and 99 seconds. The last option is a special low power mode that gradually increases the drying power and it's suitable for sensitive people who find nail curing painful.
Thanks to the infrared sensor design, Wisdompark UV LED Nail Lamp can also be set to function automatically, starting the lights when you place your hand inside it, and turning off once the hand is removed. In this mode, the runtime can last for up to 120 seconds.
---
Conclusion
These are some of the top UV and LED nail lamps on the market. Be sure to keep some of the tips mentioned in this article in mind to make sure you buy the right nail lamp for your needs. Each of the models highlighted in this article are some of the top ones for sale so definitely consider investing in one of them to help you with drying your nails