Primers are great, and if you have oily skin, using the right primer can be really beneficial to the look and feel of your skin. Not only can they help dry excess oil and help you achieve an attractive matte appearance, they can even help reduce the size of your pores and smooth the skin while reducing the look of fine lines.
Apply these products after you moisturize, but before you put your makeup on. Super fast and easy, a primer can also help improve the look of your makeup by allowing for smoother application and longer lasting results.
Shopping for the right primers for oily skin can be a bit challenging because you have to be careful when it comes to ingredients. You don't want to end up using a product that will make your skin even more oily, or that might even contribute to breakouts. So, to help you out, we've compiled a list of five of the best primers for oily skin that we could find.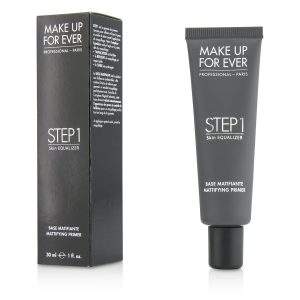 The Make Up For Ever Step 1 Skin Equalizer is a mattifying primer that can work well on oily skin because it will nourish the skin, while also helping to keep shine at bay. By combating excess oil, it can help you achieve that matte makeup look that everyone is after these days.
We also like that this is a water-based formula that helps eliminate surface oils, and it contains the brand's Sebustop Vegetal Complex, which helps to both control shine and reduce the size of pores. Your foundation should stay on more beautifully, and for longer stretches of time, without sliding off your skin. Plus, your skin will be smooth and plump too, thanks to the hyaluronic acid in this primer.
---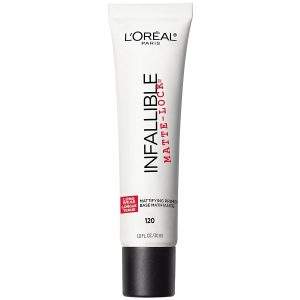 The Infallible Pro Matte-Lock Longwear Mattifying Primer is made for those with normal to oily/combination skin. It's a lightweight, non-oily, liquid formula that is non-greasy too. And when you apply it before makeup, it can help you achieve a matte finish that doesn't look flat. When used correctly, your skin will be smooth and soft, and imperfections like fine lines will be blurred.
This is yet another primer that can help your makeup look great, and it can even help your makeup last longer so you can maintain that perfect appearance all day long. Oil will be kept away by this breathable formula that won't clog pores. And you can also use it when you aren't wearing any makeup but you still want to control oil.
---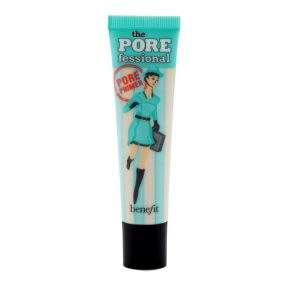 The Benefit Cosmetics POREfessional Pro Balm Face Primer Pore Minimizer is designed to quickly get rid of oil so your skin will no longer feel greasy, and it will also work on minimizing the appearance of fine lines and pores. The end result: skin that is smoother and looks matte. Plus, your makeup will look better and remain in place for longer lasting results that will help you look fabulous all day long.
This is a lightweight and silky skin care product that you can use under your makeup, over your makeup, or on its own to achieve an airbrushed look. It boasts a translucent formula that will work for all skin tones, and it also has a vitamin E derivative that can help protect your skin.
To use, just apply this product to clean skin that has been lightly moisturized. If you notice that your pores are starting to become more obvious at any point during the day, you can gently pat more of this product on your skin, even if you have makeup on. Blend it in to make those pores disappear again.
---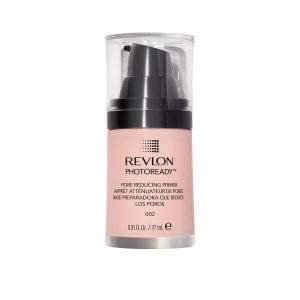 If you are searching for a primer that will tackle oily skin and help reduce the appearance of unattractive pores, check out the Revlon PhotoReady Pore Reducing Primer. It helps you achieve a poreless, totally smooth, airbrushed, and matte appearance instantly. And it even features silica mattifiers that can help reduce the amount of oil that is produced by the skin.
This product is described as lightweight and luxurious. It also uses something known as High-Definition Filter technology, which is capable of reflecting and diffusing light, while helping you achieve that matte effect that will make your pores look smaller. Plus, it's long-lasting and helps your makeup stay put. Who wouldn't want that?
---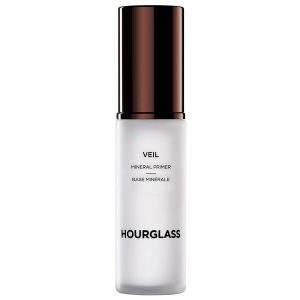 If you have oily skin and you have trouble keeping your skin looking fresh and matte throughout the day, you should definitely consider giving the Hourglass Veil Mineral Primer a try. It is oil-free, silky, and lightweight, and it also boasts SPF 15 for additional protection. It can help minimize the appearance of unsightly pores, while also controlling the skin's production of oil so your face can look flawless all day long.
This oil-free product is formulated with ingredients that work on filling in wrinkles and fine lines to soften their appearance. The ingredients will also help with covering up redness and smoothing the skin so makeup can be applied with greater ease and last for longer stretches of time. Plus, this primer doesn't contain any parabens, phthalates, sulfates, nanoparticles, synthetic dyes, fragrance, or gluten, and it's cruelty free.
All you have to do is apply this primer to your skin after you've cleansed and moisturized it. Then, you can apply your makeup, whether you use a powder, liquid, or cream foundation.
---
The Right Primer Can Make a World of Difference!
No one wants their face to be shiny and their makeup to look less than perfect just a few hours after applying it. By selecting the right primer for oily skin, you can keep the shine away, improve the appearance of your skin, and help your makeup stay in place so you can keep your confidence high.