If you're like a lot of people, you enjoy having your feet rubbed. It can be soothing and calming, and it's a great way to pamper yourself. But, these days, if you have the right foot massager at home, you can enjoy all of the perks of having your feet massaged whenever you want, without having to go to a spa to pay a professional to do it for you.
The Benefits of Getting a Foot Massage
Did you know that regularly getting a foot massage could be a smart addition to your wellness routine? Not only is it relaxing, and a great way to make your feet feel better after a long day of standing or walking, but it can also help energize you while reducing your stress.
The simple act of getting a foot massage can help improve circulation, as well as help your body release endorphins that make you feel good. And you might even notice that you experience less pain.
Now that you know about some of the benefits of foot massage, if you're ready to focus your efforts on some self-care, check out our list of five of the best foot massagers on the market.
5 of the Best Food Massagers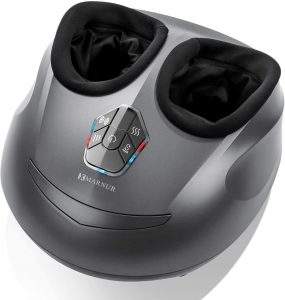 The MARNU Shiatsu Foot Massager lets you get an amazing massage right in the comfort of home. This is a kneading massager with multiple massage combinations, along with adjustable heat and airbag compression. You can select the heat setting that you want to completely relax your tired feet, and you can also adjust the intensity of the compression to get the exact massage that you need.
One of the nice features of this particular foot massager is the airbag compression. Basically, airbags will inflate and deflate in a rhythmic fashion to mimic a foot massage that you would get from a person. Plus, there's the rolling massage feature, which helps loosen and stretch the muscles of the feet with the application of pressure, so if your feet are stiff, this might help.
---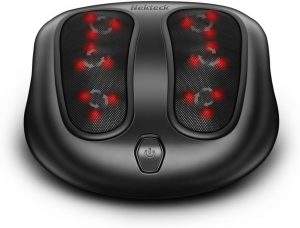 The Nekteck Foot Massager with Heat boasts 6 massage heads and 18 rotating massager nodes that will work on boosting blood flow, relaxing muscles, and releasing tension from your feet. Plus, it can provide heat when you want it, such as when you are experiencing discomfort or pain, or when your feet are really tired and need a little extra pampering.
Another noteworthy feature is the adjustable height, which helps ensure you can be ultra-comfortable when using this product while seated. Plus, you can even touch the power button and set the mode using your toe, so you don't need to bend down to start getting your massage.
---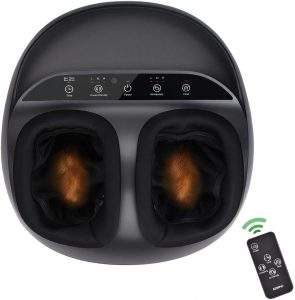 With the RENPHO Foot Massager Machine with Heat, which is ergonomically designed to be able to provide you with the maximum level of comfort, you can relax your feet to help release tension in the rest of your body. This product boasts heat, a rolling stick, and a rotation ball, and you can even use it to get a Shiatsu foot massage whenever you want it.
Also, you can select from three squeeze intensities and three kneading intensities so you can get the perfect massage every time, and you can even control the heat so it is just right. But what is really convenient about this massager is that it comes with a remote control, in addition to a touch panel that makes it simple to set up with your foot.
In addition to all of that, this massager has a timer that you can set so it will shut off automatically after 15 or 30 minutes. And it also comes with a detachable cloth cover that is washable so you can keep your massager hygienic at all times.
---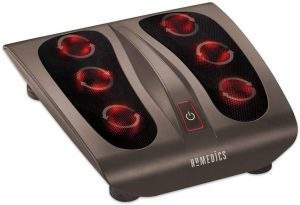 Want a foot massager that will be able to provide you with a deep kneading Shiatsu massage? Then check out the HoMedics Triple Action Shiatsu Foot Massager with Heat. It features a platform that is big enough to accommodate a variety of foot sizes, from small to large.
This product can give you a circular kneading massage up and down the entire length of each foot so you can rejuvenate and relax your soles and arches, and get relief from your toes to your heels.
Like other high-quality foot massagers, this one makes it easy to control it with your toe so you don't have to bend over uncomfortably. Plus, the optional heat can be especially helpful when your feet are tired or your muscles are tense. And the breathable fabric will ensure your feet don't end up sweating or overheating.
---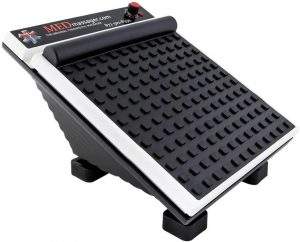 The ergonomically designed MedMassager Therapeutic 11-Speed Electric Deep Tissue Foot & Calf Massager boasts oscillating action. You can select from 11 speeds that range from 1,000 to 3,700 rpm, making this one of the more powerful foot massagers available. And you can position it so it will target your feet or your calves.
This massager features a quiet motor, and it has an oscillating foot pad with an arch bar and a pressure points targeting surface. Plus, it's angled for comfort, and it can be used to reduce tension and pain in both the feet and the legs. Beyond that, it can help with boosting circulation and preventing leg cramps.
Note: This product can be used by those who are suffering from diabetes and peripheral neuropathy, as well as those who are dealing with heel and bone spurs, plantar fasciitis, calf pain, and restless leg syndrome.
---
Relaxation Is a Foot Massage Away!
With these products, you can indulge in a stress relieving foot massage anytime you want, and you won't even need to leave the house. This can save you time and money, and it will allow you to reap the many benefits of this type of massage for your overall wellness.
Photo credit: Marcelo Trad/Shutterstock