Peter Thomas Roth Clinical Skin Care is a product line that is known for its advanced technology and breakthrough formulas. Whether you want to use a product that can help combat the common signs of aging, you need something that will provide hydration to really dry skin, you prefer a product that will tackle oily skin, or you are having trouble getting your acne to clear up, Peter Thomas Roth has what you are looking for.
Where should you begin? With so many different Peter Thomas Roth Skin Care products to choose from, it can be hard to decide! That's why we've compiled a little list of five items that are considered some of the brand's best. We think that the following items are definitely worth trying if you want to improve the look, tone, and texture of your skin.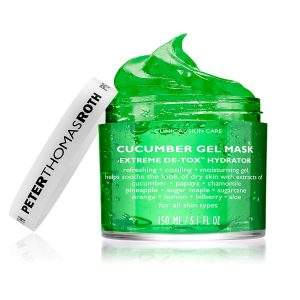 The Cucumber Gel Mask Extreme De-Tox Hydrator is a fantastic choice when you are searching for something that will be super gentle on your skin. This product will help hydrate and soothe, as well as detoxify your skin, leaving it looking and feeling fabulous.
Ingredients include botanical extracts of chamomile, sugar maple, pineapple, orange, sugarcane, lemon, aloe vera, papaya, cucumber, and bilberry. The cucumber extract can help hydrate, soothe, comfort, calm, and nourish your skin, and it can even help by reducing puffiness. The papaya extract, which is rich in vitamins, is a natural enzyme that can help make your skin softer. And the chamomile extract is a natural flower extract that can help soothe and comfort your skin.
You can use this product after peels, facials, waxing, extractions, and sun exposure. It's a great way to relieve your skin and restore it. All you have to do is apply it generously to clean skin two to three times a week. You can also use it daily if you need an extra dose of hydration. After applying, leave it on for 10 minutes, and then rinse it off using cool water. However, if you need a more intensive treatment, you can apply a thin layer of this gel mask to your skin and leave it on overnight.
Tip: place this product in the refrigerator before use if you want it to be cooling and refreshing.
---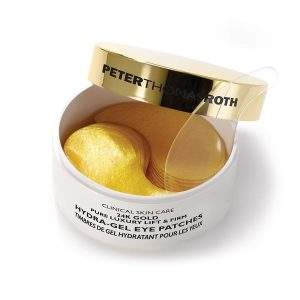 The 24K Gold Pure Luxury Lift & Firm Hydra-Gel Eye Patches are ultra-luxurious. Infused with 24K gold and colloidal gold, these are capable of providing anti-aging effects, thanks to their ability to firm and lift the delicate skin around the eyes.
If your goal is to reduce the appearance of wrinkles, fine lines, and crow's feet, these cooling patches can help you achieve revitalized, firmer, and younger looking skin. Ingredients include hyaluronic acid for hydration, hydrolyzed collagen to combat lines, and caffeine to reduce puffiness.
All you have to do is put these patches on for 10-15 minutes to see results. Make sure the skin is clean and dry first.
Side note: These patches are lightly scented with lavender for extra calming and soothing effects.
---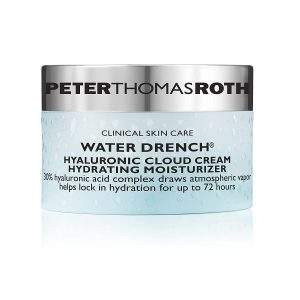 The Water Drench Hyaluronic Cloud Cream Hydrating Moisturizer is for dry skin. It will moisturize and help lock hydration in for up to 72 hours even after cleansing. How is this possible? Well, it's a concentrated 30% hyaluronic acid complex that boasts three molecular sizes of hyaluronic acid. These help boost hydration by attracting and retaining up to 1,000 times their weight in water from the moisture that is in the air. Incredible, right?
This product also contains Pentavitin, which is a potent hydrator that can bind to your skin. And it has hydrolyzed silk, which is a derivative of pure silk and is capable of leaving your skin feeling smooth, soft, and silky.
To make your skin look and feel smoother and more supple, apply this product twice a day to your face and neck.
---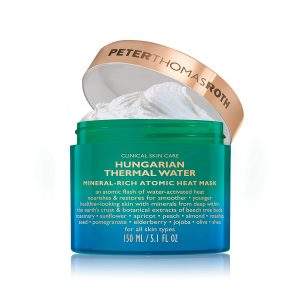 The Hungarian Thermal Water Mineral-Rich Atomic Heat Mask is a fountain of youth mask. Peter Thomas Roth uses a spring that's found deep below the Carpathian Valley to get the mineral-rich thermal water that is in this product. By combining the Hungarian thermal water with modern technology and natural botanicals, this hydrating mask is rich and luxurious, as well as hydrating. It also gives your skin a flash of heat that can help open your pores and improve the absorption of nutrients.
Ingredients include nine Hungarian botanicals and two botanicals that are bioengineered. Those are Merospheres-V from rosemary extract and Gatuline RC from beech tree bud extract. These help smooth your skin, reduce wrinkles, improve texture, and combat dullness and unevenness.
All you have to do is apply this product generously to your skin once it's clean and dry. Leave it on for three minutes, and then activate the heat by wetting your fingers with cool water and massaging the mask into your skin. Rinse when the heat diminishes.
---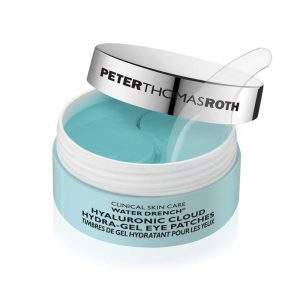 Finally, there's the Water Drench Hyaluronic Cloud Hydra-Gel Eye Patches, which are designed to moisturize your skin and reduce the look of crow's feet, under-eye darkness, and fine lines instantly.
Ingredients include multiple sizes of hyaluronic acid, which can attract and retain up to 1,000 times their weight in water from moisture that's in the air. In addition to that, this hydrating product contains marshmallow root extract, collagen, and ceramide NP to soothe and soften the delicate skin around the eyes and reduce the look of lines. Caffeine helps to reduce puffiness, while arnica can help you get rid of dark circles.
You can use this product daily, or as often as you need. Simply apply the patches to clean, dry skin under your eyes. Leave on for 10-15 minutes, discard the patches, and gently pat any serum that remains into your skin.