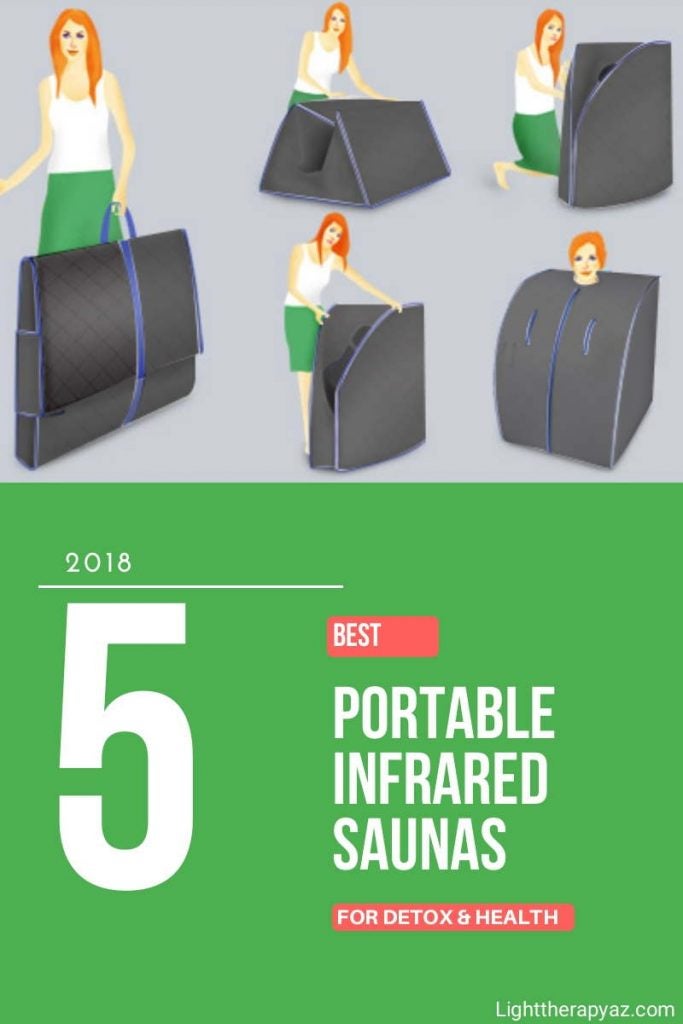 Just hearing someone talk about going to the sauna is enough to start your body relaxing. Imagine if you had access to a sauna anywhere you went. You could reap the benefits provided at any time without trouble. Doesn't that sound like a dream come true? I'll bet it seems impossible. Well, it doesn't have to be. Sure, it's not possible to fold up a full size spa and shove it into your purse. That would be absurd. However, it is certainly possible to pack a machine in your purse that would offer some of the most valuable benefits of a spa in a portable package. It is possible with the use of a portable infrared sauna. A product that far too few people are aware of, yet could truly change your life if you give it a chance. Want to know more? Good. You've come to the right place. Read on for a definitive guide to this remarkable product that will send you running to the store to bring one home.
What is Infrared Light?
The first thing you need to understand before buying a portable infrared sauna is what infrared light means and does. After all, this portable sauna hinges entirely on this technology and the health benefits are undeniable. Infrared light is invisible to the human eye, but felt intensely. The most common and natural source of infrared light is our old friend, the sun. You know, the big burning ball of gas that you see in the sky. That old friend.
When you imagine using infrared light, think about how you feel when you're being touched by the sun. Infrared light creates heat directly in objects as opposed to in the air around them. So warming happens faster and more evenly. It's a jarring sensation, yet undeniably effective for reasons that we are about to discuss in greater detail…
Difference Between Far and Near Infrared Heat
Near Infrared Light is emitted by the sun almost half of the time, and is beneficial to your wellbeing. It is best used for raising core body temperature, rejuvenating your skin, providing pain relief, and improving circulation. This is the sunlight that you crave during the cold and dark months.

Far Infrared Light is the commonly recommended type when it comes to use in saunas. This light differs from near infrared in wavelengths and produces a varying effect. With far infrared light you will experience the typical sweating associated with traditional saunas.
Far infrared saunas offer the benefits of detoxification, stress reduction, increased metabolism, and weight loss. It's something of a magical style of light that far too few people take advantage of. The type of light that creates positive sensations and fuzzy feelings. The type of light that you wish you could take with you anywhere and now, you can.
What is a Portable Infrared Sauna?
Investing in a portable infrared sauna is acquiring a piece of equipment that uses light to create heat and can be used anywhere that you are able to transport it to. It's like having the healing light benefits of a sauna in your pocket, ready to be used any time you need those soothing sensations and benefits.
Saunas are used for a wide variety of reasons including to induce the same type of bodily reaction you achieve from exercise like sweating. It all comes down to your personal needs and preferences.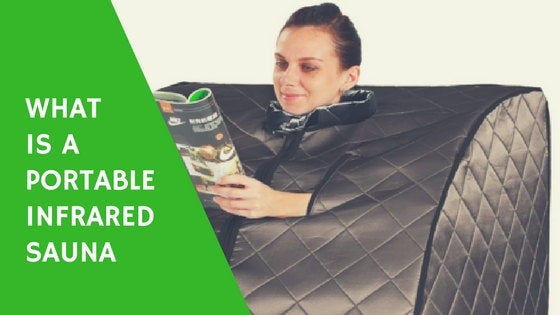 Standard saunas must reach extremely high temperatures in order to produce these results in your body. They use heat to warm the air around your body which in turn raises your body's internal temperature.
Infrared saunas on the other hand result in the same reaction at lower temperatures by heating your body directly. This requires less energy and space, which is why it can be a portable product.
How Do Portable Infrared Saunas Work?
A portable infrared sauna works in the same way as a regular infrared sauna would. By using infrared light, your body is warmed within the portable sauna. This produces the same detoxifying results that you would experience from using any type of sauna. Just in a portable package that is undeniably  convenient.
Electromagnetic Field (EMF) Safety
All electrical appliances produce toxic EMFs. When they interact and layer on top of each other, they can create a very dangerous level of radiation. Obviously, this isn't something that you want to play around with. It's not a toy. There are risks involved.
To practice safety with EMFs, you need to be sure that your portable infrared heater is considered EMF safe and also that you position it in places where dangerous levels of radiation will not be created. You need to take this responsibility seriously, otherwise the product that you bought to improve your life will bring a whole new range of problems into your it instead.
Benefits to Using Portable Infrared Sauna vs. Traditional Steam Sauna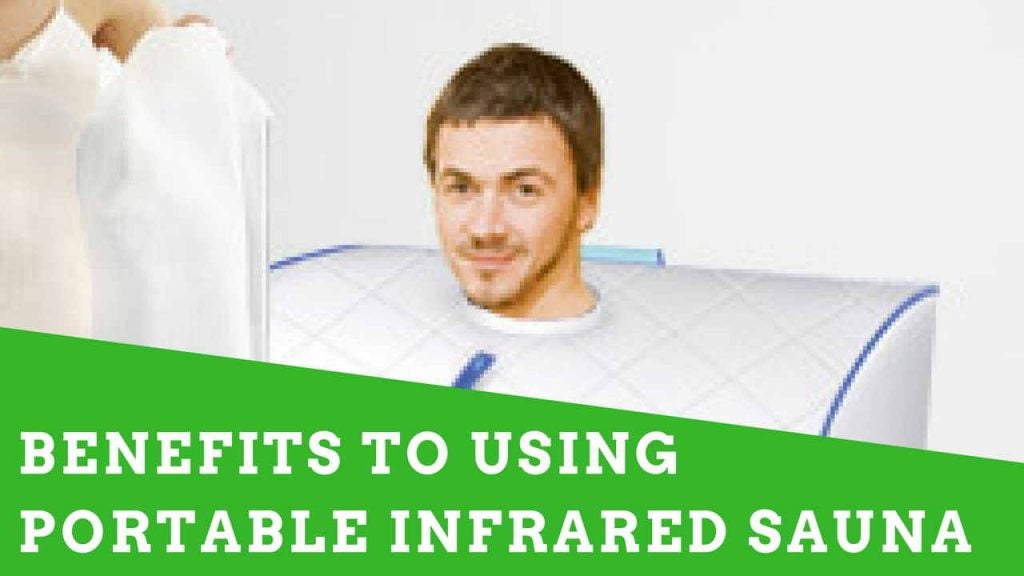 There are specific reasons that you would choose to use a portable infrared sauna rather than a traditional steam sauna. First and foremost, being able to transport your sauna wherever you go creates the potential for relaxing and detox no matter what your schedule dictates. This is incredibly valuable for anyone who has to travel a great deal for work or even for someone who doesn't have the time to get to a sauna on a regular basis or the space to build a full one in their home.
If you use sauna treatments as an important part of your daily regimen, then you will likely want to invest in a portable infrared sauna so that you will not have to deal with interruptions to your routine. It's a convenient option that may look a little silly, but delivers undeniable results.
There are many other benefits to choosing a portable infrared sauna over a traditional steam sauna including:
Heat Level: If you have experienced traditional steam saunas before and found yourself vulnerable to the high level of heat, portable infrared saunas will be a better option for you. They produce the same results with a lower level of heat, making things a little more comfortable for sensitive folks.
Humidity: One of the main aspects of using traditional steam saunas is that you will experience high humidity. Portable infrared saunas do not use steam so you will not need to worry about dealing with the effects of humidity. This could be a huge relief for those who love the healing powers of saunas yet hate what humidity does to their body.
Power Usage: Running a traditional, non-portable steam sauna is very expensive when it comes to the amount of power it uses. Infrared saunas use less power to begin with, and portable infrared saunas are designed for convenience so you will not need to worry about such high power consumption. This will bring serious savings to your utility bill.
Price: Not only will you have the convenience of being able to take your portable infrared sauna with you whenever you travel, but you also will have paid a lower price than if you were to invest in installing a standard steam shower in your home. It's a much more practical option for most consumers.
​Choosing portable infrared saunas provides a higher level and flexibility overall. It is worth considering when thinking about adding a sauna to your lifestyle. After all, not every home needs a full scale sauna. That's quite a dramatic expense.
Things to Consider Before Buying a Portable Infrared Sauna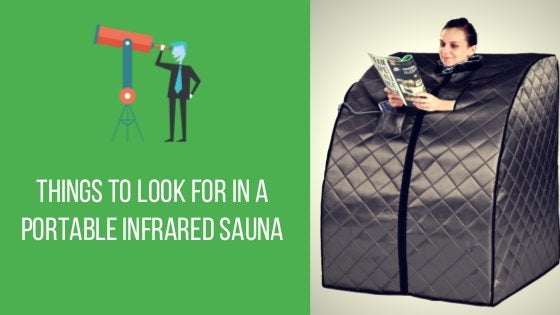 When you decide to buy a portable infrared sauna, the next thing you want to do is spend some time thinking about what features are important for you to have. Portable infrared saunas are all similar, but design and level of convenience can vary depending on the brand and model you choose. Not every portable infrared sauna is right for every customer. So you need to take the time to consider your sauna needs before committing to a specific product.
Here are a few features to consider when searching for the right portable infrared sauna for you:
Price: There are many portable infrared saunas on the market. Depending on the brand's popularity and the features of the specific model, you will find a range of available prices. Be sure to analyze your budget before setting out on your search so that you will begin by examining products within your price range. Otherwise you might fall in love with a portable infrared sauna that you'll never be able to afford. No one needs to experience that heartbreak.
Variety of Heating Settings: Different models will offer varying options when it comes to the ways you can control your portable infrared sauna. Carefully examine the specifications of each model you consider so that you can make the choice that best suits you.
Timer Options: Time is another thing that you will want to be able to adjust with your portable infrared sauna. There will be times when you can enjoy longer detoxification than others. Be sure to note what options you'll have with different models.
Comfort: You will be spending a decent amount of time in your portable infrared sauna and your head will be positioned outside of the contraption. Think about how comfortable each model will be for your experience. Nothing is worse than relaxation that's not relaxing.
Chair and Foot Pad: To use your portable infrared sauna you will need a chair to sit in and you will want some kind of padding to put your feet on. Many models include both when you buy them. Keep your eyes out to see which models do and don't offer these accessories.
EMF Safety: To be sure that you and your family are safe at all times, make sure to invest in a portable infrared sauna that is EMF safe. It's not a risk worth taking!
These features can act as your standing guidelines during your search for the portable infrared sauna that will become part of your daily life.
How to Use a Portable Infrared Sauna Safely
In order to make the most of your portable infrared sauna, you need to follow some basic precautions to keep yourself safe while reaping the benefits that this product can provide.
First, make sure that you are hydrated before and during your time in the portable sauna. Drink plenty of water so that you can ensure you will not become dehydrated.
Secondly, don't jump right into the highest temperature possible on your portable infrared sauna. Instead, start off at a lower temperature and then gradually increase the temperature as you acclimate to it.
If you are totally new to using an infrared sauna, take it easy so that you do not overdo it and do more harm than good. It is a good idea to limit yourself to just three 30-minute sessions every week. Over time, you can slowly do more by increasing the number of sessions that you complete in your portable infrared sauna.
TOP Best 5 Portable Infrared Saunas Reviews
Now that you have learned more about what portable infrared saunas are, how they work, and how to identify the right one for you, take a look at this list of the top 5 best portable infrared saunas. You're sure to find one that will suit your needs!
1. Radiant Saunas BSA6310
The Radiant Saunas product is a highly affordable option of portable infrared sauna that boasts flexibility and effectiveness.
Main Features:
Radiant Saunas' product uses FAR infrared technology to provide you with the benefits such as relaxation and detoxification. If this is your goal, then this model will satisfy your needs.
This portable infrared sauna offers many features that will entice you to make it your choice:
Convenience: with this portable sauna, you will be able to travel wherever you please. The sauna folds easily for packing and transport. When you reach your destination, you will set up of your sauna to be simple and efficient.
Comfort: the collar of this portable sauna is designed so that your neck will be comfortable while you enjoy your treatment. Made from soft terry cloth cotton, you will have the spa experience everywhere you go.
Construction: Radiant Saunas' cabin is spacious and moisture resistant. Outfitted with holes so you can put your hands outside, you will notice the pockets on the side of the cabin meant to hold the remote control and even your book or phone. The double-zipper allows for easy opening from the inside of the cabin.
Chair and Foot Pad: you receive ultimate comfort and convenience with the included canvas chair and heated foot pad, which you'll appreciate while you detox.
Remote Control: the handheld controller allows you the ability to control temperature, time and foot heat throughout your time in the sauna.
Heat Options: you can choose from 5 pre-set heat level options with a temperature cap of 150 degrees Fahrenheit.
Customer Satisfaction: Overall, customers are extremely satisfied with Radiant Saunas product. They appreciate the sauna's lightweight design making portability simple and efficient. Setting the sauna up is quick and once it's ready, customers say to let it warm up for about 10 minutes before getting in.
People are very happy with detoxification results saying that after 20 minutes in the cabin, sweat pours down just as if you were in a traditional steam sauna. You may find that you want to add a cushion to the chair for extra comfort or switch to a stool if you have long legs that cramp easily.
Customers who used sauna treatments regularly before purchasing Radiant Saunas' portable model expressed their pleasure at the amount of money it saved them in the long-run.
Safety: This portable infrared sauna is made with 3 heating panels which are ETL approved (North American safety standards), energy-efficient, and low EMF. The 6.5 foot power cord gives you the flexibility to be sure that your sauna is set up in places where it will not come into dangerous contact with any other appliances.
What Makes this Model the Best?
The combination of convenience, comfort, safety, and reasonable price make the Radiant Saunas portable infrared sauna a choice that will fit the needs and desires of almost anyone looking to invest in this type of product.
---
2. IdealSauna Far Infrared Portable Sauna + Negative Ion Detox
The portable infrared sauna produced by IdealSauna provides the simple enjoyment and results yearned for when deciding to use such equipment.
Main Features:
​IdealSauna provides a FAR infrared portable sauna which will aid you in your quest for consistent and comfortable detoxification. It has many features that will contribute to your desire to use this product, including:
Large Size: this sauna is suitable for the majority of people, even those who are of taller stature. They will find they can sit inside the cabin on the chair comfortably.
Easy Setup: you will find this sauna ready to go, all you need to do is unhook it when it's folded and it will pop up quickly.
Negative Ion Detox: this sauna provides uses infrared heat with negative ions which enhance the metabolic processes of the cell's and improve your body's immunity.
Chair and Foot Pad: this model does come with a chair and foot pad for convenience of use as soon as you acquire the sauna.
Convenient: folds up easily and small enough to packed into luggage or stored in your car for use anywhere the desire may strike.
Customer Satisfaction:
Customers are very satisfied with their use of IdealSauna'a product and have made multiple reports that it accommodates even people on the larger side comfortably.
While some people have added a cushion to the chair for extra comfort, others recommend skipping the chair altogether and enjoying your detoxification from towels on the ground.
With such easy setup, customers report that it is operable by people with any level of technical understanding. They like that it heats up quickly and gets you sweating within 30 minutes.
Safety: Using relatively low voltage for power with an 8-foot cord, this sauna allows you to situate it in the safest possible places wherever you are. The EMF is low so you can enjoy your detoxification without worrying.
---
3. Gizmo Supply 1000W Portable Therapeutic Infrared Sauna Spa XL
The Gizmo Supply portable infrared sauna is designed to support the effective and comfortable sauna experience of even the tallest people.
Main Features:
Using FAR infrared heat, the Gizmo Supply portable sauna offers many features which may make it the right choice for you:
Folding Chair and Foot Pad: for the most convenient experience of portability, the sauna comes with its own folding chair and foot pad that will easily make the trip with the sauna wherever you go.
Handheld Controller: the controller gives the ability to control the temperature and timer while you detox.
Fast Setup: no matter where you are in the world, your portable infrared sauna will be there to help you relax. In 5 fast minutes, you'll have it set up and ready to go.
Long Power Cord: the power cord is about 6-feet long and allows for flexibility in placement.
Preheats Quickly: in less than 10 minutes you'll be able to get into the cabin of the sauna and begin detoxing.
Customer Satisfaction:
The effectiveness and ease of use of this portable infrared sauna make it a favorite among customers. Although the XL model is more expensive than some other brands, customers report that they are satisfied with their investment.
Though the model does come with a folding chair, some customers report that the chair is prone to breaking easily and suggest using a different stool or chair.
Though appearances may lead you to think that this model is cheaply crafted, customers say that the results speak for themselves and you'll be dripping sweat in as little as 30 minutes.
Safety: With low EMF and a long power cord, this portable infrared sauna provides you with a safe and comfortable detox and relaxation experience.
---
4. DURHERM XLarge Negative Ion FIR Infrared Portable Indoor Sauna
The DURHERM portable infrared sauna combines efficiency with aesthetic style for a desirable addition to your equipment collection
Main Features:
When deciding what portable infrared sauna to commit to, there are many possible factors that could help you decide, and DURHERM offers many helpful features:
FAR Infrared Heat: this sauna provides you with the many benefits of FAR infrared heating including excellent relaxation and detox benefits.
Folding Chair and Foot Pad: don't worry about supplying your own chair or keeping your feet warm, this model includes a chair and heating foot pad for comfort.
Handheld Remote Control: the remote control that comes with this sauna allows you to control and adjust the temperature and timer settings while you're already enjoying the sauna's benefits.
Tourmaline Panels: tourmaline is a semi-precious mineral which aids in the detoxification of the body. This sauna uses heat panels that will enhance your detoxification.
Washable Neck Collars: DURHERM provides you with two washable neck collars made from soft terry cotton for optimal comfort while you enjoy your sauna experience.
Customer Satisfaction:
Customers are happy that the company's claims about low EMF appear to be true when put to the test. The cabin size is good for use of people of all sizes without discomfort, which is a positive selling point, as well.
Very easy to set up and start using right away, customers say that despite its rather high price, this model is worth the investment if you are serious about using an infrared sauna on a consistent basis.
Safety:
DURHERM is unrivaled when it comes to the safety of your portable infrared sauna. This model is almost EMF free and is between 200-600 times lower than the majority of portable infrared saunas on the market.
It is designed to have the same EMF levels that naturally occur in the environments around us so you are as safe using this sauna as you are on a daily basis in a variety of spaces.
---
5. SereneLife Portable Infrared Home Spa | One Person Sauna for Detox & Weight Loss
The SereneLife Portable Infrared Home Spa is a reasonably priced option with a sleek look.
Main Features:
Just look all the other models you have examined, SereneLife provides a collection of features that you will appreciate:
FAR Infrared Heat: use this sauna for your relaxation and detox needs at home and on the go.
Convenience: this sauna is very easy to setup and breakdown for efficient transport anywhere you need to take it.
Chair and Foot Pad: for complete coverage of what you need for your sauna experience, SereneLife provides you with a chair and warming foot pad.
Handheld Controller: you can use the controller to change the temperature or timer settings while enjoying your relaxation session.
Flexible Comfort: the sauna is designed with holes for your hands if you want to read something while relaxing.
Customer Satisfaction:
The timer which allows you to specify your preferred duration of up to 60 minutes is a big hit with customers who enjoy the ability to plan a session, but also the flexibility to adjust it while they're relaxing.
Even setting up the sauna for the first time will only take you near 10 minutes and after that setup and breakdown will be quick and easy. Once it's set up, customers say you will not have to wait too long for the sauna to heat up so you can jump inside.
The simple things matter and customers appreciate the fast and sufficient shipping. They say the product arrives ahead of schedule and packed well.
Safety:
With relatively low EMF you can rest assured knowing that your time spent in your portable infrared sauna is safe and will not affect you negatively. Your ability to choose where the sauna is situated adds to its safety, as well.
6. Radiant Saunas BSA6315 Harmony Deluxe
https://www.amazon.com/Radiant-Saunas-BSA6315-Oversized-Portable/dp/B01LEJACSK/ref=sr_1_5?keywords=portable+infrared+sauna&qid=1572523754&sr=8-5
For a luxurious spa experience in the comfort of your home, the ideal choice is Radiant Saunas BSA6315 Harmony Deluxe.
Main Features:
With desirable qualities of infrared saunas in mind, it's easy to see why Radiant Saunas BSA6315 Harmony Deluxe is such a popular choice for customers:
Superior Infrared Panels: for perfect coverage and distribution of warmth, the interior features four carbon heating panels at optimal positions.
Easy Setup: with a pre-attached EZ fit solid Beech hardwood dowel frame, this portable sauna sets up in mere seconds.
Folding Chair and Foot Pad: this luxurious infrared sauna comes with a heating foot pad included for a complete at-home spa experience. It also includes a folding chair that will make you comfy while you sweat- it is rated to support 220 lbs.
Handheld Remote Controller: the controller allows you to switch between 6 automatic timer options without having to go outside the sauna- there are even convenient pockets on the front to store the controller when not in use.
Sanitary Cleaning Feature: the air ionizer function keeps the air inside the sauna fresh and sanitized.
Customer Satisfaction: From lauding its quick heating to easy set up, customers are impressed with value for money that they got from Radiant Saunas BSA6315 Harmony Deluxe. The fact that it is well-made, suitable for tall people (up to 6'5"), and that it deliver superior results seems to make this deluxe version worth the few extra bucks.
Safety: The heating panels are rated low EMF, making this portable infrared sauna completely safe for use, even on a regular basis.
7. Durasage Infrared IR Far Portable Indoor Personal Spa Sauna
https://www.amazon.com/Durasage-Infrared-Portable-Personal-Heating/dp/B01LY7WHVJ
Durasage Infrared IR Far Portable Indoor Personal Spa Sauna offers the perfect price tags to quality ratio, which makes it stand out among its competitors.
Main Features:
While a budget-friendly price and reliable performance might be its main advantages, Durasage Infrared IR Far Portable Indoor Personal Spa Sauna has plenty of more good features to boast with:
Fast Heating: this infrared sauna will complete heat up and be ready for use in under 5 minutes.
Convenient Portable Design: not only that this sauna is easy to set up, but it also folds conveniently for storage or travel- there are even handles that let you carry it with you when needed.
Folding Chair and Foot Pad: the infrared sauna comes with a folding chair and a foot pad included, to make your sauna treatment up to par with those in a wood sauna.
Remote Controller with a Timer: to make the process effortless and convenient, there is a remote controller included that can be stored in the pockets sewn on the front of the sauna. The timer can be set to 60 minutes max.
Customer Satisfaction: Customers are impressed by the fact that this portable sauna can generate so much heat in so little time- making it quite cost-effective. Many people decide on getting this sauna as a cheaper alternative to pricier models that still delivers on its promises.
Safety:
---
How Will You Know Which Infrared Sauna Is Right for You?
With so many different infrared saunas available, including those that are portable, shopping for one can be a daunting process. But it is important to take your time and really look at the details surrounding a product and its manufacturer. Sure, reading this article, along with other reviews, is a great place to start, and a smart way to narrow down your choices to the very best that the market currently has to offer. However, beyond that, being aware of common mistakes that are made by people who purchase portable infrared saunas will also be helpful.
Here are a couple of things to look for when shopping for the perfect portable infrared sauna for you and your family. Keeping the following in mind can help you select the product that will be safe and effective.
Consider looking for, or asking about, safety certifications that the manufacturer can back up. These would be awarded to the manufacturer from regulatory agencies, and they basically prove that the product has been tested in a comprehensive way in order to ensure that it will perform as it claims, and that it will be safe for consumers to use. Also, you should be wary of any portable infrared sauna that does not have safety certifications in place, as they might be harmful or downright dangerous to use. If you can't find information on safety certifications, you can contact the manufacturer to learn more about a product and its safety features.

Another thing to look for is a warranty. If a product comes with a great warranty, you can rest assured that the manufacturer will cover you in the event that you encounter problems with your portable infrared sauna. Warranties can range from poor to great, so look into the details of the warranty, such as how long it will last and what exactly it will cover, prior to deciding on whether or not you will buy a specific infrared sauna.
---
Final Thoughts
Choosing the right portable infrared sauna is something that takes a lot of care and time. Be sure to make a list of the features that are important to you before setting out to find the product for you.
The portable infrared sauna made by Radiant Saunas is a practical, effective, safe, and affordable choice for everyone. The other products on this list will satisfy your needs as well. Take a close look and pick the one that fits your lifestyle needs the most!