Who doesn't love a good self tanner? It offers all the beauty of bronzed, glowing skin without the hassle and risk of sun damage. The problem, however, is that many brands release products that are filled with harsh ingredients and may leave skin irritated and greasy rather than effortlessly tan.
If you're tired of this issue too, then consider organic self tanners instead. Not only do these products have natural ingredients that are gentle on the skin, but they're often carefully formulated to give better results than products with artificial ingredients. If this sounds appealing to you, then check out these five best organic self tanners.
Top 5 Organic Self Tanners
---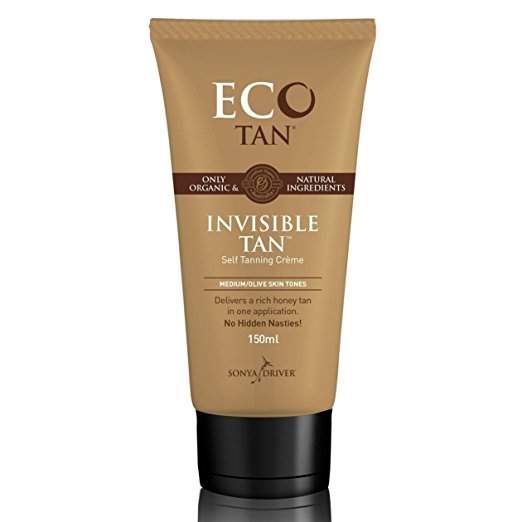 1. Eco Tan Organic Tanning Lotion
The first self tanner on this list is ideal if you're looking to add a subtle, natural glow to your skin. While many artificial tanners have a tendency to add a sickly-looking green or orange undertone to the skin, this product uses only natural tanning agents to ensure that you get the radiant golden glow that you've been searching for.
What exactly is in this product? The main ingredient is aloe vera to keep your skin healthy and moisturized beneath the tanner, and includes other skin-healthy components like chamomile flower extract and rose germanium oil. The natural tan comes from the brilliant inclusion of cacao extract in this product's formula.
As for performance, Eco Tan works quickly to develop your new tan within eight hours after application. It glides smoothly onto the skin and, thanks to the organic ingredients, won't cause any breakouts or irritation with repeated use. In fact, you'll likely find that your skin feels healthier and rejuvenated after being treated to this gentle and moisturizing self tanner.
---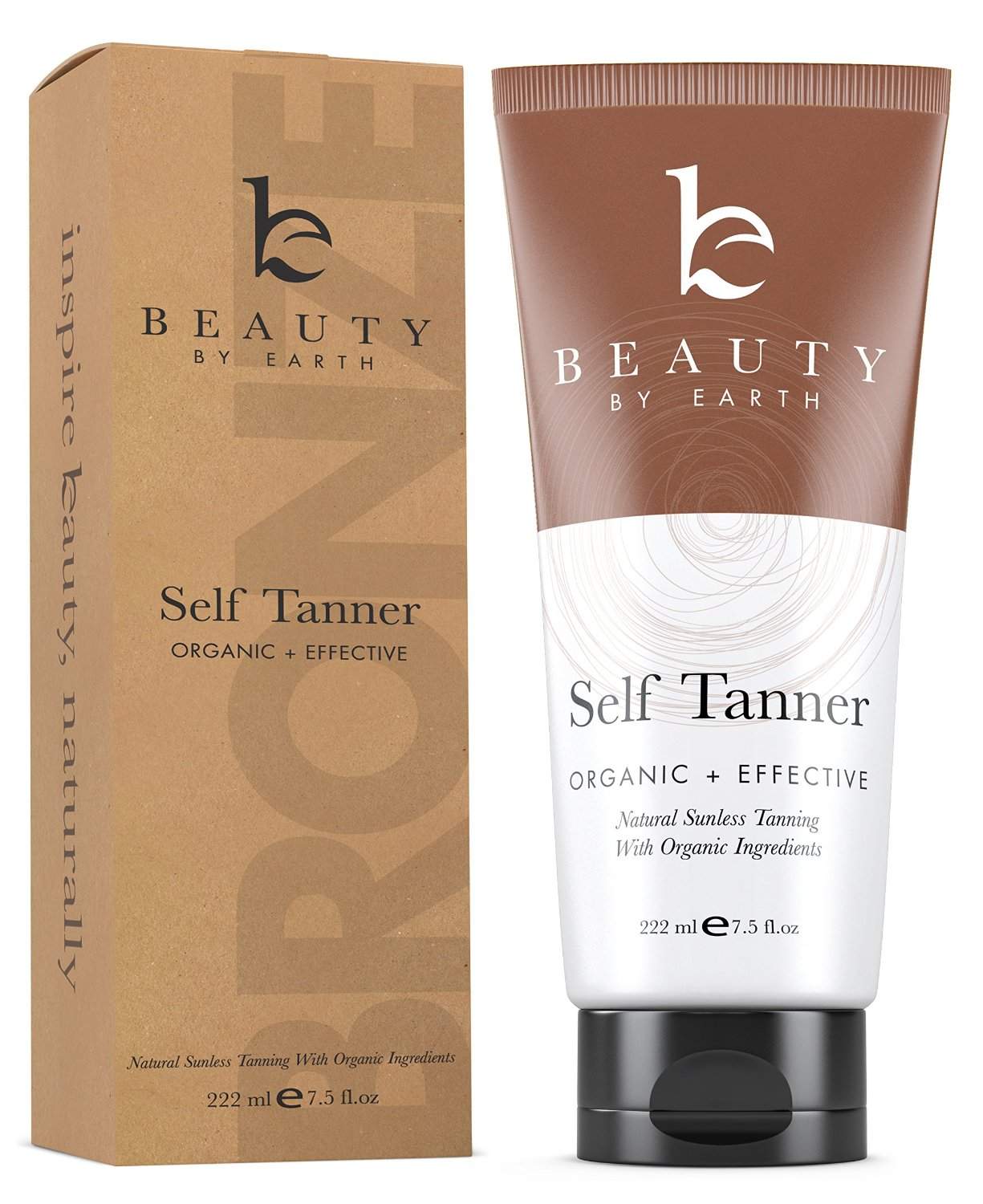 2. Beauty by Earth Self Tanner
This self tanner will work especially well for you if you're seeking a noticeably "kissed by the sun" look. DHA functions as the primary tanner in this product, which is true for most self tanners, and leaves a noticeably darker tint to the skin. The good news is that, thanks to its formulation, you'll find yourself with a bronzed look rather than an orange mess.
This formula contains natural ingredients like jojoba oil and witch hazel to let the product tan your skin while remaining gentle and hydrating. What makes this product unique, though? The true beauty of this self tanner definitely lies in its thick consistency, which helps give a flawless application.
This Beauty by Earth product comes out of the bottle as a thick, white liquid that resembles a lotion. While the light color does initially make it somewhat difficult to tell when you've applied enough product, the texture does a great job of helping blend out streaks. Because the self tanner is so thick, you've got to thoroughly rub it into the skin, which will help make sure you haven't left any light streaks or demarcation lines.
---

3. Famous Dave's Organic & Natural Self Tanner
For those who are already a little darker, this product works best if you're after a medium/dark tan. As an added bonus, this self tanner features more skincare elements than other items on this list, including the ability to protect skin with antioxidants and encourage healthy cellular function.
Famous Dave's self tanner formula has the perfect blend of organic ingredients and components from the latest in self tanning technology. For example, matrixyl 3000 keeps skin ageless and protected while sesame oil and aloe keep the formulation from becoming too artificial and irritating skin.
What can you expect from this product? This formula will give you a dark, transfer-proof tan that lasts for approximately a week before needing a reapplication. Thanks to the high-quality formula, a proper application will give you a tan that's the same shade all over, which many artificial tanners can't say. One thing worth noting, however, is that Famous Dave's bottles do run a little small, so you may find yourself repurchasing this product sooner rather than later.
---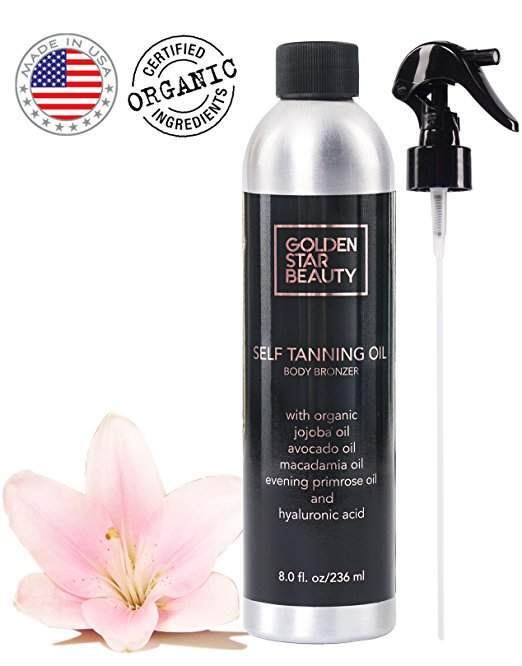 4. Golden Star Beauty Self Tanner
If you struggle with sensitive skin that's frequently irritated by harsh products, then this self tanner was made with you in mind. With no color additives, harsh parabens, animal testing or formaldehyde, this self tanner is made without the irritants that plague artificial self tanners.
Many products on this list have naturally moisturizing ingredients, but none of them are loaded with as many certified organic oils as this self tanner. With jojoba, avocado and primrose oil, you'd be hard-pressed to find a self tanner that's going to leave your skin more moisturized than this one will.
This self tanner comes as a spray but notably is not an aerosol product. Rather than coating a large area in product all at once, it comes out as more of a squirt to offer you control of where you're applying the self tanner. The product also comes out clear which may initially make application a little more difficult as you try to determine when you have enough product, but it's worth it once you get used to this system and don't have to worry about staining your towels or clothes.
---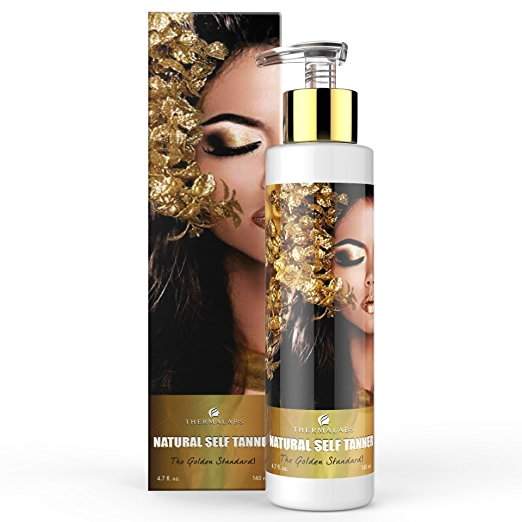 5. Thermalabs Organic Self Tanner
One of the most jarring features of self tanners is often their harsh smell. While everyone wants a gorgeous, radiant tan, even some more natural self tanners can have an overwhelming scent to them. Thankfully, though, Thermalabs specifically created this formula to avoid that nasty side effect and let you enjoy a glowing tan without an off-putting smell.
This special formula gives Thermalabs' self tanner a remarkably even coverage, and the non-comedogenic macadamia seed linden blossom oils allow the self-tanner to be absorbed into the skin so you won't lose your tan after the first shower. If you're looking for a product that you won't have to reapply every 48 hours, then this could easily fill that need.
While most people find themselves with even tans and natural-looking radiance, there is one concern that should be taken into account: rubbing the product into the skin. You may find that you need to be especially thorough when rubbing this product into the skin, since it's easy to over-apply in one area or miss another spot by accident. By being careful with your application, though, you can ensure that you have your desired results with this otherwise excellent product.
---
Choose Your Tan
Each item in the above list will work better for different skin types and styles, so consider each option carefully before deciding on which organic self tanner is right for you. Remember that organic self tanners are often more reliable than artificial products, so any of the above options should be able to provide you with a stunning tan.