It is normal to shed 50 to 100 hairs each day. However, when noticing dramatic thinning, something is amiss. Approximately 80 million men and women suffer hair loss. Hormonal changes may cause women to lose more hair after giving birth. Hair dyes and various hair tying accessories cause damage and potential breakage and loss. Stress contributes to hair loss. The hormone dihydrotestosterone or DHT is produced when enzymes convert testosterone. High levels contribute to hair loss. The most common cause of hair thinning and loss is heredity, which leads to male-pattern baldness, female-pattern baldness or androgenetic alopecia.
Hair Loss Treatments
Dermatologists often recommend consuming a healthy diet and possibly taking vitamin and mineral supplements to reverse the effects of alopecia when the problem is nutritionally related. Correcting underlying medical conditions may be the answer for some. There are many medically approved methods of correcting hair loss, which range from prescription medications to surgical interventions. However, there are various OTC natural scalp treatments. But, finding the right product may pose a challenge.
Quality Scalp Treatment Products
There are a number of factors to consider when deciding between quality scalp treatment products.
Third Party Reviews – Many consumer advocate organizations monitor company reputation and client satisfaction. Before considering purchasing a product, check the manufacturer's reputation and what previous customers have to say.
Risk-Free Guarantees – Companies willing to offer a money back guarantee if customers are not satisfied with a product are willing to back the quality of what they sell.
Independent Testing – Products put through the rigors of testing by third parties are more likely to come with unbiased results. While the process is expensive and not all can afford independent testing, scalp treatments subjected to the scrutiny are more likely to have more accurate details of their effectiveness.
---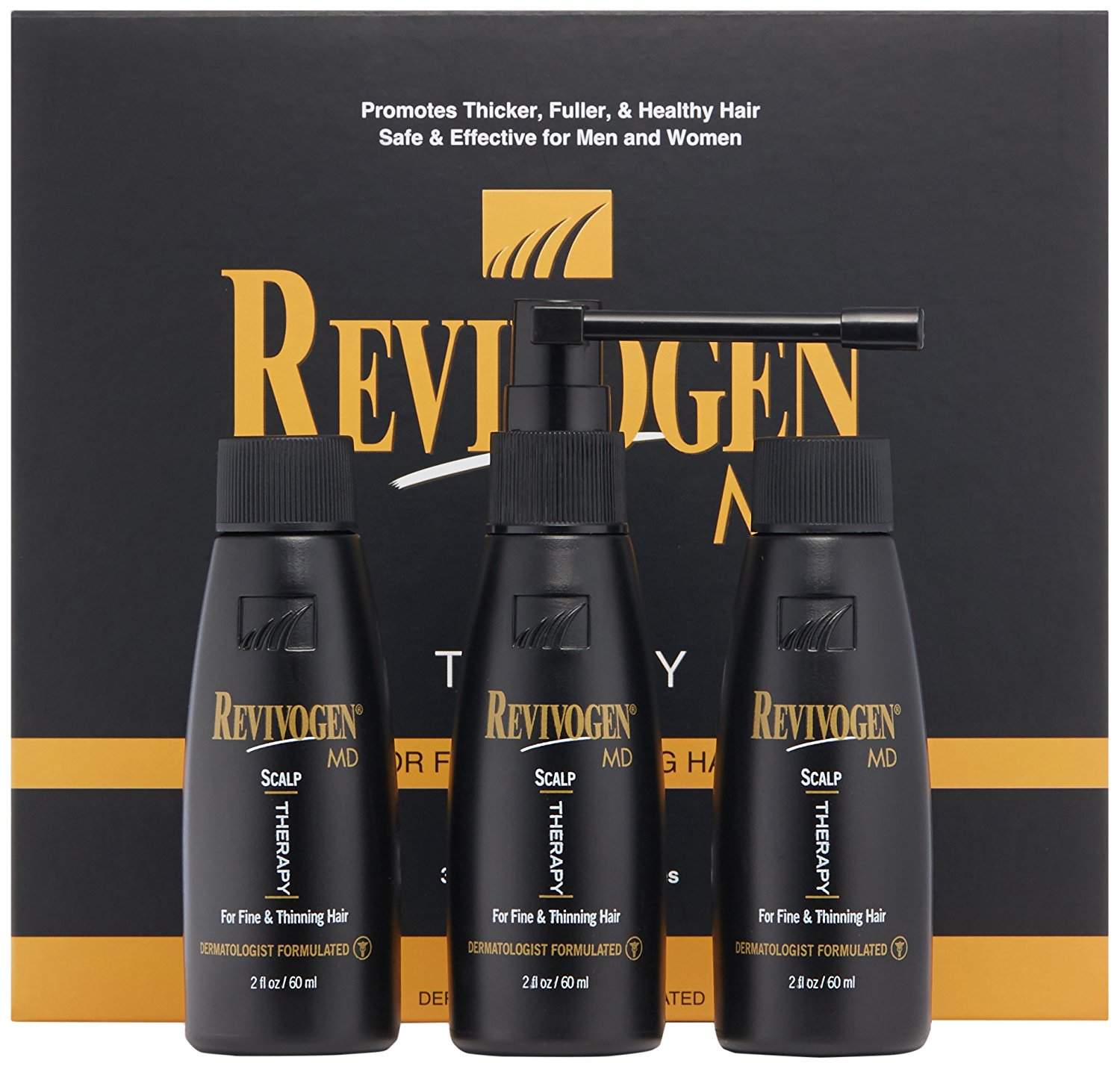 Revivogen MD Scalp Therapy
Revivogen was developed by Dr. Alex Khadavi in an attempt to reverse the signs of his own hair loss problem. The dermatologist created the product using a list of natural ingredients to reduce the risk of side effects while ensuring the formula's effectiveness. The product is one of the few that actually has undergone independent studies, which affirm the treatment works as claimed.
When used topically, the specially combined ingredients act to inhibit DHT. However, the anti-androgen extracts are not absorbed into the blood unlike oral treatments similar to Propecia. In some men, follicles genetically produce DHT receptor sites. DHT binds with the sites and attacks the follicles as if they were foreign bodies. The effects might also include inflammation, itching and excessive oil production. While under attack by the hormone, the follicle gradually decreases in size. In time, hair is no longer produced. Revivogen prevents DHT from attaching to the sites. Saw palmetto is one of the essential ingredients, which naturally blocks DHT from binding with follicles. Other active ingredients include caffeine and grape seed extract.
After one full year of clinical testing, 88 percent of men and women involved in the study experienced enhanced hair density along with a reduction in hair shedding. The Revivogen Scalp Therapy kit comes with three bottles of serum, which were designed to reverse the effects of male and female-pattern baldness. Clients using the product as directed typically begin to see results in three months. However, the manufacturer recommends continuing the treatment for 12 to 18 months for optimal results. After that time, use the product a couple of times weekly to maintain hair health. It may take up to two years before achieving complete remission from alopecia.
Hair loss sufferers need merely apply the serum to the desired areas while ensuring the product makes contact with the scalp. Massage the fluid into the scalp to ensure adequate coverage. Leave Revivogen on the scalp for at least three hours. The serum is safe enough to leave in place overnight if desired. Revivogen offers a 90-day money back guarantee on the serum.
---

Ultrax Labs Hair Surge
The shampoo created by Ultrax Labs offers effective results for men and women. The product is one of the top rated and recommended scalp treatments on the market. Hair Surge is designed to be used at least five times each week intermittently with your favorite shampoo. The product is manufactured in the United States and contains natural ingredients that do not cause adverse effects. The list of ingredients include:
Caffeine – A group of German scientists determined to learn what effect caffeine had on hair growth. They obtained follicles from hundreds of human volunteers. The researchers combined the follicles with coffee in Petri dishes. They soon found that the hair follicles exposed to caffeine grew exponentially faster. Along with encouraging hair growth, the substance additionally triggers the follicle life cycle and extends the life of each hair. The caffeine in Hair Surge is combined with Cocamidopropyl betaine, which is an organic extract made using coconut oil.
Ketoconazole – The antifungal agent is commonly included in anti-dandruff formulas. The scalp often contains many different microscopic organisms. However, hair care products often encourage the development and growth of harmful fungi. Physicians learned in the 1990s, that when fungi grow and reproduce beyond normal levels, the microorganisms affect hair health and growth. Ketoconazole eliminates harmful fungal organisms.
Saw Palmetto – The plant extract blocks the 5-alpha-reductase enzyme, which plays a vital role in the conversion of testosterone to DHT. Modern day researchers have recently learned of the plant's properties. However, interestingly enough, Native Americans have used saw palmetto for hundreds of years to treat baldness and skin problems.
Some may be concerned that the shampoo does not foam or create an abundance of lather compared to traditional shampoos. The lack of suds is contributed to the ketoconazole. Although the shampoo may not produce profuse lather, the product cleanses effectively. Some may feel the shampoo is exorbitantly priced. However, potential customers must weigh the cost of reversing hair loss and the cost of medical interventions.
The product is applied and worked into the wet scalp as with any other shampoo. Allow the product to remain on the hair for two or three minutes and rinse. As ketoconazole can be irritating to the scalp if used daily, the manufacturer recommends limiting use to five times each week. Customers often see visible results after three months of continued use. If not completely satisfied with the results after using Hair Surge for three months, simply return the unused portion to Ultra Labs to redeem your 90-day money back guarantee.
---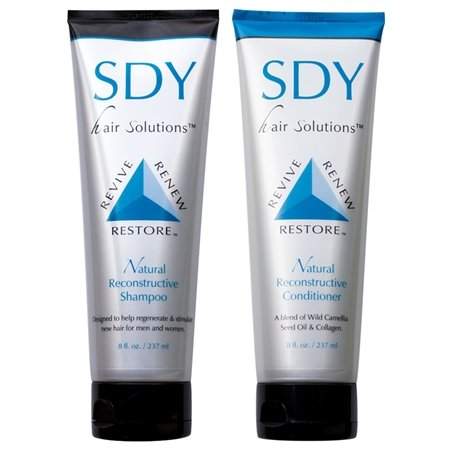 SDY Hair Solutions Natural Reconstructive Set
Medical doctor Samuel Yue has dedicated his career to researching interventions for anti-aging. His years of findings led him to develop the SDY Hair Solutions shampoo and conditioner products. The reconstructive set is designed to stimulate hair growth while minimizing unnecessary hair loss. SDY Hair Solutions are made for men and women and are gentle enough to use daily to cleanse and nourish the scalp. SDY products are also free from formaldehyde, paraben and sulfates. Many are happy to know that the products have not been tested on animal subjects.
Some of the many ingredients found in SDY Hair Solutions products include bamboo, colostrum and cucumber extracts along with saw palmetto. The conditioner includes camellia seed oil, which softens hair without causing greasiness or adding excess weight to follicles. Clients may not experience visible results until continually using the products for three to five months. In clinical trials, up to 75 percent of men and women using Dr. Yue's formula experienced satisfactory results.
Apply approximately a quarter-sized amount of the concentrated shampoo to wet hair. Work the shampoo well into the hair and scalp and allow the product to remain on the hair for five minutes before rinsing. Apply the same amount of conditioner to the hair and allow the product to remain on the hair for up to two minutes before rinsing.
---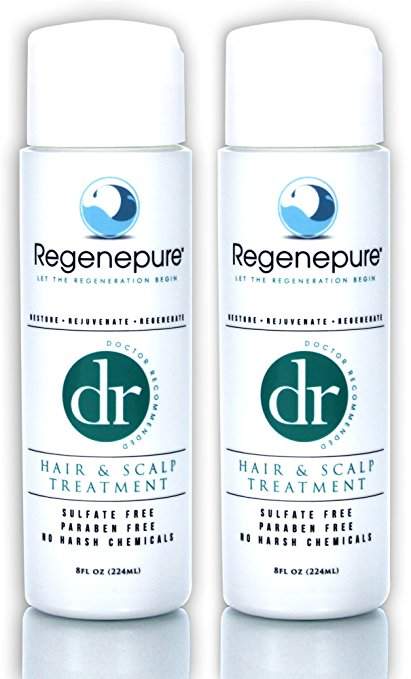 Regenepure Dr Shampoo
Regenepure DR Shampoo was created to gently clean the hair and scalp while encouraging healthy hair growth and maintenance. The product is ideal for men or women having all types of hair, which includes color-treated hair. The product contains a number of scientifically proven ingredients that inhibit and reverse the visible signs of hair loss. These ingredients include:
Lecithin from egg yolks, which nourishes follicles and also extends the life of each hair. Ketoconazole eliminates the overgrowth of natural yeast while alleviating harmful fungal infections, which damage hair follicles. Saw palmetto interferes with DHT development. Emu oil helps thicken scalp skin. Additional nourishing ingredients include caffeine, jojoba oil, linolenic acid, niacin, vitamin B6 and zinc oxide.
Use the shampoo up to five times weekly while alternating with your normal hair care products. Regenepure users typically have visible results in three to five months. Continued use is recommended for 12 to 18 months. The formula may then be used two to three times weekly for maintenance purposes. Regenepure additionally offers a compatible conditioner, a nutritional shampoo, an oral nutritional supplement and a topical minoxidil spray.
The effectiveness of Regenepure products attracted the attention of members of the medical hair care industry including Dr. Glenn Charles and Dr. Hussain Rahal. Both are hair transplantation surgeons who recommend the products for their patients.
---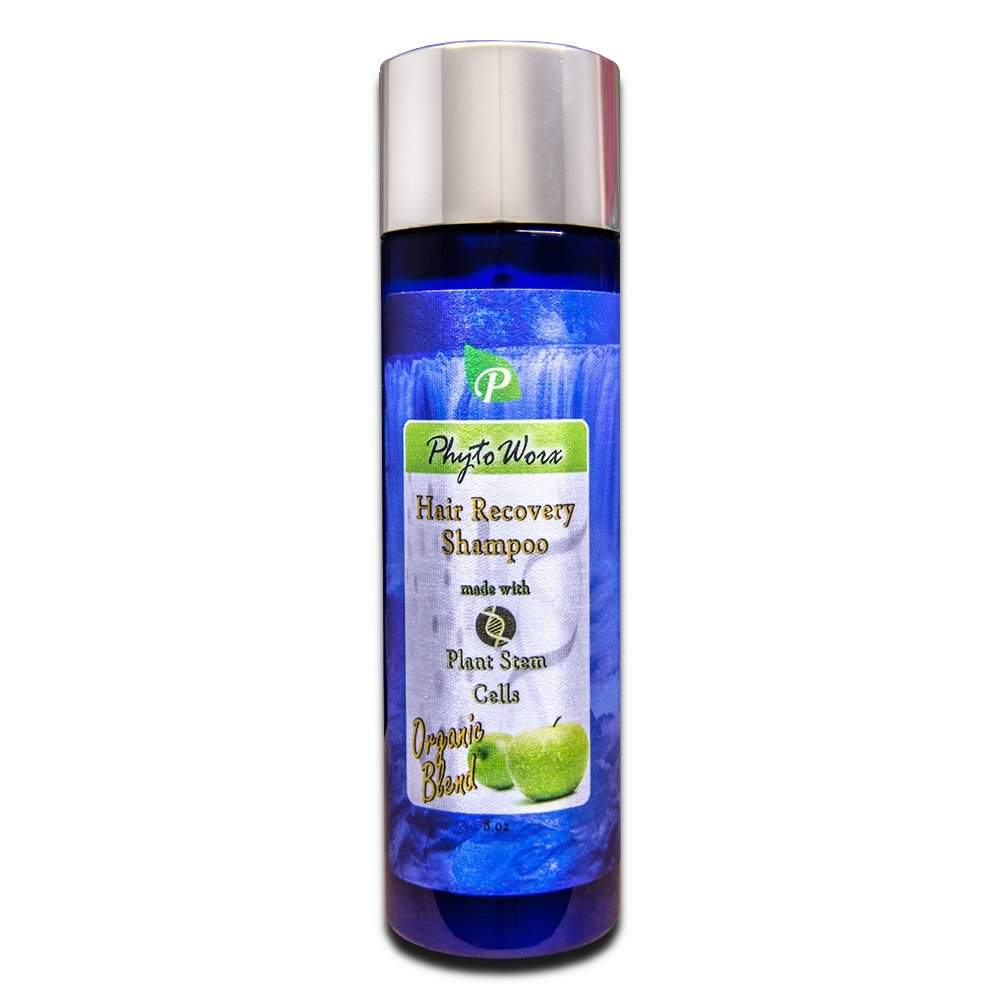 PhytoWorx Organic Hair Loss Shampoo
PhytoWorx Organic shampoo offers a different approach to hair loss due to the formula's exclusive plant-based extracts. The product is paraben and sulfate free and safe to use on all hair types. The slight but not overwhelming aroma dissipates after rinsing the shampoo. The list of organic ingredients include:
Aloe Vera Juice – Aloe vera is thought to protect the scalp while encouraging new hair growth.
Eucalyptus Oil – The oil comes from the dehydrated leaves of the Eucalyptus tree and boasts anti-inflammatory and anti-fungal properties. Eucalyptus eliminates fungi and yeast overgrowth naturally without irritating the scalp.
Licorice Extract – Licorice also has anti-inflammatory and antimicrobial properties.
Malus Domestica – The unusual scientific name refers to the stem cells derived from apple trees, which grow in Switzerland. The stem cells serve as the foundation to regenerate scalp and hair cells.
Peppermint Oil – The herbal oil encourages scalp rejuvenation while protecting existing hair follicles.
Rosemary Oil – The oil helps hair grow thicker and stronger by ensuring the scalp and follicles retain much needed moisture, which helps protect against damage. Rosemary additionally has anti-inflammatory properties along with acting as an antioxidant.
Tea Tree Oil – The oil comes from the Melaleuca alternifolia leaves of trees native to New South Wales, Australia. Along with having antimicrobial properties, tea tree oil reduces inflammation and itchy discomfort. The oil also helps retain moisture.
Additional ingredients include Cucumber extract, green tea extract, ginger root extract, and pomegranate extract and other plant extracts, which all work together to nourish the hair and scalp along with encouraging regrowth. PhytoWorx additionally offers oral supplements designed to promote hair growth.