When the weather gets cold, there are many options that you can turn to to heat your house. But not all options are created the same. You want to be sure that the heating option you choose will warm your house in a way that's comfortably convenient for you.
Sometimes, the central heating available in your home may not be satisfactory. This could be for a number of reasons such as affordability and heating quality. Many people choose to heat their spaces with heaters that are generally meant for one room. This is something you should consider, as well, because it allows more flexibility and control of your heating.One of the most popular and effective home heating options is infrared space heaters. Don't go blindly into your search, however. It's important to uncover more information about infrared space heaters before you begin looking at products.
There are some specific considerations that you want to make while conducting your search for the best infrared space heater for you.
How is an Infrared Space Heater Different From Other Space Heaters?
There are many space heaters on the market. They are an extremely sought after product when the weather starts getting cold. But did you know that there are different types of space heaters and they work in different ways.
The classic space heaters that are easiest to find in any store you walk into, work by heating the air around them. That is they emit hot air, usually with the aid of a built-in fan. This method of heating a room or space does work, but only to a certain extent. It depends largely on the strength of the space heater's fan and the size of the room.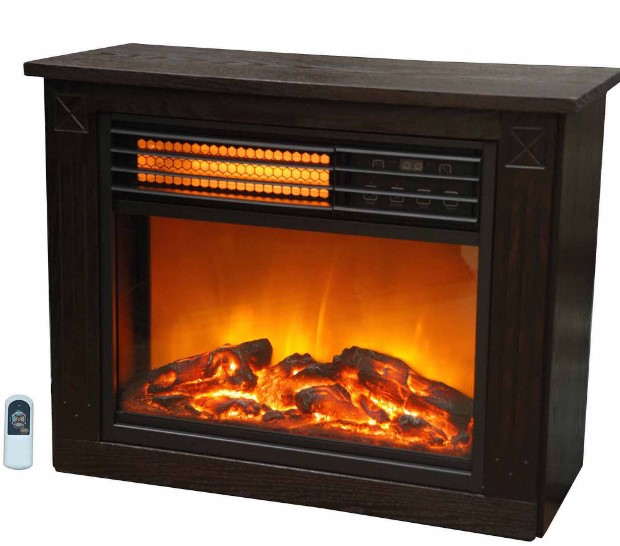 While this is manageable, depending on the size of your space, and the quality of your space heater, it can present limitations, as well. Infrared space heaters work in a different way than their classic counterparts.
Instead of working to heat up the air of the target space, infrared space heaters work by emitting infrared radiation. This radiation heats the objects in the target space, rather than the air. By heating the objects in the space, a more natural feeling of warmth is fostered. You will notice that it is the same sensation that occurs when the sun heats objects. Rather than an oppressive hot air, you will feel blanketed by natural warmth.
Are Infrared Space Heaters Energy Efficient?
Heating your desired space during the colder months can add up to a pretty penny. That is why it can be helpful to look for heating options that provide reasonable energy efficiency as well as warmth. Using an energy efficient heater will help you to keep your electricity bill reasonable.
Infrared space heaters can be an extremely energy efficient heating option for your space. First of all, using an infrared space heater in a designated space or room will eliminate your need to use central heating. This alone will cut your electricity costs.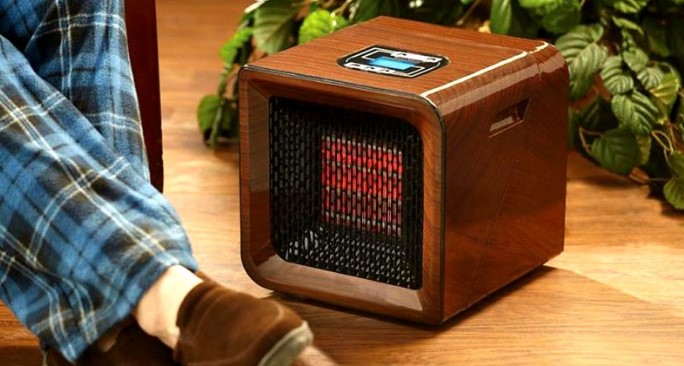 The reality is that there is no magic solution for energy efficiency. It is a combination of quality heaters with smart usage. While using an infrared space heater is generally more efficient than using a central heating system, you have to be willing to pace your usage.
Since infrared space heaters warm spaces in a more natural and embracing way, you will likely be able to experiment with how often during the day you will actually need your heater running. Using your infrared space heater to warm your space when needed, will add to its energy efficiency.
Safety of Infrared Space Heaters
Any time you choose to use a new appliance, it is wise to explore the level of safety provided. It is especially important to delve deeper into the safety of a product like an infrared space heater, which generates strong heat.
You're in luck. There are many measures taken to ensure that infrared space heaters remain safe for use in your desired space, whether it be your home, office, or even a trailer. All you have to do is keep an eye out for specific safety features that are important to you.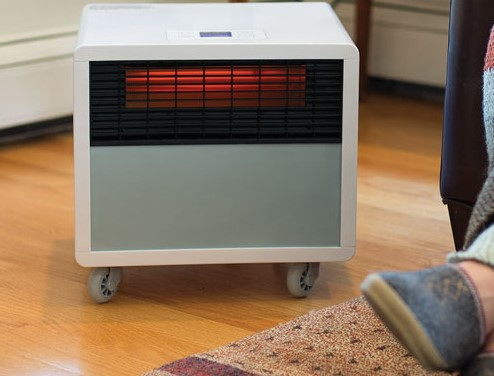 A feature that you will most likely consider valuable is to find an infrared space heater that stays cool to the touch. Whether you have children or pets, or you simply want to protect against any possible accidents involving your infrared space heater, this feature is a must-have. No matter how high you turn your infrared space heater's temperature, it will remain safe to touch the case.
Another thing you want to look for to ensure the optimal level of safety with your infrared space heater, is that it will not tip over or fall down easily. This has to do with the construction of the infrared heater so you want to look for one that is sturdy in its build.
Convenient Use of Your Infrared Space Heater
The main reason that there is a large following behind infrared space heaters is because they can provide extra convenience to your life in various ways. Different features work to provide ease of use when you choose an infrared heater. It is your job to think about which convenience features you want your infrared space heater to have for your lifestyle.
Some of the most common features that create convenient use of infrared space heaters are:
checkWheels for portability and easy transport.
checkBuilt-in thermostat with easy control and clear display
checkAuto shutoff with built-in timer
checkRemote control for adjustability.
While these may not be the first things that come to your mind when thinking about investing in an infrared space heater, these features will make your life easier in the long-run.
Infrared Space Heater Aesthetics
Adding a noticeable appliance to your space can sometimes feel undesirable due to the way it will affect the decorative aesthetics you have created. You don't have to sacrifice design for warmth, however.
Many infrared space heaters are specifically designed to be sleek and attractive. You will see, as you search, that they are crafted to fit in easily in many aesthetic styles. You are sure to discover an infrared space heater that will not disrupt the space you plan to use it in.
Not to mention that infrared space heaters work silently so you won't even remember it's there while you're warming up!
Best Infrared Space Heaters
Learning more about infrared space heaters, how they work, and what you should look for was the first step in your search process. Now it is time for you to start exploring different products to see which ones will work for your lifestyle. Here is a list of the top 10 best infrared space heaters. Take a look and hopefully you'll find one you love!
1. Dr Infrared Heater Portable Space Heater, 1500-Watt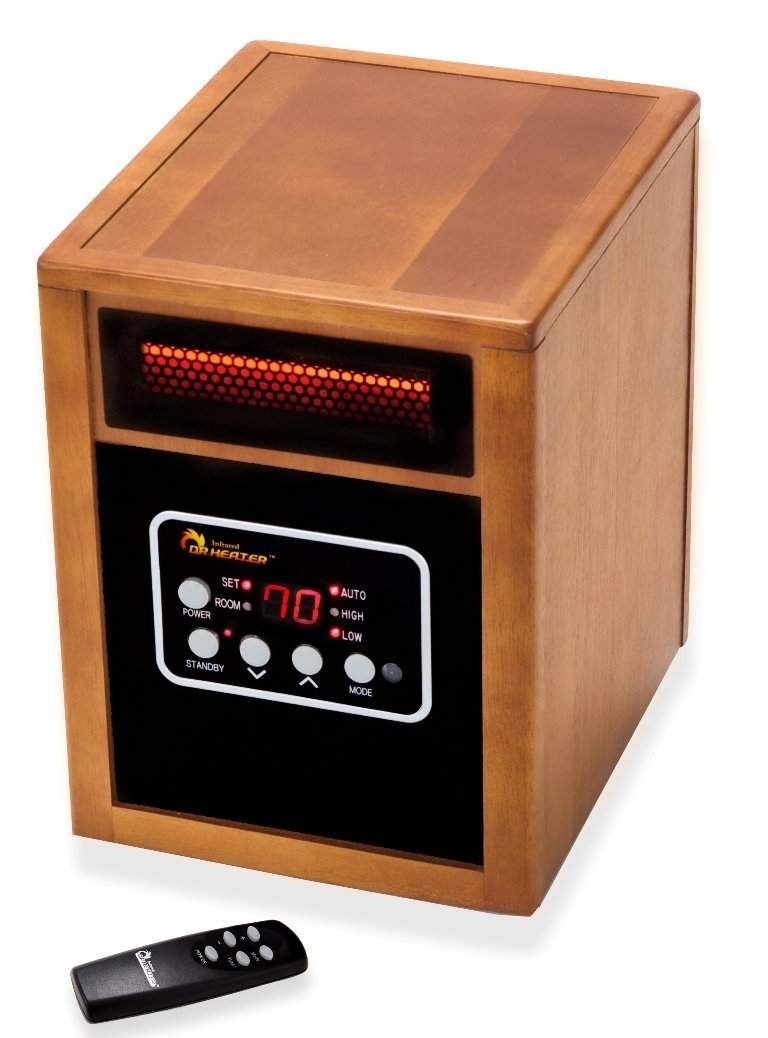 For a flexible, convenient, and overall comfortable heating experience in your chosen space, the Dr Infrared Heater Portable Space Heater 1500-Watt is a choice that provides you with a variety of desirable features.
Most importantly, Dr Infrared meets the optimal level of safety for an infrared heater. No need to worry about children and pets as the case stays cool to the touch no matter how high the temperature goes. Another feature that is unbeatable is its tip-over protection. Just in case of any accident where your infrared heater gets knocked down, it will shut off so as to prevent danger.
Another feature that is both safety and energy-friendly is the overheat protection. When this infrared spaces reaches a certain temperature, it will automatically turn off to avoid potentially dangerous overheating, which also saves you from unnecessary electricity usage!
Convenience is at its highest level with Dr Infrared. There are wheels for easy portability, a remote control for adjustability anywhere in the room, a built-in thermostat with clear display, and a 12-hour timer for automatic shutoff.
The Dr Infrared Heater Portable Space Heater 1500-Watt is an investment you won't regret!
---
2. Lifesmart 6 Element Large Room Infrared Quartz Heater w/Wood Cabinet and Remote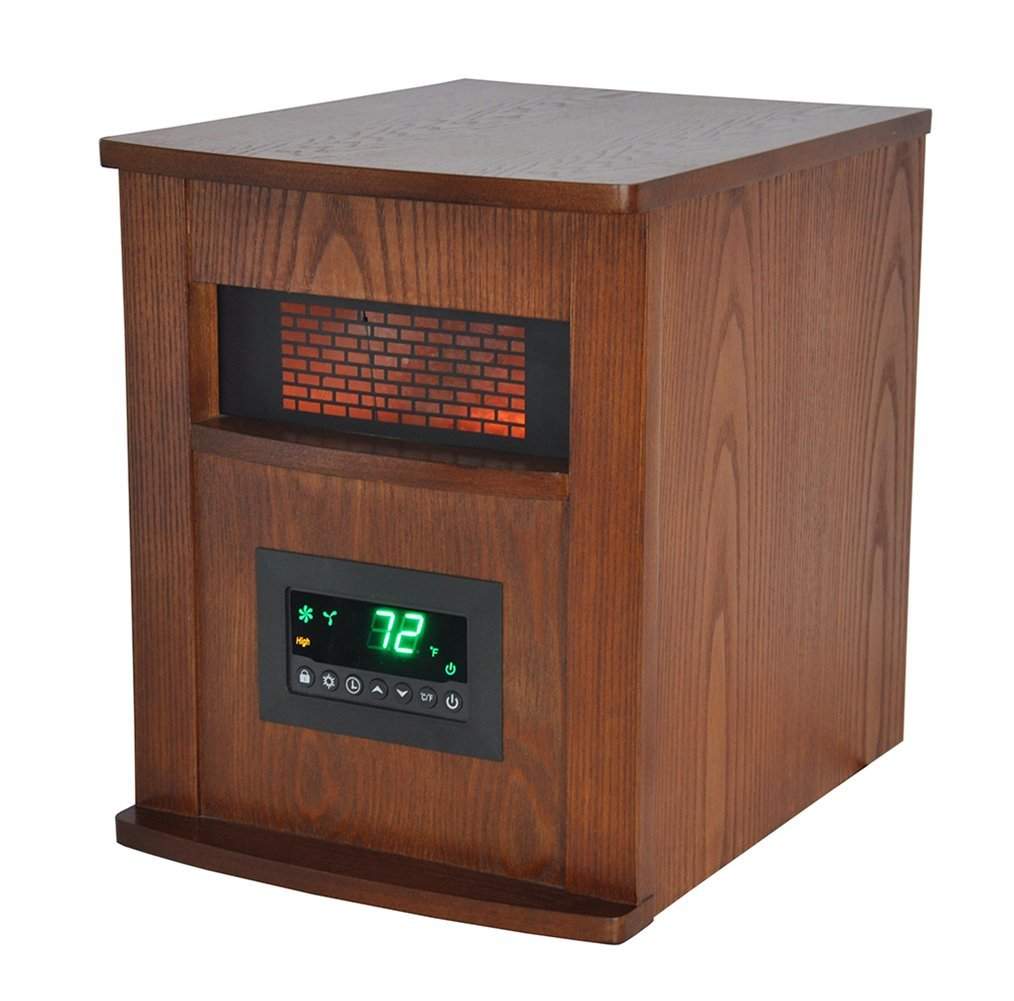 If you're looking to make a reasonable investment that will last you for a long time, the Lifesmart 6 Element Large Room Infrared Quartz Heater is worth considering. Just the fact that it comes with a washable lifetime filter makes this infrared space heater low maintenance and user-friendly.
Remote controls are always handy, but sometimes they are not the simplest to use. Lifesmart's remote is convenient and easy to learn and use with its raised buttons. The space which you choose to heat with your Lifesmart infrared space heater will be warmed quietly and aesthetic value will be added. This infrared heater is an attractive and unimposing piece for your space.
With a 12-hour timer and special ECO mode, you get convenience and energy efficiency all-in-one with Lifesmart. Cool to the touch, any children or pets in your life will be safe even while you warm up your space with the Lifesmart Infrared space heater.
---
3. iLIVING Infrared Portable Space Heater with Dual Heating System, 1500W, Remote Control, Dark Walnut Wooden Cabinet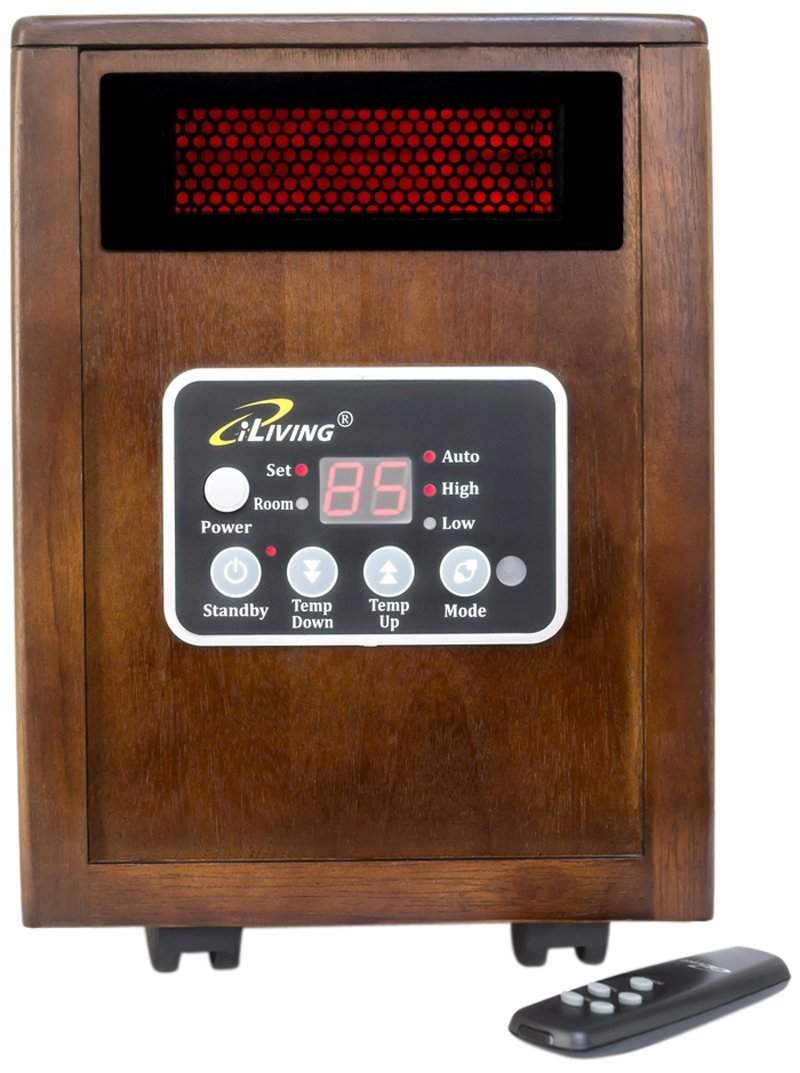 The iLIVING Infrared Portable Space Heater is the choice for you if you're interested in the maximum possible heat production for your space. With its dual heating system, your room will be warmed with infrared heating technology combined with hot air blown with a very quiet fan.
If you plan to use your infrared space heater in various spaces or rooms, then you'll appreciate the wheels on the iLIVING Infrared Portable Space Heater. They will make transport from place to place much quicker and smoother.
Safety is covered with the combination of tip-over and overheat protection and the fact that the case stays cool to the touch. So there will be no problems if there are any children or pets around!
The electronic thermostat display and the handy remote control will give you the convenience you need to relax in your spacing, knowing that you can still adjust your heating easily, if you want. An attractive and easy-to-use infrared space heater, iLIVING is a reliable choice.
---
4. Lifesmart Medium Room Infrared Heater with Remote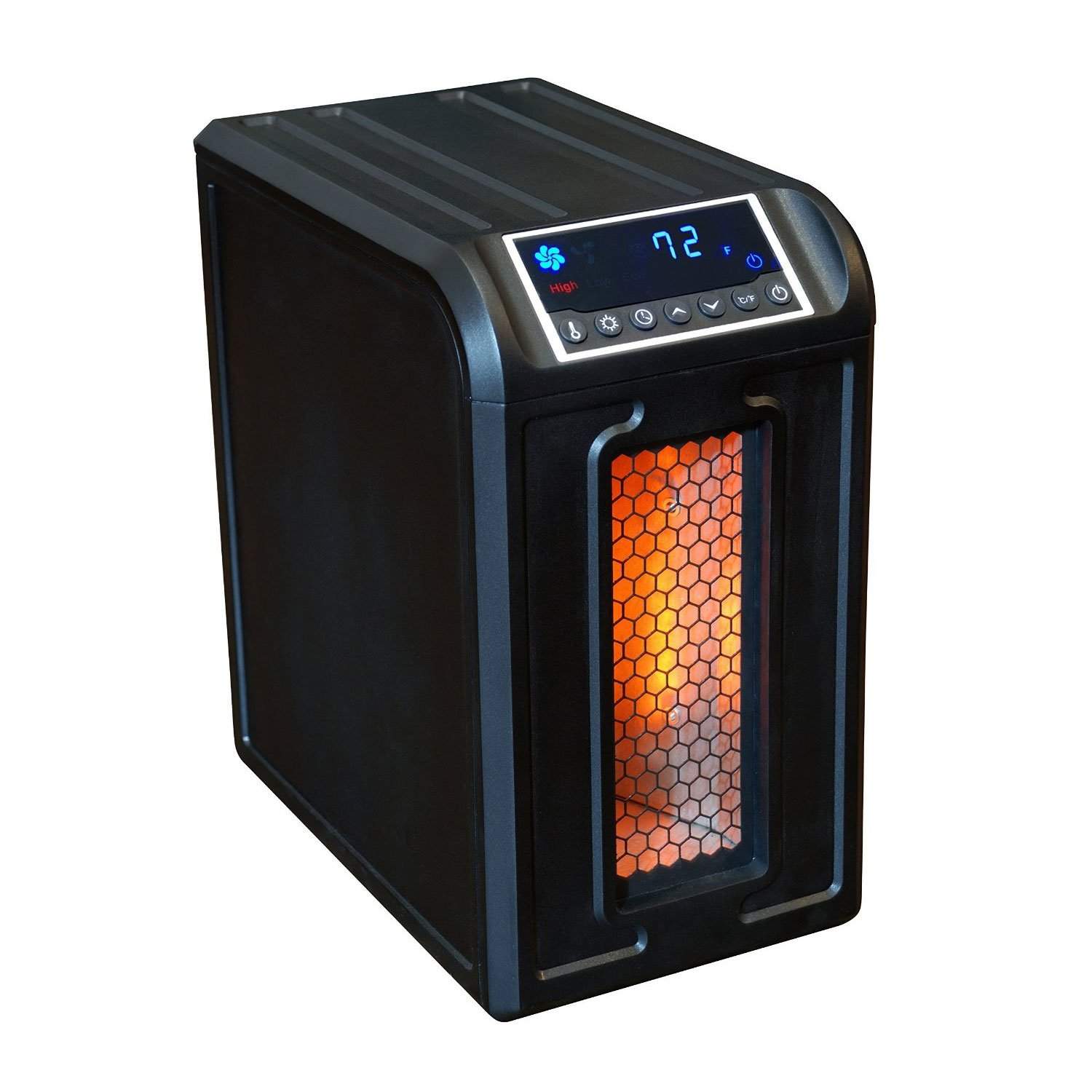 Another great option from Lifesmart, their Medium Room Infrared Heater provides the safety and convenience you're looking for in an infrared space heater. While this infrared heater isn't meant to heat very large spaces, your medium rooms will be kept warm and toasty.
You have adjustable control of your desired temperature with 3 heat settings, including an energy efficient ECO setting. The built-in thermostat works very well and the temperature display is easy to read. Don't worry about standing up to adjust your settings, you can use the remote control provided by Lifesmart.
This compact infrared space heater stays cool to the touch protecting your children and pets. It's equipped with a built-in 12-hour timer to create more control over your heating preferences. This could be the infrared space heater for you if you plan to use it in medium-sized spaces and convenience is important to you.
---
5. Homegear Pro 1500w Large Room Infrared Space / Cabinet Heater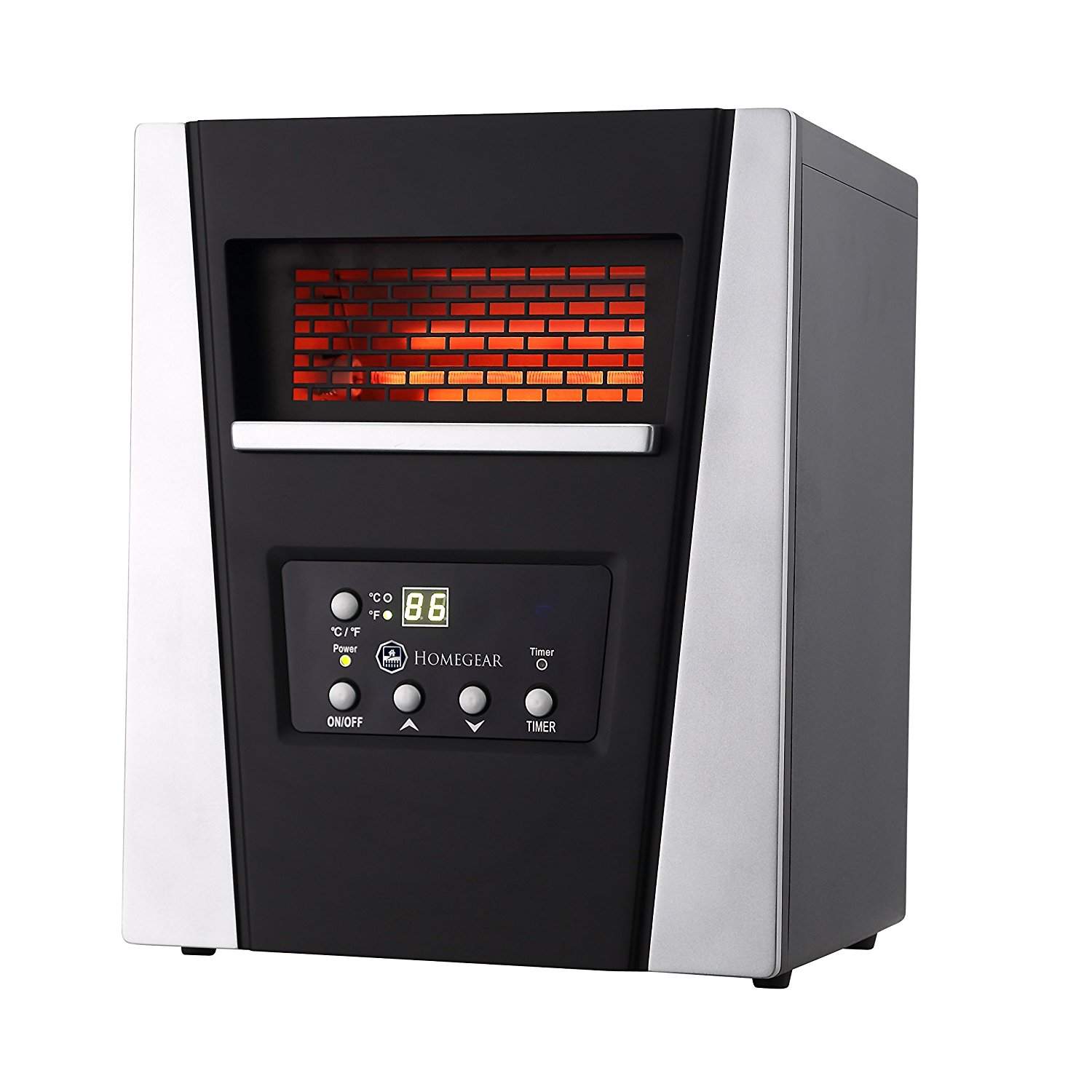 A more reasonably priced option for heating larger spaces is the Homegear Pro Infrared Space/Cabinet Heater. With its dual heating system, combining both mica and quartz tubes, this infrared space heater will warm up your rooms in no time.
The heater's built-in thermostat can be monitored by looking at its sleek and clear LED display. Homegear Pro's infrared space heater is very easy to control and adjust whether you choose to use the buttons on the heater itself or the helpful remote control.
While staying cool to the touch to prevent accidents with children and pets, the Homegear Pro infrared space heater also provides overheat protection in the form of auto shutoff. With simple user interface and various heat settings, the Homegear Pro is a flexible and effective infrared space heater to use in whichever space you want to heat.
---
6. VonHaus 4 Element Infrared Fan Heater with Remote Control, Digital Display & Timer – Wood Electric Portable Indoor Space Heater with Wheels
The wood design of the VonHaus 4 Element Infrared Fan Heater is likely to fit well into any aesthetic you have in the space you want to heat up. This infrared space heater can easily be moved from space to space, as well, as it has wheels for portability.
With a washable lifetime filter, you will not need to worry about the inconvenience and price of managing filter replacements. You and your family are kept safe as the VonHaus infrared space heater stays cool to the touch and employs tip-over protection in the event of an accident.
There may be times when you want to set heat your space in very specific time increments, depending on your activities. You're in luck. The VonHaus infrared space heater comes equipped with a 12-hour timer that can be set in 1-hour increments, providing you with a greater deal of flexibility in your heating.
---
7. Duraflame 9HM9126-O142 Portable Electric Infrared Quartz Heater, Oak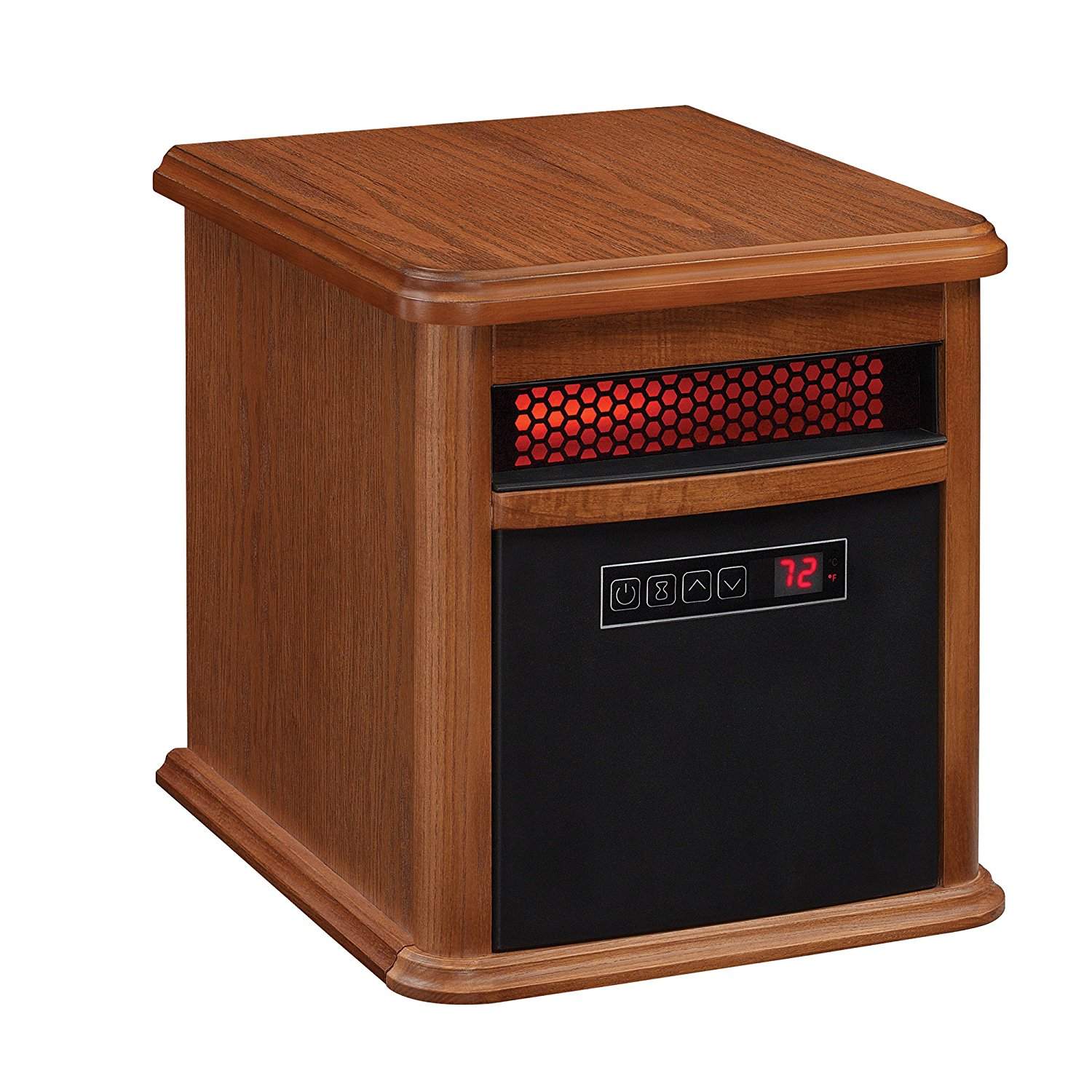 Trying to heat a rather large space well? Try the Duraflame Portable Electric Infrared Quartz Heater. It's powerful enough to heat spaces of up to 1,000 square feet! And just think, the infrared technology will keep even your large spaces from drying up, as the heating process promotes humidity.
Duraflame's infrared space heater has a very simple user interface which includes a digital display of the built-in thermostat's current temperature. This simple design adds to the sleekness of the heater which won't cramp your aesthetic.
This infrared space heater is safe for use anywhere because it remains cool to the touch and employs overheat protection when necessary. The accompanying remote control is convenient, easy to use, and even displays the temperature!
While Duraflame's infrared space heater is slightly pricier than some other brands, you will receive dependable quality, convenience, and comfort for your heating needs.
---
8. Lifezone 20 Tower Infrared Space Heater"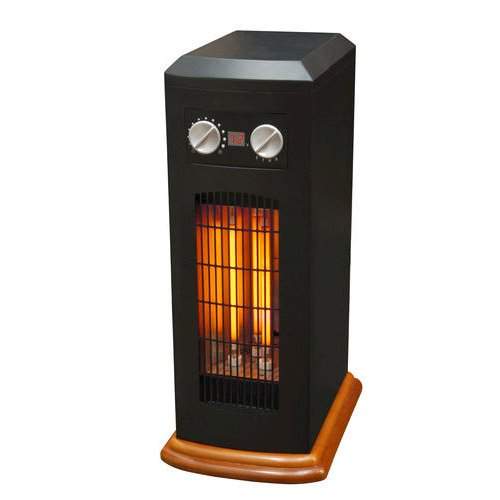 Lifezone's Tower Infrared Space Heater is a compact and aesthetically pleasing heater that will be best suited for small or medium-sized spaces. If you prefer old-fashioned methods to modern, digital ones, then Lifezone's infrared space heater will be a good pick for you. Its two-setting thermostat is manually adjustable from the front of the heater.
To save you money over time, the Lifezone Tower Infrared Space Heater comes with a washable filter. While there are no wheels on this heater, its design is quite lightweight and you will be able to move transport it to different spaces, if you'd like.
Your safety is covered with tip-over and overheat protection in addition to a cool outer shell no matter what temperature the heater is set to. A quiet, compact infrared heater, Lifezone's product is a reasonably priced choice for heating your smaller spaces.
---
9. Heat Storm Preston Classic Indoor Portable Infrared Space Heater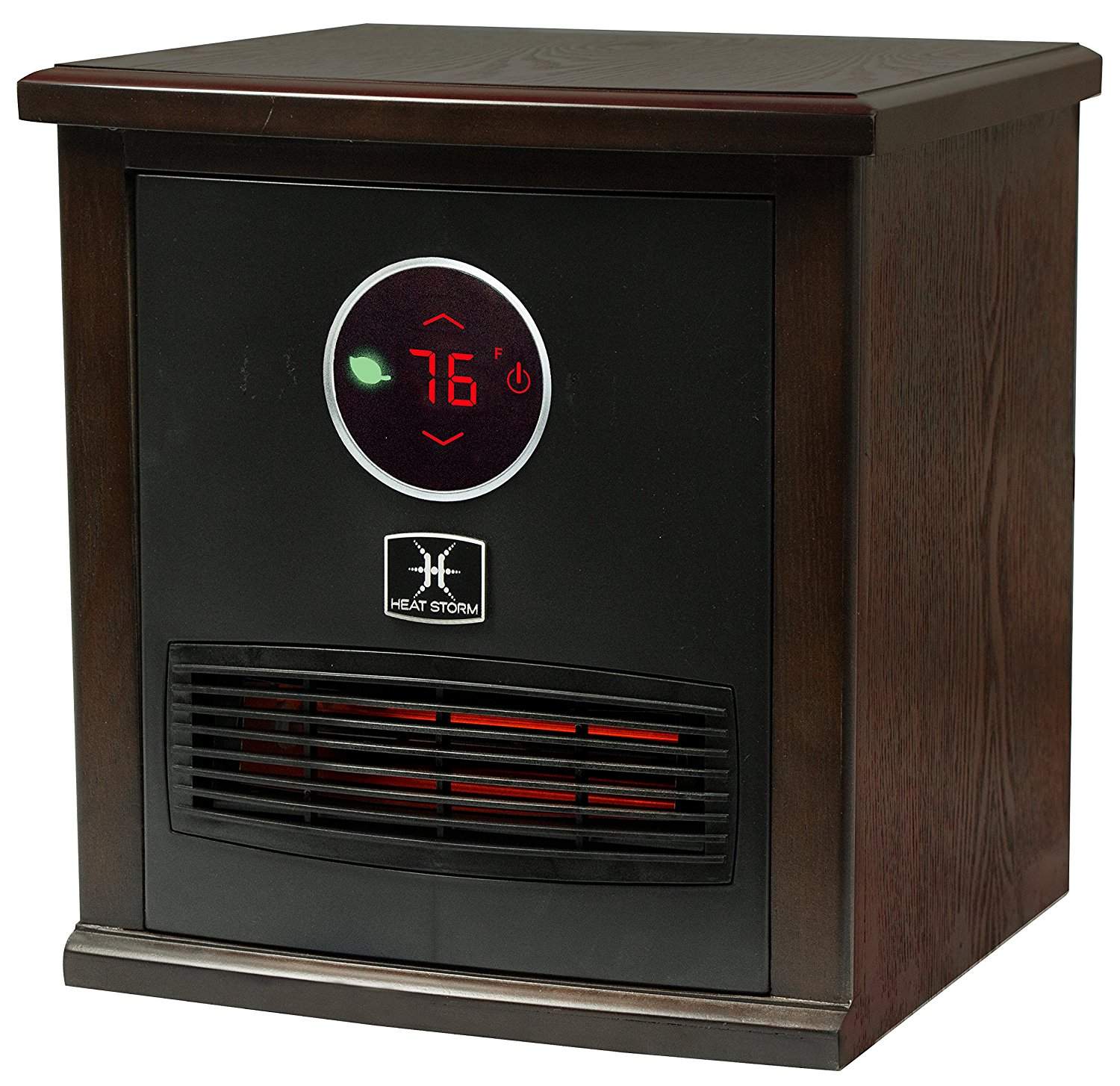 Another powerful heater that can warm spaces up to 1,000 square feet, the Heat Storm Infrared Space Heater is an option for you if you're looking to make a bigger investment for quality. Very compact in size, this infrared space heater will easily fit into any space you choose without disrupting the aesthetics.
Its digital display allow you to read the built-in thermostat, at all times. Your ultimate convenience is covered with a useful remote control that allows you to adjust temperature settings from anywhere in your target space.
Your space will be warmed quickly, but you won't need to worry about safety hazard, as this infrared heater will always stay cool to the touch. And any accidents causing it to fall over will be covered with the unit's tip-over protection.
---
10. Della Portable Electric Infrared Quart Heater 1500watt with Remote Control and Wheels, 1500-Watt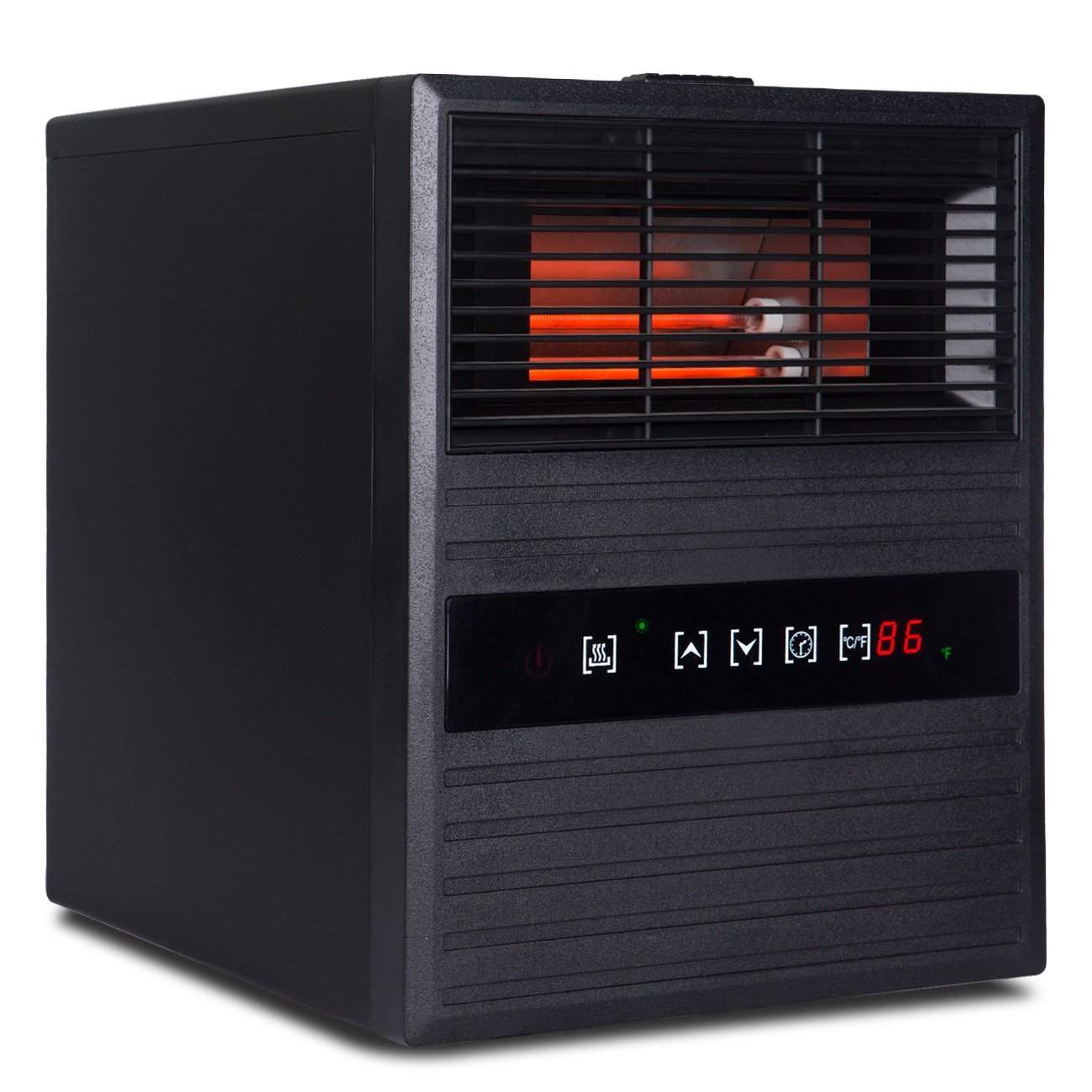 If you prefer an industrial aesthetic, then you will appreciate the black sleek look of the Della Infrared Quartz Heater. With wheels for portability and a simple display, user interface and convenience are prime with this infrared space heater.
Using your heater overnight while you sleep will not be an issue that causes you to worry because you know that you're being protected with tip-over and overheat protection. And of course, as is basically a necessity, the unit remains cool to the touch so no need to fret about the presence of children or pets.
Situate the Della Portable Infrared Space Heater in whichever room you'd like, set the built-in timer however you wish, and take the remote control with you while you relax just in case you want to make any adjustments. This reasonably priced, yet powerful infrared space heater may be worth trying.
---
Final Verdict
The decision of how to heat your space can feel like a difficult one sometimes. But now that you've learned more about the benefits and ease of using an infrared space heater, all you need to do is find the right one for you.
Other articles on Infrared Light:
Best Infrared Massagers: Reviews & Buying Guide
Best Infrared Knee Heating Pads: Reviews & Buying Guide
Best Infrared Heating Pads Reviews: Comparison & Buying Guide