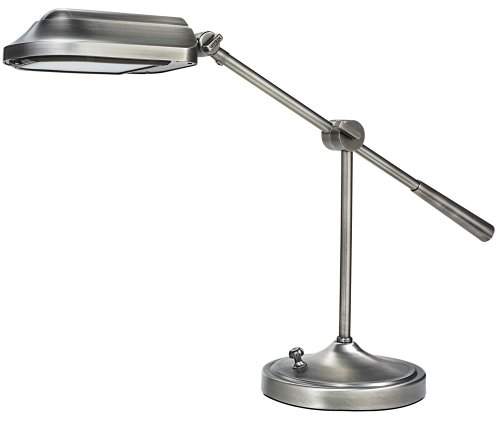 Finding a light source that is functional and nice to look, but also kind on the eyes, can be difficult, but that it what the Verilux Heritage Natural Spectrum Deluxe Desk Lamp is meant to offer.
There are a number of interesting qualities to this metal, "heirloom quality" lamp that set it apart from standard lights such as the use of a 27W natural spectrum bulb with a 10,000 hour life.
The ability to eliminate those annoying buzzes and flickers and the inclusion of a OptixGlare Control Filter that apparently "virtually eliminates reflective glare that causes eyestrain and headaches". Does this specification lead to a beneficial and enjoyable experience?
Do buyers enjoy using this Verilux Natural Spectrum lamp as a light source and what benefits does it offer?
Starting with the positive side of this lamp, many buyers feel that is good looking reading lamp with a number of useful qualities. There are numerous reviews talking about how "pleasant" this reading light is because it has a nice tone and even though it does not illuminate a wide area past the desk.
It is intense enough for buyers to successfully enjoy some detailed, close up work like needlework or studying. When it comes to the other aesthetic qualities of this product, users have praised the colour choices of brass or nickel, many call it "elegant" because of its shape and even though it is a little larger than some may expect, it still fits nicely on most desks.
Other well-received features include the helpful position of the on switch, the choice of 75,100 and 150 Watt intensity settings, the heavy, 11.8 pound weight – which means it cannot be knocked over very easily – and the way that the light can be tilted.
What disadvantages have been experienced with this Verilux Natural Spectrum Desk Lamp?
Despite the great comments about this product's potential as a reading light, some buyers feel the need to bring down their final rating because of questions the lamp's overall function and quality in relation to its three figure price tag. 
This Verilux SAD lamp is designed to emit a daylight spectrum light with health benefits and while there have been comments that it stops users' eyes getting so tired at the end of the day – suggesting that the OptixGlare control filter does work.
Comments about the lamp being a potential tool for SAD (Seasonal Affective Disorder) seem to lack any evidence. Additionally, some feel the product should be better constructed if it has such a high price. Examples of these criticisms include loose connectors, the brass finish being badly applied in some cases and the flimsy plastic of the light diffuser.
Summary: is this Verilux Desk Lamp a worthwhile purchase?
Essentially, when it comes to recommending this product, it all comes down to exactly what you want to achieve from it and how big an issue the price tag is. If you expect more from a lamp of this price and demand a flawless, high quality product with the potential to help seasonal disorders then it may be best to look elsewhere.
If, however, you are happy to pay extra for a high quality, natural light source with a soft enough tone to ease your eye strain or an intense, reliable desk lamp that can help with close up work, this Verilux lamp could be the right choice.