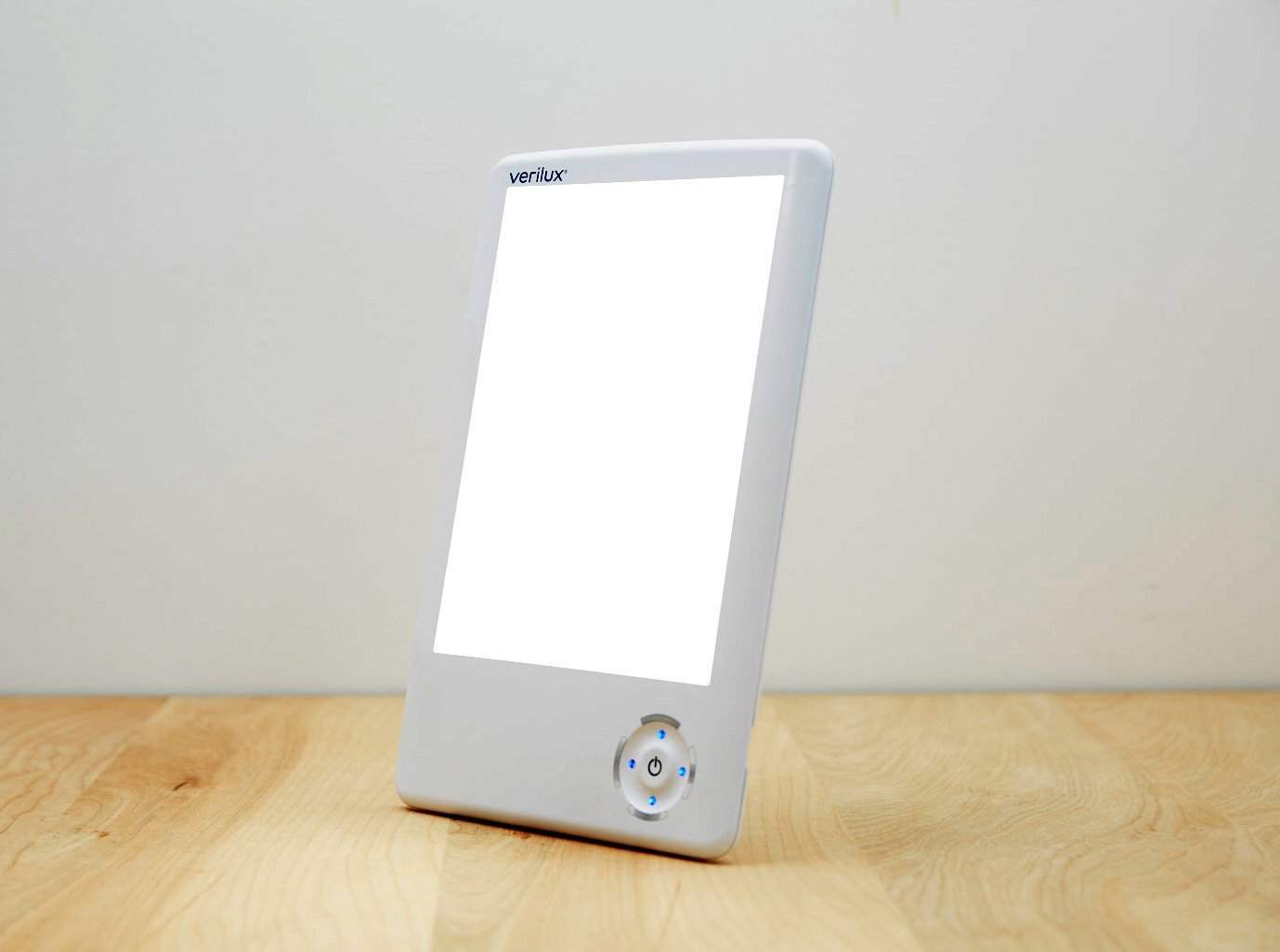 The Verilux HappyLight Touch 10,000 Lux LED Bright White Light Therapy Tablet is a great looking SAD light therapy device with a UV-free full spectrum light at the recommended intensity of 10,00 lux. It should be noted straight away that this is an updated model on a previous light.
This means a better design and more options to help users achieve the session that they are after. This sounds great for all those struggling with SAD and in need of better relief, but does it work?
Pros:
great tablet-style design
impressive customisation
effective light source
Cons:
a little bit of a learning curve
some negative side-effects
The most notable new element to this Verilux happy light therapy lamp is the updated design. This is built to resemble a tablet, which means a slim design and broad light source from the "screen". There is also a folding stand at the back to set the device up in either portrait or landscape mode.
This is highly appealing because it means that users can place it on their desks, alongside other devices, and it won't stand out or take up much room. It increases the portability and placement options to a degree, but there is the slight downside thereof the cord.
The other improvement is the use of one touch adjustments on the intensity of the light and the customisable timer. Users can create a session to a length of their choosing between 10 and 60 minutes. this is great for getting used to the light, or increasing the session on days when sufferers feel particularly bad.
Generally speaking, most users feel that this light source is beneficial and helps them with their morning routines and energy levels.
The problem with this Verilux HappyLight Touch is that it can get a little too much for some people.
There are always risks with these sorts of devices where users exhibit symptoms and side effects. The intensity and spectrum of the light doesn't always suit everyone, and different people react in different ways. Therefore, we shouldn't be too discouraged by reports from those that experience headaches using this device.
It is a risk, but most users seem to get along fine. The more wide-spread criticism is in the ease of use. The controls and customisation here are great, but it takes some users a little time to get used to how it all works. Eventually, it makes sense, but it can be frustrating at first, especially to those already dealing with mood issues first thing in the morning.
Summary
There are warnings to attach to this device, just as with any other SAD lamp, but there are few problems in its operation or effect. It seems that the learning curve on this device is definitely worth while for the results seen and the clever design of this therapy light.
It all comes down to that customizable tablet design. The Verilux happy light really can be used anywhere, by anyone, for an effective, personalized session.