Some people find a loud buzzing alarm to be too difficult to wake up with. If you want an alternative alarm that will help you slowly adjust to being awake, you should try a wake-up light or dawn/sunrise simulator. You get a more pleasant beginning to your day with a wake-up light that gradually brightens thirty minutes before your alarm goes off allowing you to wake up comfortably and naturally. Here are a few tips on what to look for in a wake-up light and a few reviews to help you start shopping.
Why Use a Wake-up Light
If you are one of the millions of people that need to wake up in the dark, the wake-up light gives you a more natural way to wake up by simulating a sunrise. Research has shown that people that use a wake-up light wake up more pleasantly and have an easier time getting out of bed. You can also get lights that combine dawn simulation with lamps that treat SAD.
What to Look for in a Wake-Up Light
When looking for the best wake-up light for your needs, there are a few features to consider:
Make sure that you can turn the sound completely off. If you are sensitive to sound, you may not want any type of sound ringing when you are waking up. Wake-up lights start with the light turning on and then increasing in intensity until it is completely bright and then a beep will start. At this point, you should be awake before the beep starts, but there are some mode that allows you to either to the beep off or adjust the volume so you cannot hear it.
Since the light is mimicking a sunrise, you would expect the light color to be a warm yellow color that adjusts to soft reds, warm oranges, and then a bright yellow at the end. Make sure these are colors that will help you wake up and are not so annoying that you end up not using the light.
You also want to be able to dim the time display which can be distracting when you want to fall asleep, especially if you are sensitive to light.
Having the option to use two different alarm settings is a great feature. You should look for a light that has an alarm for during the week and one for weekends. Cheaper wake-lights do not have this feature, so check for it on the model you are considering.
Make sure you like the sound choices of the wake-light you are choosing as you don't want to stop using it because of an annoying sound. Some lights will use the radio, a beeping sound, or a variety of other sounds including birds, waves, and thunderstorms.
The unit of illuminance is the lux value of the light. This tells you what the level of brightness is which should fall between 100 and 300 lux for normal light use and around 10,000 lux for dawn simulation.
In case the lights go out, it is always good to make sure your wake-light has a battery backup so you will still wake up in time for work the next morning. Also, if you use the light for SAD light therapy, you may move it from room to room, so it is more efficient to have a battery powered device than one that just uses a wall outlet.
If you have limited space by your bed, make sure you are getting a light that fits that space as some of these models can be pretty large.
If you prefer a radio, make sure it has one. If you will never use the radio, it's probably a useless feature to have so you may not want to spend extra for a model that features one.
Some wake-lights also have a reading light features and a sunset simulation to help you fall asleep.
If you are using SAD light therapy, some models will offer light therapy, but keep in mind it is not the full spectrum SAD light therapy.
Philips HF3520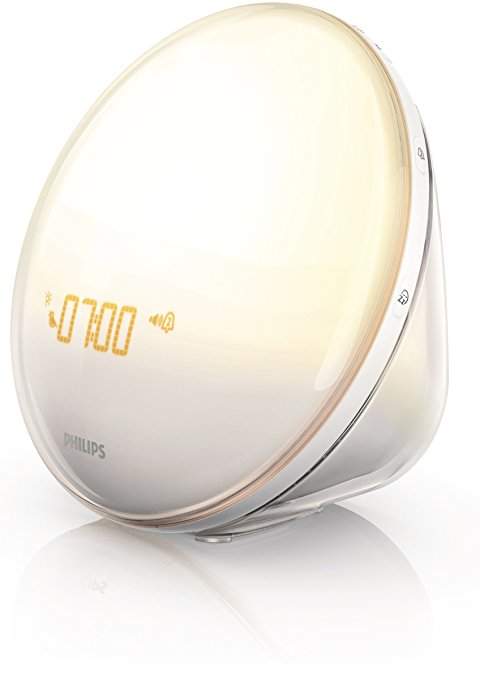 Providing a natural and more pleasant way to start your day, the Philips Wake-Up Light features a simulation of the sunrise and includes twenty brightness settings. While the light gradually increases in intensity from twenty to forty minutes before your alarm sounds, you are also offered the option to wake to one of five different sounds that are nature-inspired. Clinical research has proven that you wake with increased energy and an improved mood when you use the UV-free Wake-Up Light.
The Wake-light increases in brightness during the thirty minutes before your alarm goes off rising from a dim yellow to a room filled with bright yellow light. With this process, your body wakes up naturally and gets you ready for your day ahead. It also allows you to personalize your light setting to your own body's sensitivity to light. With ten light intensities to choose from, you can customize your waking experience and even set up the light to reach 200 lux.
You can also use the Wake-light as a bedside lamp that has a dimming and sunset-simulating light that helps you to fall asleep. The display will also adjust automatically in a dark room to a brightness level this is soft and pleasing. The Smart Snooze can also be set to give you a few more minutes of sleep. With the non-slip rubber feet, you also don't have to worry about the Phillips Wake-light from falling off your nightstand.
---
Amir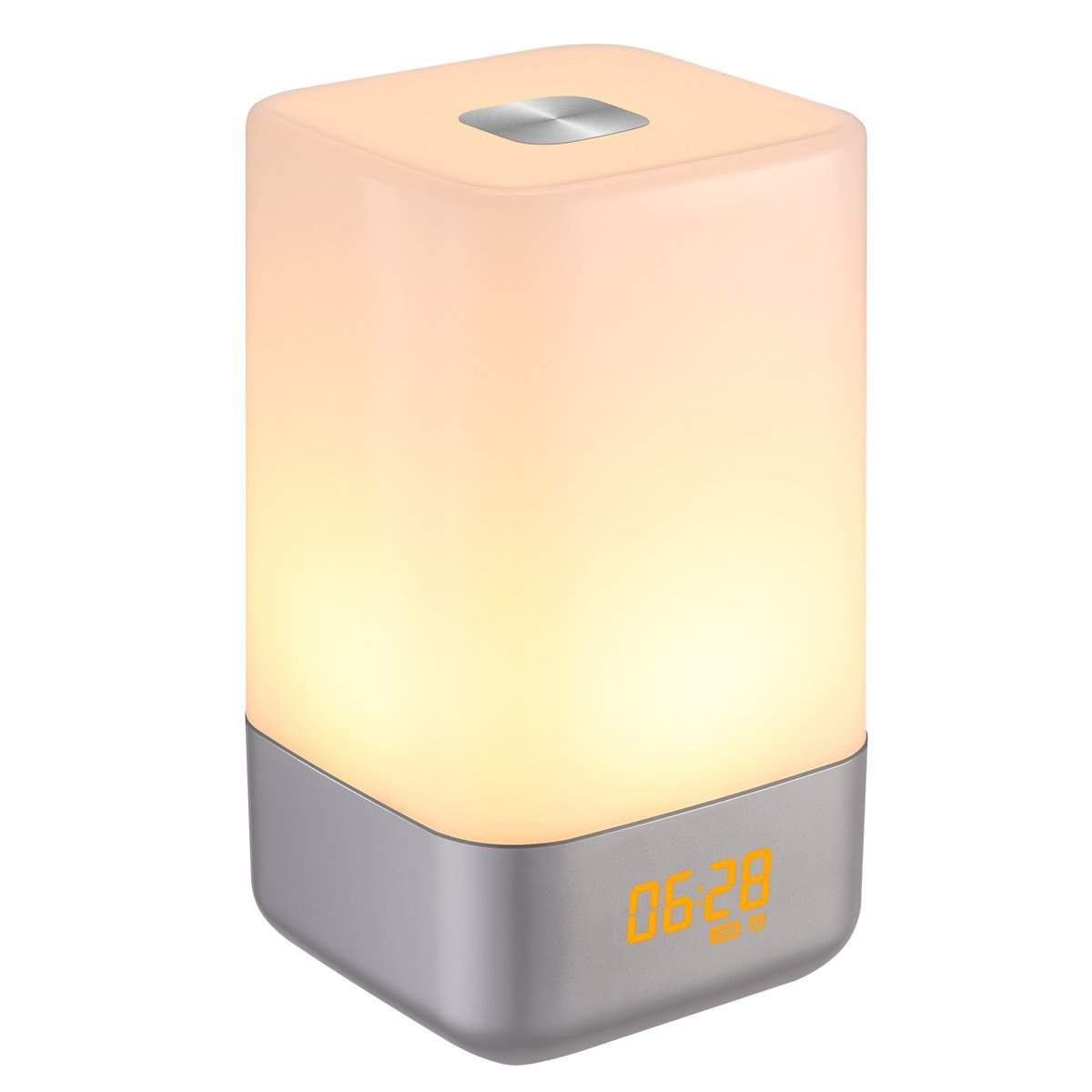 With the Amir wake up light, you can enjoy a sunrise simulation thirty minutes before your alarm rings. The light turns on automatically and brightens through twenty levels waking you up comfortably and naturally. Five natural sounds that include waves, cuckoo singing, thrust singing, thunderstorm, and kingfisher singing gradually wake you up by increasing gentle sounds putting you in a good mood for the rest of the day.
Three brightness modes are versatile and include a night light, normal light, and reading light allow you to easily change settings and colors with just one gentle tap. With256 RGB colors, you can change color modes automatically or stay fixed on a color that you prefer for your current atmosphere. You can also set your alarm once and it will repeat at the same time every day.
The Amir also features a rechargeable emergency light with a 3600 mAh built-in rechargeable lithium battery. You can also connect it with a USB adapter using the enclosed micro USB cable or with a USB port to your TV or computer.
---
Mosche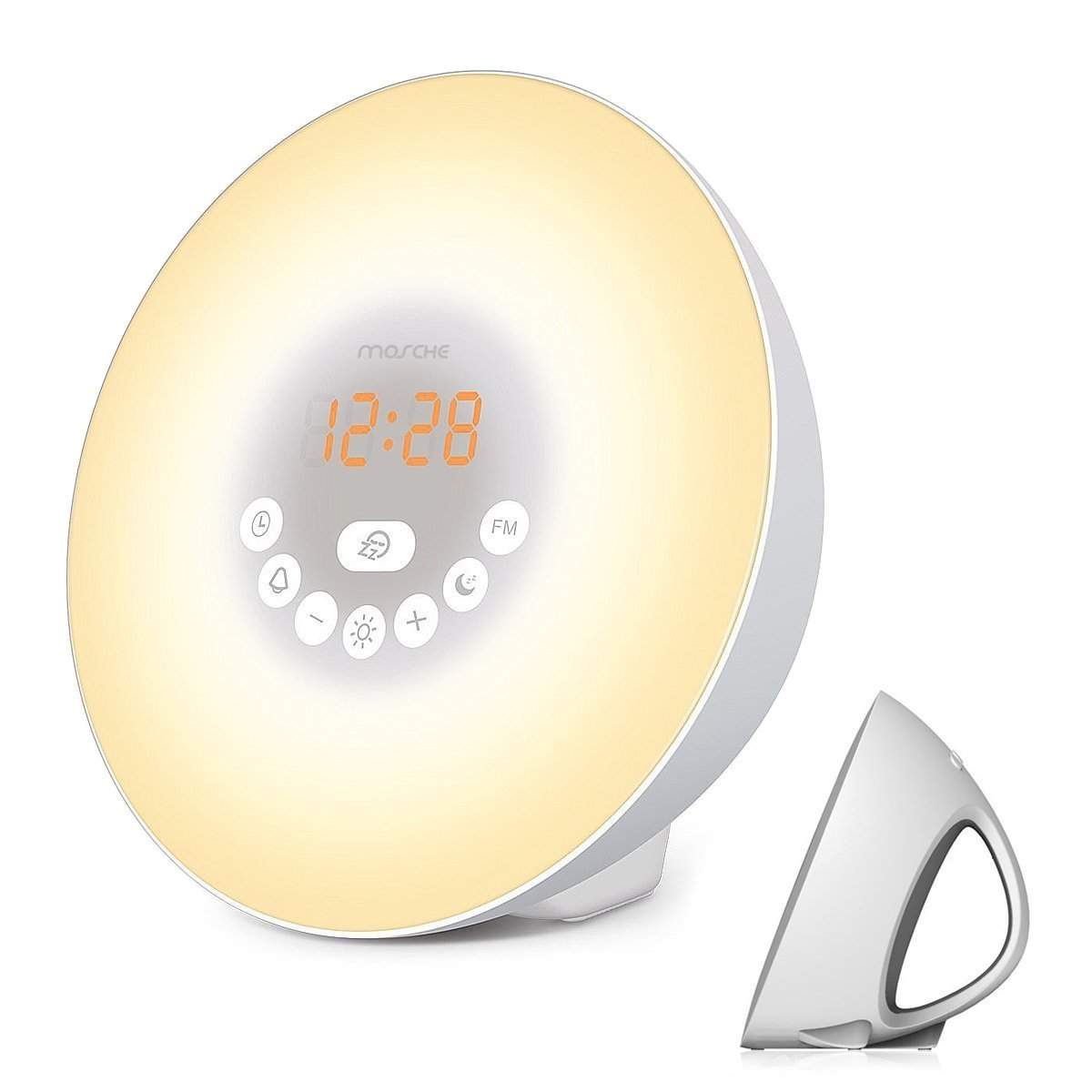 Creating better mornings each day, the Mosche Wake-Up Light simulates what it feels like to have the sun wake you up in the morning. With a sunrise-simulating light, you will start to see the light increase in intensity thirty minutes before your designated wake-up time. It also includes six natural alarms as well as an FM radio station and seven different light colors to choose from.
In the evening, the wake-up light features a relaxing sunset-simulating light that helps you fall asleep when your bedroom is totally dark. The wake-up light starts at 1% brightness to 100% by your set time to gently bring you out of a deep sleep to start your day refreshed. The six natural sounds include waves, birds, music, forest, and beeping as well as FM radio.
You can also choose from your favorite color and mood light including orange, red, green, white, purple, blue, and indigo. The ten adjustable brightness levels also include a bedside lamp mode to help and protect your eyes. You can easily adjust the brightness display and the rest of the features with touch control.
The Mosche also features a 12/24 hour format LED display and snooze function. You can easily charge your wake-light with either a wall jack, 3x AAA batteries, or a USB cord with your computer.
---
For those that are not a morning person, waking up is a very unpleasant experience. If you hate loud alarm clocks jolting you awake in the morning, a wake-light is a great option so you wake up more pleasantly each morning with more energy. Make sure to do your research and find the right wake-light for you that will help wake up refreshed and ready to tackle your day.