We have all been there, the need to get that glowing skin after damage has been done by acne, the sun or even age. This microdermabrasion device may be the solution to your skin problems. This device uses a combination of diamond exfoliation and gentle suction to remove dead skin cells and reveal clearer glowing skin. It also comes with an infusion tip to ensure skin care products are properly infused into the skin. This device repairs skin issues such as age spots, scarring and sun damage, on a professional level. Therefore, saving you money that would have been spent at medispas or salon treatments.
Criteria – what makes a good product
When it comes to devices for skin care, the internet supplies an overload of information on this subject. There are so many products that claim to be helpful with solving skin troubles and not all of these products function as effectively as they claim. It can also be difficult deciding on which products will best suit your needs and work effectively.
When looking for an easy to use, portable microdermabrasion device to rejuvenate the skin and give it a fresh look, there are certain requirements that such device should fulfill. For one, it should be considerably small so you can have in your purse or handbag, or even gym bag. Considering it can be used on-the-go, it should be quick to use.
Since the aim is to remove dead skin and reveal fresh skin, the material for exfoliation should be capable of gently working the skin by removing the problem layers, rather than damaging the skin. In the skincare industry, exfoliation can be with either fine crystals or diamond tip. Some also come with suction to extract buildups and in pores.
This is an essential feature because it is the buildup in pores that cause breakouts. Save your skin the trauma of extracting whiteheads or blackheads with your fingers, and use the suction tip to extract impurities. Finally, any good skin care device will stimulate the production of collagen. Collagen is the protein in the skin responsible for keeping the skin firm and giving it its elasticity.
Product Overview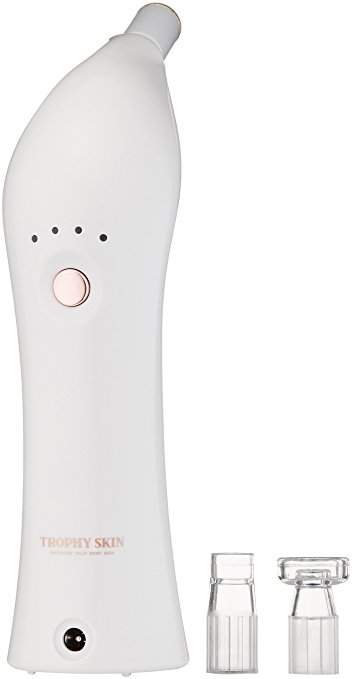 This microdermabrasion device by Trophy Skin fulfills all the criteria mentioned above and more. It is 8 x 4 x 10 inches in size and 6.4 ounces. Which makes it an efficient handheld device, small and light. It comes with three tips – the 100% crystal-free diamond tip which is for exfoliation of the face and neck, the pore extraction tip comes in four suction levels which removes unwanted buildup from pores and extracts oil and sebum, and an infusion tip which helps to infuse skin care products into the skin for a more effective result. It is not battery powered and must be plugged in to be used. It also comes with a detailed user manual.
It only takes 5 minutes to exfoliate the skin and the device should be used about two to three times a week. Considering that the device does wonders with exfoliation and extraction, there is a need for filters in the device to catch all the dead cells and buildup. Therefore, the device comes with 50 pack filters so that it can be changed frequently. However, the exfoliation tips do not last forever and will have to be replaced yearly. Trophy Skin does not provide extra tips and these replacement parts and extra filters will have to be bought.
Pros
Research and customer reviews have backed the claims that using this product for just a few minutes' multiple times week will give you that smooth and fresh skin, from the removal of fine lines to age spots or acne scars.
This is one product that can be used by people of all ages. Whether it is your grandmother trying to get rid of her age spots, or your teenage daughter trying to repair the damage of acne scarring, or even you just wanting to have fresh and glowing skin, this device is certainly going to meet your needs.
It also reduces pores and evens the skin tone. The suction process stimulates the skin to encourage blood flow and in turn help stimulate collagen to give you a younger and fresher looking skin.
Another benefit of this device is that because the device is so small you can easily take it anywhere with you. At those times when you need a quick confidence boost, you can take out this device and give yourself a mini-facial.
Not only is it small but it is very quick to use as it takes only 5 minutes to exfoliate. You no longer need to wait for doctor appointments to get your skin problems treated because this device features are that of a professional grade that has been modified for do-it-yourself purposes.
Do not fret over the diamond tip, it is also suitable for sensitive skin. Note that the process may be drying to the skin and may cause a little redness but this can easily be solved with some moisturizer after use.
Cons
This is not a perfect device for a few reasons.
The various levels of suction can be stronger to ensure all the pores are properly cleared.
The tips should also come in varied sizes for small medium and large areas.
Although they do not all come with the product, these can be bought from Trophy Skin.
The device is also not battery operated and therefore users will need to have it plugged in for use.
Considering this is a device that is marketed for use on the go, a battery-operated device would have been better.
Conclusion
If you essentially want a fresh start for your skin, this microdermabrasion device is an excellent product to purchase. It goes beyond just exfoliating to also clear pores and infusing products into the skin. Give yourself a nice treat by buying this device, it is sure to give you the glowing youthful skin we all want.