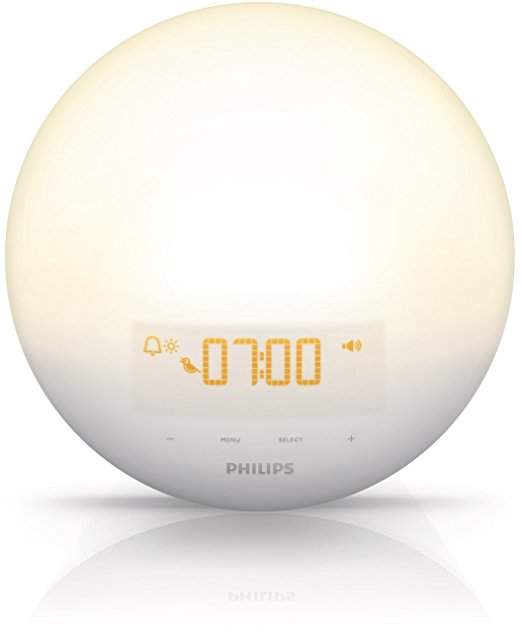 Wake-up light alarm clocks have become very popular with those that have trouble getting up due to bad sleeping patterns or medical conditions and the Philips HF3510 Wake-Up Light is model that aims to provide a solution in a nice, natural way.
This is achieved by creating a sunrise simulation via its large, round, UV-free light and soft sounds to replace the unnatural, jarring sounds of traditional alarm clocks.
At its brightest, the clock is said to reach 300-lux and has a series of touch keys on the dial for programming settings and options as well as a backlit display. At its core, the product sounds quite simplistic so is it simply providing what buyers need in a straightforward form or should it be aiming higher?
What advantages have users experienced when testing out this Philips HF3510 Sunrise Wake-Up Light in the mornings?
The concept of a natural wake-up in the mornings seems to be important to Phillips and it has certainly been picked up by a number of users that have latched onto it in their reviews and evaluated the device more on its ability to provide a natural approach than its functionality.
The bright lamp changes colour and becomes more intense in yellow tones and can be accompanied by one of three natural sounds to help rouse sleepers slowly. Many reviewers mention the birdsong option because not only is it realistic and pleasing, it is on a surprisingly long loop so is not too repetitive.
Of course functionality is an important aspect of this light too and there are some reports that look into this element instead of simply focusing on the sunrise and the birdsong; this is an alarm clock after all, not just a pretty simulation, and the option of an FM radio and a snooze button are nice touches that are not always present.
There is an interesting quote on the product description that says "Phillips users found it easier to get out of bed" and this seems fair from the positive reports of improved moods and energy.
Furthermore, the Philips Wake-Up Light can be of great use long after the early morning wake up because the quality of the light, its focus and the orb-like design mean it is a pretty and purposeful daytime lamp.
Why has this functional light with its pleasant, natural feel only been given an average rating online? Where are the flaws beneath the Philips HF3510 light's sunny glow?
Unfortunately, while there are many happy consumers that take the ideas of natural sunrises and functionality and highlight the positives, there are others that look at the same important factors and see the negatives.
Starting with the natural sunrise, there is the suggestion from some user reviews that the refreshing wake-up is more to do with the birdsong than the light and once buyers start making comparisons to other models they see the limitations in this realistic dawn. This model may be better than the HF3500 in that it has the dusk option but the Philips HF3520 has so much more depth of colour and adaptation in the length of the sunrise that it makes the 30 minute yellow sunrise seem a little rigid and boring.
As for the functionality issues, there are countless users that say that the alarm interface is not user-friendly at all. The specification may boast "easy-to-use touch keys" but the reality is that these buttons are very small, hard to find and there is continual need to reset the alarms.
Summary: are there too many problems for this Philips HF3510 300-lux Wake-up Light to be recommendable?
This product is undoubtedly problematic but what it most clear from the content of the reviews and the comparisons that users have made is that this is a mid-range model – nothing more, nothing less.
There are greater options and adaptations in the lights and controls of more expensive lamps but you are paying more for the privilege and the features that are available in this version, such as the lamp mode, dusk simulator and the audio options mean you do still get quite a lot for your money.
The Philips wake-up Light is by no means perfect and a little limited but it still succeeds to a great extent in its objective to provide users with a pleasing, natural way to wake-up in the morning with its warm yellow glow, realistic birdsong, attractive design and all-to-rare snooze button.