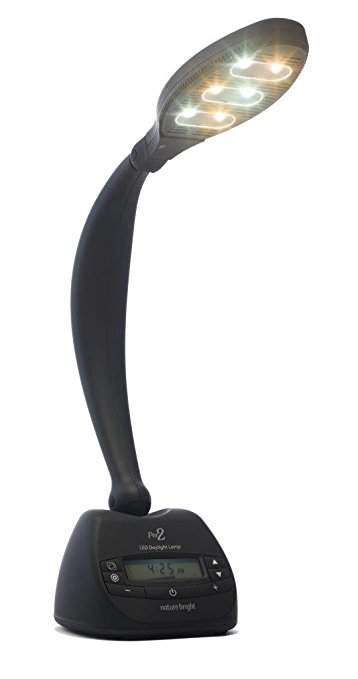 The NatureBright L6060 Per2 Daylight LED Lamp has been designed to bring two important elements of modern lighting together; the practical side of having a functional, bright light for desk work throughout the day and a natural light source with the ability to help with sleep disorders.
This clinically proven product works on a timer to offer different colour temperatures and intensities – 500 to 1000 lm – and has wake-up and sunset modes to get buyers' circadian rhythms back in sync. Does this alternative desk lamp really have additional medical benefits or is it just a standard desk lamp?
What advantages have buyers noticed when using the NatureBright L6060 Per2 Daylight Lamp?
The best place to start when discussing the positive side of this lamp is the idea that it really does seem to offer the "extreme clarity" advertised and that it does a great job of being a bright desk lamp that helps with computer work and offers the general feel of sunlight.
Anyone that is worried about the light having a blue tone shouldn't because buyers have complimented the bright, unobtrusively white light and the way that it provides the ideal amount of light on dark mornings and has a tone that is perfect for applying make up. On top of this, buyers have also mentioned that there is no sign of flickering, which is a problem in some other brands.
When it comes to the medical side of this NatureBright lamp, there are a number of additional potential benefits highlighted by the manufacturers, such as the ability to enhance alertness and energy, reduce eye strain and promote concentration.
For the most part, the reports are encouraging because users have left a range of comments suggesting that it either keeps them alert through the day, enhances their mood during bad weather or improves their sleeping patterns.
Interestingly, there is even one comment about it being an effective tool for a patient suffering with depression, although whether it would work on a wider scale is uncertain.
In addition to this, it is worth noting that one buyer who praised the NatureBright Per2 Daylight Lamp enthusiastically also mentioned that it is being used in tandem with an app on their phone, which, arguably, casts a little doubt on the true efficiency of using the product alone when tackling sleep disorders.
Aside from any uncertainty over its effectiveness, does this NatureBright L6060 lamp have any other downsides in its design?
The biggest problem that has been highlighted by buyers is the fact that while there are a number of features and settings, it could perhaps be a little easier to program and adapt to your personal preferences. Examples of these comments include a call to add a 7 day timer for a full, varied program of wake-up times and the lack of variation on the settings.
There are three distinct colour temperature settings that automatically change dependant on the time of day – ranging from 2700k to 6500k – and some feel that the transitions are a little too rigid and jarring. On a related note, some would prefer that the plus and minus button for manual adjustment offered a smoother dimmer function with greater options.
The way that the product looks is a secondary issue that many new buyers may have absolutely no problem with, yet others have felt the need to comment on this "ultra-modern design".
One reviewer is quoted is saying that they "did not pick this lamp for its beauty", highlighting the designer's apparent lean towards saving space and functionality, and another received a lamp with scuff marks on arrival, suggesting that the surface is easily damaged and any initial aesthetic quality could soon be lost.
Summary: is this NatureBright Daylight Lamp the right desk lamp for your practical and medical needs?
There is a sense from these testimonials that this is a product that rates somewhere in the middle of the scale for benefits and customer satisfaction; there are some buyers that previously owned the old Per3 model and can see real improvements but there are others that look forward to future adjustments that may make the Per 1 even better and more user-friendly.
This NatureBright lamp is a little flawed and its design will not be for everyone but, with its numerous, potential medical benefits, range of features and pleasant light source it goes a long way towards providing exactly what buyers are after.