Facial rollers, or face rollers, are beauty products that can be made of metals like stainless steel or stones like rose quartz and jade.
As you roll this product over your face, it feels like a little massage, and it works on supporting lymphatic flow and circulation. Plus, it can help tighten the skin and decrease puffiness to help you achieve a more youthful appearance. Although these great results are temporary, with the right face roller, you can do it whenever you want, right at home, so you don't need to go to a spa to pay for an expensive facial.
What are some of the best facial rollers that you can buy today? Check out our list below to see what some of your options are.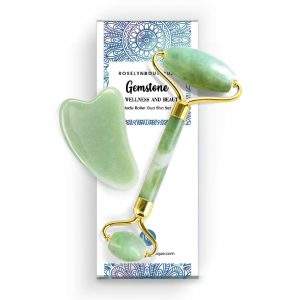 This jade facial roller from Roselynboutique also comes with a gua sha scraper, so it is a kit that is designed to help you rejuvenate the skin on your face. The genuine jade stone is super smooth to the touch, it's easy to care for, and it can last a long time. If you want to tighten skin, reduce puffiness, and cool your skin in minutes, this might be just what you need.
With this face roller, you can stimulate the production of collagen in the skin, reduce the appearance of fine lines, minimize the appearance of large pores, increase elastin to firm and tighten skin, minimize the appearance of spots, and more.
Plus, because of an improved design and reinforced handle, it's built to be stronger, it boasts smooth rolling, and it won't make any noise. And the other nice thing is that this kit comes with a gua sha scraper that you can also use to address problems like loss of firmness, fine lines, and wrinkles.
---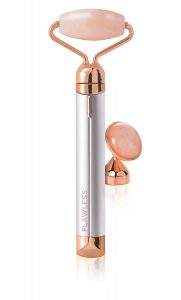 By now, you have likely heard of the brand Finishing Touch, which is known for its hair removal products. Now, the company is selling a Flawless Contour Vibrating Facial Roller and Massager, which is designed for sensitive skin and uses a genuine rose quartz stone to deliver results.
The package will include a controlled vibrating face roller and a AA battery. It also comes with two rose quartz attachment heads: one that you can use under your eyes and one that you can use as a facial roller. Use the under eye press to reduce dark circles and puffiness, and put it in your refrigerator to improve performance. Use the face roller to promote collagen production, boost circulation, and reduce fine lines and wrinkles.
Tip: Prior to using this vibrating facial roller, you can also apply your favorite serum or anti-wrinkle cream, as the rolling may help the ingredients penetrate your skin more deeply.
---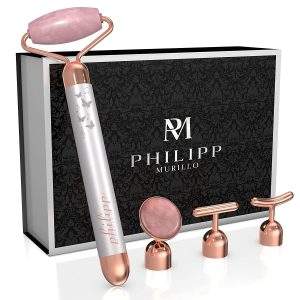 The Philipp Murillo 4 in 1 vibrating rose quartz face roller produces 10,000 vibrations every minute. This helps stimulate collagen production to improve the appearance of your skin. Plus, this product comes with four heads so you can choose the one that you need most. Use the under eye press to reduce dark circles and puffiness, or use the roller and V and T shaped massagers to stimulate collagen production and circulation, help tighten skin, and reduce lines.
This product is waterproof, and it comes with a AA battery. It also includes a rose quartz certificate of authenticity, so you get the benefits of rolling your skin with this stone, while also taking advantage of the vibrations that help boost the effects.
What's also nice is that this product comes with a 90-day warranty, as well as a 100% money back guarantee, so if you are not happy with it for any reason, you can contact their customer service team to get a refund within 30 days.
---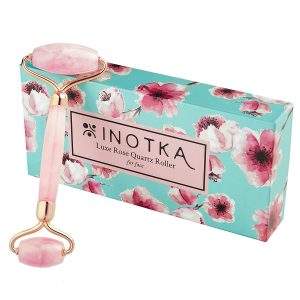 This is another rose quartz facial roller that's worth checking out. It's made from certified rose quartz, and it's designed to help remove toxins and increase circulation in the skin.
You can use this product in the morning to give your skin a refreshed and rested appearance, with results that can last all day. Then, you can also use it before bed to reduce tension in the face as you melt away stress. Plus, you can leave it in the refrigerator overnight so you can enjoy a cool face massage in the morning that helps relieve tension headaches and reduce swelling in the sinuses.
This facial roller is made using premium parts, such as a silicone insert that helps prevent squeaking, a welded metal frame, and Brazilian rose quartz. It features two quartz rollers, a large one and a small one, so you can use the appropriate size, depending on the area of your face that you are treating. And the design is based on 4,000-year-old wisdom. But the best part is that it's simple to use, it's ergonomic, and it can help you get noteworthy results with minimal time and effort.
---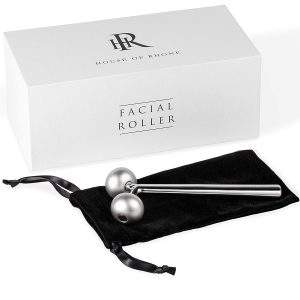 Finally, there's the House of Rhone Facial Roller Massager. This is a little different because it doesn't use a stone like jade or quartz to get the job done. Instead, this is a metal facial roller that you can use to promote lymphatic drainage while massaging your face.
This roller features a metal handle and zinc alloy massage balls. It helps you reap the benefits of cool application on the skin, and its design helps cradle facial muscles to help shape, lift, and contour more effectively than a stone roller.
You can use this product, which can help revitalize your complexion, reduce dullness, and boost collagen, with your favorite serum or cream. It also increases circulation to help you get rid of puffiness and wrinkles. By using it regularly, you might not need to rely on treatments like fillers or Botox. And, for peace of mind, this anti-aging face roller massager comes with a 1-year warranty and a money back guarantee.