We all love a good bronzy glow on the skin. Be it summer or winter, tanning beds are becoming increasingly growing and affordable. In order to get a great indoor tanning experience, you should make sure you get the right products to use before and after the tan. You will find out how to pick the right tanning products to suit your skin tone and read our best bombshell tanning lotion reviews.
Picking The Right Tanning Lotion For Your Skin Color
Did you know that each skin type requires different cleansing, toning, and moisturizing routine? Similarly, tanning effects differ from each skin tone. To ensure that you get the most natural looking tan, read below how to get a good tan for each skin tone:
Fair/Pale Skin Tone
An uneven tan stands out the most in this skin tone if not done right. Remove the dead cells by exfoliating and wax or shave one day prior to your tanning. Gradually build from a lighter tone to avoid tan stripes and spread the lotion evenly when you are accelerating the tan outside.
If not applied properly, you might get the most undesired zebra stripes causing uneven tan. This can be solved by applying more products as it's a common misconception that using fewer products to tan a big area will cause an even tan.
Medium Skin Tone
Mix the tanning lotion with moisturizer to make sure you get an even tone especially near your joints and feet. If you have skin tone similar to that of Kim Kardashian or Nicki Minaj, then you should go for a dark range tanning lotion for a beachy look and light bronze glow if you want a brown glow.
Dark Skin Tone
One might think that tanning lotions are not effective on this skin tone, but this is not the case. People with this tone can use the lotions to give the skin a glowing radiance. It helps to hide your spots and uneven skin tones by concealing by naturally blending with your skin tone. Be sure to apply a high SPF sunscreen to avoid harmful UV rays.
Bronzer In Tanning Lotion
Bronzers are added in tanning lotion increasingly to make the skin appear darker. They are safe to use on all skin types and very effective. There are bronzers made up of natural pigments which dye the skin.
Other bronzers contain DHA, an amino acid which darkens the top layer of the skin and is safe to be used on skin type. Make sure you wash your hands very quickly after using products that contain bronzers so the color doesn't transfer on to the hands.

Top 3 Bombshell Tanning Lotions
---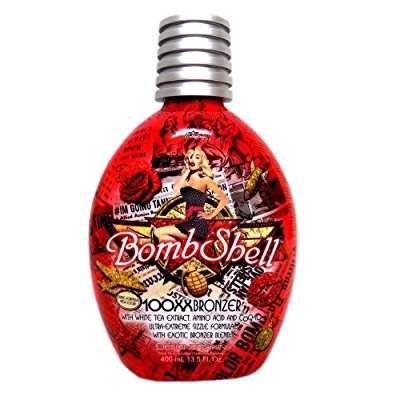 1. Designer Skin BombShell, 100XXBronzer
This is a classic bombshell tanning lotion wrapped in a very attractive packaging.  This glow bronzer is blend smells great and is bound to give you effective results.  This is undoubtedly one of the best tanning products.
Features
• It contains soy, white tea extracts, and CoQ10 which provides the best tanning result.
• 100XX dark tanning bronzer has a kiwi watermelon.
• This designer skin care tanning lotion is easy to apply and causes tingle with a creamy lotion.
• It is an extreme sizzle formula which is best used if you like the extra tingle and redness.
• It is a formula that blends well and needs only little to be applied. One bottle will last you a long time without streaks.
• You will feel the extra tingle. It is a good buy if you like the hotness which will make you feel like you are getting a good tan.
• It dries pretty quickly in about 45 seconds. You will never have to wait for it to dry to get into your tanning bed.
---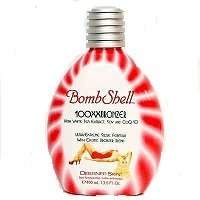 2. Designer Skin Bombshell Tanning Lotion 100XX Dark Tanning Bronzer
This is a popular product among expert tanners. It is a good product for anyone with skin type very difficult to get a dark tan. This thick, creamy lotion has a fruity kiwi watermelon scent at an affordable price.
Features
• This is an Ultra extreme sizzle product with a tingle. It helps oxygenating skin cells which aids a darker color in a very small time.
• Its Aloe Vera extracts is known to soothe the skin with cellular rejuvenation and moisturizes it well.
• Vitamin A and vitamin E in this lotion eliminates fine lines and wrinkles to improve the overall texture of the skin
• Vitamin C used in the product acts as an antioxidant which is a free radical which produces the essential oils in the skin and hydrates it.
• White tea extracts reduce UV ray damages on the skin.
• It doesn't have a strong odor due to its antibacterial complex formula.
• The bronzer blend is made up of walnut, DHA and amino acids which give a quick brown tan to your skin.
---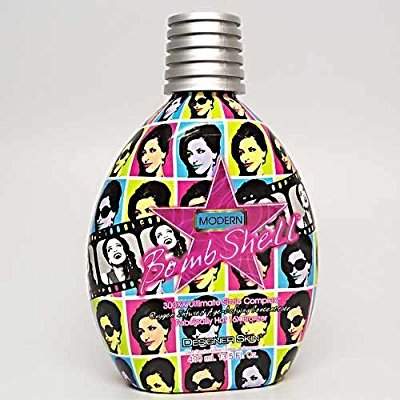 3. Modern Bombshell 300xx Sizzle
This hot tanning lotion is made to give you that sexy, dark color to your skin. It has a distinct rose berry scent with no ATO. This medium intensity tingle is a thick consistency which is easy to glide on to the skin.
Features
• This is a new line of bombshell tanner which contains Aloe Vera, Hemp Seed Oil, Green tea extract, White tea extract, essential oils, Vitamin A, C, E and soy.
• The fragrance is a blend of kiwi and watermelon.
• It contains 16X bronzer.
• Its oxygen infused age defying concentrate will lighten your aging signs.
• Ultra-Pure DHA are added making it a good bronzer with quick and long lasting effects.
• Melanin Bronzing Technology
• Its extra tingle formula improves blood circulation and tanning cell activity.
• It is a strong tingle lotion which is a great option for those who are looking for a quick tan.
---
Conclusion
While it is amazing to get a tanning offer for less, make sure you aren't harming your skin without using the right products. If you are beginner make sure you are not trying to get a brown color and know how much tingle you can handle with these bombshell tanning lotions.
If you are an experienced tanner, then go for extreme sizzle tanning lotions which provide you a good UV protection and moisturize your skin. These bombshell tanning lotions are bound to give you a good color breaking the plateau of light tan. Hope these bombshell tanning lotions reviews came to your rescue!