If you have sensitive skin, you need to be careful about anything that you apply to it, and that includes the cleansers that you use in your bath or shower. The right body wash for sensitive skin can help you avoid irritation, redness, and breakouts so the skin all over your body can remain soft, smooth, nourished, and flawless.
What Should You Look for in a Body Wash for Sensitive Skin?
If you come across a product that has a label that states it's designed for sensitive skin, definitely take a closer look. It should also contain ingredients that won't dry out your skin, and ingredients that will moisturize and soothe your skin. Ingredients like shea butter, hyaluronic acid, ceramides, and oat are a few good examples of those found in body washes that are meant to be gentle on skin.
Another good strategy is to stick with products that are unscented or fragrance free. That's because fragrances might end up irritating sensitive skin, so it's a good idea to give a product without any fragrance a try to see if that helps.
Finally, products that are labeled as being free of sulfates, phthalates, parabens, and dyes are also good options for those with sensitive skin. And it's wise to choose hypoallergenic body washes as well, as this means they contain ingredients that aren't likely to cause an allergic reaction.
6 of the Best Body Washes for Sensitive Skin
Ready to learn about some of the best body washes that are designed for sensitive skin? Check out the list we've compiled below.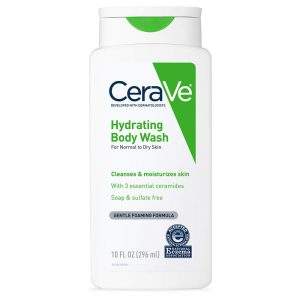 This is a body wash that is gentle and moisturizing. It uses a non-irritating, foaming formula to cleanse and refresh your skin, it is non-comedogenic, and it is free of sulfates and parabens.
Ingredients include hyaluronic acid to retain moisture in the skin, and three ceramides, which help restore and maintain the skin's protective barrier. Plus, this product has been developed with the help of dermatologists, and it has the NEA (National Eczema Association) Seal of Acceptance to give those with sensitive skin conditions and eczema extra peace of mind.
---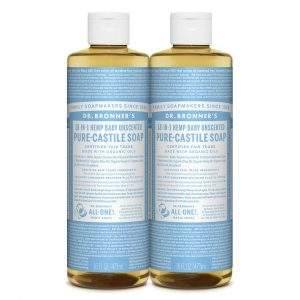 Dr. Bronner's Pure Castile Liquid Soap in Unscented does not contain any foaming agents, detergents, synthetic preservatives, or fragrance. It does, however, contain pure, certified organic, and Fair Trade ingredients. And it is designed to be gentle on sensitive skin, yet concentrated and biodegradable.
Ingredients include coconut oil, palm kernel oil, olive oil, hemp oil, and jojoba oil. Plus, if you're looking for a vegan, eco-friendly, and cruelty free product, this body wash will meet your needs.
---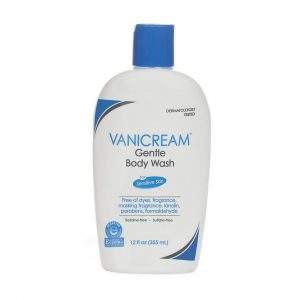 Do you have sensitive skin that gets irritated easily? Then you might want to check out Vanicream Gentle Body Wash. This formula is mild yet effective. It can get rid of excess oil without drying your skin, and it can leave your skin feeling soft.
This body wash is dermatologist tested, and it is oil free, soap free, sulfate free, and gluten free. It also does not contain cocamidopropyl betaine or any botanical extracts. And it doesn't contain common chemical irritants like formaldehyde, formaldehyde releasers, parabens, dyes, lanolin, fragrances, and masking fragrances.
---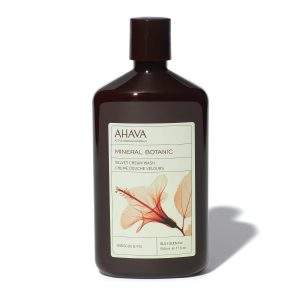 This is a cream body wash that is approved for sensitive skin, and it is described as luxurious and hydrating. Formulated to help heal dry skin, it boasts natural antibacterial properties for cleansing, as well as Dead Sea minerals, antioxidants, and vitamins. In addition to all of that, this body wash contains fig extract for anti-inflammatory and moisturizing benefits, along with hibiscus to help moisturize, heal, and soothe dry skin.
All you have to do is use a small amount to create a lather. It does contain fragrance, so if you would prefer a product that isn't fragrance free, and is gentle on your skin, this might be a good option to try.
What's also nice about this body wash is that you don't have to worry about parabens, SLS, petroleum, or phthalates. Plus, it's GMO free, vegan, cruelty free, allergy tested, and dermatologist tested.
---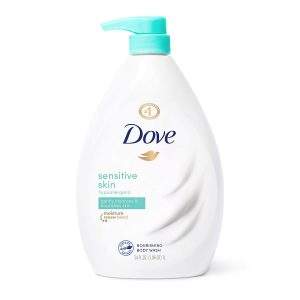 This unscented body wash from Dove is formulated specifically for individuals with sensitive skin, and it is the #1 dermatologist recommended body wash. It is hypoallergenic, pH balanced, mild, and gentle, and it contains natural ingredients. It even contains the brand's Moisture Renew Blend, which is a combination of plant-based moisturizers and natural nourishing ingredients that the top layers of your skin can absorb.
This is a luxurious and rich formula that nourishes your skin and leaves it feeling softer. It is also gentle to the microbiome, which is the skin's protective layer. And it uses cleansers that are naturally derived, it's paraben free, and it's sulfate free. Plus, it's also cruelty free and it comes in a 100% recycled bottle to be better for the environment.
---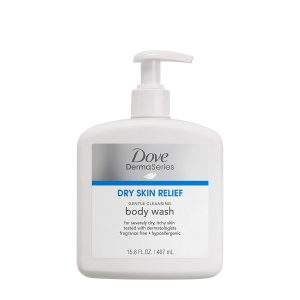 Another option from the Dove brand is their DermaSeries Dry Skin Relief body wash. It is mild, hypoallergenic, soap free, and fragrance free. And it is designed for skin that is severely dry and skin that's itchy. Plus, it's dermatologist tested, and it does not contain any sulfates or parabens.
This formula claims to be 10 times more nourishing than regular body washes, and it gets deep into the skin to provide instant relief that lasts whenever you have dry, itchy skin. Its formula includes glycerin, lipids, and plant oils, and it is suitable for those with eczema and psoriasis as well.
---
Use Care When Selecting a Body Wash for Sensitive Skin
If you have sensitive skin, shopping with care is important because you don't want to end up purchasing a soap that will irritate your delicate skin. Hopefully, the list above will help steer you in the right direction if you're having trouble finding a body wash that will nourish your skin and help it stay healthy.
Photo credit: TORWAISTUDIO/Shutterstock