Have you noticed that your hair is thinning? Or do you just want to have thicker, fuller, and longer hair? Well, with the right shampoo that contains ingredients that can promote hair growth, you might be able to get the results that you want.
What to Look for in a Hair Growth Shampoo
When shopping for this type of shampoo, you want to select a product that will do things like reduce breakage and oil buildup while supporting the health of your hair and scalp.
Look for ingredients like vitamins, antioxidants, and amino acids. These may help with strengthening your hair and undoing damage. But it's also a good idea to avoid shampoos that contain harsh ingredients that aren't gentle on your hair and scalp, and that might get in the way of healthy hair growth.
5 of the Best Shampoos for Hair Growth

Nioxin is a well-known, professional quality brand in the world of products that are designed to help those who are experiencing thinning hair.
This shampoo is designed for individuals who have progressed thinning. It contains high-quality ingredients and Activ-Renewal technology that will work on deeply cleansing your hair, as well as removing environmental residues and oil from the hair and scalp.
This is just the first step in a regimen from this brand that includes three steps. So, if you want, you can also use the System 2 Scalp Therapy Conditioner and the Scalp and Hair Treatment.
All you have to do is apply this shampoo to your wet hair and massage it gently into your scalp and hair, lathering for about a minute. Rinse it off, and use it daily to see if it helps you achieve better hair growth.
---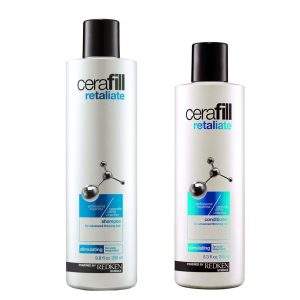 This product is sold as a shampoo and conditioner duo, so you can buy both at the same time and use them together to achieve the best results possible. But, for purposes of this article, we'll only focus on the Cerafill Retaliate Stimulating Shampoo.
Designed to be stimulating to help invigorate the scalp, this product might be right for you if you have advanced hair loss. Its formula contains ingredients that can help nourish and strengthen hair to help avoid breakage. It also works by gently cleaning your scalp and hair to get rid of oil that can clog follicles, as well as impurities that can do damage.
Ingredients include ceramide to strengthen your hair, SP-94 to provide nourishment to the scalp, and a menthol formula that creates a tingling and cooling sensation as you massage this shampoo into a lather to get a complete clean.
---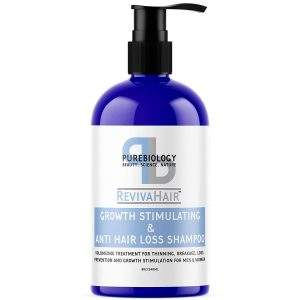 The Pure Biology Hair Growth Stimulating Shampoo contains a blend of amino acids, keratin, biotin, vitamin B, vitamin E, rosemary oil, saw palmetto, natural extracts, and more. It is formulated to help stimulate growth, while also preventing loss and breakage.
Designed to help strengthen and reconstruct your hair, this is a gentle shampoo you can use three or more times every week. If you want your hair to be thicker and stronger, this product's Amino Kera NPNF Keratin complex can revitalize, moisturize, and condition hair that's damaged. In addition to that, it includes DHT blockers, along with 3HC Hair Stimulation Complex to stimulate the cells that grow hair fibers and regulate the development of hair follicles.
In addition to all of that, this product is cruelty free, non-GMO, and paraben free. Just apply it to wet hair, massage it into your scalp, leave it in for at least a minute, and rinse.
---

Another good option is the Ultrax Labs Hair Surge shampoo, which boasts nutrients that can support hair follicles and stimulate hair growth. This can help you achieve thicker hair when you're experiencing thinning.
This shampoo contains caffeine because it is capable of extending and stimulating hair follicles' life cycle. It also features ketoconazole, which has anti-fungal and anti-inflammatory properties and can help those with thinning hair. And this formula has saw palmetto, which might help block DHT.
Plus, this shampoo is cruelty free, and it features a proprietary formula that is one-of-a-kind. For the best results, you can use it five times a week, and you can use it with other Ultrax Labs hair care products too.
---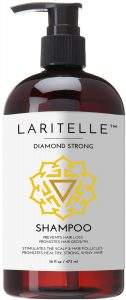 If you are the type of person who prefers using products that contain natural ingredients, check out the Laritelle Organic Shampoo Diamond Strong. It is formulated with 75% certified organic ingredients, and the remaining 25% includes naturally derived ingredients.
Ingredients include antioxidants, argan oil, jojoba, and keratin, along with peppermint, lemongrass, cedarwood, ginger, lemon, and rosemary. These all work together to promote healthy hair growth, as well as prevent hair loss. Plus, this shampoo is gentle, sudsy, and creamy, and it can nourish, soften, and rejuvenate your hair and follicles.
Another great feature: this shampoo doesn't contain any sulfates, parabens, phthalates, gluten, or alcohol, and it is vegan and cruelty free.
---
Some Final Tips
It might take time to notice a difference after you start using a shampoo for hair growth, so don't give up on it too soon. Instead, give it a few months to see if you start to notice signs of your hair improving. Taking photos can be helpful, as it might be hard to remember exactly what your hair looked like when you started using the shampoo.
Keep in mind, too, that it's a good idea to see your doctor about hair loss if you don't know why it's happening. It may be the result of the styling tools and methods that you use, or you might have an underlying health problem that needs to be resolved. Your doctor can also give you some nutrition tips to improve your diet in a way that will support healthy hair, and he or she might recommend a prescription if over-the-counter products aren't doing enough.
Photo credit: christinarosepix/Shutterstock