In the same way that you can use antibacterial hand soap to get a deeper clean, you can wash your entire body with an antibacterial body wash. But what are the best ones out there, and what are some of the things that you should look for in this type of soap so you can kill germs without drying out or irritating your skin? We've got you covered with some helpful tips below, along with a short list of antibacterial body washes that we recommended checking out when you are ready to shop.
Why Choose an Antibacterial Body Wash?
When you want to take an extra step towards killing germs that are on your skin, an antibacterial body wash may be helpful. Like regular body wash, this type of product will also work on removing sweat, oil, dirt, and odor, so you can completely cleanse your skin and feel totally refreshed.
What makes antibacterial body wash different from your average body wash is the fact that it contains ingredients that help you eliminate microorganisms. So, again, if you want to fight bacteria that might be found on your body for any reason, this type of soap may give you greater peace of mind because it is formulated to go a step further by killing germs while you bathe.
What to Look for in an Antibacterial Body Wash
As you shop for an antibacterial body wash, it is a good idea to keep an eye out for chemical ingredients that might be harmful, or that might end up drying out your skin or causing irritation.
One ingredient, in particular, has experts, including those at the FDA, concerned about its safety, and it is a chemical called triclosan. You might come across antibacterial soaps and body washes that contain this ingredient. But, because of its possible adverse effects on human health, and because it might lead to antibiotic resistance, if you see a product that contains triclosan, it is best to avoid it.
It is also smart to look at the label carefully to be certain a body wash does indeed contain antibacterial ingredients. Sometimes, labels can be misleading, so rather than only reading the front of the product to look for the word "antibacterial," check the back label for additional information and details.
Things to Consider When Shopping for Antibacterial Body Wash
While antibacterial body wash can come in handy at times, experts recommend avoiding overuse of these types of soaps. That's because overuse might end up having a negative impact on the beneficial bacteria that is naturally found on your body. Plus, using a regular soap can certainly be effective when it comes to removing dirt and germs, so you don't need to rely solely on antibacterial body washes every day.
Also, even if you are washing with a soap that contains antibacterial ingredients, it does not mean that you can wash less often. And you still need to wash your body thoroughly, even when using an antibacterial body wash. No shortcuts!
5 Antibacterial Body Washes That Are Worth Checking Out
We took some time to look for several antibacterial body washes that might provide you with what you are looking for. Check out the following list of five products, and consider looking into them more if you think that they might be right for you.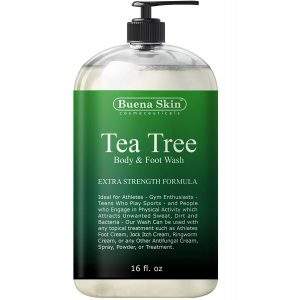 The Buena Skin Tea Tree Body & Foot Wash is an extra strength formula that you can use with any topical treatment, such as an antifungal cream. Great for teens who play sports, gym enthusiasts, athletes, and anyone else whose body is exposed to dirt and bacteria, this body wash can help you cleanse your body gently every day. And it can help you get rid of body odor too. Plus, it is paraben free, cruelty free, and good for all skin types.
This product features a natural herbal formula. The essential oils in this body wash include tea tree oil, and they can help you fight multiple strains of bacteria and fungi. Also, this soap is formulated to help you tackle symptoms like dryness, burning, and itching, as well as problems like acne, athlete's foot, and more. And its ingredients can help hydrate, nourish, and soothe the skin, while also leaving it gently scented.
---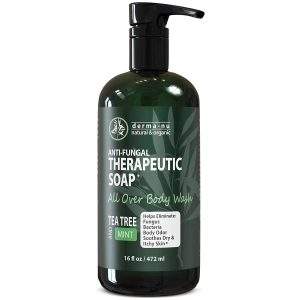 The Derma-nu Antifungal Antibacterial Soap & Body Wash helps you fight body odor and foot odor, and the blend of mint and tea tree oil will leave you feeling fresh and invigorated. Designed for active people, you can use this product to wash away bacteria that might contribute to problems like acne, toenail fungus, athlete's foot, and more. And it helps you wash away bacteria and fungi that can irritate the skin or cause it to be itchy, inflamed, or dry.
This body wash features essential oils that are soothing and cooling, such as wintergreen, menthol, peppermint, spearmint, eucalyptus, and tea tree. And it also contains ingredients that are natural and organic, which is certainly a plus. It does not contain any harmful chemicals, parabens, or synthetic fragrances or dyes. Plus, it is not tested on animals, it has a refreshing scent that is suitable for women and men, and it is safe for all skin types.
---

Dial is a well-known brand, and this particular body wash for men is a good choice for those who want to easily wash away bacteria that can cause embarrassing body odor. The Dial for Men Odor Armor Body Wash features a non-drying formula and odor neutralizing technology. It also has the right balance of moisturizers to help leave your skin feeling soft and smooth.
This is a refreshing formula that helps you achieve a deep clean. The lather is creamy and rich, leaving your skin feeling fresh, and you can rest assured that this soap is formulated in a way that will allow you to cleanse your body without drying your skin.
---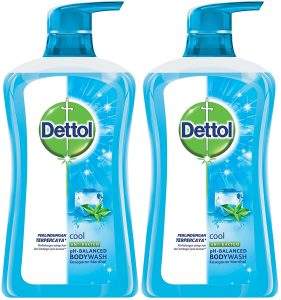 The Dettol Anti-Bacterial pH-Balanced Body Wash helps protect you against germs, and it contains an advanced pH-balanced formula. Plus, it can also help provide all-day protection against body odor.
This Cool Body Wash provides soothing menthol freshness, and its foam can moisturize your skin and leave it feeling fresh. It is a good option when you want a product that is pH-balanced, that respects the skin's moisture barrier, and that can help your skin feel healthy.
---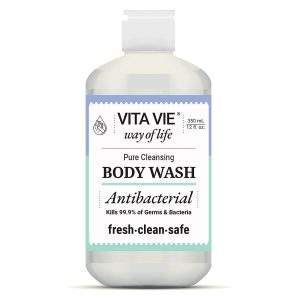 Finally, there is the Vita Vie Antibacterial Body Wash, which is formulated to help wash away bacteria and fungi that might be found on your skin. In doing so, it can help protect your skin against irritation. And its ingredients also help nourish your skin, as well as soothe it if it's dry and itchy.
This product, which leaves behind a refreshing scent, contains natural and organic ingredients rather than harmful chemicals. Plus, it is suitable for women and men, it is appropriate for all skin types, and it is safe for kids too.