Have you noticed that your hair is looking thinner than it should? Are you losing more hair than you used to? Whether you are a man or a woman, this can be extremely stressful, but taking action can help you regain a sense of control.
There are a lot of products on the market that are all designed to help you if you are experiencing hair loss. To tackle the problem of thinning hair, you can find over-the-counter supplements, along with prescription and over-the-counter medications. And there are procedures that you can undergo as well. But there are also shampoos that you can easily use whenever you wash your hair, and those products contain ingredients that may help reduce the amount of hair that you are losing.
What are some of the best shampoos for thinning hair? We've listed a few of them below for your review, along with some helpful information that you can use when you start shopping for this type of product.
Things to Consider as You Shop for Shampoo for Thinning Hair
Shampoo that is formulated for thinning hair might contain ingredients that can help make your hair look thicker. Or, it might contain ingredients that can help stimulate your hair to grow, while improving circulation to follicles. As you shop, keep in mind that different shampoos will do different things, so read labels carefully to understand what a formulation is intended to do. This can help you select the product that is best for your needs.
Here are some things that you can keep in mind as you browse the many options that are available in the world of shampoo for thinning hair:
Shampoos that contain antioxidants might help with reducing inflammation in your scalp.
When searching for a shampoo that can help your hair look thicker, it's a good idea to look for ingredients like biotin, peppermint oil, ginseng, antioxidants, vitamin E, botanicals, and amino acids.
It's also a good idea to steer clear of shampoos that contain harsh ingredients, such as chemicals, preservatives, fragrances, dyes, and parabens. Many people opt to use products that contain plenty of natural ingredients instead.
Note: If you start using a shampoo for thinning hair, but you don't see results right away, just be patient. It might take some time before you start noticing a change in your hair. So, before you give up right away and switch to another product, give it a few weeks, or even a few months, to see if it will work.
4 Shampoos for Thinning Hair
Are you ready to take a look at some of the many shampoos that are formulated to help those who have thinning hair? Check out our list of four products below to get started.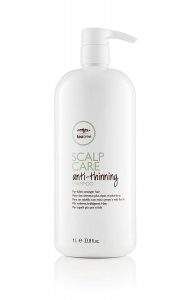 This color-safe, salon-strength, anti-thinning shampoo is formulated to help increase hair strength and volume, all while gently cleansing your locks and scalp. It contains the brand's Regeniplex botanical blend, which works on stimulating your scalp so you can start to see thicker hair with less breakage. The ingredients include ginseng, turmeric, kakadu plum, pea peptides, and clover flower. They work on helping to slow down hair follicle shrinkage, while also helping to expand follicles. The scalp is stimulated and moisturized, too. And this shampoo also helps to extend the hair cycle's growth and rest phase to further help you achieve thicker hair.
---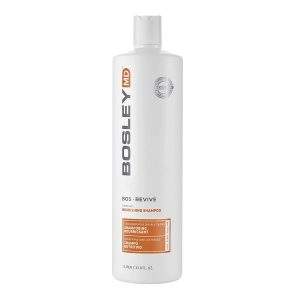 If your hair is visibly thinning, you've experienced hair loss that's been rapid, you can see more of your scalp than before, or you have noticed areas of your scalp where you no longer have hair growth, it is worth checking out this shampoo, which is made for those who are hoping to boost the condition of their scalp and hair. It contains botanical-based DHT blockers to help your hair become fuller and thicker. And it also features ingredients that can cleanse your hair and scalp while removing buildup and toxins. Plus, this product is gentle, color-safe, vegan, cruelty free, gluten free, paraben free, and sulfate free.
---
Andalou Naturals Argan Stem Cell Age Defying Shampoo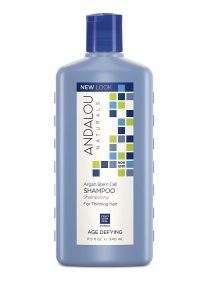 This shampoo for thinning hair is gluten free, vegan, non-GMO, and cruelty free. Plus, it is sulfate free, as well as color safe. It features a nourishing formula that can help get rid of toxins, oil, and buildup to unblock your hair follicles. And it can also help stimulate cell renewal for your hair's growth cycle, while also helping to reduce bacteria and inflammation. Its standout feature, however, is the PhytoCellTec Argan Stem Cells, which help strengthen hair so you can experience less breakage. After using this product, you might notice that your hair is shinier and has more volume.
---
ISDIN Lambdapil Hair Loss Shampoo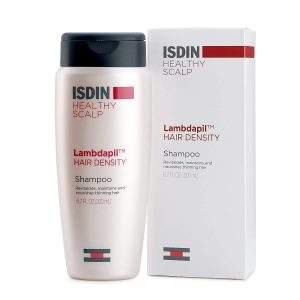 If you want to repair, strengthen, and nourish your hair, as well as achieve more thickness, this shampoo might be just what you need. It is formulated to provide volume to hair that looks thin, and it can also help support the growth of your hair. Plus, it can decrease oil at the roots, so it may be especially helpful if you have oily hair. Ingredients include serenoa serrulata fruit extract to support growth, and B vitamins, biotin, and zinc to help strengthen and nourish your locks. Plus, it is paraben free, and it doesn't leave a greasy residue.
---
Talk to Your Doctor If You're Experiencing Significant Hair Loss
There are a lot of products that are targeted to those who are experiencing hair loss, and perhaps one of the shampoos above is what you need to add to your routine in order to start seeing better results. However, if you are losing a lot of hair, and you can't figure out why, talk to your doctor. There are a variety of reasons why hair loss occurs, and your physician can help you pinpoint what's going on in your body that is causing you to shed more strands than what's considered normal.