Are you interested in the use of infrared light bulbs at home? Well, if you have already started your search for these products, you have likely come across quite a few options. But, before you simply opt to buy the first infrared light bulbs that you find, keep reading to access some helpful information.
We've compiled the following info to help you better understand what infrared light bulbs have to offer, and to help you select the right light bulbs for your expectations and needs.
What Are Infrared Light Bulbs Used For?
Infrared light bulbs are used for infrared therapy, and when you purchase infrared therapy lamps, you can take a non-invasive approach to pain relief.
Wait, what is an infrared therapy lamp? Well, it's a device that you can use just like any other lamp, as you simply plug it in and turn it on so it can produce light. The difference is that the kind of light bulbs used in this type of lamp are going to produce red light, along with a little bit of heat (that heat should be gentle on your skin).
The idea is that the light and heat generated by an infrared light bulb will be able to get into the body by penetrating the skin, potentially reaching the nerves, muscles, and bones. This might help with healing wounds and injuries, and it might help with reducing inflammation too.
If you have chronic pain, if you have been diagnosed with a condition that causes pain, such as arthritis or fibromyalgia, or if you want to reduce inflammation, you might want to talk to your doctor about the possible benefits of using infrared light therapy.
Note: It is important to keep in mind that this may not be right for everyone, and you need to be sure that you approach this in a safe manner. That's why it is a great idea to consult with a physician before trying infrared therapy at home.
What to Look for When Shopping for Infrared Light Bulbs
When shopping for infrared light bulbs, you will notice that there are different wavelengths to choose from. Selecting the right wavelength is important. For example, experts recommend going with wavelengths that range from 630-680 nanometers and 800-880 nanometers.
Note: Infrared light bulbs should not emit any ultraviolet rays. The idea is to derive similar benefits to those that you would get from exposure to the sun, without the UV.
Be Sure to Use These Products Safely
No matter what, it is best to talk to your doctor to learn more about infrared therapy and its potential benefits. Also, if you are hurt, you have a wound that isn't healing properly, or you have a chronic condition, talk to your doctor before proceeding with infrared therapy. Don't just start this therapy without consulting with a medical professional first, as you want to be sure it is appropriate for you.
When using an infrared light, follow the directions carefully to ensure you use it safely and appropriately. For example, some lights should not be pointed at bare skin.
Also, you should ensure there is a good amount of distance, such as 12-16", between your body and the lamp. You should feel a gentle heat, and your skin might turn red temporarily, but you shouldn't experience discomfort or pain.
It's usually best to not use any products on your skin before you use an infrared light. And, if necessary, wear protective eyewear when using the infrared light, as you want to safeguard your vision.
4 Infrared Light Bulbs That Might Work for You
Below is a list of four infrared light bulbs that we think are worth checking out. Remember, if you still aren't sure about what direction to take, and which bulbs to purchase for your needs, talk to your doctor first.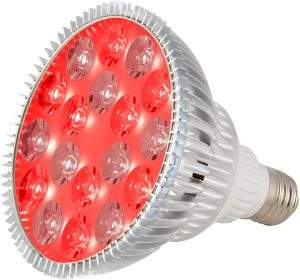 The ABI LED Light Bulb for Red Light Therapy emits therapeutic wavelengths of 660 nanometers and 850 nanometers, and it provides a combination of near infrared and deep red wavelengths. Also, this bulb, which is assembled in the United States, comes with a 3-year manufacturer's warranty, along with 50,000+ hour service life. It will fit in a standard E26 socket.
---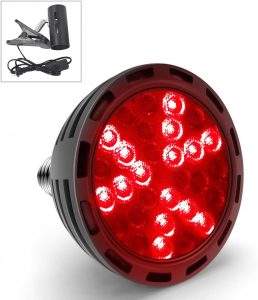 This red light therapy bulb comes with a light socket, and it has two wavelengths of 660 nanometers and 850 nanometers so it can help relieve pain and help with circulation. It also features an aluminum heat sink, optical lens, and high power LEDs, and it is compatible with E26/E27 sockets so you can get the benefits of red light therapy at home. Plus, this product also comes with a 12-month warranty and a 30-day satisfaction or return guarantee.
---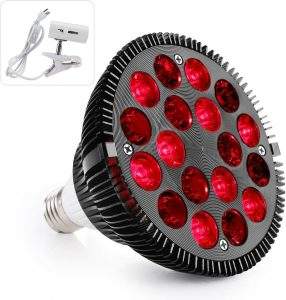 The Red Light Therapy Lamp with Light Socket is another good option that is worth looking into when you are shopping for an infrared light bulb that you can use at home. It is easy to use, and you have the flexibility of using it just about anywhere you want, thanks to the convenient clamp on the socket. It features powerful LEDs, and the wavelengths that are emitted are 660 nanometers and 850 nanometers. Plus, it comes with a 100% satisfaction guarantee, along with a 1-year warranty.
---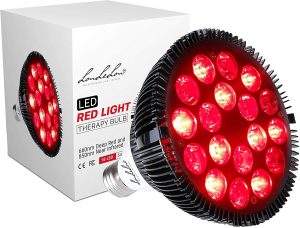 This medical grade red light therapy lamp boasts optimal wavelength and power density, with high power LEDs and wavelengths of 660 nanometers and 850 nanometers. This allows you to get a nice combination of deep red and near infrared for your at-home red light therapy sessions, whether you want to use it for skin rejuvenation or for your muscles, ligaments, joints, and deep tissues. Also, this product is designed to last up to 50,000 hours, it has a durable aluminum body, and it features fins for heat dissipation. Plus, it comes with a 30-day 100% money back guarantee and a 12-month warranty.