Do you have dark spots on your face or body? Then you are probably searching for ways to get rid of them. These spots of hyperpigmentation can make you feel insecure, and it might be hard to cover them with makeup. Thankfully, though, there are some dark spot removers on the market, and many are surprisingly affordable, so they're worth trying to see if they will work on your skin.
Below is some information on what causes dark spots so you can take some steps towards avoiding new ones from forming. We've also compiled some tips on what to look for in a dark spot remover. And you can access a short list of some of the products that we think are worth looking into when you want to give a dark spot removery a try.
What Causes Dark Spots on the Skin?
There are several reasons why dark spots might develop. One of the most common is scarring that occurs after you have had a blemish. However, another reason why your skin might develop dark spots is because of exposure to too much sunlight. And other causes of dark spots can include inflammation, eczema, irritation, a rash, and hormonal changes.
Now that you know about some of the common causes of dark spots, you can start taking steps to avoid them in the first place. Protecting your skin from the sun's harsh rays by wearing sunscreen and accessories like hats is a great idea. And, if you get a pimple, do your best to avoid the temptation to pick at it, as doing so might increase the odds of being left with an unsightly scar long after it's gone.
The thing about dark spots is that they might fade slowly over time, or they might not end up going away on their own. So, a dark spot remover might be helpful when you notice spots that aren't fading.
What to Look for in a Dark Spot Remover
When you are ready to shop for a dark spot corrector, keep the following in mind:
Look for products that contain ingredients that are capable of brightening your skin, as these may help fade those unwanted dark spots.
Using a product that inhibits melanin in the skin might also help reduce the appearance of dark spots (after all, a dark spot occurs when there is excess melanin in the skin).
Ingredients that are capable of removing the top layer of your skin might also increase the speed at which dark spots fade.
Search for products that feature ingredients like hydroquinone, alpha hydroxy acids, retinol, kojic acid, azelaic acid, phytic acid, and vitamin C.
5 Dark Spot Removers That Are Worth Checking Out
Now that we have covered the basics about dark spots, let's take a look at some of the many options that are out there when it comes to products that may help those spots fade.
Note: It's a good idea to consult with a dermatologist to have your dark spots examined, just to be sure that they aren't caused by a serious condition. Your doctor might also be able to help you when it comes to selecting the right product if you want to work on eliminating the dark spots.

The anti-aging Revitalift Bright Reveal Brightening Moisturizer contains vitamin C, pro-retinol, and glycolic acid, and it also boasts SPF 30. So, it can moisturize your skin, help brighten your skin, and work on protecting your skin from the sun. And, in addition to evening out your skin tone, this product can also work on helping to reduce the appearance of fine lines.
---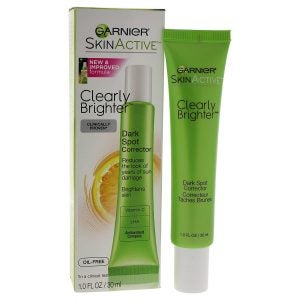 The Garnier SkinActive Clearly Brighter Dark Spot Corrector will absorb quickly, and it is a non-sticky formula. Ingredients include pine bark essence, vitamin C, vitamin E, and lipo-hydroxyl acid (LHA) to help promote surface cell turnover so your skin can look younger, with a more even skin tone and fewer dark spots.
---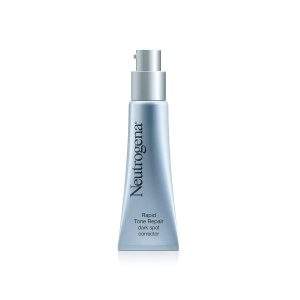 With the Neutrogena Rapid Tone Repair Dark Spot Corrector, you can work on brightening your skin tone and reducing the appearance of discoloration and dark spots. This product contains retinol SA to renew skin and smooth the look of wrinkles. It also contains hyaluronic acid to hydrate the skin, along with a high concentration of vitamin C. It is gentle enough for every skin tone, and you can even use it every day as part of your skin care routine. Plus, the manufacturer also claims that you can see results quickly.
---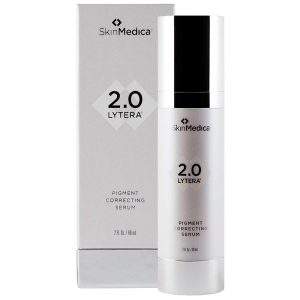 The SkinMedica Lytera 2.0 Pigment Correcting Serum does not contain any hydroquinone or retinol, and it is also free of fragrances and parabens, and it is non-comedogenic, so it may be a good option for those who have sensitive skin. Its formulation, which includes ingredients like tranexamic acid, phenylethyl resorcinol, phytic acid, and marine extract blend, can help you tackle even stubborn discoloration, no matter what your skin type is, and no matter what caused the discoloration. Plus, you might see results in as little as two weeks.
---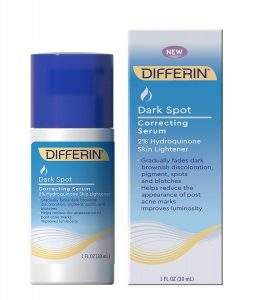 Last but not least, there's the Differin Dark Spot Correcting Serum, which is non-comedogenic, paraben-free, and dermatologist tested. It is gentle enough to use every day, and it will go on smoothly so it will be invisible under your makeup. Its ingredients include 2% hydroquinone, sea buckthorn berry oil, and citric acid to help fade hyperpigmentation, blotches, and acne scars, while soothing and renewing the skin.
---
So Many Great Products to Choose From!
When it comes to dark spot removers, rest assured that you have a lot of options to choose from, including those that contain gentle, natural ingredients to help you finally even your skin tone and improve its overall appearance. But, again, if you aren't sure about which route to take to get the best results based on your skin type, talking with a dermatologist can help you make the right choice.