What is a BB cream? Depending on who you talk to, it might be a "blemish balm", a "blemish base", or a "beauty balm". It's an all-in-one beauty product that can replace your serum, moisturizer, primer, foundation, and sunblock.
BB creams have been rapidly growing in popularity in America since 2012. They've been best-selling beauty products in Asia for longer than that. They were invented in Germany over 50 years ago to help patients recover from laser treatments.
Beauty balms even out complexions, cover up imperfections, and protect your skin. Some have anti-aging and healing ingredients. Some have sunblock.
Sometimes BB creams have whiteners, so they might make your skin look a little gray at first. Most of the time this passes once the cream has a couple of minutes to sink into your skin. Even with tinted BB creams, you may still need a concealer to cover problem areas.
Typical Ingredients
Not every BB cream has all of these ingredients, but many of them do.
Anti-oxidants like Vitamins A, C, and E
Moisturizers like glycerin and hyaluronic acid
Light-reflecting ingredients like mica
Silicone-based ingredients like dimethicone
Sunscreens based on zinc oxide or titanium dioxide
Limitations of BB Creams
These kinds of creams try to be multi-taskers, but they have some limitations. For one, they don't come in as many shades and colors as a foundation does. Also, the BB creams that fight acne don't have a sunscreen component, and vice-versa, because of FDA regulations.
Why doesn't the FDA allow these two functions to come in the same bottle? It's because Vitamin A can make your skin sensitive to the sun, while a sunscreen encourages you to be out in the sun.
Vitamin A appears under names like retinol, retinyl acetate, and retinyl palmitate. If you see one of those names in a BB cream that also claims to be a sunscreen, put the bottle down and choose something better for your health.
The Best BB Creams
We hunted down the five best BB creams for acne-prone skin and reviewed them here for you.
Maybelline New York Dream Pure BB Cream Skin Clearing Perfector
Fights acne, no sunscreen
As you know, salicylic acid is a great acne-fighter. The Maybelline New York Dream Pure BB Cream contains 2% salicylic acid because it's made especially for blemish-prone skin.
The cream also contains dimethicone to seal in moisture, glycerin for hydration, Vitamin C (ascorbyl palmitate) to fight wrinkles, blemishes, and signs of aging, and Vitamin E (tocopherol) for healing. It's water-based, so it's not greasy and won't clog pores.
Users have reported that the color and texture are very light, and the cream holds up well all day. Just a little goes a long way.
---
Missha M Perfect Cover
Suncreen and moisturizer, several shades available
MISSHA has some of the top-selling BB creams in the world, especially in the Asian market. This Perfect Cover BB cream contains an SPF 44 sunscreen based on zinc oxide.
It's water-based, but it also contains mineral oil, so be careful if you have extra oily skin. The formula was originally made to help patients recover from laser treatments. It helps hide and diminish dark spots and wrinkles. Be sure to choose a shade that best fits your skin tone.
The other ingredients of interest are: dimethicone, glycerin, beeswax, jojoba oil, and herbal extracts like rosemary leaf. Rosemary tones and helps the skin be more elastic. Jojoba oil is a plant-based oil that is very similar to our own skin's sebum. It fools the skin into thinking it's produced enough oil already. Beeswax helps repair skin. Glycerin helps hydrate, and dimethicone seals in moisture.
MISSHA recommends pumping just once and dabbing that quantity on your cheeks, forehead, chin, and nose. Gently smooth it over your face with your fingers or a sponge. Tap a little extra over difficult area and dark spots.
---
Garnier Skin Renew Miracle Skin Perfector Bb Cream
Suncreen, absorbs oil
Garnier Skin Renew Miracle Skin Perfector absorbs oil while it hydrates your skin. It comes in two shades for light to medium skin tones.
One of the ways it absorbs oil is with the use of perlite, a volcanic rock in powder form. It also contains caffeine to minimize pores and Vitamin C to fight signs of aging. Garnier says that over the course of 4 weeks, with regular use, blemishes are reduced, or disappear altogether.
The cream has a broad spectrum SPF 20 sunscreen based on octinoxate and titanium dioxide. Garnier says to reapply it as needed.
---
L'Oreal Paris Magic Skin Beautifier BB Cream

Magically matches skin color
L'Oreal Paris Magic Skin Beautifier will change to suit your skin color. Pick the closest shade (there are 4), then rub it in, and let the magic happen.
It's formulated to work as a primer for other makeup, but you can use it without foundation if you wish. It reduces blemishes and evens out skin tone. It contains Vitamins C and E to fight signs of aging. It also hydrates skin, but L'Oreal recommends applying it over top of your regular moisturizer.
We were curious to see if this product really did match skin tones. Based on expert and user reviews at several major sites, it actually does work! It comes out looking whitish, but then blends in as it is massaged into skin.
---
Smashbox Camera Ready BB Water SPF 30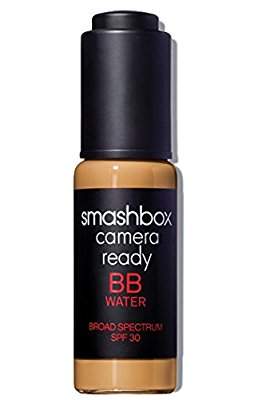 Flawless finish, sunscreen
Smashbox created a water-based BB cream to add to their excellent lineup. It's made to hide fine lines, blemishes, and pores while it hydrates. It comes in 8 different shades.
There are no alcohols and no oils in its formula. It uses an ingredient derived from medical-grade liquid bandages to create the perfect foundation that lasts all day long. You don't need to use much to get great coverage.
It also serves as a broad spectrum SPF 30 sunscreen against UVA and UVB rays.
---
While You're Waiting for Your New BB Cream to Arrive
See how to take care of acne without expensive visits to a dermatologist. Give your face a spa treatment at home.