If you are seeking for an easy and fast way to acquire deep tan, then Australian Gold JWOWW Black Bronzer is meant for you. The Gold JWOWW Black is approved by the pretty Jenni Farley. It is a reliable and affordable solution to get incredible tanning results. This tanning lotion is a blend of ingredients that offers the bronze a long-running color and gives hydrations for a great healthy skin. This pretty tanner, works well on all skin types and has not been reported to cause any negative side effects.
Australian Gold JWOWW Black Bronzer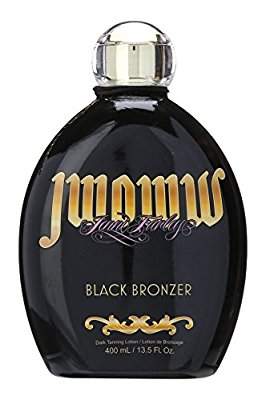 Features and Specifications
Consistency and Feel
The Australian Gold feels natural on the skin surface. It is not too thick as compared to some other tanning lotions. Also, it lacks that sticky and icy feel that accompany most lotions.
Application
It is supper smooth and it spreads evenly on your skin. This lotion holds its tanning effect for quite a long time and doesn't burn al all. The Gold JWOWW Black is great to apply all over your skin, including your face to provide dark and even tan results. If you don't have time to visit the tanning salon, you can use this lotion outdoors. It is designed to ensure you achieve your desired tanning results with much ease.
Scent
The Australian Gold black bronze has a berry fragrance that offers a pleasing smell. The berry scent leaves your body smelling pretty all through. But note the berry scent is subtle and it doesn't produce a strong odor.
Tanning Results
The tanning results of the Australian Gold black are very natural. People with a fair skin, may start realizing noticeable tan after like 2 to 3 sessions. The fair skinned people also appreciate this lotion because it won't turn red. You may have to use this tanning lotion for close to one month to develop deep tan.
Ingredients
This black lotion tanning is a blend of the following natural ingredients walnut shell extract, black currant, sunflower seed oil, hemp seed extract, kukui oil, betulba alba back extract and cannabis sativa seed oil. Other ingredients include vitamins and nutrients that provide exceptional moisture to your body.
Pros
Great skin and facial moisturizer.
It spreads evenly into the skin.
It has no staining effects.
It has a creamy, silky texture that offers a soft touch.
Key Features
Consistency and feel: non-greasy, not too thick.
Application: easy to apply and goes on smooth.
Scent: Sweet berry scent.
Moisturizing extracts: hemp seed, walnut shell and kukui oil.
Cons
Some people may not like the berry scent but it is nice.
You may get counterfeit if you don't purchase from trusted stores.
My scorer of 4.8 is due to the excellent tanning results. It doesn't cause any skin irritation and staining effect. With superior hydration and berry fragrance it is a guarantee you will love this tanning lotion. I could not fail to give it a higher score because the results are experienced faster than similar tans.
The Australian Gold black bronze gives great results just what it was designed to do. With proper use, you will get tanning results almost immediately. It has skin smoothing and moisturizing properties that are non-greasy and quick absorbing. This lotion leaves your skin soft and smelling nice for long. You will also appreciate the sunscreen protection of this tanning lotion. It is worthy trying.
>> READ MORE: