Many people are searching for alternative solutions to treat their hormonal or cystic acne. The options for treatment vary and include topical creams, oral medications, and chemical astringents. But with the growing concerns about chemicals, many users are going a new direction. One such method is light therapy.
Black Friday Sale! Save 25% off sitewide now through 12/4! Coupon Code: HOLIDAY25
At Home Blue Light Therapy Reviews
What is light therapy, you may ask? Light therapy involves using different colors of visible light to treat minor skin conditions. It's important to choose a device that has FDA clearance (or similar endorsement). If the product is not endorsed, it's not guaranteed.
We have compiled a thorough introduction to the life-changing world of light therapy devices. Light therapy offers many users another way to treat their acne. No harsh chemicals, no smelly creams, no sensitivity to sunlight. Don't you deserve clear, healthy skin?
Blue Light Therapy Uses
Blue light therapy works by killing the acne-causing bacteria P. Acnes at the source. It is effective for facial, back, and body acne when used according to the manufacturer's directions. It's best to choose a therapy device that the appropriate government agencies endorse.
Some users may find light therapy helpful for cystic acne, rosacea, and acne scars. Generally, it's marketed for the treatment of mild to moderate hormonal acne. Blue light is able to penetrate deep into your pores. This can end acne breakouts before they reach the surface.
Beside prevention, blue light also appears to reduce the appearance of active breakouts. It decreases the build-up of oils on your skin and over time may even reduce pore size.
Does Blue Light Therapy for Acne Really Work?
The answer in general is yes. However it may not work on all types of acne. Patients designated with severe acne may see minimal or no improvement at all with Blue light therapy. Mild to moderate acne sufferers have reported seeing skin improvement in as early as their first therapy sessions. Others reported improvement after a few continuous sessions. Clinical studies have shown this therapy to improve skin by 55%. Higher numbers of improvement were given when used in combination with other therapy methods. It may not cure acne 100% but it does help ease symptoms and prevent pimples from forming. Before using this therapy method, consult with a doctor first. Have them determine the type of acne you have and go from there.
Most cases of acne have been treated with topical creams and internal medications. These products are designed to relieve acne symptoms. However, in some cases they only end up making skin conditions worse. These traditional treatments often come with side effects. Those side effects can include dry skin, itching, irritation, sunburns, sunlight sensitivity and even further acne inflammation. Some internal medications have been known to cause stomach irritations as well. Cryogenic therapies and collagen injections help in acne regimens. But they can also be painful.
Blue light therapy was designed to have no side effects. It is safe for all skin types. There's no light sensitivity after use as with other skin therapies. Your skin won't dry out or crack so there is no pre mature aging of the skin. There may be some change in skin pigmentation but it is only temporary. This type of therapy is pain free and FDA approved. Results aren't dependent on weeks and weeks of use as with traditional therapy methods. You can see a difference in your skin just after a few sessions of using the light therapy. Your skin may feel smoother and look more radiant. This therapy can be done on anyone from teenagers to adults. It works on all parts of the body affected with acne, not just on the face.
Treatment using this method is usually done in a doctor's office. Some health spas offer this as a service as well. However there are distributors out there now selling home care products. Doctors say usage of a home light can work in combination with existing office treatments. A session is very easy and relatively quick. Most sessions can be completed in less than half an hour and just a few days a week. Just lay back and relax under the lights. Or you can even have a session while watching television or reading a book. The cost of light therapy can vary. Home use devices range from $100-$450. Doctor or spa visits will vary as well and will be on the higher end.
Is Blue Light Therapy Safe?
As with any other beauty products, you should test less sensitive skin before trying it on your face. This helps assure that you won't have any adverse reactions. Most companies offer a window for returns. If you find that the device doesn't work for you, contact the merchant to discuss returning it.
Compared to medical treatments, blue light therapy has limited side effects. With some medicines, users may experience light sensitivity, nausea, skin sensitivity, and headaches. Light therapy offers a way to escape these problems, and it won't bleach your clothes, either.
Even though there are no chemicals or medicines, pregnant women should avoid light therapy. Treatment during pregnancy has not been evaluated for safety. For patients under 13 years old, it's recommended that treatment be supervised.
Since light therapy relies on a high-intensity light, you shouldn't treat near your eyes. The risks are usually diminished with appropriate light goggles. Many kits come with these goggles included.
Some treatments will cause acne to worsen before it gets better. Light therapy is not known to make acne worse. There are no chemicals or additives. As long as you follow the directions, the safety of light therapy is higher than other treatments.
Unlike some UV light therapy, there will be no skin burns or irritation and no worry about developing a skin cancer.
Benefits of At-home Blue Light Therapy
Light therapy is increasing in popularity as people begin looking to eliminate harsh chemicals from their lives. Because light therapy only uses light and heat, there are relatively few side effects. When compared to salicylic acid treatments or facial scrubs, the risks are low.
You will have the quickest results using a combination of treatments. For many users, light therapy has meant success.
There are many benefits to this treatment, one being that it can be done at home. Acne sufferers can benefit greatly from using blue light therapy at home. It is a relatively new concept with amazing results. With more home products now on the market, this therapy is more accessible to the public. No more waiting for a doctor to prescribe therapy. As opposed to traditional acne treatments, this one has very few if any side effects. It is a safe alternative. The FDA has put its stamp of approval on it. Other benefits include:
It is non-invasive unlike laser surgery or dermabrasion treatments. Sessions are short and pain free. Any skin redness will be mild and disappear quickly.
Using hand held light wands can be used in conjunction with giving yourself a home facial.
There is no down time after a treatment session. You can quickly get back to normal everyday routines. Treatments done in doctor's office often require some down time to let your skin heal from any redness or irritation.
Healing time is much quicker than with using medications, creams or other doctor ordered regimens. Some users have reported immediate noticeable changes in their skin. Sometimes even after their first sessions of use.
At-home devices can be used anywhere. Use them while lying in bed, reading a book or even watching a movie.
Hand held devices are much less expensive than doctor or spa visits. The average costs of these devices range from $100-450 depending on the model and functionalities.
There are no major or long lasting side effects as with other treatments. Your skin will not burn, dry or peel. There are no internal side effects either. Some prescription medications have been known to cause stomach issues or other sensitivity.
There is no need to use any harsh creams or other chemicals with these devices.
At-home products are easy to use. They are lightweight and economical. Best of all you only purchase it once. No more need for prescription refills or excessive pricey doctor or spa visits.
They are a great addition to use in between other treatments.
Home products are easy to get. They can be purchased online easily from the comfort of your home. Some department stores and pharmacies offer them as well. No medical prescription needed.
How Much Does Blue Light Therapy Cost?
You will need to evaluate your specific needs before deciding on a light therapy device. Price is a primary consideration for some. You will need to factor not only the immediate cost of the machine, but also any ongoing costs that may exist. Some products make use of "time cartridges" which basically has you pay for time to use the product. These costs can add up, but in many cases it will be less expensive than medications or dermatologist visits for the same length of time.
So, how much is the average treatment system? The costs will depend on the size, the company's reputation, and the quality of the product. For something that may become a large investment over time, you'll want to ensure that the product does what the manufacturer says it does, and this will of course depend on the specific product you buy. Lower price is not always the better deal!
How Does Light Therapy Work?

For most light therapy treatments, it's fairly easy to figure out how to use the device. Quality devices should always come with an instruction manual to ensure that you operate it safely. Additionally, many devices come with goggles to help protect your eyes when being used in close proximity. If your device does not come with goggles, you will either have to purchase them separately or avoid the eyes and eyelids.
Blue Light Therapy for Acne Before and After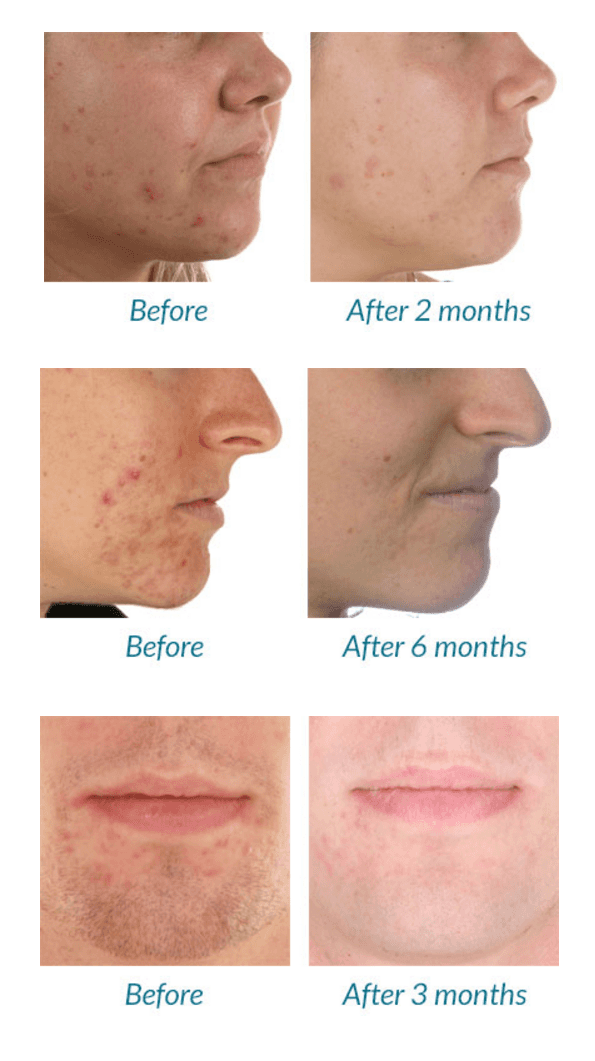 At Home Blue Light Therapy Reviews
Tria Beauty Acne Clearing Blue Light
Tria Beauty is a company that specializes in dermatologist-recommended skin care solutions, particularly involving laser and light-based technology. Their products are inspired by the equipment professionals use to administer these types of treatments, bringing the advantages of light therapy to the comfort of the user's own home. For those who want the freedom to treat their acne on their own time at a fraction of the cost, the choice is simple.

Although this unit is significantly more expensive than some other products on our list, this is one of the situations where you are paying for the reputation of the brand. Tria Beauty is well-known in the skin care industry for their non-chemical solutions to many common skin problems (as well as hair removal), so it seemed obvious that they would also develop a blue light therapy device for acne.
The Tria Beauty Acne Clearing Blue Light device is intended for mild to moderate acne, with best results occurring on non-cystic acne. The unit is about the same size as an electric razor and it emits a humming sound, warmth, and vibration when in use. These are generally non-obtrusive when used correctly.
The directions for using the included "treatment windows" are somewhat vague, but the general concept is that you apply them to the area you want to treat and then use the device. The device itself is pretty straight-forward. There's an easy-to-read display and a bright light for treatment. No power button, no complicated steps. Just treat for a total of 5 minutes a day, either all at once or in two 2 ½ minute sessions.
Unfortunately, one of the biggest drawbacks of this particular device is that it utilizes the dreaded "time cartridge" system. Each cartridge allows the therapy device to be used for 300 minutes – two months of use as directed. At around $40 for each replacement cartridge, the price ends up being around $$$* for the first year and $$* each year after that. Still, the cost of Proactiv can be as much as $$$* per year – and the cost doesn't go down after the first year as with blue light therapy.
The reviews for Tria Beauty's blue light acne treatment device are somewhat mixed, but approximately 2/3 of its users are overall very satisfied. This Tria Beauty Acne Clearing Blue Light is priced at $$$* at Amazon and is eligible for free Prime shipping.
Sirius Nova Advanced Rejuvenation System
Sirius Nova is not one of the more well-known brands, but this device comes with a drastically less expensive price tag than some of the other, bigger companies. …% of customers shared positive reviews, which means that the lower price tag does not directly impact the effectiveness of this device.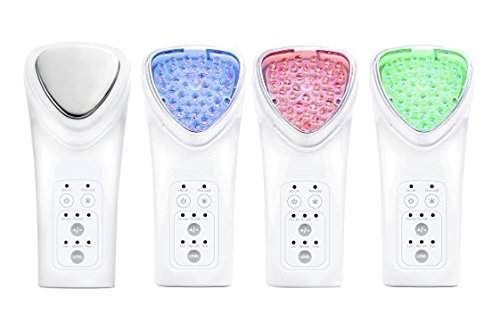 Many customers advised using the system for longer than the recommended "minimum" times as the results come from the amount of total time treated – therefore, longer sessions will yield results quicker. It's important that you pay attention to your body, though, because there is always a potential of burns if you use light therapy to treat the same region for too long in one sitting. Your body will tell you when it's time to stop.
Generally speaking, with light therapy devices, the greater the variety of wavelengths that are available from a single device, the greater number of issues that can be treated with that particular device. With the Sirius Nova Advanced Rejuvenation System, you get three different light colors – green light for sun spots and scars, red light for firmness and inflammation, and blue light for acne and rosacea. This particular unit also includes a galvanized microcurrent head that uses vibrations in order to tone and lift the facial skin.
The number of treatments necessary to see results will vary with the light color that you are treating with. Users reported their acne showing improvement in as little as 12 hours, but sun spots and wrinkles requiring extra treatment. This of course will also depend on the extent of your issue, with mild blemishes disappearing much faster than moderate or severe ones.
Since this is a relatively new product from this manufacturer, the amount of information available is not as detailed as some other brands. This device has shown significant potential in the industry, however. Even the skeptics had raving reviews for this particular device, with some users reporting improvement within two weeks of regular use.
You will receive a plain white box that contains the four heads, the device, an instruction booklet, and a charging base. You probably won't be able to do multiple treatments on the same charge, and it is quite a time-consuming process to see your best results, but the time spent will yield results that are difficult to believe unless you see them for yourself.
Overall, for those with a strict budget, the Sirius Nova Advanced Rejuvenation System is a great buy at around $$*. The merchant offers free shipping as well as a 60-day money back guarantee.
TANDA Clear Plus Professional Acne Clearing Solution Device
If you're willing to pay for a product that goes the extra mile to provide clinically proven results, the TANDA light therapy device is designed to impress. This device is cleared by both the FDA as well as Health Canada, which is something that isn't offered by every light therapy unit.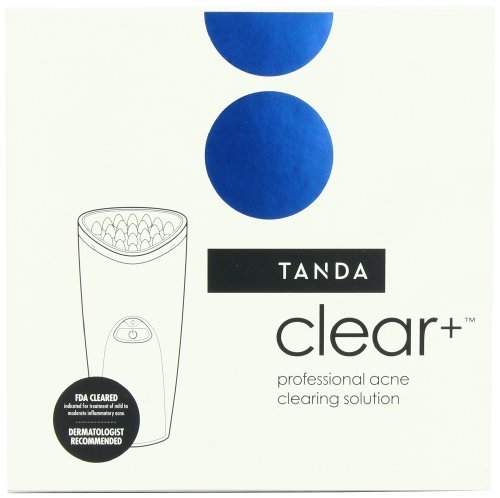 While this unit only emits blue light (and not the other portions of the spectrum), it does offer sonic vibration and warming. These additional functions allow the user to increase the effectiveness of every 3-minute treatment. The company recommends two sessions daily, which are automatically timed by the unit itself.
The heads for this particular model run about $50 each – which is a bit on the expensive side. Depending on how often you treat, your success with the heads will vary. Some customers who only treated the recommended twice daily saw a head life of over a year, while some who treated more frequently or for more extended periods of time had to replace their heads every few months. Overall, most users are impressed with the experience.
The sonic vibrations of the TANDA Clear+ Professional Acne Clearing Solution has proven to be very soothing for many customers, as it provides a gentle massage to the facial tissue – firming the skin as the blue lights work their magic. This particular device operates at 414nm which is well above UV light – allowing for no ultraviolet skin damage.
This device is a bit on the expensive side, but the results speak for themselves – the wavelength emitted by this device provides up to 85% improvement in just 6 minutes of treatment time. For just around $$*, the TANDA Clear+ offers tremendous results for the treatment of mild to moderate adult acne.
NORLANYA Photon Therapy Facial Salon Skin Care Treatment Machine
The Chinese company Norlanya was founded in 2010 and offers high-quality beauty machines of all types. In addition to this light therapy machine, they offer hair removal products, tooth whitening machines, cellulite reduction systems, and much more.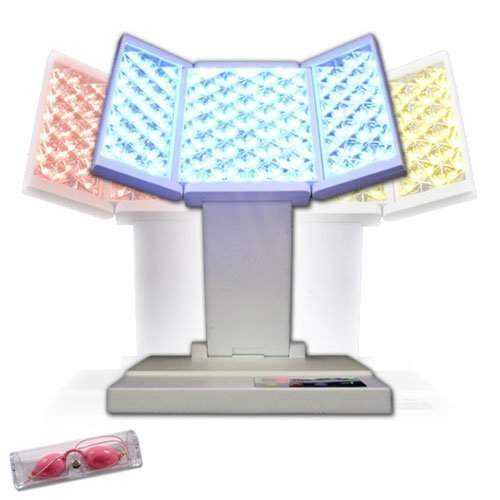 Customers are largely satisfied with their Norlanya purchase, with …% positive. For the facial area treated at once the price is quite reasonable, and users are generally impressed with their results. Of course, each experience varies due to individual diligence and skin problems, but when only …% of customers are unsatisfied, you develop a bit of a reputation for what you do.
This particular device is intended to be a full-service facial machine. 420 individual LEDs and three different wavelengths provide a much faster treatment than handheld devices, although the initial costs are often much higher for full-face units. In this case, the list price is around $$$* – much steeper out of pocket. When you factor in the time you'll save, the extra investment may be worth it.
Since the company directly markets to salons, you can be assured that their Photon Therapy Facial machine is salon quality. You're not going to get shoddy results or low-quality parts here. This is one case where you get what you pay for.
Unfortunately, since this specific product is marketed toward salons, the manual assumes the user has a professional knowledge of light facials. New users would be better starting with a hand-held light therapy device instead.
For those with significant acne problems, including rosacea and severe acne scars, this machine is a clear winner. Where other devices come up short – the NORYLANA Photon Therapy Facial Machine excels in almost every way. Even better, Amazon offers this gem for under $$* (an estimated *% discount). If you must have the best light therapy device, Norlanya stands for quality.
Project E Beauty Mini Foldable PDT LED 7 Color Photon Therapy
With an astounding …% customer satisfaction, Project E Beauty has struck gold with this photon therapy machine. Where many devices boast their few features, this particular machine offers a glowing fan base that happily sing its praises. Those looking for a complete skin care solution need look no further.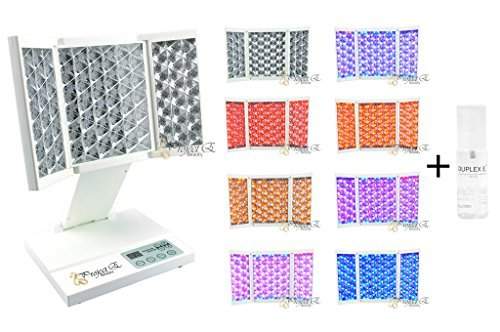 The Project E Beauty Mini Foldable PDT machine offers a total of 7 color combinations to treat every skin condition from wrinkles to age spots, pore size to low circulation, this machine does it all. Short of buying a full-body unit that takes up nearly an entire room, you won't find a better device for at-home treatments. It's big enough to treat the entire face or stomach in a single session.
For users who are new to light therapy, this machine may seem excessive at around $$$* – but those with more experience understand the benefits of going all-in. In some ways, the larger investment associated with a product like this may guarantee that you will be diligent with its use. After all, $$$* is a lot of money to waste, but if you think of it as an investment it doesn't seem so big after all.
Even the most advanced system will not work if you aren't persistent, and this is no exception. If you don't follow the directions and keep up with your treatments, you will not see the intended results and it may be easy to get discouraged. However, with the right effort, this product gives you everything you need for beautiful skin through light therapy.
For the customer who refuses to settle for an inferior device, the Project E Beauty Mini Foldable PDT is an all-inclusive solution for every skin care need.
ViVi Advanced Phototherapy Device
If you are on a tight budget and just need a device that will get the job done, the ViVi Advanced Phototherapy Device has a remarkable …% positive rating and a price tag just over $$*. This isn't going to knock your socks off, and it's going to be a bigger time commitment than larger, more powerful machines, but if you're afraid to get in too deep right away, the ViVi can be a great starter machine.
Unlike some of the more expensive hand-held light therapy devices out there, this machine is corded – allowing a little less freedom than cordless units. You might not be able to treat your acne while you're camping, but anywhere you have access to a power outlet, this device will perform as well as can be expected.
For under $$*, the ViVi Advanced offers users a glimpse into the benefits of light therapy without the huge commitment. As with any other beauty product, your success will ultimately depend on your level of dedication, but this is one example of a product that pays for itself in no time.
With in-office light therapy sessions costing between $35 and $350 per session – the choice for the budget shopper is clear. The ViVi Advanced Phototherapy Device is a great product for those who are still on the fence.
Silk'n Blue Acne Solution Device
If you don't mind a smaller treatment device (smaller treatment area = longer total time spent during treatment sessions) and want a product that comes from a company dedicated to your satisfaction, Silk'n has an offer that comes in at under $$* on Amazon: The Silk'n Blue Acne Solution Device. The name might not be the most creative, but it's not always about being unique – sometimes it's about competing directly.
Black Friday Sale! Save 25% off sitewide now through 12/4! Coupon Code: HOLIDAY25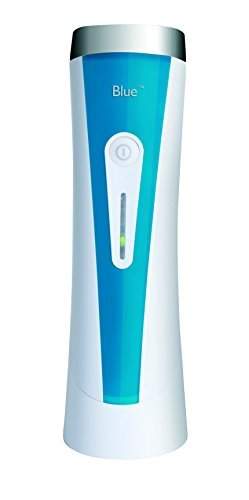 This device boasts mixed reviews, with almost …% of customers being largely satisfied with their purchase. It's not going to set any records, but it'll get the job done if you put in the appropriate effort. The product support team actively works to examine customer feedback in order to see where their product should be improved – and after customers complained about the charging methods being unintuitive, the company responded by putting out a corded version of the device.
As with all other light therapy machines on the market, your success will be affected by the amount of time you're willing to spend on your treatment sessions. Some users showed noticeable signs of improvement after their first session, but others may need to treat a few times before seeing any significant changes. You must be diligent and give the product time to work. An impressive 40% of study participants saw 100% clearance within their first three months – verifying that this product actually works.
If you need a clinically-proven product with a lower price tag and a money-back guarantee, the Silk'n Blue Acne Solution Device has the support of dermatologists, celebrities, and even Oprah. In two independently-conducted studies, each supervised by a reputable dermatologist and using precise treatment protocol, users reported a reduction in acne for 90% of patients, with an average reduction of 67%. The company is even willing to give a full money-back guarantee if you don't see success while following their directions. For those who have extra time but not a lot of extra money, this device is a wonderful solution.
Bright Therapy LED Light Therapy Skin Care System for Beautiful Skin
For those looking to buy the device that helped lead the sensation, the Bright Therapy Skin Care System is labeled as one of the original hand-held light therapy devices on the market. This experience helps to shape a product that responds to the user's primary needs without wasting time or money on unnecessary frills and gimmicks. This product works, at a reasonable price, and offers three separate treatment lights that are said to never need replacing. When compared to one of the products that requires purchasing "time packs", this is a great deal.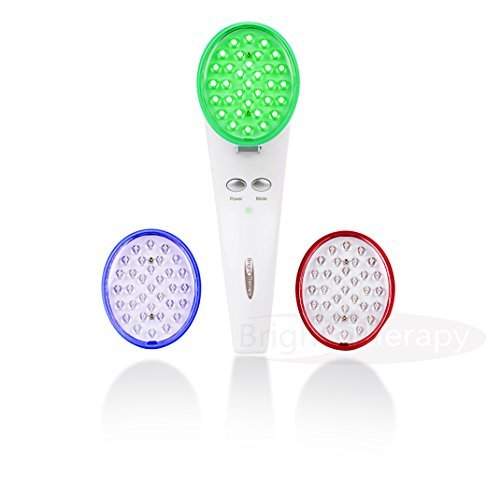 As many of …% of customers have positive things to say about their Bright Therapy LED Light Therapy Skin Care System – but the over-reaching message is that this product meets or exceeds their expectations and offers a great value for the purchase price.
When you don't care about the marketing games played by the bigger companies, you can focus on the smaller details, like the fact that this device offers a relatively large coverage area for a hand-held rechargeable model. You will still have to invest a large portion of time into your light therapy regimen to see the best results, but these results come easier due to the product's ample instructions and fully inclusive package.
The Bright Therapy LED Skin Care System isn't going to do the work for you, nor is it going to save you hours of time compared to going to the dermatologist, but you'll be able to safely and effectively treat your skin problems from home with a device that fits comfortably in your hand. All this while having a price tag that's just over $$* – the results are unexpectedly reliable.
What's the Best At Home Device?
All customer satisfaction information is based on at-home reviews of the best light therapy devices. Information is current as of the original publication date of this website. More information may have become available between then and now. We always do our best to ensure our information is current and reliable, but if you have found a discrepancy please don't hesitate to bring it to our attention.
Your decision of where to buy your light therapy device will affect the price. We have chosen Amazon as our seller of choice. Amazon offers competitive prices on millions of products to suit your every need.
The best at-home treatment for you will depend on your individual needs, as well as your budget. More expensive light therapy machines will often yield more substantial results than those in a lower price range. All of the products we research are of high-quality and solid reputation.
Our pick for the all-around best device is, without question, the Project E Beauty Mini Foldable PDT. This packs salon-quality results in a portable size, allowing the user to minimize everything from acne to stretch marks to freckles. If you need it all, this machine is definitely worth the price.
For those with a tighter budget, our best bargain therapy comes from the ViVi Advanced Phototherapy Device. This corded, hand-held option is perfect for those who are afraid to take the plunge, but want to give light therapy a chance to work its magic. New users will love its all-inclusive package and its low sticker price.